This dramatically intense production fairly exploded off the intimate stage of the Lyceum Theatre, and its slight thrust proved a congenial playing space for this highly personal character study.
The titular character of Maria is a streetwalker, born to public squalor (as the script says) "one day when God was drunk … with a curse in her voice." She embraces the alluring beat and sinuous melody of the tango, however her "fatal passion" prompts the ire of other street denizens who kill her. Maria, now pregnant after death, descends into a murky Purgatory where she is challenged by spectral visitors who torment her soul. Eventually, she returns to the haunt the sordid streets of Buenos Aires as a spirit (Shadow Maria) and give birth to a new young Maria (which may be her own self).
If the libretto sounds more knotty than naughty, director-choreographer John de los Santos has embraced the macabre imagery and dramatic non-sequiturs and devised a richly varied, vividly theatrical, high energy staging that swept us along in willing abandon. His total belief in the scattering of images and intertwining of subplots allowed us to suspend our disbelief, making satisfying order out of the chaotic jumble of religious artifacts, rituals, skulls, masks and metaphors.
(L-R) Baritone Bernardo Bermuda, bass Walter DuMelle, and tenor Rodolfo Ruiz-Velasco (male ensemble)
Mr. de los Santos is ably supported by his accomplished design team. Liliana Duque Piñeiro has crafted multi-purpose scenery, replete with gritty texturing, that can be turned, moved and unfolded like a morbid oversized retabla. Lighting designer Jason Bieber has effectively lit the proceedings with brooding, sultry illumination that achieves the dual effect of being by turns gaily colorful and soberly suffocating. Ingrid Helton's inspired costumes ran the gamut from homely peasant wear to fantastical tribal wear, making full use of an orgy of color and patterns
The overwhelming element that makes all of this disjointed story-telling not just comprehensible but ingratiating is the masterful score. Conductor Bruce Stasyna led an assured reading, full of color and undulating fire. He not only coaxed beautifully authentic ensemble playing from his accomplished ensemble, but also allowed the skilled bandoneon, piano, and guitar soloists all the room they needed to perfume the instrumentation with a heady individuality.
Having seen this piece in two different incarnations, I have come to the belief that it does not really take a trained opera singer to succeed in the title role. The lovely Audrey Babcock immersed herself in the part, proving to be dramatically compelling. Her list of credits in the program documents that she has had national success in major traditional singing roles. The range of Maria seems to lie mostly in chest voice, and Ms. Babcock certainly sings with polish and assurance. The other interpreter I saw did the same. But I wonder if a young, unabashed outright belter might not bring even more zing to the mix. That said, Audrey was a riveting stage presence and anchored the show.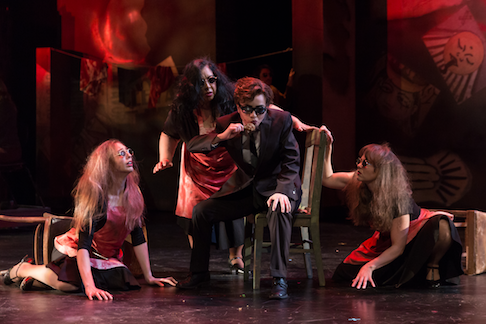 (L-R) Soprano Sarabeth Belon (ensemble), mezzo-soprano Sandra Camarena (ensemble), actor Celeste Lanuza (seated, El Duende), and mezzo-soprano Laura Bueno (ensemble)
As her sometime lover, El Payador, strapping and handsome Paul La Rosa sings with a burnished, throbbing tone of considerable beauty, and earns his Barihunk credentials in a steamy bedroom encounter with Maria. El Duende is an impish character that drives the narrative. Diminutive actress Celeste Lanuza gives quite a tour de force traversal of the role, morphing easily from one mischievous, meddling, scolding personage to another.
The excellent chorus meticulously executed some of the score's trickiest passages, chanting in irregular rhythms, coloring vocal solos with dramatic variety, and switching back and forth effortlessly to portray a panoply of characters of wildly differing stations. The ensemble included Laura Bueno, Sarabeth Belon, Bernardo Bermudez, Sandra Camarena; Walter DuMelle, and Rodolfo Ruiz-Velasco. The appealing twin dancers Laurence Gonzalez and Lester Gonzalez (of California Ballet) added immeasurably to the evening, especially in their featured turn as tango-dancing skeletons (I am not making this up!).
I heartily commend San Diego Opera for such a daring and artistically satisfying fresh new production, which, if the sold-out houses are any indication, is generating new audiences for the operatic art form.
James Sohre
---
Cast and production information:
Maria: Audrey Babcock; El Payador: Paul La Rosa; El Duende: Celeste Lanuza; Ensemble: Laura Bueno, Sarabeth Belon, Bernardo Bermudez, Sandra Camarena; Walter DuMelle, Rodolfo Ruiz-Velasco; Dancers: Laurence Gonzalez, Lester Gonzalez; Conductor: Bruce Stasyna; Director: John de los Santos. Set Design: Liliana Duque Piñeiro; Costume Design: Ingrid Helton; Lighting Design: Jason Bieber.

image=http://www.operatoday.com/KarliCadel-SDOpera-MariaBuenosAires-8396.png
image_description=Mezzo-soprano Audrey Babcock (Maria) and baritone Paul La Rosa (El Payador) [Photo by Karli Cadel]
product=yes
product_title=Astor Piazzolla: Maria de Buenos Aires
product_by=A review by James Sohre
product_id=Above: Mezzo-soprano Audrey Babcock (Maria) and baritone Paul La Rosa (El Payador)
Photos by Karli Cadel