Where else would we be able to enjoy intelligently produced, skilfully
delivered performances of short operas which are all too seldom performed?
And, a conversation-piece and a comedy of manners might seem perfectly
complementary dishes. On this occasion, however, this pair of dinner-table
divertissements made for a rather disconcerting contrast of flavours.
Designer Cordelia Chisholm's central rectangular frame links both works. In
Paul Hindemith's The Long Christmas Dinner – ≠the composer's final
opera, written in 1960-61, which sets a libretto by Thornton
Wilder, based on the playwright's 1931 stage drama – a Puritan sparseness
seems to be the touchstone. An expansive formal dinner table, laden with
crockery, glassware and candelabras, slowly revolves on a bare wooden
stage, encased within the geometric frame. Together with passageways
leading in from the left, denoting births and new beginnings, and out to
the right, indicating death, the circles enact the passing of 90 years in
the lives of several generations of the Bayard family in New England.
Alexandra Lowe (Lucia), Emily Kyte (Genevieve), Madison Nonoa (Leonora), Carmen Artaza (Mother Bayard).
The 'Christmas' setting indicated by the title is briefly alluded to in the
falling snow depicted on the gauze front-cloth, which gathers momentum and
weight during the instrumental prelude, but thereafter there is little to
suggest a festive mood. A stage direction in Wilder's play reads:
'Throughout the play the characters continue eating imaginary food with
imaginary knives and forks'; but there is not much indulgence or imbibing
in evidence here, apart from the occasional slug from a glass wine goblet.
Instead, births and deaths, marriages and confrontations, financial good
fortune and decline, unfold without undue melodrama, as the characters are
swept through a panoply of situations and emotions, as is the way with
families.
The young singers communicated effectively through Hindemith's parlando
style, each allotted their moment to shine. Of the 'set pieces', the love
duet, 'Light is her step on the stair and floor', between first-generation
son Charles (Frederick Jones) and his bride Leonora (Madison Nonoa)
sparkled with tenderness. And, when they were joined by mezzo Emily Kyte –
who as Charles's sister, GeneviËve – added richness to the vocal textures,
there was a beguiling fluidity about the trio 'How long have we been in
this house?' – the text of which complements the musical motions and
motivic recollections of the passing years, and which was deftly
interspersed with commonplaces about the children and other family
concerns.
Carmen Artaza (Mother Bayard, Ermengarde), Lucy Anderson (Lucia), Eduard Mas Bacardit (Roderick II).
Eduard Mas Bacardit provided a welcome dash of conflict, as the rebellious
Roderick II who rejects his heritage, scorns his expected assumption of a
role in the family business, and resorts to drink to dispel the town's
dullness, eventually departing to seek a 'town where something happens'.
Carmen Artaza summoned a nobility beyond her years as Mother Bayard and
touching poignancy in the final reflections of Cousin Ermengarde, whose
extinguishing of the table-candles and slow, dignified exit turns off the
light of life in the house of Bayard. Bertie Watson was a self-assured
cousin Brandon.
Under conductor Dominic Wheeler's guidance, Hindemith's wind-based
instrumentation chugged and rolled along cleanly and comfortably, and the
tempi seemed apt for the unfolding conversational exchanges, though it was
a pity that the English text was not uniformly articulated with clarity,
given the unfamiliarity of the work and the significance of the minutiae of
the dialogue. But, in general, the balance between pit and stage was
satisfactory, and aided by Hindemith's unusual scoring – bass clarinet,
double bassoon, and tuba are added to the smallish chamber orchestra –
which allows the voices to speak in the registral 'gaps'.
The climax is a sextet which marks the arrival of World War One, and the
departure of young soldier Sam to the battlefield and, we understand, as he
traverses the 'exit' passageway, to his death. 'We talk of the weather' the
Bayards sing, for Sam has asked his family to enact a 'normal' Christmas
Day gathering, so that the family customs and rituals can be implanted in
his memory.
I appreciate that the young singers all need their chance to shine, but it
seems odd that the creators' blurring of the distinctions between
characters across the generations – which emphasises genealogical
linearity, and is supported by musical restatement and recollection – was not
respected; in that Alexandra Lowe, who impressed in the role of Lucia,
did not then reappear as 'Lucia II', her own grand-daughter, subsequently –
the latter role being taken by Lucy Anderson. Given that the pair swap
roles for two of the four performances, this seems an opportunity missed.
In contrast, Lucia I's husband Roderick – sung with passion by Michael
Vickers – also fervently inhabited his grandson Sam's shoes, fixing his
family in his mind with in a soaring avowal, 'I shall hold this tight! I
shall remember you so!', as Lucy Anderson interruptted his present-memory
with her lament, 'He was only a boy.'
In many ways, Hindemith's opera is a good choice for a student company as
the roles and cameos are of equal weight and presence. But, Ashley Dean's
production feels – unlike Hindemith's bottom-heavy scoring, which skips
with surprising lightness – a little too worthy and solemn; surely the
nostalgic reminiscences should be inflected with both joy and
pathos? Here the pace and palette were rather uniform.
But, after the heaviness of the first course, Sir Lennox Berkeley's A Dinner Engagement provided a dessert flavoured with panache and
piquancy. Composed for the 1954 Aldeburgh Festival, Berkeley's satirical
comedy of manners – G&S meets P.G. Wodehouse by way of Wilde and Waugh,
with a sprinkling of Mitford – is a delightful tale of financial hard times
among the aristocracy and mishaps with the Aga, with a dash of acidity to
temper the frothy frivolousness.
Both Berkeley's score and Paul Dehn's libretto owe much to Britten. The
opening trio, 'Salt, pepper, olive oil', as the beleaguered delivery boy
(an ardently indignant, long-haired Filipe Manu in flares and eye-popping
shirt) drops off his wares at the down-at-heel Dunmows' kitchen, put me in
mind of the 'Cooks' Duet' from Paul Bunyan. And, the spirit of Albert Herring looms large – not least because Berkeley's
text-setting is so obviously Britten-inspired, and the orchestration for
wind quintet, harp, percussion, string quartet, double bass, and piano
recalls those early EOG scores, Lucretia and Herring. But
the score is spiced with hints of Stravinsky and Berkeley's French peers,
Honegger, Poulenc, Ravel – and one's taste-buds are tickled by the
gustatory richness.
I have seen this opera performed live only once before, at

Wexford in 2012

, but this production immediately reminded me why I had enjoyed it so much
on that occasion. It's an inconsequential bon-bon with a tangy after-taste,
presenting the desperate endeavours of an impoverished aristocratic couple
to save their financial bacon by using gastronomic guile to lure a European
prince to marry their daughter. Chisholm recreates a 1970s kitchen, filling
in two sides of the rectangular frame, with gleeful realism: and the
Mozartian ensembles tumble by in a spirit of controlled chaos.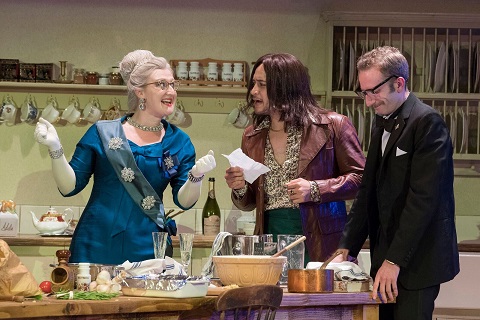 Lucy McAuley (The Grand Duchess), Filipe Manu (An Errand Boy), Samuel Carl (The Earl of Dunmow).
The cast certainly relished the social comedy and caricature. Every time
Zoe Drummond's recalcitrant Susan appeared, dressed in denim dungarees,
then lime-green floaty monstrosity, and finally drab brown mini-dress, I
could not help but smile. Her soprano floated effortlessly, a souffle of
freedom in contrast to the stew of panic around her.
Samuel Carl affirmed his theatrical credentials at the recent

Kathleen Ferrier Award Final

, and he stepped into the dogged Lord Dunmow's rather scuffed shoes with
aplomb, reminiscing wistfully about former, more prosperous times, when he
was Minister Plenipotentiary to the Duchy of Monteblanco, in the opening
aria 'In the Summer of my Time'. Carl and Lucy Anderson (the Countess of
Dunmow) made a vocally fetching and dramatically sympathetic pair, singing
and acting with confidence and command – even when in 'Prenez six Belles
Tomates' when they were required to sing and chop vegetables with equal
abandon.
Emily Kyle demonstrated terrific comic nous as Mrs Kneebone, the kitchen
help who mistakes the front door for the servants' entrance and who seems
more of a hindrance until she, miraculously (how?!), ensures that 'dinner
is served!'. Lucy McAuley's bejewelled Grand Duchess, entering via the
larger back door, was magnificently nonplussed as only the 'true'
aristocracy can be: how clever the Dunmows are to have decorated their
dining room to resemble a twee kitchen! Eduard Mas Bacardit, dapperly
attired in military dress, allowed the cookery-obsessed Prince Philippe's
growing interest to burgeon vocally, as he realised that Susan was not at
all the sort of society girl he was used to meeting, and was more than
ready to debate the required proportions of mustard seed to pickled walnut
in a rapturous duet.
Eduard Mas Bacardit (Prince Philippe), Zoe Drummond (Susan).
This was controlled riotousness at its best, but while Mrs Kneebone's
announcement that dinner was on the table brought a sigh of relief, I
couldn't quite suppress a lingering feeling that these talented singers
deserved some rather more meaty fare to get their teeth into.
Claire Seymour
Paul Hindemith: The Long Christmas Dinner
Lucia – Alexandra Lowe, Mother Bayard/Ermengarde – Carmen Artaza,
Roderick/Sam – Michael Vickers, Brandon – Bertie Watson, Charles –
Frederick Jones, GeneviËve – Emily Kyte, Leonora – Madison Nonoa, Nurse –
Meriel Cunningham, Lucia II – Lucy Anderson, Roderick II – Eduard Mas
Bacardit.
Sir Lennox Berkeley: A Dinner Engagement
The Earl of Dunmow – Samuel Carl, Errand Boy – Filipe Manu, Mrs Kneebone –
Emily Kyte, The Countess of Dunmow – Lucy Anderson, Susan – Zoe Drummond,
Prince Philippe – Eduard Mas Barcardit, the Grand Duchess – Lucy McAuley.
Director – Ashley Dean, Conductor – Dominic Wheeler, Designer – Cordelia
Chisholm, Lighting designer – Kevin Treacy, Costume designer – Laura Jane
Stanfield, Movement director – Victoria Newlyn, Orchestra of the Guildhall
School of Music and Drama.
Silk Street Theatre, Guildhall School of Music and Drama, London; Monday 4 th June 2018.

image=http://www.operatoday.com/Zoe%20Drummond%20%28Susan%29%2C%20Lucy%20Anderson%20%28The%20Countess%20of%20Dunmow%29.jpg
image_description=The Long Christmas Dinner and The Dinner Engagement, Guildhall School of Music and DramaRoyal Opera House, Covent Garden
product=yes
product_title=The Long Christmas Dinner and The Dinner Engagement, Guildhall School of Music and DramaRoyal Opera House, Covent Garden
product_by=A review by Claire Seymour
product_id=Above: Zoe Drummond (Susan) and Lucy Anderson (The Countess of Dunmow)