This was an evening of almost unbearable tension, the age old torment of love vs. duty taken to the summit of nineteenth century operatic accomplishment — and into the higher reaches of twenty-first century staging accomplishment, from the fleeting video image of a wolf to Hunding's Appalachian cabin, from Valhalla's sweeping vista of a crumbling black and white world to its monumental cementic bowels, and finally to the Zambello Walk¸re's signature image, the valkyries parachute arrival onto a mountain peak, a peak that then burst into a circle of actual, live flame.
Far more than about its timely concepts (the "American" Ring, American environmental destruction, the abuse and subjugation of women), last night's Walk¸re was about opera. It fully exposed the current artistic and technical resources that allow twenty-first century opera to transcend mere theater and operatic tradition itself to transport us to ever rarer states and durations of artistic understanding.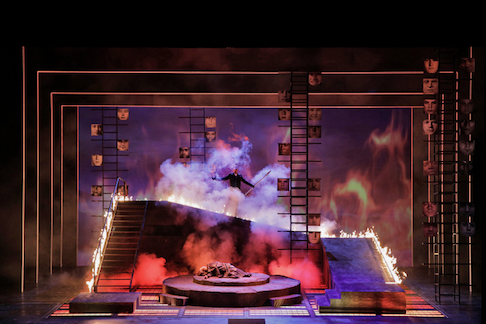 Wotan and Br¸nnhilde
American bass-baritone Greer Grimsley's Wotan, no longer the confident deal maker of Das Rheingold, was the sleek executive whose world began disintegrating when he took on its administration. Mr. Grimsley had hugely difficult encounters — with his wife Fricka, with his daughter Br¸nnhilde, and with himself when he learns that is daughter is, in fact, an extension of himself. Mr. Grimsley survived each encounter in magnificent voice, articulately humbling himself step-by-step to his very human and quite understandable and inescapable torment.
Swedish soprano IrÈne Theorin, the valkyrie Br¸nnhilde burst onto the stage in a torrent of magnificent sounds that put to rest any regrets we may have harbored about the cast change (Evelyn Herlitzius cancelled at the last minute). Mme. Theorin brought the fiercely thrilling high notes of an Amazon warrior together with a richly warm, very feminine lower voice. With her significant use of piano and pianissimo tones this richness distilled her determined devotion to her father. But never far away were the forte's of an emotional strength to be reckoned with.
The Fricka of American mezzo-soprano Jamie Barton eschewed the dignity that becomes the protector of basic family law not to mention protector of basic dynastic rights. Mlle. Barton continued her contemptuous, comedic Das Rheingold Fricka, thereby eviscerating the sanctity and solidity of the social contracts that bedevil Die Walk¸re's Wotan. There is no question that Mlle. Barton is a fine singer, that she created a significant Die Walk¸re Fricka is another question.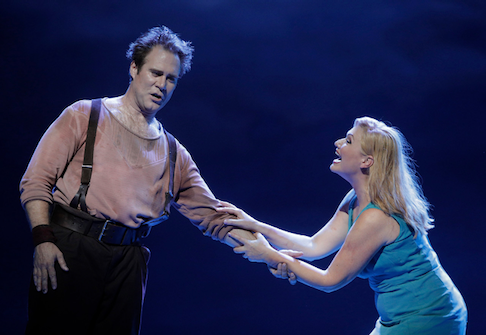 Siegmund and Sieglinde
There is no question that Finnish soprano Karita Mattila created a Sieglinde of requisite magnitude for the Zambello Walk¸re. The magnetic presence of this esteemed artist found the youth and the postures of an abused woman, her marital guilts and finally her pride as the wife of her brother and the mother of his child. It was a portrayal teetering on the edge of, somehow not surpassing, credibility — no small task for her adultery and incest. That Mme. Mattila could vocally create Sieglinde is another question.
American tenor Brandon Jovanovich brought perfection to his Siegmund, finding and exploiting the subtleties of the Wagnerian vocal line that gave immense, and new pleasures. Siegmund is a romantic hero with stories to tell. Jovanovich has the purity of voice to exploit the emotional innocence of Siegmund's adventures, and to fall victim to his hopeless love and to die for this love. With conductor Runnicles, Jovanovich and la Mattila brought the Act 1 love duet to its intended magical conclusion.
American bass Raymond Aceto created the Hollywood male predator, oozing masculinity and brute force, and doing all this in beautiful, intelligent voice while groping his wife Sieglinde. Entirely absent was a sympathy one might extend to this husband whose wife elopes with a stranger who stops by for the night.
Finally though this evening belonged to the San Francisco Opera Orchestra and its conductor Donald Runnicles whose presence was acutely and profoundly felt through the often exquisite performances on stage, and the staging itself which was expectedly masterful.
Michael Milenski
---
Cast and production information:
Br¸nnhilde: IrÈne Theorin; Wotan: Greer Grimsley; Sieglinde: Karita Mattila; Siegmund: Brandon Jovanovich; Fricka: Jamie Barton; Hunding; Raymond Aceto; Siegrune: Laura Krumm; Grimgerde: RenÈe Rapier; Ortlinde: Sarah Cambidge; Gerhilde: Julie Adams; Rossweisse: Lauren McNeese; Schwertleite: Nicole Birkland; Helmwige: Melissa Citro; Waltraute: RenÈe Tatum. San Francisco Opera Orchestra. Conductor: Donald Runnicles; Production/Stage Director: Francesca Zambello; Associate Director: Laurie Feldman; Choreographer: Denni Sayers; Set Designer: Michael Yeargan; Costume Designer: Catherine Zuber; Lighting Designer: Mark McCullough; Projections: Jan Hartley. War Memorial Opera House, San Francisco, June 13, 2018.

image=http://www.operatoday.com/Walkure_SFO1.png
image_description=
product=yes
product_title=Die Walk¸re in San Francisco
product_by=A review by Michael Milenski
product_id=Above: Greer Grimsley as Wotan, IrÈne Thoerin as Br¸nnhilde [All photos by Cory Weaver, courtesy of San Francisco Opera].