Gianni Schicchi (1918), like Verdi's Falstaff (1893), masterfully parses its dirty trick comedy among many players and many musical forms, though Puccini's world is much evolved from that of Verdi, to include minstrel, jazz, Orientalism, musical alliteration, dissonance, spoken word, even a couple of old fashioned arias. Conductor Kevin Class did not miss a beat, making the most of every last bit of this stylistic richness, providing ample fodder for stage director Isabel Milenski's [this critic's daughter] canny take on Puccini's comedy.
?
Even though Puccini's hero — lifted from Dante's Inferno — predates Verdi's Shakespearean Falstaff by a few hundred years Schicchi's wily, positive intelligence resonates in a modern, exploding world in ways Falstaffian self-indulgence simply cannot. Director Milenski's Schicchi was 19 year-old [!] tenor Michael Butler who enthralled the audience with non-stop wit every bit as much as he enraged dead Buoso Donati's relatives with his deceit.
?
Young Butler had lots competition in the charm department as this Gianni Schicchi was the first of three operas (with La Rondine in the Petrarca Opera House and Ariodante on the steps of the Church of the Assumption) presented gratis to to an enthusiastic public by Oberlin Conservatory's summer program in Arezzo, Italy. The singers were essentially American undergraduates very much in the process of discovering their voices, finding their stage personae and, coincidently, learning Italian! †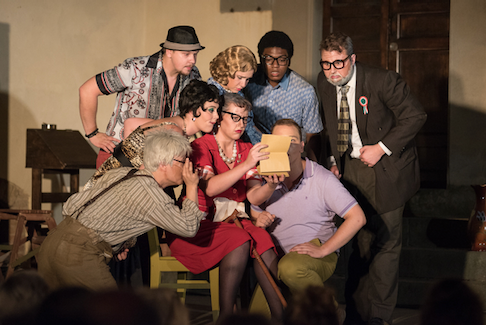 Zita reading Buoso's will to his relatives
?
To a man these were charming, talented young artists, vocally and dramatically coached in their roles by operatic professionals and meticulously rehearsed in Gianni Schicchi's formidable ensembles, preparations that made this Gianni Schicchi into opera theater of solid effect.
?
Lyrically Gianni Schicchi belongs to the young lovers, Rinuccio and Lauretta, who were far closer to Puccini's prescribed 21 and 18 year-olds than the usual big house lovers. It was a huge pleasure to watch Ethan Burck and Giuliana Bossa as they negotiated Puccini's lovely lines with concentrated vocal thinking, finding themselves at last in a high window overlooking the courtyard of the Palazzo dei Priori (where we were seated) singing their contentment.
?
Scenic design credit goes mostly to the long ago architect of this 14th century palazzo who provided a big entry door through which the dying Buoso (prop master Luke D'Alessandro was himself this prop!) emerged onto the door's porch (now a stage), led by Rinuccio to the bed where he expired to be stuffed (except for an arm) later into the armoire on another wall. Long ago someone had planted a tree to shade the porch into which old (well, maybe 20), furious Aunt Zita climbed, a perch from which she hurled dead Buoso's pill bottles at Schicchi, and behind which pregnant Nella had a bit of morning sickness.
?
You get the idea — all of Buoso's relatives were characters who did their natural thing without forcing comedy. And particularly Schicchi who tore up the stage in his†"Si corre dal notaio," playing to the hilt the smarts of a maximally personable auto mechanic like a hard sell vaudeville artist — Aunt Zita threw her cane at him which he then used to execute Puccini's strutting and twirling.

Betto, Zita, Schicchi, Rinuccio, Gherardo, Simone
?
Not to mention Betto enacted by Korean American Simon Nam who shuffled and shook a spoon to Puccini's pentatonic Butterfly quotations, and Zita, Nella and La Ciesca who did their best, with Puccini's help ("Spogliati, bambolino"), to seduce Schicchi, casting suspicion on who might be the actual father of Nella's expected child.
?
Conductor Class kept his tempi deliberate, and director Milenski effected highly theatrical stage pictures that camouflaged strategic sight-lines to the conductor, thus the well-known treacheries of the three formidable ensembles were painstakingly overcome — a feat that provided enormous satisfaction not to say relief to all involved — singers and spectators!
?
Finally Schicchi gave the spoken encomio (what better use for Buoso's money than to seed the lives of the triumphant young lovers) in perfect Italian, an additional reward to us all thanks to the splendid efforts of Oberlin in Italy.
?
?Michael Milenski
---
Cast and production information:
?
Gianni Schicchi: Michael Butler; Rinuccio: Ethan Burck; Lauretta: Giuliana Bossa; Zita: Helena Crothers;†Nella: Madison Williams; La Ciesca: Emma Webster; Simone: Thomas Petrushka; Betto: Simon Nam; Gherardo: Matteo Adams; Gherardino: Jenna Venturi; Marco: Lukasz Zienturski; Doctor / Notary: Robert Raso; A cobbler: Seth Tack; A dyer: Alex Smith. Orchestra: L'Orchestra AgrimusArte. Conductor: Kevin Glass; Stage Director: Isabel Milenski; Stage Design: Elizabet Puksto; Costume Design: Clara Fath; Lighting Design: Christian Londos. Cortile del Palazzo dei Priori, July 27, 2018.

image=http://www.operatoday.com/Schicchi_Oberlin1.png
product=yes
product_title=Gianni Schicchi by Oberlin in Italy
product_by=A review by Michael Milenski
product_id=Above: Rinuccio and Lauetta [All photos by Erica Andreini, courtesy of Oberlin in Italy]