However, while Jan·?ek's opera is based upon a comic strip – its libretto
being drawn from the narrative which Rudolf T?snohlÌdek wrote to accompany
illustrations by Stanislav Lolek which were published in the Brno
newspaper, LidovÈ noviny ≠- as we follow the story of the
life and adventures of the eponymous vixen, it's no child's play for a
director to balance the elements of pure fantasy with the opera's
underlying realism.
In this production for Royal Academy Opera, director Ashley Dean has
decided that simplicity is a virtue: and, with considerable assistance from
Kevin Treacy's terrific lighting design and Laura Jane Stanfield's panoply
of fabulous costumes, he's proved right.
Helen May (Woodpecker). Photo credit: Robert Workman.
Stanfield's set comprises just a carpet of wood-chippings which creep a
little way up a backdrop swathed in gradated washes of deep hues – indigo,
ultramarine, emerald – the floods of colour powerfully evoking the forest
milieu. A few props are carried in now and then, to indicate a change of
locale: the hens roost on wooden chairs, the Schoolmaster and Priest
grumble around tables in the inn. Treacy's lighting makes the forest world
by turns vivid and alive, nostalgic and restful, the colour drawing us into
the animals' world. In this way, the animals are not simply 'symbols',
reflecting human flaws and frailties; rather, nature is truly present and
real. A recollection by Jan·?ek himself, of the process of composition,
seems apposite: 'It was odd how red fur continually gleamed before my
eyes.' Dean and movement director Christina Fulcher create a strong sense
of 'communities': of a human society and an animal milieu. Most
importantly, the interaction between them is persuasive.
In this regard, Stanfield's incredibly detailed costumes also play large
part. The above-mentioned Brno preview article tempted its readers with a
description of the 'seventy costumes' designed by artist Eduard MilÈn which
they would enjoy: grasshoppers and crickets would hop about in
'yellow-green tailcoats and magni?cent little wings'; nocturnal glow-worms
would be equipped with re?ectors 'to light up their bottoms'; the
'melancholy beauty' of an iridescent dragon?y would be enhanced by the
glittering gold of its fragile underwings.
Thomas Bennett (Badger). Photo credit: Robert Workman.
Stanfield's attention to detail is no less comprehensive or imaginative,
and the results are beguiling as she brilliantly anthropomorphises the
animal world. Hats, turbans, scarfs, shawls, feathers, fur, brocade:
textures and colours dance before one's eyes. The Cockerel struts like a
Persian prince in golden boots and towering turban-crest; Badger is cloaked
in a glorious grey fur coat, topped with a bandana-cum-bedcap; the hens
shake their white petticoats and stamp about in marigold-stockings. The
Vixen's layers of red, orange and brown are both down-to-earth and
feminine; the Fox strides confidently in his tall leather boots, but his
shabby corduroy waistcoat speaks of a warm heart behind the pride.
Cleverly, Stanfield manages to suggest both a rustic earthiness and a
Victorian primness – adding piquancy, for example, to the scene where the
animals peer into the Vixen's underground den, spitting out their
disapproval and outrage at her amorous activities with the Fox.
Samuel Kibble (Cock). Photo credit: Robert Workman.
As the action unfolds, the immediacy and realism of the drama is
wonderfully blended with fantasy and fable. There is a winning directness
in scenes such as the henhouse, where the Machiavellian Cock forces the
hens to lay ever-bigger eggs to feed his capitalist greed, while they
remain blind to their own subjugation. When he meets a swift end, a dupe of
the Vixen's 'playing dead', we are both shocked and satisfied. The Act 1
dance between the Frog and the drunken Mosquito (he's bitten the inebriated
Forester), and the dawn games and chatter of the animals in Act 2, are
enchanting.
Peter Harris (Mosquito). Photo credit: Robert Workman.
Having excelled in RAO's recent productions of


Semele


and


L'enfant et les sortilËges


, here Lina Dambrauskait? was a vivacious and tremendously engaging Vixen.
Her soprano has a lovely freshness, but she also captured the Vixen's
strength and passion, as when she attacks the poacher Haraöta or in her
flirtation with the Fox, when she brags about her thievery and courage.
Dambrauskait? was well-partnered by Hazel Neighbour's Fox, whose slightly
heavier soprano shone richly against Dambrauskait?'s brightness. Their love
duet was a highpoint, but the revealed the gentle humour of their
relationship too: there was a wicked glint in Fox's eye as he glanced
towards their den, wryly asking his Vixen, 'How many children do we have?
How many shall we have?' (The opera was sung in Norman Tucker's
English translation.)
Lina Dambrauskait? (Vixen) and Hazel Neighbour (Fox). Photo credit: Robert Workman.
As the Forester, James Geidt revealed a strong, true baritone which
conveyed the gamekeeper's inner emotions with conviction. Initially
evincing a morose world-weariness, his growing feeling for the Vixen –
evidenced in a vulnerable hesitancy with his gun, allowing her to escape –
flourished into a compassion which was both touching and credible.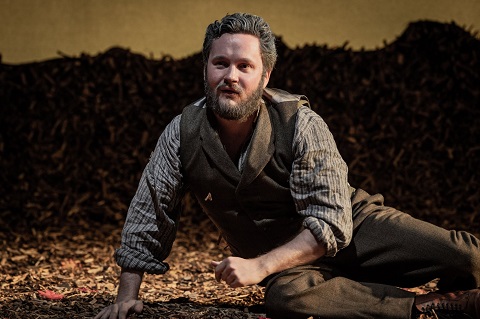 James Geidt (Forester). Photo credit: Robert Workman.
The characterisation was consistently good. Peter Harris's narration
conveyed every ounce of the Schoolmaster's pessimism, concluding with a
laconic shrug of indifference. Thomas Bennett was an eloquent Priest; Niall
Anderson displayed a powerful baritone as Haraöta. Robert Forrest and Yuki
Akimoto formed an effective pair as the Innkeeper and his wife. One can see
why Vixen is attractive repertoire for the conservatoires. The
cast is large thus allowing many students to take solo roles. Here they did
so with aplomb, with Gabriel? Kupöyt?'s Dog and Lorna McLean's Chief Hen
particularly noteworthy.
Niall Anderson (Poacher). Photo credit: Robert Workman.
The death of the Vixen was truly shocking, in its suddenness, lack of
mawkishness and finality. One moment the Vixen danced and taunted Haraöta,
free and invincible; the next she lay dead on the forest floor. The scenes
of Jan·?ek's opera are rather episodic, and not connected in any linear or
causal fashion, yet they seemed to have led inescapably to this moment.
Subsequently, though, Dean struggled to maintain dramatic shape and
momentum, and the final scenes drifted somewhat towards Geidt's concluding
reflections on the death of the Vixen and on his own mortality. This
pantheistic creed was, however, beautifully sung, with warmth and
flexibility: reconciled to life's transience, the Forester was embraced by
the beauty of forest.
Philip Sunderland conducted the Royal Academy Sinfonia in a crisp and
rhythmically tight reading of the chamber arrangement of Jan·?ek's score
made by Jonathan Dove. The dance episodes had real verve and lightness.
But, while I can appreciate why this reduced scoring was used, with just
five string players in the 18-strong ensemble the wind were overly dominant
– at times it sounded more like Stravinsky – and while Sunderland
maintained a clarity of texture which ensured that we could appreciate the
details of harp, percussion and suchlike, I missed the surges of
Romanticism in the orchestral episodes in which the lyricism communicates
an emotional sensuousness to complement the leanness and realism elsewhere.
That said, if this production lacked a certain wistfulness, then the
absence of sentimentality was welcome. Human weaknesses were exposed by
their interaction with the animal world: such frailties were understood,
accepted and forgiven. The Cunning Little Vixen meant so much to
Jan·?ek that he requested that the conclusion be played at his own funeral.
This performance at the Royal Academy was both heart-warming and
life-affirming.
Claire Seymour
Jan·?ek (arr. Jonathan Dove): The Cunning Little Vixen
Vixen Sharp Ears – Lina Dambrauskait?, Fox – Hazel Neighbour, Forester –
James Geidt, Priest/Badger – Thomas Bennett, Schoolmaster/Mosquito – Peter
Harris, Forester's Wife – Clare Tunney, P·sek, the Innkeeper – Robert
Forrest, Haraöta, the poacher – Niall Anderson, The Innkeeper's Wife – Yuki
Akimoto, Dog – Gabriel? Kupöyt?, Owl – Samantha Quillish, Cock Samuel
Kibble, Chief Hen/Vixen Mother – Lorna McLean, Jay – Hope Lavelle,
Woodpecker – Helen May, PepÌk, the Forester's son – AimÈe Fisk, FrantÌk,
the Forester's son – Maya Colwell, Vixen Cub – Anna Mengel, Frog – Kathleen
Nic Dhiarmada, Grasshopper – Ashleigh Charlton, Cricket – Jack Lee, Hens
and Fox Cubs (Caroline Blair, Margaret Mitchell, Clara Lobo, Maria Ejderos
Sveinungsen, Avital Green, Leah McCabe); Director – Ashley Dean, Conductor
– Philip Sunderland, Designer – Laura Jane Stanfield, Lighting Designer –
Kevin Treacy, Movement Director – Christina Fulcher, Royal Academy
Sinfonia.
Susie Sainsbury Theatre, Royal Academy of Music, London; Friday 24 th May 2019.

image=http://www.operatoday.com/Fox%20and%20Vixen%20standing.jpg
image_description=
product=yes
product_title=The Cunning Little Vixen: Royal Academy Opera
product_by=A review by Claire Seymour
product_id=Above: Hazel Neighbour (Fox) and Lina Dambrauskait? (Vixen)
Photo credit: Robert Workman