Consider first the setting. Macerata is a lovely small city on a hill in Le Marche, a Central Italian region with mountains, coastline, old abbeys, ancient towns, excellent local food and wine, and most other things one finds in heavily touristed Umbria and Toscana to the West. Yet here the audience of over 2000 consists overwhelmingly of Italians, many of them local, along with a small handful of German-speakers vacationing on the Adriatic. As with much that is the best in Italy, one senses that the opera festival is in many respects a regional tradition.
Performances take place in the Sferisterio, an outdoor arena with a curved neo-classical façade of over 50 double columns facing a high wall almost 100 meters long. This unique space was constructed hundreds of years ago for matches of bracciale, an extinct game (a bit like team jai alai) that was then the most popular sport in Italy.
For the last century, the Sferisterio has hosted summer opera. While the repertoire tends to be conservative and predominantly Italian – this year, under the rubric "Red Desire" including Macbeth, Rigoletto and Carmen – the productions make innovative use of the space. From the middle of the arena, at least, the experience is at once aurally and acoustically intimate, because one is never more than 15 rows from the stage, and cinematic, because the field of vision and sound is so broad.
The festival encourages directors to exploit these opportunities to the fullest. Federico Grazzini's production of Rigoletto, revived from 2015, was marketed as "pulp fiction." He places the action in a seedy street before the entrance of a dilapidated amusement park from generations past ("Luna Park"). Despite this archaic touch, dim streetlights, park benches, run-down trailers, and soliciting prostitutes, as well as the costumes, suggest an urban misery that is convincingly contemporary.
Yet the staging is also strangely beautiful: the cityscape on stage merges seamlessly with the plain stones of the arena's back wall and the dark sky above – reminding spectators them that, but for one indoor scene, Rigoletto is one of the few operas to take place entirely in the gloom of night. (The promotional video, shot with the 2015 cast, gives an accurate impression of the production: https://www.youtube.com/watch?v=GBuzKmKpJU0 .)
Verdi and Piave's characters fit right into this bleak reality: Rigoletto is a small-time clown, the Duke a shady gang boss, Sparafucile and Maddalena street criminals working out of a food truck, and Gilda a young country girl facing big-city temptations for the first time. And what production has ever made so much of the cameo role of Giovanna, Gilda's nanny, whose actions make more sense when she is just trying to scam for a few bucks, like everyone around her?
The musical team also shows contemporary Italy at its best. To be sure, here one does not hear the established global superstars that sometimes perform at Salzburg, Munich, Glyndebourne or even Verona. Yet one can sample a new generation of rising Italian vocal stars, carefully curated and rehearsed by some of the country's most dynamic young conductors. While Italy is not the singer- and conductor-exporting country it once was, the festival illustrates how rich with talent it remains.
Perhaps most impressive, on the final night of the production, was the leadership of conductor Giampaolo Bisanti. Bisanti is one of a talented and dynamic group of young Italian orchestra directors, with recent credits in Wien, Berlin, and München to his credit. His approach to Rigoletto is old-school in the best sense. Smooth forward momentum, inspired alterations of tempo and tautly idiomatic touches blow away the lethargic caution, leaden tempi and symphonic weight that deaden so much international Verdi conducting today. The regional Orchestra Filarmonica Marchigiana responded solidly, even though the space evidently challenges singers and orchestral musicians alike, who reportedly cannot hear one another at times. Bisanti is a Verdi conductor to watch.
At the head of an impressive cast of young singers stood the commanding presence of Amartuvshin Enkhbat, a 33-year old Mongolian baritone who won the Operalia Competition in 2012 and has been pursuing a career, largely in Italy, ever since.
Enkhbat possesses the rarest of all natural gifts in today's opera world: a real Verdi baritone voice of commanding weight. Even more striking is what he does with it. While he makes a visceral impact at climactic moments, few sing the softer and higher passages of this role with more beauty of tone and emotional impact. Moreover, he sings Italian – a language I am reliably told he hardly speaks – more intelligibly and idiomatically than many native speakers. It all added up to a sympathetic and compelling musical-dramatic characterization: one feels his malice, triumph and pain. Since voices of this type generally do not darken and mature fully until around the age of 40, Enkhbat may well squeeze even more out of the role in future years, particularly at the high points.
Also impressive was the Gilda of Claudia Pavone, a young singer trained in the classic Italian manner: first in the Vicenza children's choir, then at two nearby conservatories in the Veneto. She broke into the Italian scene with a 2012 competition victory, and since has sung widely – especially as Violetta. Her Gilda was impressively secure from a technical standpoint, each note of coloratura perfectly placed and evenly executed, without strain – especially in the big aria. (The interpolated high note in Act IV was a fine touch as well.) Though she convincingly portrayed innocence lost, it all might have had more impact with a sweeter vocal timbre and a more distinctly personal characterization in the ensembles.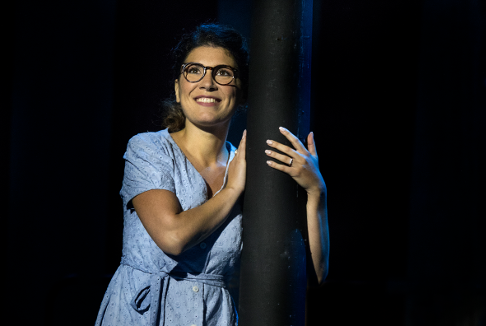 On less than 24 hours' notice, American Matthew Ryan Vickers, who was performing Don José in Carmen, stepped in to replace the tenor originally schedule to sing the Duke of Mantua. After a rocky start, he performed creditably under the circumstances, though in unidiomatic Italian and with strain at the top of the voice and weakness at the bottom – perhaps a function of having moved on to heavier Puccini since last performing this role.
Young Italian mezzo Martina Belli – raised in Reggio Emilia and trained at Santa Cecilia in Rome, and now moving up from smaller roles in Italian theaters to an international career – does not possess the cavernous voice some expect in the role of Maddalena. Hers is a smaller and more slender sound, more sharply etched with a hint of metal: an instrument with which she creates a believable character. And no Maddalena in my experience has more convincingly looked the role.
As her brother, the professional assassin Sparafucile, Menorca-born bass Simón Orfila adopted a similar approach, singing with graceful bel canto legato, if lacking (at least in this venue) the stentorian depth and menace some bring to the role. Other young Italian singers added solid performances, while the chorus, also local, made the most of its moments, as when it sang and danced through a spirited "Zitti, zitti" that perfectly balanced wit and menace.
Overall, Macerata's magical mixture of evocative atmosphere and musical excellence created one the most enjoyable operatic evenings I have experienced in recent years. With new tunnels and highways, Macerata is far easier to reach than it was just a few years ago. I recommend all opera lovers who may be in Italy to consider attending the next summer season, which will highlight Il trovatore, Tosca and Don Giovanni.
Andrew Moravcsik
---
Cast and production information:
Amartuvshin Enkhbat (Rigoletto); Matthew Ryan Vickers (Il Duca di Mantova); Claudia Pavone (Gilda) ; Simón Orfila (Sparafucile); Martina Belli (Maddalena); Alessandra Della Croce (Giovanna); Seung-Gi Jung (Il Conte di Monterone); Matteo Ferrara (Marullo); Vasyl Solodkyy (Matteo Borsa); Cesare Kwon (Il Conte di Ceprano); Gianni Paci (Usciere di corte); Raffaella Palumbo (Un Paggio della Duchessa). Giampaolo Bisanti (conductor). Orchestra Filarmonica Marchigiana. Coro Lirico Marchigiano "Vincenzo Bellini". Federico Grazzini (Production Director).

image=http://www.operatoday.com/xOpere-per-Vivaticket_def-03-406×406.jpg.pagespeed.ic.fKdX7YipOg.jpg
image_description=Image courtesy of Macerata Opera Festival – Sferisterio Macerata
product=yes
product_title=Rigoletto at Macerata Opera Festival
product_by=A review by Andrew Moravcsik
product_id=Above image courtesy of Macerata Opera Festival – Sferisterio Macerata