Composer John Corigliano and librettist William H. Hoffman have crafted a richly multi-layered existential dynamic that intertwines the ghosts of the title (the ruling class of the court of Louis XVI), with an opera staged by the playwright Beaumarchais based on his La MËre coupable, with characters from his first two Figaro plays.
Beaumarchais seems to be more rooted in the present as facilitator of the action, who is trying to cheer up the ghost of Marie Antoinette, not at all happy that she has been beheaded. In the opera-within-an-opera, Count Almaviva is a Spanish Ambassador, in Paris with his servant Figaro, who are both being used by Beaumarchais, (in love with Marie), to rewrite history and save her from the French Revolution. As things go astray, Beaumarchais writes himself into the opera and attempts to rescue the queen with help from Figaro and Susanna.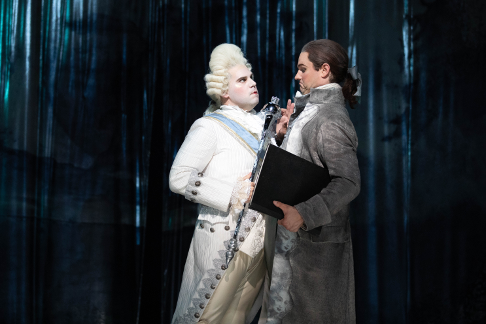 Peter Morgan as King Louis XVI and Jonathan Bryan as Beaumarchais
If this sounds structurally complex, it is, but richly so. While the libretto contains a few improbabilities, Mr. Hoffman's witty, fascinating writing is endlessly engaging and often, effortlessly funny. Mr. Corigliano's score meanders through atonality to neo-romanticism to neo-classicism to loving pastiche with a fluid abandon. The juxtaposition and definition of the players in the "opera" and the spirits hoping to be released from their boring nether world is marked by clarity of tonal palette and precision of scripting.
The physical production does much to ground the concept. James Noone's superlative set design at once defines the evening's premise. A show(er) curtain of floor to ceiling strips of cloth at first slightly obscures the black and white and grey concave walls upstage, which are decorated with misty wallpaper effects and liberally dotted with sconces that match the elaborate chandeliers overhead.
It turns out that the curtain has a complementary design projected on it that breaks up as actors pass front and back through it, mirroring the unsettling music that sets the mood. The curtain flies out revealing lethargic ghosts, languishing in purgatory, preferring lasting death to eternal waiting. The muted walls glide effortlessly to meet in the middle and close off the upstage to allow for the placement of ever changing set pieces for Beaumarchais' opera, which are then revealed in colorful contrast to the gloomy, moody spirit world.
Katherine Maysek as Cherubino and Joanna Latini as Rosina
Nancy Leary's stupendous costume design is almost beyond praise. The white, and off-white period attire for the ghosts communicates elegant despair, and the jewel-toned costumes for the players in the "opera" are eye-popping in their characterful allure. Samantha M. Wootten has contributed a magical make-up design that deftly balances a beautifully bewigged pallor for the spirits with the theatrical punch for the opera singers. Robert Wierzel's multi-layered lighting design manages the same feat, colorfully and brilliantly illuminating the "opera performance" while deploying shimmering effects in the ghostly world that suggest the vanishing sheen of royalty.
Glimmerglass "in the day" would have cast the principal roles with established singers, and the features with Apprentice Artists. Over the past few years, more and more leading parts have been peopled by Apprentices, usually to good effect. I have noticed a definite, calculated, incremental rise in the overall quality of the young singers in the Apprentice program, marked by discerning casting and recruitment under the leadership of Allen Perriello.
With Versailles, the company took its biggest leap of faith yet, with only Marie Antoinette taken by a non-Apprentice singer, the luminous Ukrainian-American soprano Yelena Dyachek. The lovely Ms. Dyachek commanded the stage with a highly sympathetic portrayal, her creamy, poised vocalizing never tiring in this long role. Her melting and theatrically vivid performance of the aria Once There Was a Golden Bird was a ravishing highlight of the evening. By the time we got to Marie's touching finale, as she embraces death, we had been treated to a role traversal that was as well-voiced as it was profoundly moving.
(Center) Christian Sanders as BÈgearss and Tucker Reed Breder as Wilhelm
Jonathan Bryan was a potent partner as Beaumarchais. His handsome, lanky physique cut an elegant figure and his singing matched the look, with smooth, arching phrases, good punch and presence, and buzzy high notes. Mr. Bryan's substantial sound had no problem filling the house, and he could also scale back his delivery to engaging pensive effects.
Ben Schaefer's no-holds-barred Figaro threatens to steal every scene he is in, if not the whole damn' show. Another tall, lean, attractive performer, Mr. Schaefer's inspired antics threatened to shame the Energizer Bunny for slacking. He prances, he dances, he climbs, he wiggles, and oh yes, he sings, too! And indeed, he sings extremely stylishly, with an evenly produced, abundantly appealing baritone of considerable refinement.
The villainous Patrick HonorÈ BÈgearss is served up with obvious relish, with a side of scenery to chew on, by Christian Sanders. Mr. Sanders' clarion, bright-toned tenor sailed through the treacherous Aria of the Worm with nary a problem, undaunted by the tessitura or imposing orchestration. As much as I admired his steely generosity, I actually found his instrument even more attractive and interesting when he lightened up.
(Front from left) Joanna Latini as Rosina, Spencer Britten as LÈon, Emily Mirsch as Florestine and Brian Wallin as Count Almaviva
Brian Wallin proved another gifted tenor, whose wiry Count Almaviva took the stage with flair and commitment. He sold the part with meaty, pliable singing that had ample personality and flair. Joanna Latini's Rosina was well served by a generous, excellently colored soprano that was exceptionally communicative and appealing. Emily Misch was radiant as Florestine, her smooth, silvery soprano showing fine presence in all volumes and registers. Tenor Spencer Britten imbued his impersonation of Leon with bright toned delivery and a loveable puppy dog deportment. Katherine Maysek's substantial, throbbing mezzo served the role of Cherubino well, and she paired luminously with Ms. Latini in a fetching duet.
Gretchen Krupp was a firebrand of a Samira, a wholly gratuitous role that was written as a star turn for the indomitable Marilyn Horne when the work premiered at the Met. It is to Ms. Krupp's great credit that she makes the role work beautifully on her own terms. Hers is a mezzo capable of searing delivery, powerful and ripe, but capable of nuance and yes, humor. Of course, no one has the barrel-toned chest tones that were Ms. Horn's calling card, but Gretchen impresses with her stage savvy, comic timing, and just plain evident joy in singing for us.
The large cast includes even more wonderfully rendered cameos and exceptional featured moments, that they are too numerous too mention. It is worth noting that Peter Morgan's shining, resonant bass-baritone was a fine match for the role of Louis XVI; that Wm. Clay Thompson's suave, secure bass made a great impression as Suleyman Pasha; and that Charles H. Eaton's solid baritone made the most of his brief appearance as the English Ambassador. Please read the cast list below and know that each and every one deserves a bravo.
In the pit, Joseph Colaneri kept the proceedings percolating with admirable unity of purpose and dramatic investment. Maestro Colaneri conducted with aplomb and obvious command of the ever-shifting musical genres. The accomplished orchestra responded with a cornucopia of impressive effects, including radiant string passages, tasty wind solos, snarling brass licks, and telling percussive punctuations. He also partnered beautifully with his singers to present a mellifluous ensemble effort, beautifully judged in its dramatic fruition. Katherine Kozak's well-schooled chorus was the icing on the g'teau.
Jay Lesenger's stage direction was a bit of a mixed bag. On the one hand, individual character relationships seemed well explored. The overall arc of the piece was achieved and there was good clarity in the storytelling. On the other hand, the group scenes were often diffuse, frenetic, and/or looked over-populated. The big crowd scenes needed some attention to focus them up, and to impose some variety on the proceedings. The big chase scene (of Figaro) at the end of Act One was especially repetitive and unbelievable.
The original production for the Metropolitan Opera was decidedly over-the-top "grand" and called for massive musical forces. I was privileged to see the reduced version at Opera Theatre of Saint Louis (which also went to Wexford). This new smaller-scale mounting at Glimmerglass loses nothing of the punch of the original, and even gains in impact in this smaller theatre.
While Corigliano and Hoffman made some substantial cuts since the world premiere, there are still a (very) few longueurs in the piece. Figaro's aria, the Worm Aria, the finale of Act I among others, go on perhaps 32 bars longer than needed to make their effect. But, small matter. The Ghosts of Versailles is an utterly fascinating piece of lyric theatre, one that deserves many further productions.
As for the accomplished casting, the assemblage of prodigiously talented Apprentice Artists promised much. Happy to report: Promises made. Promises kept.
James Sohre
---
The Ghosts of Versailles
Music by John Corigliano
Libretto by William H. Hoffman
GHOSTS: Marie Antoinette: Yelena Dyachek; Beaumarchais: Jonathan Bryan; Louis XVI: Peter Morgan; Marquis/Page: Zachary Rioux; Ghost Quartet: Bryn Holdsworth, Lindsay Metzger, Maxwell Levy, Christopher Carbin; Gossip 1: Teresa Perrotta; Gossip 2: Abigail Paschke; Gossip 3: Simran Claire; Woman with Hat/Duchess: Noragh Devlin
PLAYERS IN THE OPERA: Figaro: Ben Schaefer; Susanna: Kayla Siembieda; Rosina: Joanna Latini: Count Almaviva: Brian Wallin; Patrick HonorÈ BÈgearss: Christian Sanders; Florestine: Emily Misch; LÈon: Spencer Britten; Cherubino: Katherine Maysek; Samira: Gretchen Krupp; Suleyman Pasha: Wm. Clay Thompson; Wilhelm: Tucker Reed Breder; Pursuer/Revolutionary: Tanyaradzwa A. Tawengwa; English Ambassador: Charles H. Eaton; Living Marie Antoinette: Rachel Kay; Bishop/Swordsman: Jawan Cliff-Morris; Dancers: Shanel Bailey, Rachel Kay, Joshua Kring, Jorrell Lawyer-Jefferson
PRODUCTION: Conductor: Joseph Colaneri; Director: Jay Lesenger; Set Design: James Noone; Costume Design: Nancy Leary; Lighting Design: Robert Wierzel; Choreographer: Eric Sean Fogel; Hair and Make-up Design: Samantha M. Wootten; Chorus Master: Katherine Kozak

image=http://www.operatoday.com/KarliCadel-GGF19-GhostsVersailles-GenDress-2778.png
image_description=Yelena Dyachek as Marie Antoinette [Photo: Karli Cadel/The Glimmerglass Festival]
product=yes
product_title=The Ghosts of Versailles at Glimmerglass
product_by=A review by James Sohre
product_id=Above: Yelena Dyachek as Marie Antoinette
All photos by Karli Cadel/The Glimmerglass Festival