Philippe Herreweghe, Collegium Vocale Gent and the Orchestre des Champs-Élysées bring together two sides of Anton Bruckner's deep-rooted spirituality. Whether expressed through the rich polyphony of the Mass in E minor (1866) or the festive colouring of the Te Deum of some fifteen years later, Bruckner's unshakeable faith shines through in these compelling accounts. Widely known for his historically informed performances, in particular that of J.S. Bach, Herreweghe has a special affinity with the Austrian composer whose music he first encountered during his childhood in Ghent when the Concertgebouw orchestra came to play Bruckner symphonies under Bernard Haitink.
It's thirty years since Herreweghe first recorded the Mass (Harmonia Mundi/1990) with the combined forces of Collegium Vocale Gent and his Paris-based group La Chapelle Royale. In terms of beauty of tone, refinement and rhythmic vitality there's not much between these performances. Balance between voices and the fifteen-part wind ensemble is well-judged, and the well-worn notion of 'cathedrals in sound' admirably conjured in both issues. This latest version brings differences in Herreweghe's approach to tempi, with four minutes taken off the length of the earlier performance, bringing the combined duration of the two works to a meagre fifty-one minutes.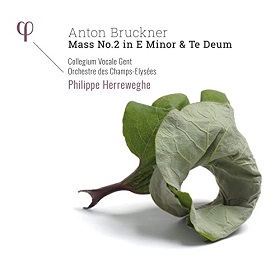 But speed is a matter of careful consideration and with his slightly leaner forces in this present recording, Herreweghe's choice of tempi feels right most of the time. He achieves a fine balance between expansiveness and propulsion, and allows the spiritual impulse behind Bruckner's austerity and opulence, intimacy and grandeur to be fully realised. While these recordings may be thirty years apart, Herreweghe injects plenty of inner life into them and demonstrates convincingly there's room for more than one tempo in any work.  Understandably, perhaps, Herreweghe allows more time for the larger choral group in the 1990 recording, yet both versions have a nobility of expression and intensity of purpose.
Even at its most climatic the 'Kyrie' is beautifully controlled, notably when the first tenors ascend to their high b natural. The choir bring a dance-like agility to the outer sections of the 'Gloria' (brass thrilling in the fugal 'Amen') and an inner stillness to amplify "the sins of the world". A rhythmically taut 'Credo' includes smoothly delivered references to the Virgin Mary and one of the most exciting and superbly articulated 'Et resurrexit' passages I've yet to encounter. There seems to be wide interpretation of Andante, givento the 'Sanctus', and if you're in favour of broadly flowing counterpoint, as in accounts by Matthew Best's Corydon Singers and Stephen Layton's Polyphony, you might be disappointed in this forthright rendition. If cathedral vaulting is only dimly glimpsed here, there's much to enjoy in the expansive 'Benedictus' especially from gurgling woodwind contributions. The 'Agnus Dei' may not be as stately (or should that be indulgent?) as some performances, but its soaring phrases are lovingly shaped, wind scrupulously balanced with just enough of those rising bassoon phrases to prick the ear and its suspensions never over played. (By comparison Herreweghe's 1990 version is somewhat wooden.)
If the Mass in E minor is Bruckner's most devoutly and personal sacred work, the grandiose Te Deum might be considered its polar opposite, and one which the composer, on his death bed, sanctioned for use as a closing movement to his Ninth symphony. Indeed, the composer once declared he would offer his Te Deum to the Almighty rather than any one of his symphonies. The influence of Renaissance polyphony and the wind-band scoring of the Mass is here replaced by the symphonic-style splendour of a large orchestra, chorus and four soloists. Herreweghe fully captures the triumphalism of the opening 'Te Deum laudamus', without the unwieldy bulk of Karajan (Deutsche Grammaphon) or the interminable length of Celibidache (Warner Classics), bringing clarity of texture through fleet tempos, yet still conveying a sense of granite-like conviction. Rapt violin playing (with reminiscences of Beethoven's Missa Solemnis) provides the icing on the cake to the soloist's tender prayers at 'Te Ergo' and 'Salvum fac', while the chorus and orchestra are both warmly integrated into an involving performance. The chorus meet the vocal demands head on with a special mention to the sopranos whose unremitting passages above the stave (culminating in a top C) are dispatched with superb control and unflagging energy. All four soloists acquit themselves admirably too, while Herreweghe coaxes exemplary playing from his orchestral forces. In short, this is a significant addition to the catalogue.
David Truslove
Hanna Elisabeth Müller (soprano), Ann Hallenberg (alto), Maximillian Schmitt (tenor), Tareq Nazmi (bass), Philippe Herreweghe (conductor), Collegium Vocale Gent, Orchestre des Champs-Élysées
Mass in E minor WAB 27 (1882 version), Te Deum WAB 45 (1884 version)
PHI LPH 034 [51:40]
Above: Philippe Herreweghe