Here, from a performance (apparently unstaged) in the hall of the Milan Conservatory (on October 26, 2018), is a one-act opera by Italo Montemezzi (1875-1952), followed by an early Debussy cantata. The works are quite different in subject matter but share some stylistic features. More basically, each requires a mezzo or deep soprano, a tenor, and a baritone (plus a bass in the Montemezzi), making for an intriguing evening's concert.
Debussy's cantata L'enfant prodigue, originally composed for the Prix de Rome competition, is based on the biblical parable of the Prodigal Son, whose plot is familiar also from a Prokofiev ballet, a Britten opera, and a number of famous paintings. Debussy reworked it years later, and its mix of traditional and more individual elements quickly gave it a semi-permanent place in the performing repertory. L'enfant is well represented on disc. I recommend the 1982 release gloriously sung by Jessye Norman, José Carreras, and Dietrich Fischer-Dieskau; and a recent one sung no less expertly by three native French-speakers: Karina Gauvin (from Canada), Roberto Alagna, and Jean-François Lapointe. (See my Opera Today review of the latter.) The present cast does the work adequately, but the heavy Italianate pronunciation distracted me, as did, even more, the frequent "expressive" reliance on swooping portamentos and slow, wide vibrato (especially from the soprano).
The focus of this release is clearly the Montemezzi opera. (The Debussy isn't even mentioned on the front cover!) L'incantesimo was Montemezzi's last opera and received its world premiere in 1943 on the NBC radio network. (The title means "The Enchantment" or "The Magic Spell.") The conductor of that broadcast, Arturo Toscanini, had led the American premiere of Montemezzi's best-known opera, L'amore dei tre re at the Met in 1914, a year after that work's world premiere in Milan. L'amore – the only Montemezzi work that music lovers tend to know (even just in bits) – remained in the Met's repertory for 25 seasons, racking up a total of 66 performances. It still gets performed from time to time, and I know of at least six recordings but none of recent vintage. (The best-known is probably the one from 1976 conducted by Nello Santi, featuring Anna Moffo and Plácido Domingo .)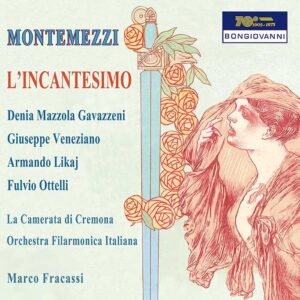 Montemezzi moved from Italy to the US in 1939 in order to protect his family from Mussolini's "race laws." (His wife, an American heiress named Katherine Leith, was Jewish.) Here he completed the present work, which he had begun in 1933 and in which he collaborated (as in L'amore) with the librettist Sem Benelli. Perhaps their ultimate intention was that L'incantesimo would find its way onto the stage along with some other one-act work. Indeed, as I listened, I was occasionally reminded of the two most famous one-act operas: Pagliacci and Cavalleria rusticana.
But Montemezzi's piece has its own character, being somewhat more modernistic in musical language than those works and more refined in orchestration, at times calling to mind Debussy, Respighi, and Richard Strauss. I felt that Montemezzi could have done more to assign distinctive motives to certain words or phrases in the libretto: the verbal motto "Tutto può l'amore" (more or less: Love Conquers All) is repeatedly matched with a bland descending scalar passage. Other Italian opera composers have shown a keener mastery of what Verdi called the parola scenica: the word rendered, through music, in a theatrically potent manner.
Still, the work is often full of character and mystery, thanks in part to the atmospheric libretto. As in Debussy's Pelléas et Mélisande, the plot centers on three characters who are holed up in a medieval castle, and the tenor (Rinaldo) is in love with the soprano (Giselda, wife of Folco, a baritone). There is also a fourth figure (bass): Salomone, a wise man, who, in this case, is a necromancer and tries to resolve the love triangle by sending Folco (the husband) out into the forest to find the deer that he (Folco) killed earlier. The deer – things get symbolic here – had a face like that of Giselda.
While Folco is away, Giselda and Rinaldo sing a stirring love duet. Folco returns, not having found the dead deer's body. Meanwhile, Rinaldo has left. The enchantment passes from Folco to Giselda. As Folco and Salomone disappear into the darkness, Giselda becomes ecstatic, the stage brightens, Springtime has arrived, and she, hailing Almighty Love, finds herself surrounded by a garden of flowers while a wordless chorus sings (as in the last movement of Debussy's orchestral Nocturnes). We may conclude that Rinaldo will soon return for her. Or, perhaps more plausibly, that the two near-soulmates will carry into their separate future lives the memory of their brief moment of mutual bliss.
The work combines a rich Wagnerian orchestral fabric energized by intriguing, early-twentieth-century ostinato figures. The four singers are often given long lyrical lines. I particularly loved Folco's account of his vision (and wounding) of the Giselda-faced deer. My positive reaction surely has something to do with the fact that the baritone (Armando Likaj) is the strongest vocalist here, able to marshal an incisive tone in the role's highest notes. (He gets a bit woofy lower down.) The Giselda (Denia Mazzola Gavazzeni) has a full low register suggestive of her urgent sexuality (or, from the men's point of view, her desirability), and her verismo vocalizing, despite its predictable gulps and scoops, feels appropriate in this work.
Tenor Giuseppe Veneziano sings the part of Rinaldo cleanly and with passion – two qualities not often found in happy combination in the opera world! – but with little variety. Also, he is often just a bit flat or sharp. Bass Fulvio Ottelli, in the role of the necromancer Salomone, is the weakest singer here, not nearly as steady, mysterious, and authoritative as his words and actions suggest he should be. The orchestra plays cleanly but is a bit far from the microphones. This makes it harder to intuit (from the accompanying harmonies) what pitch a singer is aiming at.
Still, there is enough here to show that the work is intriguing and attractive. I suspect that, with a good lighting director and of course strong singers and large, capable orchestra, it could be very effective on stage. It would pair well with various other one-acters. Zemlinsky's A Florentine Tragedy, for example, stages a similar love triangle (wife/husband/lover) but ends in a bizarre kind of triumph for the wife and her lover. (See my review of its most recent recording, at the online arts-magazine The Arts Fuse.) Another possible "mate" would be the less grimly intense setting – by Swiss composer Richard Flury – of more or less the same libretto that Zemlinsky used (likewise reviewed by me at ArtsFuse.org).
The CD closes with a "bonus" track that is nowhere mentioned on the jewel box: Fauré's short Cantique de Jean Racine, in a performance well sung by the chorus but marred by an out-of-tune harp. (Apparently the John Rutter re-orchestration is used.)
The excellent booklet essays are given in Italian and in sometimes utterly puzzling English. The translation of the opera's libretto is even more riddled with nonsense. ("Son chiuso" is not "I seized" but "I am shut away/locked up.") The Debussy libretto is given in the original French and in an English translation that fits the vocal lines and thus often rewords phrases and inverts word order. The result is stiffer and more antiquated-sounding than the original French. No text at all is given for the Fauré.
I heartily recommend this 2-CD set to anyone intrigued by the fate of Italian opera after Puccini. But Bongiovanni might have sold more copies if it had eliminated the undistinguished performance of the Debussy and Fauré works and released the Montemezzi opera on a single CD, at an accordingly lower price. And if they had hired a competent translator.
I commend the work to singers and conductors, who may well find it a very attractive item for stage performance (with imaginative lighting) or, as was done for the performance under review. For a concert performance, the supertitles could profitably include the brief but crucial stage directions, and of course lighting could be used there as well.
The audience's imagination, in conjunction with Montemezzi's often evocative and passionate music, would do the rest.
Ralph P. Locke [*]
Italo Montemezzi: L'incantesimo (one-act opera)
Claude Debussy: L'enfant prodigue (cantata)
Denia Mazzola Gavazzeni (Giselda, Lia), Giuseppe Veneziano (Rinaldo, Azaël), Armando Likaj (Folco, Siméon), Fulvio Ottelli (Salomone)
Italian Philharmonic, Cremona Camerata Chorus, cond. Marco Fracassi
Bongiovanni 2498/99 [2 CDs]