"But, why?" "Because I said so …"
The recurring refrain of the heated conversations between Maya – a rebellious teenager struggling through the angst of adolescence – and her domineering father, Leon – a painter who puts the "power of art" before paternal benevolence – might be a familiar trope of cross-generation domestic disharmony, but in this particular case incomprehension and inscrutability are deepened by historical traumas which cast dark shadows on the present.
Tom Smail's opera, Blue Electric, is based on his wife Alba Arikha's 2017 family memoir, Major/Minor, in which a teenager's 'conventional' preoccupations and troubles in 1980s Paris – a longing for freedom, a search for 'self' – are set against a broader canvas of war and exile, secrets and suffering.  The opera was first performed, in a one-act version, during the 2018 Tête-à-Tête festival.  It has now been extended into a two-act form lasting 100 minutes which was presented at the Playground Theatre in October and streamed live on YouTube.
Alba Arikha is the daughter of the Romanian-born artist Avigdor Arikha, who, having survived the Holocaust, was relocated to Palestine by the Red Cross in 1944. Four years later, at the age of eighteen, while serving in the Israeli army Arikha was shot and badly injured by an Arab soldier. In 1949, he won a scholarship to study at the Ecole des Beaux Arts in Paris, moving permanently to the city in 1954, where he resided – with his wife, the American poet Anne Atik – until his death in 2010.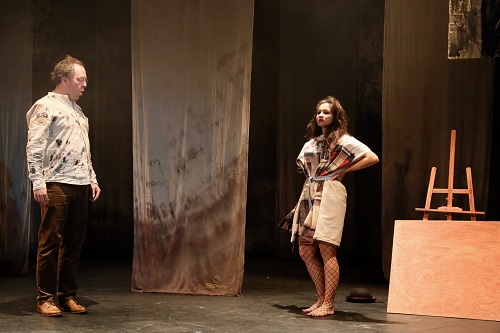 The trials and conflicts of Alba Arikha's youth unfold in short scenes which alternate Maya's bewilderment, loneliness and internalisation of her father's disapproval with Leon's own tormented struggle to keep dark memories at bay. She is born with scoliosis and must wear a back brace; she is bullied at school; she struggles against her father's oppressive absolutism. Nightmares disturb his sleep; he has passion only for art – "painting is alive"; and, he pushes his daughter brusquely away when she tries to learn of his inner torment and understand his demons: "There is a war in Israel! … Don't you understand anything, don't you know anything?"
Leon is close friends with the playwright Samuel Beckett, who is Maya's godfather. When he visits, she and her sister, Bella, are instructed to remember their manners: "A man like Sam only comes around every 300 years …" Beckett is a calming presence in the fraught household, but the conflict between father and daughter escalates as she uses boys, music, her dress and her blue-electric eye make-up to fight against his fierceness and unfathomability. As her alienation grows, short musical interludes convey Maya's inner state.
Orpha Phelan's direction was unfussy, as was Eloise Rose's set design; together they worked to shape a clear narrative. An easel stood towards the rear of the small stage, an ever-present reminder of the power of art to express and, perhaps, to heal, but also of the cultural high-mindedness and intellectual rigour that Leon expects from his daughters. Sheer drapes hung loosely, through which hooded figures could sometimes be glimpsed, like echoes of loss and grief, evanescent and haunting. Act 2 took us to a café where father and daughter meet in a futile attempt at reconciliation.
Tom Smail's score was performed electronically, and I found it rather unrelenting. In the opening moments, cluster chords piled up, a sustained swelling and throbbing, driven by intermittent percussive thumps. This was the prevailing texture, and it certainly communicated the stifling nature of the conflict between father and daughter. But, there were some more transparent episodes in which woodwind colours were expressively deployed, as when Leon and Maya achieve a momentary intimacy when she questions her father about his past; or when she and Beckett share a quiet and honest exchange. The neo-tonal harmonies seemed inflected by jazz colours at times, and overall, the music seemed to serve like a film score, establishing mood and tension, rather than articulating the drama. Occasional bursts of diegetic pop music punctuated the score, irritating Leon who covered his ears in horror and triggering some uninhibited partying from Maya's illicit houseguests during her parents' absence one evening.
The vocal lines are a sort of heightened parlando, the rhythms largely following the natural articulation of the text. I would describe it as musical rhetoric rather than melody, and I did at times find the hyperbolic declamatory gestures out of keeping with the commonplace nature of the verbal exchanges: "You don't know what's best for you", "How dare you dress like that!", "Go to your room!", and suchlike.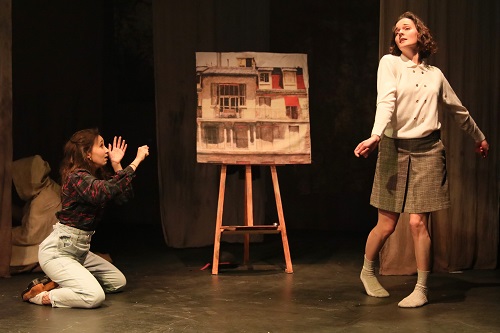 It was the first-rate performances of the cast that made Blue Electric so engaging; for I did find myself drawn into Leon's story and experience as it was slowly divulged to Maya. Mimi Doulton was startlingly persuasive as Maya, using her strong bright soprano to convey with equal power the bullied young child's despair; the teenager's confusion, anger and vulnerability; and the older Maya's acceptance and understanding. Doulton displayed impressive stamina too – this was no easy sing. Jonathan Brown's expressive bass voice garnered the listener's sympathy, revealing a range of unspoken emotions that communicated the extent of the torment beneath Leon's unyielding rigidity and insistent demands. Leon's two aria-moments were sensitively sung, with very expressive use of the text. Camilla Seale was a relaxed and easy-going Bella, thereby further emphasising Maya's vexation. Helen Charlston showed us the kindness and patience of Sarah, Maya's mother, who brought calm and care to the feuding family; Chris Bowen's soft-edged tenor made Samuel Beckett a sympathetic figure. Conductor Gabriella Teychenné guided the singers effectively, co-ordinating well with the recorded score.
I found the unalleviated high intensity of Blue Electric acoustically, and emotionally, exhausting at times. But, the opera has a quieter, almost ritualistic frame. The opera ends where it has begun. And, with Leon's death, in a hospital ward, the wounds of the past are finally healed and the sadness of loss is tempered by the renewal of love.
Claire Seymour
Blue Electric: Tom Smail (composer), Alba Arikha (librettist)
Maya – Mimi Doulton, Leon – Jonathan Brown, Sarah/Schoolgirl 3 – Helen Charlston, Bella/Schoolgirl 2 – Camilla Seale, Barbara/Schoolgirl 1 – Emily Wenman, Samuel Beckett – Chris Bowen, Chorus (Emily Kemp, Lindsey James, Melissa Davies, Fiammetta Fuller Gale, Alex Hume, David Powton, Abraham Sung, Sam Loveless); Director – Orpha Phelan, Conductor – Gabriella Teychenné, Set/Costume Design – Eloise Rose, Lighting Design – Petr Vocka, Creative Consultant – Madeleine Boyd.
Playground Theatre, London (live stream); 14th November 2020