Under Rupert Gough, the Choir of Royal Holloway is long acknowledged as one of the country's most respected university ensembles and has an impressive reputation for illuminating hidden corners of the repertoire. With this new disc of 20th century French music, Gough unveils a Messe Brève by Parisian Yves Castagnet and Pierre Villette's Messe Da Pacem, both enjoying recording debuts. A new choral version of Maurice Ravel's Pavane pour une infante défunte and three short offerings by Villette, including his celebrated Hymne à la Vierge (all written during the 1950s for the Alpine church of Notre–Dame de Toute Grâce in the Haute-Savoie) add considerable charm and French insouciance.
It seems extraordinary that Villette (1926-1998) has largely had to wait for posthumous recognition, his music seemingly ignored by his own countrymen. Donald Hunt and Worcester Cathedral Choir began promoting his music from the late 70s and in 2005 Stephen Layton's Holst Singers issued the complete a cappella works, the first and only album devoted exclusively to Villette. This new disc, recorded at Église Notre Dame d'Auteuil (on Paris's 16th arrondissement) in June/July 2019 is therefore more than welcome, both its initiative and execution of the highest order.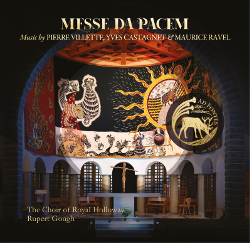 From the first perfectly rolled 'r' of Requiem aeternam – Gough's arrangement of Ravel's Pavane – you know this is going to be something special. Beautifully sculpted phrases unfold with subtle dynamic shading, and just enough forward momentum without becoming overly sentimental, to make this transfer from piano to chorus an absolute winner. Arguably, the organ is slightly recessed but a small quibble with such a meticulously prepared account from singers who have clearly taken this music to their hearts.
If Villette has inherited Ravel's Gallic restraint and sophistication, his music also bears kinship with the Gregorian chant influences of Duruflé (from whom Villette received weekly lessons as a teenager) and the richly spiced harmonies of Messiaen. Some might also detect a jazz idiom redolent of George Shearing. Like Poulenc, with whom Villette also shares a certain "half monk, half hooligan" characteristic, Villette creates a heady cocktail, both sensual and spiritual. These elements are brought together in his Messe Da Pacem; an attractive workbegunin1951 ('Kyrie' and 'Agnus Dei') but not completed until 1970, after moving to Aix en Provence three years earlier. The Mass is scored for choir, semichorus, soprano soloist, orchestra and two organs, but Gough has obligingly redesigned its accompanying forces for single organ.
The work's contrapuntal techniques are worn lightly, and the fusion of impressionistic and modal styles incorporated with great skill. From the gently flowing counterpoint of the 'Kyrie' through to the rising phrases of the 'Agnus Dei' (based on the French carol melody Picardy), Villette builds paragraphs from a single idea and fluently controls the natural accumulation of tension and release. Sarah Fox's jewel-like soprano soars in a 'Gloria' bookended by musical pageantry and enclosing chromatic organ interludes and bluesy choral writing that repeatedly seduce the ear. A festive 'Sanctus' culminates in an atmospheric 'Osanna' with echo effects sung by a semi-chorus that Villette calls a 'Céleste', while the 'Benedictus' is memorable for sinuous solo lines (Sarah Fox providing faultless intonation) which float above exotic choral writing, bordering on the hallucinogenic.
Rapt meditation pervades Villette's Messiaen-meets-Langlais solo organ piece Élévation, and the choir bring awed wonder to the contemplation of the divine in the Hymne à la Vierge, sopranos splendidly polished in the second verse, and those deliciously saucy closing chords perfectly judged. The richly scored Salutation angélique (1954) is the first recording of the version for soprano solo and organ, its expressive contours fully realised by a radiant-voiced Fox.
Yves Castagnet (born 1964) is better known as an organ recitalist than a composer, yet his modest output of liturgical music includes two masses, of which the Messe brève was completed in 1991 and intended for la Maîtrise Notre‐Dame Paris. It's a concise work of some 12 minutes, built on short motifs supported by sumptuous harmonies. The light-filled 'Sanctus' brings welcome contrast to the surrounding sobriety and is not without appeal. A sense of veneration informs the Pentecost motet Veni Sancte Spiritus (2013) where terse phrases and a rippling organ part are realised in an intense and characterful reading.
Ad Fontes, the recently established Buckfast Abbey-based recording label have done themselves proud with their fourth disc. It enjoys striking clarity and perfectly captures the church's Cavaillé-Coll organ on which Andrew Dewar and Liam Condon provide sensitive accompaniment, and includes a lavish booklet, complete with organ specifications, comprehensive notes and Latin texts. Once again, the Royal Holloway Choir is on superb form, responding to this glorious music with fresh, well-balanced voices, and overall makes this one of the most rewarding discs I've reviewed all year.
David Truslove
The Choir of Royal Holloway. Rupert Gough, director & organ. Sarah Fox, soprano. Andrew Dewar & Liam Condon, organ.
Ravel: Requiem aeternam, Villette: Messe Da Pacem, Élévation, Hymne à la Vierge, Salutation angélique, Castagnet: Messe brève & Veni Sancte Spiritus
Ad Fontes AF004 [75:27]