With this 40th-anniversary disc celebrating four decades since its formation by the still-current director Jeremy Backhouse, Vasari Singers is now officially middle-aged. But with this twenty-eighth CD, there's no sign here of a choir resting on its laurels and it demonstrates, once again, that the group takes everything comfortably in its stride. The release also amply confirms the strapline 'Variety, Versatility and Virtuosity' displayed on the choir's website.
Rather than provide a best-of compilation spanning forty years of the Choir's existence, Vasari has chosen a themed programme related to stars, with music drawn from (mostly) living British composers and two representatives from Latvia. It's an idea that works well enough even if not all the selections belong to this celestial framework. But, as Backhouse comments in his prefatory note, 'we loved some anthems so much we couldn't bear not to let them feature'. With this approach, some of the music (all very approachable and undemanding on the ear) may imprint itself more in the minds of the singers than the listener. That said, all the composers write sympathetically for the voice without over-taxing an amateur choir's capabilities.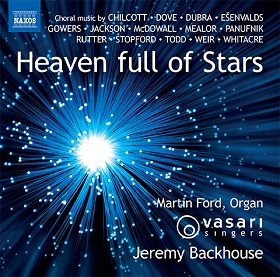 Given Vasari has a solid reputation for commissioning new work, it comes as a surprise to note the absence of any fresh material. One might have anticipated something special to mark this significant anniversary. The lack of any new offering aside, there's plenty to enjoy here and among the fifteen works there are a handful of standout pieces which have already become firmly established in the repertoire of chamber and cathedral choirs such as Eric Whitacre's Lux aurumque and Jonathan Dove's Seek him that maketh the seen stars. While most, if not all the featured composers are recognisable figures (the work of Latvian Rihards Dubra may be unfamiliar to some) there are several works new to me. Those that I returned to with growing interest include Will Todd's well-crafted Christ is the morning star, Judith Weir'sattractive Like to the Falling of a Star (the second of Two Human Hymns) and Bob Chilcott's Salisbury Motets.
This last group of four pieces are derived from Chilcott's substantial Salisbury Vespers (2009) setting Marian texts related to Christmas, the Presentation of Christ in the Temple and Passiontide, while the last is a song of praise to Mary. Those with a sweet tooth (musically speaking) will love the Salisbury Motets; beginning withthe rapt 'I Sing of a Mayden', Chilcott's melodic gifts are readily apparent. More emotional depth informs 'When to the Temple Mary Went' and there's a welcome bite to the more energetic 'Hail, Star of the Sea Most Radiant'. But it is left to 'Lovely Tear of Lovely Eye' to make the most memorable impression, much helped by the heart-easing beauty of Muriel Daniels' cello.
Stars also feature in the eponymous opening track by Ēriks Ešenvalds whose atmospheric setting (with tuned wine glasses) of musings on the night sky by the American poet Sara Teasdale is ecstatically evoked by the choir. Two sopranos from Vasari bring lustre to Ešenvalds' O Salutaris, their pure toned duetting perfectly judged. Gabriel Jackson's Creator of the stars of night is by turns ethereal and thrilling, yet Paul Mealor's largely gentle Ave maris stella gives the impression of an expansive introduction belonging to something that never quite arrives. Elsewhere, Dubra's Passiontide O crux ave feels rather limp between Cecilia McDowall's more animated Aurea luce and Roxanna Panufnik's quirky Deus et caritas. No matter how accomplished these three pieces maybe, they form a somewhat bland collection which, coming immediately after Philip Stopford'ssugar-coated Ave Maria, suggests one too manyworks which lull the senses.
On the plus side there's Patrick Gowers' powerfully effective Ascension anthem Viri Galilei; its dramas convincingly unveiled in this stirring account by both the choir and organist Martin Ford. Equally persuasive is Dove's glittering anthem Seek him that maketh the seen stars, setting a three-line biblical text with great vitality and resourcefulness. Perhaps it's this last quality that points to an unevenness of compositional inspiration in an otherwise well-conceived programme admirably sung and directed by Backhouse with customary efficiency. Full texts, translations and booklet notes included.
David Truslove
Vasari Singers, Jeremy Backhouse (director), Martin Ford (organ), Muriel Daniels (cello), Sarah Mistry (bell)
Ešenvalds – Stars; Dove – Seek him that maketh the seen stars; Ešenvalds – O Salutaris; Gowers – Viri Galilei; Stopford – Ave Maria; McDowall – Aurea luce; Dubra – O crux ave; Panufnik – Deus et caritas; Todd – Christ is the morning star; Rutter – For the beauty of the earth; Mealor – Ave maris stella; Weir – Like to the Falling of a Star; Whitacre – Lux aurumque, Like to the Falling of a Star; Jackson – Creator of the stars of night; Chilcott: Salisbury Motets.
Naxos 8.574179 [81.33]