For all the popularity of what might be termed its hit number, Dvořák's opera Rusalka has a somewhat odd history in the UK. It had to wait until 1959 before Sadler's Wells Opera gave the UK premiere, with Joan Hammond in the title role. Then pickings remain rather slim until David Pountney's iconic production for English National Opera in 1983, using the work to depict a young Edwardian woman's troubling discovery of her sexuality. This production seemed to open people's eyes to the work, that underneath the fairy-tale was quite a disturbing story.
But it would be the 21st century before there were stagings at Covent Garden (in a production borrowed from Salzburg), Glyndebourne, and Grange Park Opera (a production also borrowed by Scottish opera). British directors seem to have viewed the work often via allegory – fairy-tale (often quite dark) or history (English Touring Opera's production examining racial prejudice in the American Deep South.) European directors have often taken a more hard-edged approach, so the Salzburg Festival production seen at Covent Garden in 2012 directed by Sergio Morabito was set in a contemporary brothel. So it was with great interested that I was able to catch a live stream of Christoph Loy's new production of Dvořák's Rusalka from the Teatro Real in Madrid on Wednesday 25 November which was streamed live on mezzo.tv and medici.tv.
Loy has replaced the idea of the lake, the nymphs and the fairy-tale, with that of the theatre and using this as a metaphor for the difficulties of communicating between two worlds, so that an opera with a mute heroine is seen as problematic. The artistic statements surrounding the production make a lot of sense, but how does this work in practice? Act One is set in the foyer of a faded theatre (though a large outcrop of stone makes it clear that this is magic realism), ballerinas float past, sad clown-like figures appear with stylised movements. Rusalka's sisters, the nymphs, are all ballerinas, their father, Vodnik, is an imperious theatre manager whilst their stepmother, Jezibaba, manages the box office. Rusalka, however, is crippled and on crutches with one bad foot. These people live on their memories and separate from the real world. Rusalka longs to leave, with the Prince representing the ideal of the real world. She is 'healed' by her stepmother and cursed.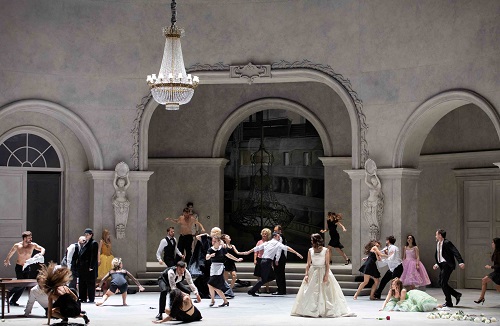 Having set up his mise en scène, Loy allows the remainder of the opera to play out pretty straight. Jezibaba's Act I conjuration apart, there is no magic; in Act II the Vodnik simply mixes with the other guests of the ball. There is, of course, no water but Loy does not really use his theatre metaphor strongly enough to make us feel that this is the linking element. In Act II, in the original, it is the water in the palace gardens which allows the Vodnik to appear. What we get are a set of strong personal interactions, Loy's concept forms a strong frame for powerful performances from the principals.
Asmik Grigorian was a wonderful Rusalka, intense and human with a sense of constant longing. Her song to the moon was imbued with a powerful feeling of need, along with a beauty of line, though as a theatrical moment it rather lacked. Grigorian delivered it huddled in her bed; this was seen in close-up on the live-stream but I did wonder how it came over in the theatre. She wasn't so much fragile as needy, even in her Act One scenes with Eric Cutler's Prince. It seems that Grigorian must have had some dance training as her deportment as a ballerina (including going on point) was convincing and impressive.
In Act Two she had 'use me' written all over her, her desperation was intense, but this helped convey strong feelings in the 'problematic' mute act. By Act Three her performance came into its own as she resigned herself to her fate, yet remained true to her love for her prince.
Eric Cutler performed the opera on crutches. I don't think this was a directorial pensée like Rusalka's crutches, because Cutler appeared for the bows at the end with them. But it certainly confused the iconography. The prince is a problematic character, if you don't make him a selfish shit in the first two acts, then what is there? Not a lot really. Cutler did his best to make the man human, but there was not a lot to work with. He sang finely, and with more of a lyric edge than many. And in Act Two he was no match for Karita Mattila! It was in Act Three that Cutler, like many other exponents of the role, came into his own. The long final scene with Asmik Grigorian was transformative, and everything that you could ask for in this opera. And after their final kiss and his death, Grigorian's Rusalka drifted, ballerina-like, out the rear of the theatre into the wide blue beyond. Pure magic.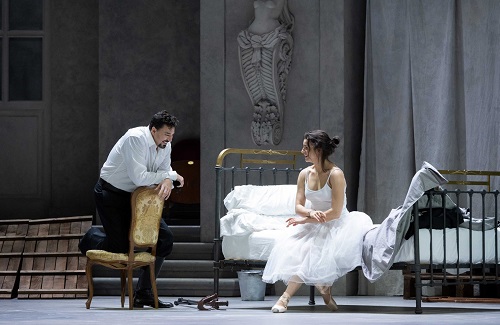 Karita Mattila played the Foreign Princess as pure 24-carat bitch, but then what else is she? During the riotous ball scene (manic dancing, lots of bare-chested men) it was clear that she did far more than flirt with the attractive young men. The duet with Eric Cutler, in fact a sort of trio with a mute Asmik Grigorian, never had any end in doubt and Mattila toyed with Cutler's prince beautifully. It wasn't subtle, but it made riveting theatre. 
[It is a shame that the tessituras don't match, because I have always thought that it would make for a rather interesting drama if the Foreign Princess was Jezibaba in disguise. But that is another production!]
The other characters suffered somewhat, it was not quite clear exactly who the Vodnik and Jezibaba where, and what their back-story was. The advantage of fairy-story is that is comes with a large back-history which can be tapped into. But both Maxim Kuzmin-Karavaev and Katarina Dalayman gave strong performances. Kuzmin-Karavaev seemed to be younger than many who take the role, and sang it very finely indeed. Perhaps too finely, as he never quite felt threatening enough, the sense of him being aggrieved father came over too strongly and you wondered quite what his hold over Rusalka was. But there was so much to enjoy in Kuzmin-Karavaev's performance that I ceased to worry.
Katarina Dalayman played the wicked witch/evil step-mother brilliantly. We ceased to worry why, as we were entranced simply by her vivid performance. Her main scene in Act One was terrific, and she did make the removing of the bandages from Asmik Grigorian's damaged foot into something almost terrifying. The way she toyed with the two emissaries from the Prince's palace in Act Three was great fun.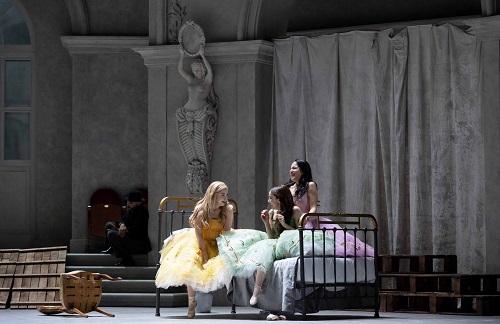 How the other smaller roles fitted into the scheme of things was somewhat more patchy. Julietta Aleksanyan, Rachel Kelly and Alyona Abramova as the ballerina/nymphs were simply delightful, singing and looking fabulous and managing to bring something a little bit bitchy into the idea of sisterhood. The other three characters seemed to be failed theatre artistes, Sebastià Peris's sad Pierrot of a hunter lurked continually and with his haunted eyes gave us the sense that he was in love with Rusalka. The gamekeeper and the kitchen boy (Manel Esteve and Juliette Mars) seemed to be some sort of double act, and their Act Two scene was a comic routine with a ladder. In Act Three, when Juliette Mars' scared kitchen boy was trying to talk to Jezibaba, Manel Esteve's gamekeeper seemed to be flirting outrageously with the witch.
One of the delights of Rusalka is the complexity and imagination of Dvořák's music, with Czech folk rhythms and folk-like melodies interwoven into the structure so that often, what is going on underneath is as interesting as the vocal lines. Ivor Bolton and his orchestra were obviously enjoying the score immensely, and the whole bubbled along gloriously with each individual line full of rhythmic delight. That is not to say that the quasi-Wagnerian sweep of some passages was ignored, and from a musical point of view this was an all-round satisfying production.
Enjoyment of live-streamed stage production is very much dependent on the camera work capturing the essence of the theatrical event. Our eyes and brain capture information differently from film cameras, so inevitably there are gains and losses. I am well aware that my rather temperate view of Christoph Loy's production might be radically different if I were to see it in the theatre. But what was not in doubt was the terrific musical performance given by all.
This was a co-production with the Säschsische Staatsoper of Dresden, the Teatro Comunale of Bologna, the Gran Teatre del Liceu of Barcelona and the Palau de les Arts Reina Sofia of Valencia. The filming for the live-stream was done for Mezzo TV (http://www.mezzo.tv) and the production will be available on demand to subscribers of Mezzo TV and Medici TV (http://www.medici.tv).
Robert Hugill
Antonin Dvořák: Rusalka
Rusalka – Asmik Grigorian, Prince – Eric Cutler, Foreign Princess – Karita Mattila, Vodnik – Maxim Kuzmin-Karavaev, Jezibaba – Katarina Dalayman, Nymphs – Julietta Aleksanyan, Rachel Kelly and Alyona Abramova, Hunter – Sebastià Peris, Gamekeeper – Manel Esteve, Kitchen Boy – Juliette Mars; Director – Christoph Loy, Conductor – Ivor Bolton, Set Design – Johannes Leiacker, Costume Design – Ursula Renzenbrink, Orchestra and Chorus of Teatro Real.
Teatro Real, Madrid (live stream); Wednesday 25th November 2020
Above: Asmik Grigorian (c) Monika Rittershaus