Two years ago, the Ukrainian tenor Dmytro Popov wooed the audience at Wigmore Hall with Russian romances, in a recital (with the Lithuanian mezzo-soprano Justina Gringytė) of songs by Tchaikovsky, Rachmaninov and Medtner, for which I found him the 'perfect advocate'. Popov is no less ardent or persuasive in the operatic 'hymns of love' that form the programme of his first solo album, in which he is accompanied by the Deutsches Symphonie-Orchester Berlin conducted by Mikhail Simonyan.
Popov reprises some of the roles – Bizet's Don José, Tchaikovsky's Lensky and Vaudémont (Iolanta), Puccini's Rodolfo, Borodin's Vladimir (Prince Igor) and Dvořák's Prince (Rusalka) – that he has sung to acclaim in opera houses across the world, since first coming to international attention in 2013 when he performed the role of Rodolfo La bohème at The Royal Opera House.  He opens the disc with Cavaradossi's hymn to hidden harmony, 'Recondita armonia', in which the artist compares the pure beauty of Mary Magdalene, whose portrait he is painting, to the dark allure of his lover, Floria Tosca.  Above the strings' soft pulsating, the flutes and clarinet float languorously, like the painter's brush caressing his canvas.  Popov sings with precision, as Cavaradossi conjures Tosca's image – "bruna Floria" – in his mind, and builds with passionate conviction towards the concluding declaration of love, "Tosca, sei tui!".  There's vocal power a plenty here – the final top Bb is impressively centred and sustained – but there's subtlety and care, too, as Popov creates the concentrated intensity of the painter's vision.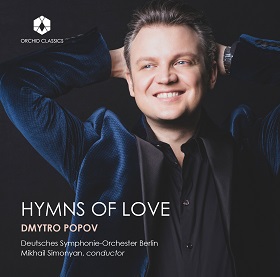 It's the vision of another of Puccini's tragic heroines, Manon Lescaut, which entrances the Chevalier des Grieux, who declares in wonder, "Donna non vidi mai, simile a questa!" (I have never seen a woman, such as this one!)  Popov vividly conveys Des Grieux's self-awakening and burgeoning emotions, at first dreamy with wonder as his soul is transformed and born anew ("a nuova vita l'alma mia si desta"), then inspired with the certainty of his feelings.  The tenor's effortless projection enables him to scale the peaks with naturalness and spontaneity, as the 'fragrance' of Manon's words causes Des Grieux's inner fibres to tremble.  The line is even and sure, and Popov shapes the final phrase skilfully, retreating gently into Des Grieux's memory of Manon's voice then surging easily upwards with the impassioned plea that such thoughts should never cease. 
There is more discovery and wonder, and another first meeting, in the form of Rodolfo's 'Che gelida manina' which Popov sings with no less careful vocal characterisation.  Simonyan coaxes a gentle moonlight from the players of the Deutsches Symphonie-Orchester Berlin (and the engineers have done a terrific job in balancing voice and orchestra while allowing us to appreciate the coloristic precision of the latter), then gradually allows the warmth of the strings to shine.  There's a lovely breadth about Rodolfo's account of his life as a poet, conveying a bohemian ease and confidence, and Popov moves with impressive control between swells of unrestrained ardour – Rodolfo's hopes overflow in an impressively held top C – and delicate intimacies.  No Mimì could resist the poet's silken entreaty, "Chi siete?  Vi piaccia dir?" (Tell me who you are.  Would you please tell me?)
Popov is just as assured, and 'at home', in the French repertoire in the programme – indeed, the tender tone and sweet pianos are, if anything, even more affecting in Don José's 'La fleur que tu m'avais jetée'.  This is beautifully even, and thoughtful, singing: the dreamy ascent, "J'étais une chose à toi" (And I was yours), is stunning and the head-voice Bb ravishing.  One thing is certain: this José is 'lost' in love, and the gentle orchestral conclusion both celebrates that love and pities José's fate. 
There are two arias by Gounod.  The opening words of Roméo's 'Ah, lève-toi soleil!' – "L'amour, l'amour!  Oui, son ardeur a troublé tout mon être!" (Love, love!  yes, its ardour has troubled all of my being!) – would make a fitting epigraph for the whole collection.  And, Popov captures every iota of  the currents which throb through Roméo's body and soul, as he urges the sun to rise so that he might once again see his beloved Juliette.  This aria has a wonderfully youthful spirit: Roméo's pleas and outbursts are propelled by impetuous self-belief and culminate in a sublime pianissimo petition, "… viens!  Parais."   In 'Salut! demeure chaste et pure' (which the liner booklet article assigns somewhat inexplicably to Méphistophélès), Faust really does seem truly transfigured by Marguerite's innocence and godliness, and lovely playing by the Deutsches Symphonie-Orchester Berlin – the woodwind, cello and violin solos are elegant – makes the paradisical delights of Marguerite's garden palpable.  Once again, Popov's ability to caress the crests in a focused pianissimo is superb: we really can feel Marguerite's divine presence.
Popov includes two arias by Tchaikovsky.  Lensky's declaration of love for Olga, 'Ja liublu vas!', is fittingly earnest but also compelling, swept along by the energy of the poet's somewhat self-absorbed emotions.  In 'Net! Chary lask krasy myatezhnoy' Count Vaudémont is no less sincere in pleading for a 'bright angel' to illuminate the gloom of his ardent soul, and Popov sings with terrific commitment and courage, making the fairy-tale romance and the courtly suitor's enchantment 'real' – with the beguiling support of the Deutsches Symphonie-Orchester Berlin who relish the delicacies of Tchaikovsky's score.  Vladimir's cavatina 'Medlenno den ugasal' from Prince Igor completes the trio of Russian arias and is notable for some heart-melting sighs, from squillo to softness in a blink, in the recitative, followed by sustained and fervent intensity which generates its own propulsive dynamism.
Popov and Simonyan conjure a fluent ebb and flow in the Prince's aria, 'Vidino divná', from Act 1 of Rusalka. This is the longest item on the disc and, in the absence of a water sprite and a chorus of nymphs, it is left to the players of the Deutsches Symphonie-Orchester Berlin to evoke the forest lake in the quivering dawn light, and mourn the loss of the transformed, but now mute, Rusalka, as the Prince leads her away. Enzo's anticipation of his 'angel', Laura, in 'Cielo e mar' from La Gioconda and 'Dein ist mein ganzes Herz!' from Léhar's Das Land des Lächelns complete the arias presented. The latter was composed for the composer's friend, the Austrian tenor and film actor Richard Tauber and was designed to show off his vocal accomplishments. Popov describes it as his 'go-to aria for gala performances', and no wonder: it showcases both the elegance and strength of Popov's tenor, as well as his excellent breath control and beautiful head voice.
The programme has an 'encore', of a kind, though the Ukrainian folksong 'Raven black brows, eyes like a hazel' pulses with just as much yearning and passion as the arias which precede it, and is sung with heartfelt ardour by Popov: the third of the three stanzas expands still further in musical scope and emotional intensity.
Commenting on how he selected his programme for this debut solo disc, Popov has explained that his voice is changing and that 'in ten years or so from now I won't be able to go onstage with about half of the characters on this album because they will be replaced by others. […] That's why, after singing these roles so many times, I wanted to record what I've learned about them and preserve some of that youthfulness while it's still there.' I for one am mighty pleased that he did.
Claire Seymour
Hymns of Love: Dmytro Popov (tenor) Mikhail Simonyan (conductor), Deutsches Symphonie-Orchester Berlin
Puccini – 'Recondita armonia' (Tosca), Gounod – 'Ah, lève-toi soleil!' (Roméo et Juliette), Puccini – 'Donna non vidi mai' (Manon Lescaut), Bizet – 'La fleur que tu m'avais jetée' (Carmen), Tchaikovsky – 'Net! Chary lask krasy myatezhnoy' (Iolanta), Ponchielli – 'Cielo e mar' (La Gioconda), Tchaikovsky – 'Ja liublu vas!' (Eugene Onegin), Gounod – 'Salut! demeure chaste et pure' (Faust), Borodin – 'Medlenno den ugasal' (Prince Igor), Puccini – 'Che gelida manina' (La bohème), Dvořák – 'Vidino divná' (Rusalka), Léhar – 'Dein ist mein ganzes Herz!' (Das Land des Lächelns), Ukrainian folksong – 'Raven black brows, eyes like a hazel'
Orchid Classics ORC100148 [55:41]
Above: Dmytro Popov (c) Anton Ovcharov