Harmonia mundi has now reached another significant milestone in its on-going Beethoven series. This new release once again sees René Jacobs directing the Freiburg Baroque Orchestra, here joined by the RIAS Kammerchor, this time for what is perhaps Beethoven's most ambitious composition, conceived on an unprecedented scale that takes liturgical form well beyond conventional parameters.
Certainly, the Missa solemnis is a deeply personal response to the liturgy, not one prompted by religious observance, but by a commission intended to celebrate the installation of his patron Archduke Rudolf as the new Archbishop of Olmütz in 1820. By the time the work was completed three years later, and the enthronement long past, Beethoven's religious beliefs had been sharpened by intensive theological and musical research. The result is a work the musicologist John Deathridge has likened to a 'mountainous universe of unruly religious sentiment'. These words neatly summarise Beethoven's crowning achievement and (unintentionally) provide a warning to those who attempt its many challenges.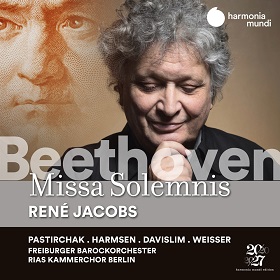 Aside from its technical difficulties and the need for a disciplined chorus with a well-equipped and athletic technique, there is the issue of stamina which may have prompted Sir Colin Davis to compare the effort of performing the Missa solemnis with scaling Everest. Fortunately, the forty-seven strong Berlin-based ensemble are more than fit for the task and are superbly supported by the period instrument players of the Freiburger Barockorchester.
Then there is the challenge of interpretation and the integration of the work's emotional extremes and its wilfully lurching dynamics. How best does a conductor marry Beethoven's seemingly fist-shaking belief in an omnipotent deity with the directions on the opening page: 'Assai sostenuto. Mit Andacht' ('Very sustained. With devotion'). Jacobs makes no bones about outlining Beethoven's sense of awe and wonderment, and like the composer punches his way through the score to reveal its monumentality.
Jacobs has thirty years of Baroque and Classical recording experience behind him but only now, in his seventies, does he embark on this colossus. Of course, he's conducted concert performances before, but I'm a little surprised it's taken him so long to put his own permanent mark on this work. Yet age has never been a barrier to conducting projects – Arturo Toscanini was well into his sixties before he made his now legendary recording in 1939. Like that wonderfully vibrant version, this is no less full-blooded and bears comparison to later readings by Harnoncourt, Herreweghe, Gardiner and Levine.
Like others before him, Jacobs has a superb choir and orchestra and a sovereign quartet of soloists. But what makes this recording so special is a combination of explosive energy and transparency of sound, Harmonia Mundi securing an ideal partnership in Jacobs's musical dynamism (long regarded as a singers' conductor) and acoustic clarity from their technical team when the work was recorded at Berlin's Philharmonie in May 2019. From the electricity of the opening chords (not always so commanding in other recordings) through to the questioning closing section, Jacobs brings an unmistakable authority, a firmness of conviction that makes its 71 minutes utterly compelling. He comfortably sustains its dramatic impetus in a glorious sweeping account and if, at times, there's a slightly casual regard towards profundity, he hammers home, the awesome grandeur of the Almighty, without impairing the work's gravitas.
There's no doubting the feverish intensity of the 'Gloria' where the choir's conviction is unambiguous and lifts every page. The tenors signal their unshakable belief at 'Quoniam to solo sanctus', but while the exhilarating final paragraph is convincingly wrought, it is curious, after so many lightning mood swings, that the final bar ends so limply. Intensity of belief, suffering and elation are all marvellously accentuated in the 'Credo' (with gloriously pungent brass and woodwind) where the sopranos seem to find fresh energy at the top of the stave. The tenors bring warmth to the mystery of 'Et incarnatus' and a numbed burial is swept away by a euphoric resurrection. The fugal 'Et venturam' is breath-taking, Jacobs seemingly plugging his forces into the national grid, drawing electrifying string playing and matching Beethoven's assurance of an ecstatic second coming.
Piety and rapture are amply conveyed in the sharp contrasts of the 'Sanctus': the sopranos are thrilling at the start of the 'Pleni sunt coeli' and later Anna Katherina Schreiber is a sweet-toned and consoling solo violinist. The orchestral playing in the 'Preludium' is suitably meditative, while the Haydn-indebted 'Agnus dei' unfolds with a natural poise, its increasing animation and turbulence aided and abetted by incisive timpani and perky woodwind. Its emotional ambivalence culminates in a noble if not triumphant close, an imposing homecoming yet leaving room for questions.
Throughout, the four soloists are uniformly excellent, both in combination and individually. They provide characterful contributions that are variously earnest, imploring and theatrical in the 'Agnus Dei' where Norwegian baritone Johannes Weisser makes the most of his eloquent solo. Polina Pasztircsák impresses with her polished soprano, soaring effortlessly to her high C in the 'Benedictus', and mezzo Sophie Harmsen also adds refinement. But it is Steve Davislim's gleaming tenor which consistently held my attention, and his pleas for mercy in the 'Gloria' are heart-breaking.
In short, this is a first-rate recording, with the RIAS Kammerchor making light of its challenges, instrumentalists exhibiting customary sensitivity, and the whole deftly balanced by a conductor who enables Beethoven's vision to speak for itself. The booklet notes (minus translations of the Mass) are impressive and include an interview-style discussion with Jacobs, a welcome addition to this must-have disc.
David Truslove
Beethoven: Missa solemnis
Polina Pasztircsák (soprano), Sophie Harmsen (mezzo soprano), Steve Davislim (tenor), Johannes Weisser (baritone), René Jacobs (conductor), RIAS Kammerchor, Freiburger Barockorchester.
harmonia mundi HMM902427 [71 minutes]