The latest, and tenth, concert in the Met Stars Live series took us to the Spanish Riding School in Vienna's Hofburg Palace complex. The concert was once again genially hosted from New York by Christine Goerke, who introduced Anna Netrebko as "incomparable … one of opera's favourite artists". Goerke perhaps surprised those who had tuned in hoping to hear Netrebko perform the weighty dramatic roles that have been her customary operatic territory of late, when she explained that her programme, Day and Night, would be 'a tour of art songs by some of [Anna's] favourite composers from Tchaikovsky to Rachmaninov to Dvořák and Strauss'.
So, those hoping for a chance to hear a 'Best of Netrebko at the Met' medley had to wait until the interval, during which highlights-snippets from past Met productions of I puritani (2002), Roméo e Juliette (2007), Lucia di Lammermoor and The Tales of Hoffmann (2009), Don Pasquale (2010), Anna Bolena (2011), Manon and L'elisir d'amore (2012), Eugene Onegin (2013), Macbeth (2014) Iolanta and Il trovatore (2015), and Adriana Lecouvreur (2019) were broadcast. A career in microcosm.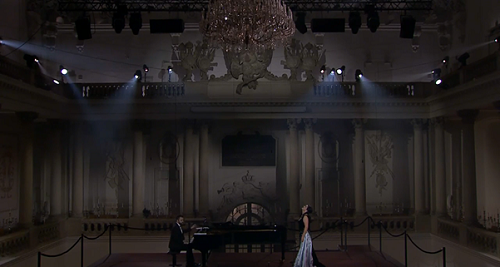 Framing these dramatic vocal heights was a recital of two halves, presenting contrasting settings of poetry about day and night, a programme which Netrebko first performed in Austria in November 2018 with pianist Malcom Martineau, at the start of a seven-city tour that they undertook that season, travelling from Graz to Prague, St Petersburg, Chicago, New York, Baden-Baden and finishing in Munich. It seemed a little ironic to be hearing such a well-travelled programme when we're all pretty much house-bound at the moment, and when the days and nights seem to fade into one another in one long blur. But, there was the draw of hearing Netrebko on different vocal territory, and a note of high drama was introduced by the placing of Netrebko and pianist Pavel Nebolsin atop a towering platform, beneath a huge chandelier, which offered a bird's-eye view of the Spanish Riding School's baroque magnificence.
In fact, although the programme included songs in German, Italian, French and Czech, Netrebko largely stayed on home ground and songs by Tchaikovsky, Rachmaninov and Rimsky-Korsakov predominated. The quietly rolling ripples of the piano at the start of Rachmaninov's 'Lilacs' pierced the silence (and the frail-blue, dull light – 'Day'?) in the Riding School. Simultaneously delicately fragile and firmly assured – Woolf's steel within the butterfly's wing – this song featured some lovely expressive broadening suggesting the satisfaction that the poet-speaker feels, as fate has given them one joy 'as my own', which dwells within the 'fair lilac'. Nebolsin's piano bass line truly 'sang' in response.
The fresh and healing perfumes of the trembling blooms seemed to breathe through 'Before my window', while Netrebko's lingering on the top B of rapture was hypnotic, and as 'poetic' as the piano postlude. 'How fair this spot' was flowing and free, though Netrebko certainly wasn't taking Rachmaninov at his word when he instructs, 'poco tenuto': here the pianissimo top B in the final phrase, "And thee, my only dream", was stretched to blissful infinity: I wouldn't be surprised if viewers' hearts miss a beat or stop! And, the shaping of the descent was exquisite. The recital is worth tuning into for that single moment alone! Later, the composer's 'A Dream' swelled from the piano's wispy threads of piano at start, all dreamy stillness, to embracing worlds: "A dream has two wings, very wide" sang Netrebko. And one felt one was soaring too.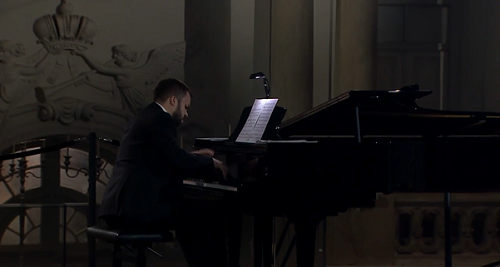 Rimsky-Korsakov's 'The lark's song rings more clearly' brought welcome animation and power, propelled by Nebolsin's nimble finger-work, the pianist sealing the closing cadence with a wry dissonance. In 'The clouds begin to scatter' Netrebko made it sound as if she was singing to herself, expressing inner soul, while also singing only to you, the solitary listener. Nebolsin made light work of a lot of notes, sewing lacy, airy intricacies. Harmonic shift brought renewed energy and piano colours, as "thoughts long dormant" were released.
An easy, folky relaxation characterised Tchaikovsky's 'It was in the early spring', two swaying against three in the piano, and the low vocal register creating intimacy as Netrebko's sensuous diminuendos drew one closer. 'Tell me, in the shade of the branches' summed up the Russian soprano's absolute commitment, vocal and emotional: there were no theatrics but this was intensely theatrical singing. And, 'Nights of Delirium' was a mini-drama of piano-voice echoes and exchanges.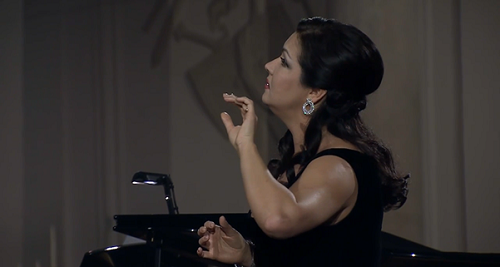 Three Strauss songs were beautifully interpreted. 'Morgen!' was surprisingly tentative, held back by Nebolsin in a piano introduction which revealed the expressive power of understatement, the spread chords airy and magical. When, with closed eyes, Netrebko told us "tomorrow the sun will shine once more" who could not believe her? Her heart and soul and voice persuaded: "Silently we will gaze into each other's eyes" she celebrated, transported to imaginative realms; her soprano is a wonderful 'actor', taking the listener with her, whether she travels. In 'Die Nacht' it was clear that she can do anything she wants with her voice, but that every choice she makes confirms a musical intelligence with is both impressive and innate. The piano's sprinkles of fairy dust made 'Ständchen' sparkle, and the Straussian froth was grounded in human 'reality', as Netrebko invited us to "Steal out into the moonlit night" and "slip into the garden".
In Debussy's 'Il pleure dans mon cœur' the piano glistened and the vocal line was dark, urgent passionate – there was a sense of emotions over-brimming. Netrebko's warm, silky, dipping vocal line in Charpentier's 'Depuis le jour' (from Louise), and the piano's swelling arpeggiated chords, conjured every ecstasy of a 'first kiss'; there was a lovely sensual freedom here, as the Russian soprano moved between the registers with ease. The climactic phrase, "I am so happy", floated in a surge which was perfectly judged and executed, an emotive flourish which then retreated to a low monotone, "And, I tremble in the exquisite delight", sung with a beatific smile and eyes squeezed shut. After an opportunity to revisit Netrebko's 'sleeping walking' aria from the Met's 2014 Macbeth, the muscles and mind relaxed in Dvořák's well-known 'Songs my mother taught me', in which a broad tempo and easy lyricism allowed the music to breathe naturally.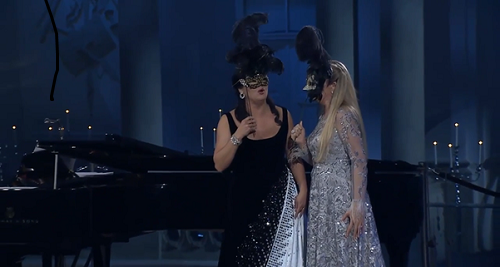 In the nocturnal half of the programme, bathed in an indigo glow with candelabra stars fluttering, Netrebko was joined by mezzo-soprano Elena Maximova for Offenbach's 'Belle nuit, ô nuit d'amour', made vivid not just by the wonderful duetting but also by some masquerade costumery and the piano's evocative conjuring. In 'Uzh vecher … Oblakov pomerknuli kraya' in Lisa and Polina's duet from The Queen of Spades, the harmonic, timbral and vocal blend was the ultimate comfort zone.
'Day' had closed with an exuberant rendition of Leoncavallo's 'Mattina'. Tchaikovsky drew down the blinds on the night. Pianist eloquence and drama framed vocal sumptuousness in 'Amidst the day': "Whether in the midst of day, or still of night, in troubled dreams, or daily struggles, my life is filled with one fateful thought." At the current time, I think we all share a singular thought, and hope …
Anna Netrebko's Met Stars Live in Concert performance is available to view until 26th February (11.59 ET). The next Met Stars Live stream will feature Sonya Yoncheva in Germany, on Saturday 27th February (at 1:00 pm ET).
Claire Seymour
Met Stars Live in Concert: Anna Netrebko (soprano), Pavel Nebolsin (piano), Elena Maximova (mezzo-soprano)
Day: Rachmaninov – 'Lilacs' Op.21 No.5, 'Before my window' Op.26 No.10, 'How fair this spot' Op.21 No.7; Rimsky-Korsakov – 'The lark's song rings more clearly'; R. Strauss – 'Morgen!' Op.27 No.4; Debussy – 'Il pleure dans mon cœur'; Charpentier – 'Depuis le jour' (from Louise), Tchaikovsky – 'It was in the early spring' Op.38 No.2, 'Tell me, in the shade of the branches' Op.57 No.1; Leoncavallo – 'Mattinata'
Night: Tchaikovsky – 'Uzh vecher … Oblakov pomerknuli kraya' (with Elena Maximova, from The Queen of Spades); Rimsky-Korsakov – 'The clouds begin to scatter' Op.42 No.3; Tchaikovsky – 'Nights of Delirium', Op.60 No.6; R. Strauss – 'Die Nacht' Op.10 No.3; 'Ständchen' Op.17 No.2; Dvořák – 'Songs my mother taught me' (from Gypsy Songs); Rachmaninoff – 'A Dream' Op.38 No.5; Offenbach – 'Belle nuit, ô nuit d'amour' (Barcarolle) (with Elena Maximova, from Les Contes d'Hoffmann); Tchaikovsky – 'Amidst the day' Op.47 No.6
Spanish Riding School, Vienna (live stream, directed by Gary Halvorson); Saturday 6th February 2021.