Spring may be almost upon us, its rituals heralding re-awakenings and promising new beginnings. But, this year, when we are all stuck in an eternal present, the cycles of the natural year seem to be revolving around us, rather than carrying us with them.
However, a new online vocal festival curated and led by VOCES8 offers something to look forward – a rarity these days – and Live from London Spring, which runs from 13th February to 22nd April,got off to a stylish start with a programme that VOCES8 first performed at King's Place last autumn titled The Passing Of The Year. This characteristically eclectic programme is loosely shaped by patterns and progressions within the natural world, and so Alec Roth's Stargazer was a fitting opener, comprising as it does settings of four texts (by Elsie Harriet Raspin, James Thompson, W H Davies and Oliver Wendell Holmes) that observe the cosmic patterns and progressions of the stars above. Stargazer was commissioned for VOCES8 by the Three Choirs Festival and first heard in Hereford Cathedral in 2015.
In the cool light of a garland-festooned St Anne and St Agnes, VOCES8 brilliantly captured the dialectic between stillness and movement in the first of Roth's miniatures, 'Stand and Stare', the clear close harmonies and subtle pauses suggesting rapture, the light, tripping repetitions in the lower voices pressing forwards.  "What is this life if, full of care,/ We have no time to stand and stare," they sang.  Well, life is currently certainly 'full of care', but we have plenty of time to 'stand and stare' … and VOCES8's enchanting invitation to find pleasure in "squirrels [as] hide their nuts in grass" and delight in "Streams full of stars like skies at night", reminded us that it is a "poor life" indeed if we let such things pass us by. 
And, so from small pleasures to vast vistas: and from the quiet opening narrative to the rising, glistening dissonances of 'The Star-Lit Stairs' which climbed to a celestial vantage point, revealing "In endless rounds the circling wheels/ That build the horologe of time." With a twinkle in his eye, bass Jonathan Pacey invited us into the tale told in 'Star-Struck', of Timothy Toodletrot who "lived up high,/ In a wee attic just under the sky". The eight voices blended in a clean crisp unison to relate his obsessive stargazing, then blossomed in a blaze of colour to portray the glories of "Sirius, Algol and Aldebaran" that transfixed him. As Timothy "ate no bread and got so thin", we could literally 'feel' him fade from life, with the diminishing and fragmentation revealing "That bones were many and flesh was none". 'In the Train' rushed and whooshed along the night-tracks, revelling in the company of silver doves on its nocturnal flight beneath the "starry heavens".
Three madrigals from The Triumphs of Oriana followed. From this collection of 23 madrigals, published in 1601 by Thomas Morley, which celebrate the glories of Queen Elizabeth I, that 'fair Oriana'), VOCES8 selected madrigals by John Mundy, Thomas Hunt and Thomas Weelkes. 'Lightly she whipped o'er the dales' by Mundy certainly lived up to its title. The opening was fleet, perhaps a little too much so: in the polyphonic opening the five threads were sometimes pulling against each other rather than winding within a unity. But, ever attentive to the text, the vocal quintet brought out the tenderness of the contrasting homophonic images, of flowers that "gently kiss'd her tender feet" and the puffed-up chests of birds, "Proud that Oriana heard their song". And, things soon settled, the shepherds' and nymphs' harmonious praises for Diana unfolding in a joyful tribute: "Long live fair Oriana."
'Hark! Did Ye Ever Hear Such Sweet Singing?' is a risky question for a choir to ask its audience. Thomas Hunt's madrigal was certainly swift and buoyant, but again I didn't feel that VOCES8 (reconfigured again, into a sextet) really captured the unifying intensity of these musical microcosms, with their rhythmic tugs and sways, and energised imitative discourses, firmly contained within architectural structures of sureness and fixity. The emphasis was on animation, of the text and the melodic line; on 'drama' and endless variety – with singers exchanging lines vigorously, turning to and from their musical partners, vivifying repeated motifs with hand gestures – when the diverse details should all be drawn together in a single focused beam, illuminating the glory of the Virgin Queen.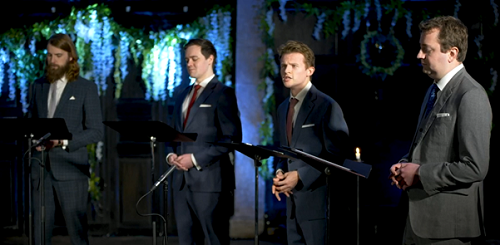 By the time we reached the amorous encounter of Diana's nymphs and the Queen's swains 'As Vesta was from Lathmos Hill descending' (à7), such physical interventions threatened to turn Thomas Weelkes' subtle suggestions into a Carry On sketch, with waggling fingers indicating the number and haste – "First two by two, then three by three together" – with which the pastoral servants abandoned their goddess. Once they started "mingling with the shepherds of [Oriana's] train" Barnaby Smith's eyebrows were doing overtime. Isn't the 'point' of Renaissance metaphors of this kind that everyone appreciates the inference but maintains a courtly decorum? A winding hand gesture from baritone Chris Moore seemed designed to propel the prolix final salutation to its cadential destination a bit more quickly than Elizabeth might have liked, prompting Pacey to look wryly at his watch. Some listeners may have liked the 'larks' but I found such antics untrue to the spirit and tenor of the epoch and its forms, and it was a pity since they distracted from some otherwise fine singing.
VOCES8 were soon back on firmer and finer ground, rendering Sibelius' setting of the Finnish hymn Finlandia (to the words 'Be Still My Soul') with quiet dignity.  The phrasing of each line was exemplary, the momentary breath at the end of each, entirely natural and infinitely calming.  Harmonic intensification prompted a strong sense of vocal direction and certainty, "In every change he faithful will remain", leading to a confident affirmation, "Be still, my soul; your best, your heavenly friend/ Through thorny ways leads to a joyful end", the slightest of breaks after 'best' confirming the union of the earthly and the divine.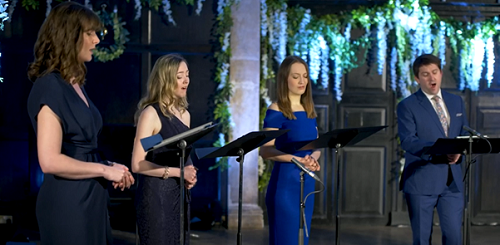 It was a perfect entrée to Vertue by Jonathan Dove. Formerly the ensemble's composer-in-residence, Dove wrote this setting of George Herbert's poem for VOCES8 in 2019. It's a brilliant musical representation of the metaphysical conceit, a unity of simplicity and complexity. The first three stanzas begin with an address to nature – "Sweet day", "Sweet rose", "Sweet spring, full of sweet days and roses" – gradually darkening into acceptance that earthly life is transient: "thou must die … All must die". Dove captures this simultaneity of sentiment by opposing sustained chords in one four-part group against expressive explorations in a second group; three times Andrea Haines' lucid, pure-tone eulogy to the beauty of the natural world was stilled, subsumed within the sombre repetitions confirming our ephemerality.
Dove doesn't neglect the imagery though, and VOCES8' made us feel the emotive power of Herbert's 'brave' rose which 'bids' with growing urgency, "the rash gazer wipe his eye" for the rose's "root is ever in its grave". Nor are Herbert's subtle rhythms overlooked, and at the homophonic conclusion to the third verse VOCES8 placed the feminine ending with great tenderness, confirming that even human and poetry and song must end: "My music shows ye have your closes,/ And all must die." But, the final verse communicates the essential meaning: the virtuous soul is eternal. Here, the weight of the massed voices was uplifting, as surely Herbert intends. The poetic image of the soul as 'season'd timber' was wonderfully expressed by Dove's kaleidoscopic harmonic colours – as if the flames of judgement day fan out and merge with the eternal – before the light repetitions reassured, "Yet chiefly lives", seeming to echo from the far reaches of the heavens.
Dove's The Passing of the Year was originally written for 150-strong London Symphony Chorus. It presents the natural cycle of the year – from the bleak winter through the freshness of spring, a sweltering summer, on to the fading frailties of autumn, and concluding with the ringing bells of New Year's Eve – through a sequence of settings of poems by Blake, Dickinson, Peel, Nashe and Tennyson, performed here by VOCES8 and the composer himself in an arrangement for double-choir and piano.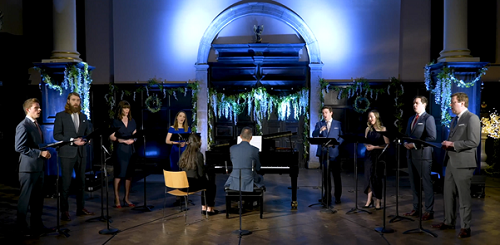 The stirring invocatory repetitions, "O Earth, O Earth, return!", were a dynamic call, summoning the narrow bud which opens her beauties to the sun, as envisaged by William Blake: tender, hopeful, pure. The solo voices of Andrea Haines and Blake Morgan invited the ensemble into a gradual burgeoning: all shimmering piano, tight harmonic mixes, soft suffusions and gentle layerings. Dickinson's mini-drama of the seasons was exuberant and vivid. In terse exchanges, Autumn demanded July account for her bees and harvest-ready crops, while July heckled Spring to supply the needed seeds and buds, only to be answered by May's request that the winter jay-bird appear. The voices flew back and forth, conjuring the sprightly power of Dickinson's highly sprung meter and repetitions. The movement helter-skeltered to its close, to be met by an authoritative Year putting an end to the arguments.
Dove's setting of George Peele's 'Hot sun, cool fire' was a heat-shimmer which seemed to draw the life from the wearying vocal rhythms. Both melodies and harmonies had a hint of pleading desperation – "Shine, sun; burn, fire; breathe, air, and ease me;/ Black shade, fair nurse, shroud me and please me" – the vocal dissonances further troubled by the piano's restlessness. Blake's 'Ah, sun-flower!' blends familiar images in strange ways, and the four male voices in unison unfolded its mysteries thoughtfully. As the poet urged the Youth, the pale Virgin and all the dead to aspire, as the sunflower does, towards the sun and heaven, the vocal apex acquired a truly Romantic grandeur. 'Adieu! Farewell earth's bliss!' (Nashe) was dark and threatening, the piano's tolling 5ths thundering high and low, the vocal lines by turns dirge-like and compressed, then explosive and portentous: "Fond are life's lustful joys, Death proves them all but toys." The vocal unison, "I am sick, I must die", was a little soothed by the acapella prayer, "Lord, have mercy on us!", which found renewal in death. And, so, the return of the incantation, "O Earth Return", prompted the rowdy carolling of 'Ring out, wild bells', which condemned night, sin, grief and sickness into the darkness and brought forth renewal, redress and peace into the light.
Some VOCES8 'classics' concluded the programme: Kate Rubsy's 'Underneath the Stars' (as arranged by Jim Clements) and an arrangement of 'Danny Boy' by Joshua Pacey. On Valentine's Eve, VOCES8 served up an encore of luxuriant and luscious harmonies, in the form of Carroll Coates 'London by Night' (arranged by Gene Puerling). Though spring is some way off, and hope and certainty are fragile, by the end of this concert things were already beginning to feel a bit better.
Claire Seymour
VOCES8: Andrea Haines and Eleonore Cockerham (soprano), Katie Jeffries-Harris (alto), Barnaby Smith (artistic director/countertenor), Blake Morgan (tenor), Euan Williamson (tenor), Christopher Moore (baritone), Jonathan Pacey (bass), Jonathan Dove (piano)
Alec Roth – Stargazer, John Mundy – 'Lightly She Whipped O'er the Dales', Thomas Hunt – 'Hark! Did Ye Ever Hear Such Sweet Singing?', Thomas Weelkes – 'As Vesta was from Lathmos Hill descending', Sibelius – 'Be Still My Soul' (Finlandia), Dove – Vertue, The Passing of the Year, Kate Rusby –'Underneath the Stars' (arr. Jim Clements), Danny Boy trad. (arr. Joshua Pacey)
St Anne and St Agnes, VOCES8 Centre, London (live stream); Saturday 13th February 2021.