"Asie, Asie, Asie.  Vieux pays merveilleux des contes …"  At the start of Ravel's Shéhérazade, Tristan Klingsor's Arabian princess proffers a languorous introduction to that 'old marvellous land of tales', and in this opening recital of Leeds Lieder's spring series Egyptian soprano Fatma Said made it impossible to refuse the invitation to lose oneself in Shéhérazade's sensuous storytelling.  Tempting perfumes seemed to rise from Joseph Middleton's flickering fingers, as Said appealed with velvety loveliness, "Asie", each repetition a fraction more intense. 
Said's characterisation was subtle but sophisticated, and gripping. Her intonation is flawless. Her French is animated but natural. The smallest, effortless gesture – the sparkle of an eye, a hint of vocal huskiness – insinuated broad and deep emotion. This Shéhérazade was a panoply of paradoxes: lively but poised, youthful but dignified, confident but coy. Said's voice is similarly complex. Even and relaxed, it floats with crystalline purity, imbued with sweet colours and enlivened by the gentlest vibrato, but it has smoky hues and richness too. The fluidity of line, and temporal flexibility – this recitation really did hover in a liminal space between song and speech – effected a 'sleight of voice', transporting the listener.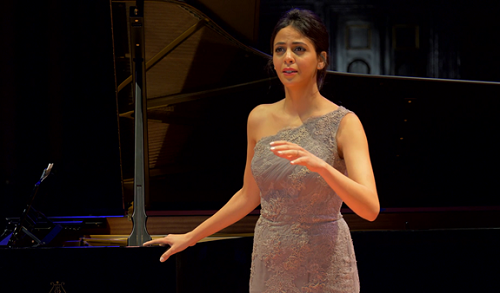 At times Shéhérazade seemed to be whispering to herself; then, the poetic imagery would inspire a blossoming expanse: "Comme un immense oiseau de nuit dans le ciel d'or" (Like an enormous night-bird in the golden sky). The phrasing and tone were by turns gentle, graciously classical, then suddenly inflamed, glinting sharply and brightly with Romantic passion, even violence: "Je voudrais voir des assassins souriant/ Du bourreau qui coupe un cou d'innocent … Je voudrais voir mourir d'amour ou bien de haine." (I want to see assassins smiling as the executioner cuts through an innocent neck … I want to see people dying of love or even of hate.) The whispered conclusion seemed to be both the height of artistry and magically artful.
Middleton conjured the mercurial fluttering of oriental mystery at the 'La flûte enchantée', the piano's wisps trickling and rising as if released from a genie's lamp. This song was a masterclass in the power and art of understated delicacy. Middleton coaxed tender sweetness from his Steinway, mimicking the Persian ney flute whose music Shéhérazade imagines flying towards her cheek, like a mysterious kiss. Said somehow made the vocal line feel expansive and embracing, even while her silken soprano scarcely rose above a pianissimo. The piano postlude seemed to float from 'elsewhere', each graceful gesture made to count. The enticing stranger in 'L'indifférent' was brought to life by Said's dreamy reflections on his unknown song and soft, feminine eyes. When she praised the firm line of his handsome face as even more seductive, "séduisante encor", the vocal colour and nuance was telling. "Entre!" she cried, with sudden vigour, somehow both demanding and demure.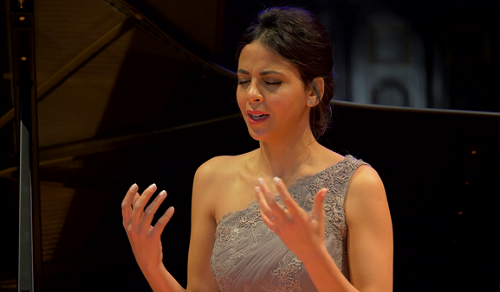 Said and Middleton returned to Ravel at the end of their recital, presenting a similarly characterful performance of the Cinq mélodies populaires grecques. 'Le réveil de la mariée' burst with excitement, the chromaticism and vocal vitality evoking the bride's jouissance. 'Quel galant m'est comparable?' was playful and free, but also powerfully focused, bristling with the confident masculinity of the gallant wooer who boasts of his pistol and sharp sword. Said evoked an ecstatic otherworldliness in 'Chanson des cueilleuses de lentisques', as the mastic harvesters eulogised the angelic beauty of the teardrops of resin. The flattened seconds in 'Là-bas, vers l'église' were wonderfully suggestive of the buried villagers' courage and conviction. 'Tout gai!' was direct and true. At times I felt that the extreme pianissimos and nuanced minutiae of Said's performances of Ravel's songs might not have made the same impact before a live audience: would they have carried to the back of Leeds Town Hall? But, that's not a complaint. Given that musical appetites are currently having to be sated by streamed performances, she and Middleton made a virtue of necessity, and the result was bewitching.
Ravel's songs formed a frame for nineteenth-century German lieder by Brahms and Schumann, and here there was fewer retreats into suggestive mystery, but no less expressive focus. 'Verzagen' from Brahms's five Op.72 songs began with a piano tempest, as remarkable for its transparency as for its storminess. Said delivered the lonely lover's melody with lucidity and strength. The lively 'Schwesterlein', which was one of the 49 arrangements that Brahms gathered in his of Deutsche Volkslieder WoO 33 in 1893-93, was, I think, given an additional introductory bar, a springboard into the relaxed first stanza and the more pressing verse which follows, as the young boy asks his sister to take him home and she resists, anxious not to leave her sweetheart exposed to another's desire. The shift into the slower fourth stanza was persuasive and full of pathos; Said's soprano was fragile yet always pure, and it faded in the final verse even as the waning young lass offered reassurance to her younger sibling. 'Lerchengesang' sparkled with a crystalline sheen, the accompaniment seeming to twinkle like stars, as voice and piano evoked the heavenly transfiguration brought about by the larks' song. Darkness and pain flooded through 'Nicht mehr zu dir', the Romantic tug of war between despair and self-denial communicated with directness and intensity, the wells of consuming passion finally released in the piano postlude.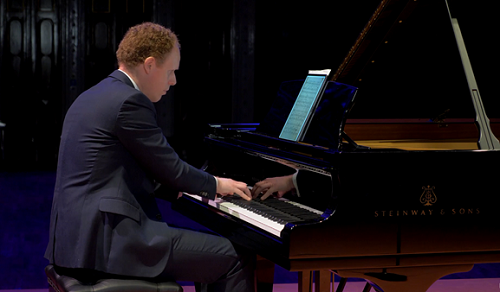 I am not very familiar with Schumann's Sechs Gedichte und Requiem Op.90, so it was a treat to hear these songs which set poems by Nikolaus Lenau whom Schumann greatly admired. In 'Lied der Schiedes', which is the song of the blacksmith shoeing Faust's horse, a robust vocal line and some sturdy piano accents gave the song folky vigour, though the final verse was more intimate and affectionate, as they smithy bids the 'noble little steed' farewell and urges him to be well-behaved and come back soon: "Nun Rösslein, ich Beschlage dich, Sei frisch und fromm, Und wieder komm!" The Romantic sehnsucht of 'Meine Rose' was exquisite, the harmonic shifts underscoring the paradox of the flower's beauty which is only deepened by its decay. 'Kommen und Scheiden' was as magical and transitory as its youthful protagonist's experience of love; the flowing triplets of 'Die Sennin' conjured the pastoral loveliness of the cowgirl's song as it charmed the mountains and meadows. Middleton's musical intelligence and sensitivity were at their height in 'Einsamkeit', the piano's harmonies at first unsettling, then more resigned. Expressive freedom of tempo characterised 'Der schwere Abend', while the contrast of force and pathos – "Und sternlos war die Nacht,/ So ganz wie unsre Liebe" (And starless was the night just like our love) – was dramatic and touching. The blackening piano postlude of 'Im Herzen uns den Tod' was a fitting pathway to the final 'Requiem'.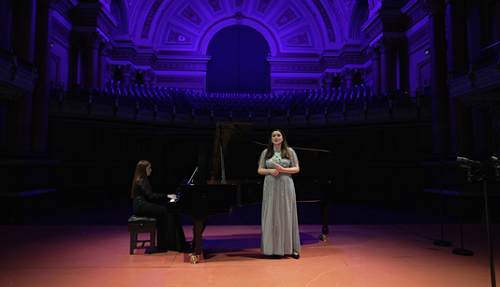 The recital had begun with a performance by mezzo-soprano Bernadette Johns and pianist Alexandra Standing of songs by Schubert, Bridge and Mahler. It was an ambitious choice to present two of Mahler's Rückert-Lieder and 'Blicke mir nicht in die Lieder' was a little unsettled, as Standling seemed to work a touch too hard to make every note count. The transitions between the different tempi in 'Um Mitternacht' were well-shaped, however, and Johns demonstrated sufficient expansiveness and depth to convey the poet-speaker's psychological wrenching and inner conflict, while maintaining poise and dignity.
The duo had begun their sequence with Schubert's 'Die junge Nonne'. The piano introduction was dark but also warm, and Johns crafted a true line, exploiting the major/minor alternations and imbuing the phrases with increasing intensity – "Des Bräutigams harret die liebende Braut,/ Gereinigt in prüfender Gluth, Der ewigen Liebe getraut." (The loving bride awaits her bridegroom Purified in the testing flames, Wedded to eternal love.) – before the quietening "Alleluias" of the close. Best of all was Frank Bridge's setting of Matthew Arnold's 'Come to me in my dreams', which was performed with freedom and flexibility, the emotional drama complemented by moments of simplicity and rest.
The next recitals in Leeds Lieder's 2021 spring series take place 24th-25th April and feature Fleur Barron, Gerald Finley, Benson Wilson, Dame Sarah Connolly with pianists Joseph Middleton, Ella O'Neill and Julius Drake.
Claire Seymour
Bernadette Johns (mezzo-soprano) Alexandra Standing (piano)
Schubert – 'Die junge Nonne'; Bridge – 'Come to me in my dreams'; Mahler – 'Blicke mir nicht in die Lieder', 'Um Mitternacht'
Fatma Said (soprano), Joseph Middleton (piano)
Ravel – Shéhérazade ('Asie', 'La flûte enchantée', 'L'indifférent'); Brahms – 'Verzagen', 'Schwesterlein', 'Lerchengesang', 'Nicht mehr zu dir zu gehen'; Schumann – Sechs Gedichte und Requiem Op.90 ('Lied eines Schmiedes Meine', 'Rose Kommen und Scheiden', 'Die Sennin', Einsamkeit', 'Der schwere Abend', 'Requiem'; Ravel – Cinq mélodies populaires grecques ('Le réveil de la mariée', 'Là-bas, vers l'église', 'Quel galant m'est comparable?', 'Chanson des cueilleuses de lentisques, 'Tout gai!'.
Leeds Town Hall (live stream); Friday 26th March 2021.