From Four Wagnerians to Three Divas; from the Hessisches Staatstheater Wiesbaden to the 250-year-old theatre of Opéra Royal du Château de Versailles. And, for Christine Goerke, from the opera stage back to the production studio, to host the thirteenth and final performance in the Met Stars Live in Concert series, which brought together two sopranos, Ailyn Pérez and Nadine Sierra, and mezzo-soprano Isabel Leonard, together with pianist Vlad Iftinca and guitarist Pablo Sáinz-Villegas, for a varied programme of arias and scenes. Later in the performance Leonard commented that the trio felt 'like sisters', and that their bond – their shared Latin heritage and their absolute love for music – had only deepened during the time spent preparing for the live stream recital.
One of the advantages of having a trio of performers is that their vocal qualities open up a wide range of repertoire, and so the first half of the programme spanned from Vivaldi to Gounod, from Mozart to Leoncavallo. Nadine Sierra got the show on the road with a fearless rendition of 'Je veux vivre dans ce rêve' from Gounod's Roméo et Juliette. Juliet's commitment to her dreams was unambiguously conveyed by Sierra's strikingly sure rise, in the opening phrase, to a high C, and through the subsequent, pinpoint precise, chromatic descent; it takes considerable technique and confidence to start a live broadcast with these vocal challenges, and to do so in such relaxed fashion. There was nothing 'breathy' about Juliet's vocal waltz: the grace notes were demure and sweet, the melodic fragments cohered with excitable energy, and there was a lovely contrast in the heady lyrical intoxication of the flowers' scents. The coloratura runs, leaps and trills were effortless and captured every ounce of Juliet's youthful optimism. Pianist Vlad Iftinca was an exemplary accompanist – here and throughout the programme – adding colour and life, but never dominating or deflecting the attention from the voice. For me, this was an ideal exemplification of how to make the best of a compromise; we lost the orchestral colour and timbre, of course, but we didn't notice.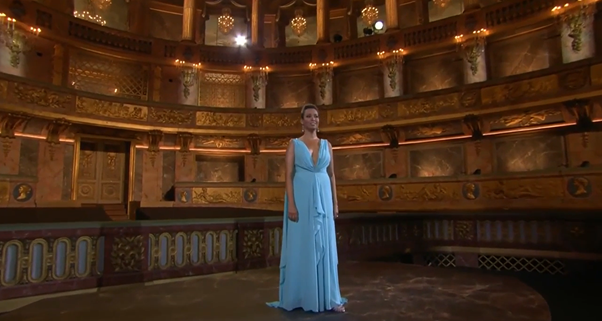 Subsequently, Sierra assumed the persona of the wronged Donna Anna in Mozart's Don Giovanni, pleading with her betrothed, Don Ottavio, to give her time to come to terms with her father's death, in 'Crudele? … Non mi dir'.  The preceding recitative was affecting, particularly the floating rise to a high Bb, designed to melt Ottavio's impatience with the tender pleadings of his loved one's heart.  The aria was fairly stately of tempo, but this allowed for expansive lyricism and room for the decorations to spread their light and grace.
Isabel Leonard donned the trousers for her opening number, Cherubino's 'Voi che sapete' from Mozart's Le nozze di Figaro.  Though she was a glistening image of midnight-blue and silver, attired in a beautiful dress which complemented Sierra's sky-blue gown, Leonard conjured all the self-earnestness of the young Cherubino in his new military uniform, and the pomp and pride of his new role.  His aching desire seemed fresh and true.  Vivaldi's 'Agitata da due venti' – written for Margherita Giacomazzi to perform as Matilde in Adelaide (1735) but transported for the singer's turn as Costanza in the composer's Griselda which was first heard during the same year – has become a fairly well-known virtuoso show-piece.  Leonard conveyed the whirlwind of emotions, evincing a meaty, emotion-gripping lower register juxtaposed with lightness in essaying Vivaldi's breath-taking leaps and wriggles: the octave bounces were punched home perfectly, the curls were beautifully crisp, and Leonard and Iftinca both created a sense of dramatic context and occasion.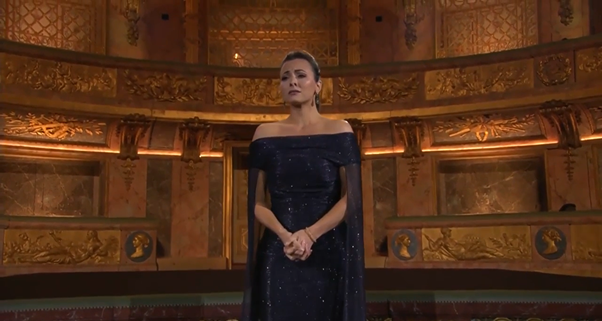 Ailyn Pérez took us to the latter end of the nineteenth century. 'Ebben? Ne andrò lontana' from Catalani's La Wally, in which the eponymous protagonist despairs that she must leave her home if she is to be united with her beloved Hagenbach, was richly expressive. The piano introduction had a light touch, but Pérez made confident vocal choices, elongating and colouring the text to oppose hope with sorrow – 'Laddóve la speranza, la Speranza/ È rimpianto, è rimpianto, è dolor!' – and singing with lovely purity of her memories of her mother's happy house. The sudden power and intensity that marked La Wally's determination to 'go away alone and far, and amongst the clouds of gold!' was again in evidence in 'Stridono lassù' from Leoncavallo's Pagliacci, as Nedda feared for her husband and wondered at glory of the songbirds' flight and eloquence. After poised recitative, Pérez realised a glossy song, joyful laughter and ecstatic vocal potency.
There followed a series of duets.  'Belle nuit, ô nuit d'amour' from Les Contes d'Hoffmann brought Sierra and Leonard together: the rich darkness of Leonard's lower range was set against the shine of Sierra's top – a perfect union.  In 'Prenderò quel brunettino' from Mozart's Così fan tutte Pérez (Fiordiligi) and Leonard (Despina) had fun running through their beautiful chains of thirds and sixths, and launching into some audacious accelerandos that conveyed the ladies' confidence and brio.  In 'Mira, o Norma … Sì, fino all'ore estreme' from Bellini's Norma, Pérez (Norma) and Sierra (Aldagisa) shaped the phrases, exploited the words, employed nuance and inflection, and demonstrated the emotive power of melody.  The dramatic shifts in the duet were utterly persuasive and communicative, and the singers had a natural rapport, swaying through the rubatos and dynamic ebbs and flows, and blossoming towards an ebullient conclusion.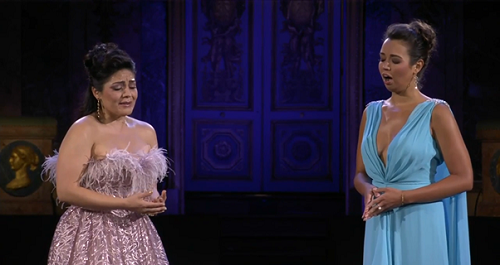 If you have three tremendous female voices in the same room, you can't not perform the final trio from Richard Strauss's Der Rosenkavalier. And, what a glorious performance this was of 'Marie Theres'! … Hab' mir's gelobt': each character was absolutely transfixed within their own world yet also inextricably bound within the romantic web – the intertwining voices could not be extracted from the whole – and, again Iftinca supported the vocal glories while never overbearing them.
The latter part of the programme was dedicated to the three divas' shared Latin heritage.  Some delicious temptations in the piano introduction drew forth Leonard's sensuous colours in Carmen's seguidilla, 'Près des remparts de Séville'.  Again, her lower voice was remarkably expressive, and, flexible and relaxed, it could move beguilingly from rhetoric and declamation to teasing and coaxing.  There was fearlessness and fire in Rossini's Canzonetta spagnuola. 'En medio a mis colores', and Leonard's truly characterful singing drew the listener in, truly hooking them with a wild whoop at the close. Sierra, too, displayed colour and character in 'Me llaman la primorosa from Giménez's El barbero de Sevilla, demonstrating total control of dynamics, the melodic line and timbre, and indulging in some playful dialogue with the piano at the close.  Pérez' sumptuous, sensual rendition of Manuel Ponce's 'Estrellita' was wonderful, swelling with warmth, retreating into intimacy; there was a Straussian preciousness in the expansions, complemented by delicate floating peaks.  This was stunning vocal beauty.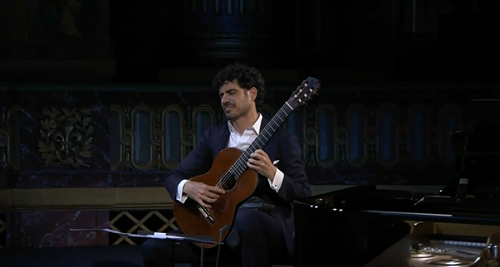 At the appeal from guitarist Pablo Sáinz-Villegas, the trio kicked off their stilettos for Consuelo Velázquez's 'Bésame Mucho', demanding their kisses with fervour and flirtatiousness, and we were invited to join in 'Cielito Lindo' by Quirino Mendoza y Cortés – certainly the appeals, 'Ay, ay, ay, ay, sing and don't you cry, my sweetheart' were embracing and persuasive.
This was a really warm, honest and engaging conclusion to a wonderful series of live-streamed concerts from stunning venues across Europe.  Those who have participated will undoubtedly be longing to get back to the Met stage; those who have enjoyed the performances will relish their musical memories for many years to come.
Claire Seymour
Three Divas: Ailyn Pérez and Nadine Sierra (soprano), Isabel Leonard (mezzo-soprano), Vlad Iftinca (piano), Pablo Sáinz-Villegas (guitar)
Gounod – 'Je veux vivre dans ce rêve' (Roméo et Juliette); Mozart – 'Voi che sapete' (Le nozze di Figaro); Catalani – 'Ebben? Ne andrò lontana' (La Wally); Mozart – 'Crudele? … Non mi dir' (Don Giovanni); Vivaldi – 'Agitata da due venti' (Griselda); Leoncavallo – 'Stridono lassù' (Pagliacci); Offenbach – 'Belle nuit, ô nuit d'amour' (Les Contes d'Hoffmann); Mozart – 'Prenderò quel brunettino' (Così fan tutte); Bellini – 'Mira, o Norma … Sì, fino all'ore estreme' (Norma); R. Strauss – 'Marie Theres'! … Hab' mir's gelobt' (Der Rosenkavalier); Bizet – 'Près des remparts de Séville' (Carmen); Rossini – 'En medio a mis colores' (Canzonetta spagnuola); Giménez – 'Me llaman la primorosa' (El barbero de Sevilla); Manuel Ponce – 'Estrellita'; Consuelo Velázquez – 'Bésame Mucho'; Quirino Mendoza y Cortés – 'Cielito Lindo'
Opéra Royal du Château de Versailles (live stream); Saturday 22nd May 2021.