The optimistic words of Julian of Norwich (1342-c.1417) might seem out of place in the modern world. Yet, Mother Julian, as the English anchorite and mystic came to be known, lived through two periods of plague, in which she nearly lost her own life and experienced the deaths of those close to her. Her book Revelations of Divine Love – the earliest surviving book in the English language to be written by a woman – expresses a certainty that today we might envy: the certainty of being loved by God and of being protected by his Providence.
In the final lines of 'Little Gidding', the fourth of the Four Quartets, written during the Second World War, T.S. Eliot quoted the words of this wise woman who maintained trust in God's faithfulness while addressing uncertainty and fear. Julian reflected that 'God wishes to cure us of two kinds of sickness; impatience and despair', sicknesses with which the modern world is surely afflicted; but, she urged patient and hope: 'He said not, "thou shalt not be tempested, thou shalt not be travailed, thou shalt not be dis-eased;" but He said "thou shalt not be overcome."' Her message was embodied in this programme of music and readings presented by ORA Singers and BBC news reader and presenter Zeb Soanes, spanning from Julian's time to our own, which celebrated 'the power of the human spirit, and human art, in the face of life's adversities'.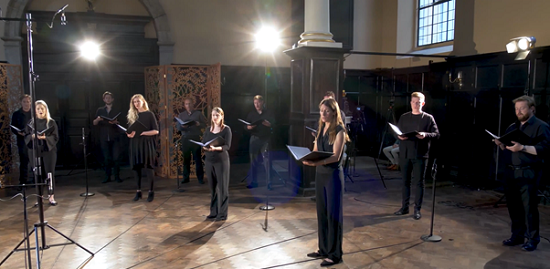 There might seem to be little that is 'golden' about our modern age, but ORA Singers express their conviction that this is indeed a 'second golden age of choral music', one equal to the a cappella splendours of the Renaissance, through their commissioning of contemporary choral music, which they often perform alongside Renaissance masterpieces – works upon which the new compositions directly reflect.
Published in the 1575 Cantiones sacrae,Thomas Tallis's motet 'Te Lucis Ante Terminum' sets the middle part of the Gregorian chant, the latter's contemplative simplicity being continued and concentrated in the gentle harmonisation with which Tallis accompanies the melody in the mean voice, and which the outer chant verses frame: 'From all ill dreams defend our sight, From fears and terrors of the night; Withhold from us our ghostly foe, That spot of sin we may not know.'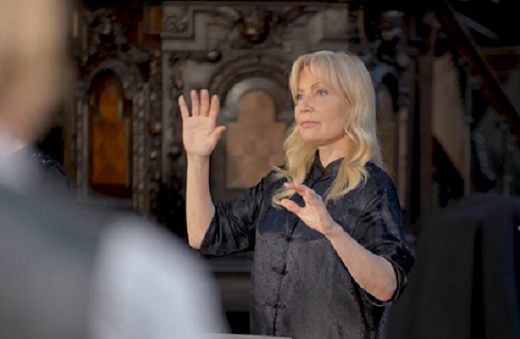 So focused and pure was the choral chant that it might have been sung by a single voice. The rock-steady triple-time pulse and ORA's unwavering placidity dispelled doubt; the details – the delicate tierce de Picardie cadence of the first phrase, the warm expansion through gentle movements in the inner voices, the purposefulness of the tenor's rising phrase, 'polluántur córpora' – conveyed determination and hope. Soanes' reading of the first 'shewing' that Julian received from Jesus confirmed the assurance of the chant's final 'Amen', crystallising as it does the 'truth' on which everything depends. Holding a small hazelnut in her hand, "What can this be?" Julian asked. "It is all that is made," Jesus replied. When she wondered how a thing so tiny could keep from falling into nothingness, Jesus explained that it lasts because God created the hazelnut, God loves it, and God sustains the hazelnut and all creation, now and forever.
Tallis's Latin motet 'O nata lux de lumine', a setting of text from Luke's Gospel which celebrates Christ the Redeemer, was the perfect musical complement to Julian's revelation. It is hard to imagine better homophonic ensemble singing than this, the occasional small lilting movements in the inner voices conveying the sense of wonder felt by the disciples Peter, James and John who, having gone with Jesus up a mountain to pray, are suddenly surrounded by heavenly light. The startling false relation which concludes the appeal, 'Nos membra confer effici Tui beati corporis' (grant us to be members of thy blessed body), conjured the power of that unearthly gleam, and was emphasised by Digby's drawing out of the discomforting semitonal dissonance between the tenor and bass in the concluding repetition of the phrase. Harry Escott's 'O Light of Life' was the perfect complement, building its own halo of illumination through the accumulating semitones of the opening phrase, and expanding in a sparkling array, 'Light of Light, inclined by love,/ Hear this, our prayer'. The homophonic repetitions of the sober plea, 'Keep us, when our race is run/ To live with Thee as one', were poised but insistent, communicating the earnestness of faith – a serenity confirmed in 'A Child's Sleep' by Carol Ann Duffy, in which a mother watches over the timeless peace of her sleeping daughter.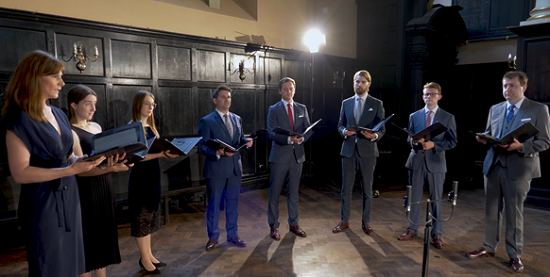 Tallis's economy was continued in the Kyrie of William Byrd's Mass in five voices, a work which epitomises Byrd's Latin style. This was an exemplary performance by VOCES8; the clarity of the first 'Kyrie eleison' was followed by the more fluid 'Christe eleison' and culminated in the polyphonic flowering of the concluding 'Kyrie', the latter finely crafted and dignified. In contrast to VOCES8's reserved poise, Digby injected energy into the opening phrases of Roxanna Panufik's 'Kyrie', exploiting Panufik's dissonant expansion of Byrd's style and coaxing the voices as they rubbed off each other, blending harmonic dust, the sopranos luminous above a resonant bass. After an eerie calm in the Christe episode, the vigour of the Kyrie returned, eventually subsiding in eerie harmonic clusters.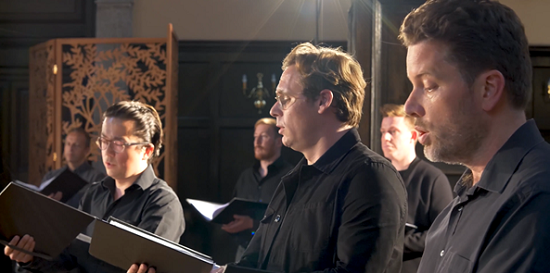 Following Soanes' pointed reading of Leigh Hunt's superficially innocuous but ambiguously inconclusive poetic reflection on time, memory and love, 'Jenny kiss'd me', three of the men circled through the rondellus repetitions of the anonymous medieval motet, 'Stella maris nuncuparis' – the text of which also reflects on time, appealing to the Virgin Mary to 'by virtue translate those who are yours into the company of blessed today'. The evenness of the revolving cadences was almost hypnotic in effect, but more robustness would have conveyed the rough-and-ready quality of human striving. Joanna Marsh's 'All Shall Be Well' – an ORA commission, here receiving its world premiere performance – takes the rotating phrases of 'Stella maris nuncuparis' and quotations from Julian's Revelations of Divine Love and weaves music and text into a shimmering harmonic haze. The spiralling lower lines seemed to generate sparks which lit the fire beneath energising, uplifting harmonies, as the upper lines bore Julian's spiritual certainties aloft, culminating in an ecstatic, echoing shimmer, 'I it am, the Wisdom of the Motherhood', before the outreaching vocal rays cohered in harmonic forms whose very strangeness overrode all doubt: 'I it am, the Light and the Grace that is all blessed Love.'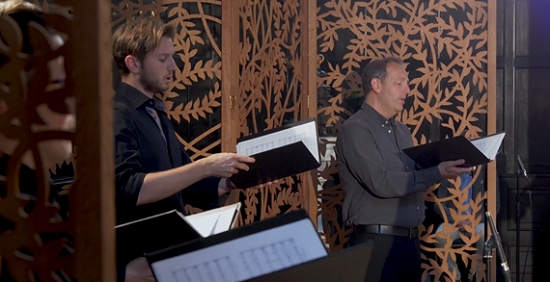 Timeless endurance is also the theme of Thom Gunn's poem, 'The Hug'. This relaxed reading preceded Kerry Andrew's 'Psalme 150' which sets Archbishop Parker's Middle English translation of Psalm 150, with its joyful references to rowdy musical celebrations of faith on recorders, tambourines, harps and trumpets. The first phrase, 'O prayse ye God', punched the air with slightly raucous vigour; the rhythms were springy and askew. It felt as if ORA singers were a football crowd, anticipating a goal, ready to break out in noisy celebration. Yet, in the hovering hum of the closing repetition of praise, a stable peace was found – one which was echoed in Wendy Cope's villanelle, 'Last year we went to Lissadell'.
VOCES8's wonderfully calm, reassuring rendering of the Agnus Dei from Byrd's Mass in 5 voices was a soothing palette cleanser. The eight singers' unaffected yet direct communication was moving: the seamless interweaving of overlapping melodic phrases, the gentle breathing of 'dona nobis pacem', the invigorated statement of the final appeals to the Lamb of God were refined and finely judged. Charlotte Bray's 'Agnus Dei' expands Byrd's canvas from five to six voices, SSATTB. Initially, the predominance of high voices created intensity; then, the lower voices brought relaxation, though no loss of focus. The sonority of the full ensemble when they finally came together made for a powerful musical and spiritual statement. The strength of love; the passing of time: these perennial themes returned in Philip Larkin's 'An Arundel Tomb' which, inspired by a stone effigy of a medieval earl and countess in Chichester Cathedral, ends with the consoling statement, 'What will survive of us is love'.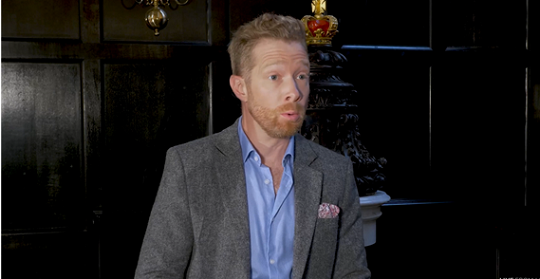 ORA returned to William Byrd at the close. Ēriks Ešenvalds' 'Infelix ego' reflects upon Byrd's so-named setting of Savanorola's meditation on Psalm 50 and employs a six-voice semi-chorus, here sung by VOCES8, alongside the main choir. I missed the polyphonic dynamism of Byrd's original setting, for though Ešenvalds certainly creates dense and vibrant harmonic blocks which ORA and VOCES8 made shimmer vibrantly, the overall effect is rather static, and the text disappears within the timbral space.
'In my beginning is my end' states Eliot at the start of 'East Coker', the second part of the Four Quartets, following this seemingly pessimistic reflection with a haunting elegy for life's transitory nature. And yet, Eliot closes this section, with the more hopeful, 'In my end is my beginning', and this optimism was powerfully communicated by Soanes in his reading from 'Little Gidding', encompassing Julian's spiritually inspiring words. And so, the closing item, Alec Roth's 'Night Prayer', returned us to our beginning, setting as it does 'Te lucis ante terminum'. This was a beautifully meditative close, capturing all of Eliot's faith:
What we call the beginning is often the end
And to make an end is to make a beginning.
The end is where we start from.
Claire Seymour
All shall be well – music interspersed with readings
ORA Singers: Suzi Digby OBE artistic (director & conductor); soprano – Elizabeth Adams, Miriam Allan, Amy Carson, Lucy Cox, Emilia Morton, Daisy Walford; alto – David Clegg, Edward McMullan, Eleanor Minney, Kim Porter; tenor – John Bowen, Christopher Fitzgerald-Lombard, Julian Gregory, Edward Ross; bass – Christopher Bruerton, Ben Davies, William Gaunt, Edmund Saddington; reader – Zeb Soanes.
VOCES8: Andrea Haines (soprano), Molly Noon (soprano), Katie Jeffries-Harris (alto), Barnaby Smith (artistic director/countertenor), Blake Morgan (tenor), Euan Williamson (tenor), Christopher Moore (baritone), Jonathan Pacey (bass).
Thomas Tallis – 'Te Lucis Ante Terminum', 'O Nata Lux'; Harry Escott – 'O Light of Life'*; William Byrd – Kyrie (Mass in 5 voices)§; Roxanna Panufnik – Kyrie after Byrd*; Anon – 'Stella maris nuncuparis'; Joanna Marsh – 'All Shall Be Well'*+; Kerry Andrew – Psalme 150*; Byrd – Agnus Dei (Mass in 5 voices)§; Charlotte Bray – Agnus Dei*; Ēriks Ešenvalds – 'Infelix Ego'*§; Alec Roth – 'Night Prayer'*
*ORA commissions; + world premiere; § with VOCSES8
St Anne and St Agnes, VOCES8 Centre, London (live stream); Sunday 11th July 2021.