Harry Christophers and The Sixteen have now reached volume 4 in their ongoing exploration of Henry Purcell's Welcome Songs for Charles II. Like the previous discs in the series, evolving from the group's residency at the Wigmore Hall, this latest offering includes sacred as well as secular music, and investigates much neglected music. Indeed, the Welcome Songs are among the least recorded works of Purcell's output, with only Robert King's ground-breaking anthology begun in 1988 to invite comparison. Mostly written to mark the monarch's return to London, the Welcome Songs demonstrate Purcell's theatrical instincts and a natural gift for word painting. Not least there is his uncanny ability to elevate prosaic and obsequious texts with imaginatively conceived music of great variety.
Christophers' introductory note to the CD makes clear his enthusiasm for Purcell, to whom he applies the word genius three times. While few would argue with Christophers' observation that Purcell's 'setting of the English language is second-to-none', these Welcome Songs – comprising his earliest efforts in the genre – stem from royal duty, their purpose purely functional. The disc represents performances of great distinction and music of variable inspiration, works that are curiosities of their time and mostly of historical value.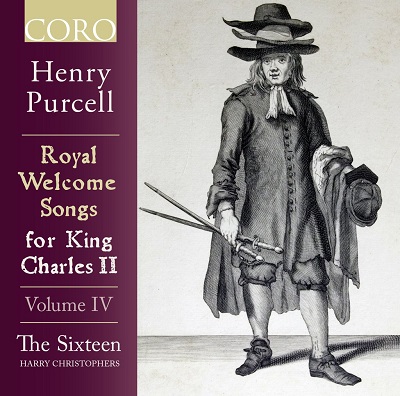 The first of the Welcome Songs (both with anonymous texts) is Swifter, Isis, swifter flow. It was written in 1681 to celebrate King Charles II's return from Oxford where he had gone with his parliament to undermine Whig opposition – a masterstroke of subterfuge that led to his ruling as supreme monarch. We catch the flow of the river Thames (Isis of the title) in the forward momentum of the opening solo passage and ensuing chorus, Purcell's dancing rhythms indicative of much to come. Two soothing recorders and a bass solo plead for the King's safety and elsewhere an oboe makes a token appearance in 'Hark, hark! Just now my listening ears', a spritely number anticipating the King's arrival. Elsewhere, Ben Davies delivers an expressive bass recitative and Kirsty Hopkins and Katy Hill form a well-matched partnership for their duet, 'The King whose presence like the Spring'. Musically, it's attractive, and the final chorus that closes with 'Long Live the King' is respectful, if without fervour.
A second Welcome Song, 'The summer's absence unconcerned we bear', celebrates the return of his Majesty (and his brother James, Duke of York) from Newmarket. While Purcell's skill in setting its effusive text is undeniable, it's a pity the low pitches of the first of two elaborate bass solos prove elusive for an otherwise rich-toned Stuart Young. Alto Daniel Collins makes the most of two blameless airs and a soprano duet brings a refreshing swing, also present in the dotted rhythms of the trio, 'Happy while all her neighbours bled'. The pulsing closing chorus exhibits some pageantry, and its word painting would not have been lost on the monarch. That said, the final paragraph lacks the grandeur we might expect elsewhere from Purcell.
Between these works Christophers has chosen selections from the earliest of Purcell's theatrical ventures – Theodosius, or The Force of Love. Written for a production of Nathaniel Lee's tragedy in 1681, its choruses, ensemble numbers and solo songs display the composer's wealth of invention and echo elements of his sacred music, as well as anticipating by some ten years his achievements in opera. Each of the five soloists (Kirsty Hopkins, Katy Hill, Hugo Hymas, Mark Dobell and Ben Davies) provide engaging and expressive accounts.
The disc includes a rarely performed verse anthem with strings, The Lord is my Light, a setting of Psalm 27 for ATB soloists. Dating from 1683, it's a fine example of Purcell's daring chromaticisms, with gratifying solo and ensemble sections spritely string writing. The perfunctory final 'Alleluia' includes trebles voices (who are allocated just 17 out of 335 bars) and surely inhibits performances from all but the most dedicated Purcellians. It's a reminder of the quality of the men's voices Purcell had at his disposal during the late 17th century. Here, Daniel Collins, Mark Dobell and Ben Davies enhance the anthem with singing of much refinement.
There's considerable polish too in the 'Benedictus' from John Taverner's Missa Gloria tibi Trinitas written over a century earlier, included here because of the link between Purcell's In nomine settings. Never mind the stylistic lurch, it's a setting of accumulating interest and culminates in some ear-catching false relations. At just three and a half minutes, it's disappointing not to hear more from the composer of this magnificent piece.
Overall, Christophers coaxes handsome performances from eight members of the Sixteen, with a fine band of period instrumentalists revelling in the splendours of Purcell's engaging harmonic palette.
David Truslove
The Sixteen, The Sixteen Orchestra, Harry Christophers (director)
Purcell – Catch: 'God save our sov'reign Charles', 'Swifter, Isis, swifter flow', 'The summer's absence unconcerned we bear', In nomine 'Fantasia a6' & In nomine 'Fantasia a7', selections from 'Theodosius', 'The Lord is my light'; John Taverner – 'Benedictus' from Missa Gloria tibi Trinitas.
Coro COR16187 [75:37]