Thank goodness for modern technology and sophisticated recording techniques, without which this production of Pears's and Britten's cherry-picked edit of Shakespeare's play might have been scuppered. A month before curtain-up the Bournemouth Symphony Orchestra pulled out of their planned performances in order to be Covid compliant. Put simply the pit at the Grange Festival theatre was too small to accommodate the players safely. Since Britten's colourful score is not one that can be readily reduced to chamber forces, the only option available was to create a soundtrack beforehand (its conducting assigned to Sian Edwards) and play the digital files for the performance. Singers were directed from the pit by Anthony Kraus. Of course, one missed the interaction between players and singers, but if one felt short-changed by this karaoke-style presentation with its lack of spontaneity, it all worked, from a technical point of view, remarkably well. Britten's brilliant orchestration, however, generates another layer of characterisation – something reproduction, no matter how skilfully and faithfully achieved, never quite makes for an in-the-moment experience.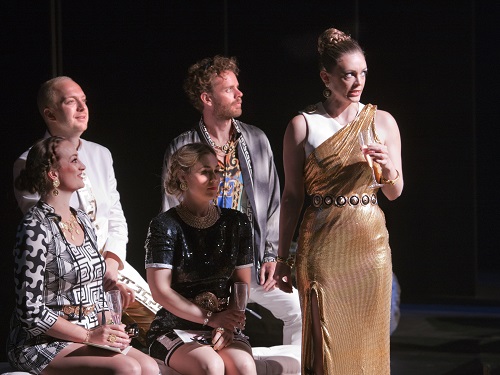 Visually, Paul Curran's simple set scheme and Gabriella Ingram's glamorous modern dress design has much to hold the eye, too much sometimes. A three-tiered revolve supporting an ancient Greek ruin does for the Athenian Forest. Here the cast first meet in a cleverly devised, if overlong, pre-wedding party at the court of Theseus, intentionally detached from the fairy kingdom. Staff (the rustics) in hi-vis yellow vests and guests (the lovers) accoutred with plenty of bling saunter around creating a riot of colour, seemingly with all the feigned substance of a cocktail party yet introducing the emotional tensions around which Shakespeare's play spins.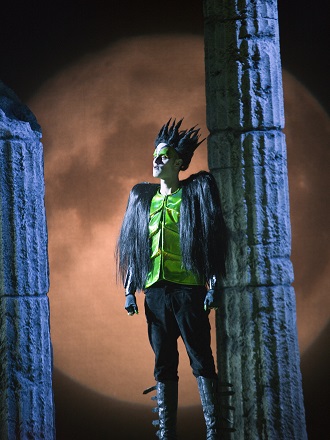 With the appearance of the fairies, glowing like frosted pinball machines, Britten's score begins properly and Paul Pyant's atmospheric lighting makes a striking impact. It's a shame the fairies are not sung by boys' voices as Britten intended, but the full, vibrant tone of the six young women more than compensates. Their appearance later is highly effective too when they provide live musical accompaniment to Bottom. Alexander Chance, making his stage debut as Oberon, is also in lustrous voice, and sounding on his enchanting first appearance like a young James Bowman. Vocally superb, Chance sings with wonderfully clean projection, clear-as-a-bell diction and faultless intonation in the sinuous lines of 'I know a bank'. If only his platform presence hadn't been so motionless: his indifference towards a coquettish and spellbinding Samantha Clarke as the Fairy Queen is oddly detached and any sense of Shakespeare's supernatural realm compromised.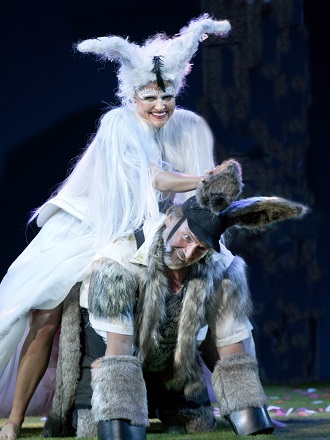 With a hooped skirt, gaping at the front, Clarke's is a raunchy, no-holds-barred performance that lit up this staging's sexual overtones, and it came as no great surprise to see the four young lovers parading around in their scanties towards the end of Act II. This might have seemed outré fifty years ago, but now feels hackneyed. At times this was one of those performances when listening with one's eyes shut brought dividends. At least their singing is uniformly excellent, with Peter Kirk a patient and light-voiced Lysander, Eleanor Dennis an exasperated Hermia, Alex Otterburn a sharp-suited and clarion-voiced Demetrius and Angela Simkin a spirited Helena. Ensemble singing is second to none.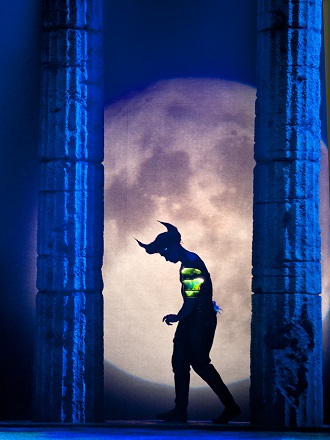 Elsewhere, one waited in vain for laughs from the rough-hewn prancing of the mechanicals, led by the cavernous bass of James Platt. Rib-tickling humour is conspicuously absent, and only after the interval did a champagne-fuelled audience gradually show any audible appreciation, owing much to Ben Johnson's comic turn as Flute when playing Thisbe. A pity the director's moves are not always as memorable as the singing. Cameo roles fare well from Roberto Lorenzi's unyielding Theseus and Angharad Lyddon's excitable Hippolyta. Last, but not least, is the wonderfully lithe Puck, taken by an athletic Chris Darmanin. Possessing a natural born stage presence, he continuously provides some much-needed magic in a musically first-rate production anchored by superb orchestral playing and many promising young singers.
David Truslove
Britten: A Midsummer Night's Dream
Oberon – Alexander Chance, Tytania – Samantha Clarke, Puck – Chris Darmanin, Theseus –
Roberto Lorenzi, Hippolyta – Angharad Lyddon, Lysander – Peter Kirk, Demetrius – Alex Otterburn, Hermia – Angela Simkin, Helena – Eleanor Dennis, Bottom – James Platt, Bottom, Quince – William Thomas, Flute – Ben Johnson, Snug – Sion Goronwy, Snout – Gwilym Bowen, Starveling – Johnny Herford; Director – Paul Curran, Conductor – Anthony Kraus, Recording conductor – Sian Edwards, Costumes – Gabriella Ingram, Lighting – Paul Pyant, Bournemouth Symphony Orchestra.
The Grange Festival; Tuesday 29th June 2021.
ABOVE: Sion Goronwy (Snug), Johnny Herford (Starveling), Gwilym Bowen (Snout), Ben Johnson (Flute) Henry Waddington (Bottom), William Thomas (Quince) (c) Simon Annand