When I last saw Nicholas Hytner's 2006 Glyndebourne production of Così fan tutte – at the Marlowe Theatre in Canterbury during the 2017 autumn tour, at the time reportedly the production's final run – it struck me as admirably straightforward, sunny and serene. Now, four and a half years later, and back in the Glyndebourne theatre, it seemed no less elegant, subtle and slick, but perhaps a little more serioso. A sign of the times, perhaps.
Even the crisp blue sky which gleams over the lemon-tree decked terrace – where, at the start of the day, the two sisters leisurely lie on stripy sun-loungers, awaiting the arrival of their beaux – appeared to deepen to a darker hue as the ladies' day of drama progressed. And, though my imagination was probably playing tricks, the sliding trellis which transports us and the quartet of crossed lovers from inner to outer glided no less smoothly yet the shadows within seemed just a touch heavier.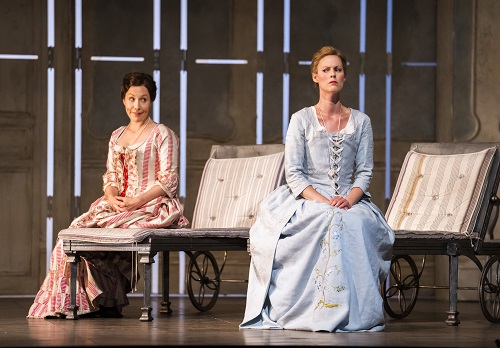 Vicki Mortimer's neat designs retain their unfussy efficiency though, ably and neatly indicating a period Mediterranean locale. The gracious, realist understatement – some scattered, handsome chairs and side-tables here, a patio decorated with tasteful blooms there – only serves to make the multi-colour artifice of the Albanian 'wedding' ceremony both more dashing and more illusory. Similarly, the Albanians' arsenic-induced convulsions – which would surely outclass a world champion break-dancer – and Despina's am-dram antics are brief moments of charming silliness, rather than ridiculous hyperbole.
Given that current (though soon-to-be repealed) coronavirus guidelines do not facilitate on-stage seductions of the up-close-and-personal kind, revival director Simon Iorio had quite a bit of business to re-negotiate. But, who knew that social distancing could dramatise Fiordiligi's reluctance and remorse so fittingly – her hand hovering a full foot about Don Alfonso's proffered arm as he urged her to be more obliging to her Albanian guests. The necessary distancing also initiated its own frisson of sensuous flirtatiousness when Dorabella and the disguised Guglielmo engaged in a detached but certainly not disinterested courtship display, Dorabella's subsequent smile upon emerging from the bedchamber suggesting that this distance had been more than satisfyingly overcome.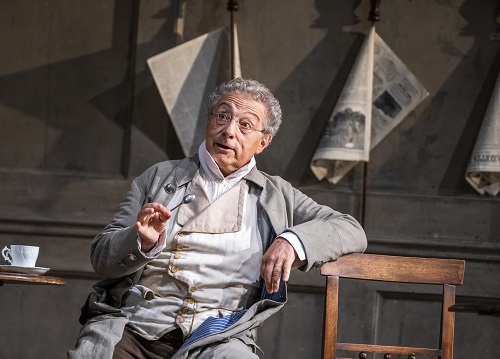 The impatient briskness of Alessandro Corbelli's Don Alfonso was partly responsible for the prevailing air of solemnity. Not that Corbelli did not have that customary sparkle in his eye and spring in his step at times, but such gestures were sparingly deployed; more often, he seemed disparaging of his mentees' over-confident misguidedness: a tense shrug of the shoulders, or a frustrated shake of the head suggested that this old sage despaired that the youngsters would never learn their lesson. Only when the bet was won and his winnings secured did Alfonso look pleased with himself, dangling a small bag of coins before a slightly disconcerted Despina.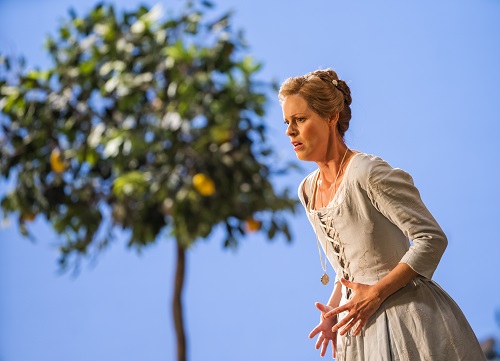 Moreover, this Fiordiligi really did seem rent asunder by her conflicting emotions, her pain both palpable and punishing. Literally tall and morally upright, dressed in cool cornflower blue, Ida Falk Winland was icy and implacable, despite the Albanians' ever more pressing preposterousness. Fiordiligi was indeed as unmovable as the rock which stands firm against the wind and storm, and which Falk Winland lauded with pin-point precision and agility in 'Come scoglio' – a hint of a smile prompted only by her own righteous resistance to temptation. Falk Winland's soprano was clear, occasionally slender, and though it blended beautifully with the warmer hues of Julie Boulianne's mezzo, Fiordiligi sounded less than enthusiastic in 'Prenderò quel brunettino' (I'll take the brunette one), when the sisters decide upon a little harmless flirtation to keep boredom at bay. But, Falk Winland expanded more fulsomely in a grave, self-excoriating 'Per pietà, ben mio, perdona' (Please, my beloved, forgive), in which virtuosity truly did serve the expressive moment.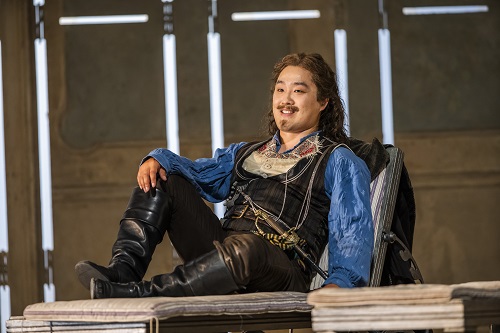 There was, not surprisingly then, little chemistry between Fiordiligi and Konu Kim's ardent Ferrando – indeed, the South Korean tenor was a little too ardent at times, although 'Un aura amoroso' was more leggiero and finely phrased.  Huw Montague Rendall's Guglielmo, shapely of voice and suave of demeanour, had more natural affinity with Boulianne's easy-going Dorabella.  Their duet of love, 'Il core vi dono' (I give you my heart) was so melting that one wondered if the duo were in fact deceived by their own playful deceptions, while Dorabella's 'È amore un ladroncello' (Love is a little thief) was the sunniest moment of a sometimes sober drama of seduction.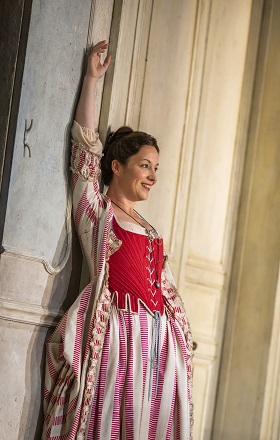 It was left to Hera Hyesang Park's charming, no-nonsense Despina to add a little sparkle and spirit. Brightly dismissing the sisters' credulous faith in their lovers', and all men's fidelity, Park was deft and discerning in 'In uomini, in soldati, sperare fedelta?'. She's evidently a natural singing actor and – as her neat turns as the doctor and notary confirmed – able to judge the dramatic temperature to a tee. And, after she'd delivered such a perfect masterclass on feminine wiles to the naïve sisters, no wonder this Despina looked somewhat fed-up at the close when, they so swiftly forgot the wise homily of 'Una donna a quindici anni' in the hasty amorous re-assembling of the opera's final moments.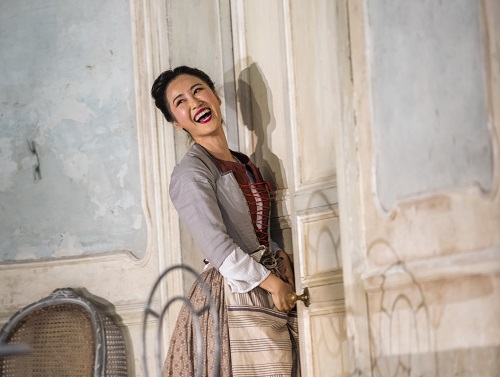 In the pit, the Orchestra of the Age of Enlightenment were coaxed to find diverse colours and details by conductor Riccardo Minasi, the woodwind hues particularly prominent and enchanting, while Ben-San Lau (harpsichord) and Luise Buchberger (cello) formed a vibrant continuo duo which brought life and lift to the proceedings.
Hytner's even-tempered production is in good hands here, fine individual performances cohering to provide a reassuring sense of order and unity. Just what we all need right now.
Glyndebourne Festival Opera's 2021 season continues until 29th August.
Details of Glyndebourne's 2021 Autumn Tour can be found here.
Claire Seymour
Ferrando – Konu Kim, Guglielmo – Huw Montague Rendall, Don Alfonso – Alessandro Corbelli, Fiordiligi – Ida Falk Winland, Dorabella – Julie Boulianne, Despina – Hera Hyesang Park; Director –Nicholas Hytner, Revival Director – Simon Iorio, Conductor – Riccardo Minasi, Designer – Vicki Mortimer, Lighting Designer – Paule Constable, Orchestra of the Age of Enlightenment (Leader –Matthew Truscott, Harpsichord continuo – Ben-San Lau, Cello continuo – Luise Buchberger)
Glyndebourne Festival Opera; Sunday 4th July 2021.
ABOVE:  Dorabella (Julie Boulianne), Guglielmo (Huw Montague Rendall) and Don Alfonso (Alessandro Corbelli) © Glyndebourne Productions Ltd. Photo: Tristram Kenton