After the long months when card playing gamblers were relegated to video poker in isolation, Des Moines Metro Opera has triumphantly bolted back to the gaming table with a riveting and sumptuous staging of Tchaikovsky's The Queen of Spades.
In many ways the company took a true gamble. While other festivals were moving outdoors temporarily with truncated, or one act offerings, DMMO clung insistently to the idea that they would perform their postponed-from-2020, full-length repertoire in their home theatre at Simpson College.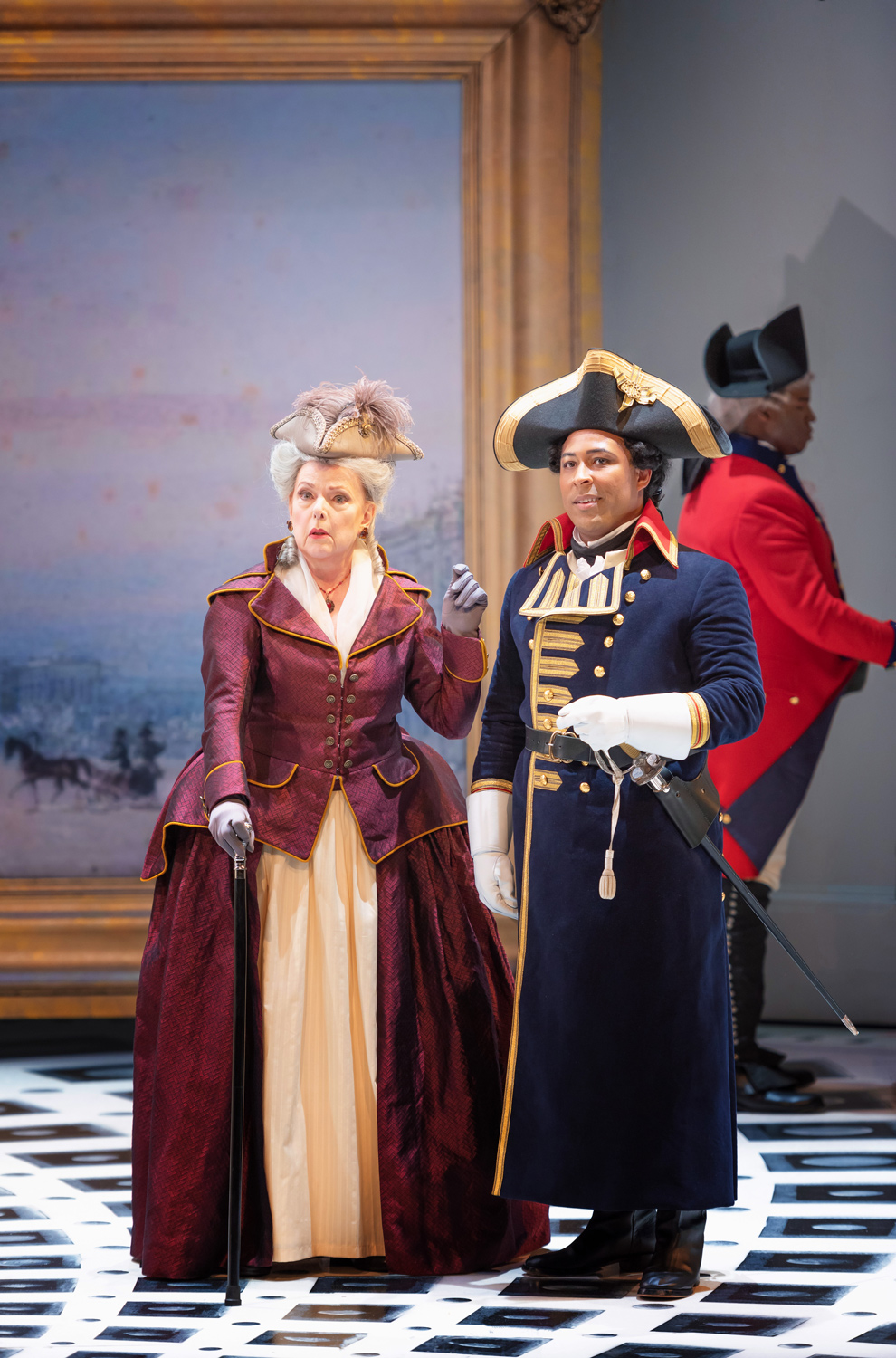 Their carefully considered determination has happily and handsomely paid off, shall we say, "in spades." The sold-out (reduced capacity) audience was accommodated with sensible observation of health guidance, and even the mandatory face masks could not muffle the enthusiasm of the vociferous ovation at opera's end.
Jonathan Burton was a revelation in the key role of Gherman. This part is a very very (did I mention "very?") difficult sing, but Mr. Burton deployed his spinto tenor tirelessly with well-calibrated abandon. His thrilling tone gleams and buzzes above the staff, but also has substantial presence in mid- and low-range. It is a pleasure to hear the role so mellifluously sung, and free of the East European "metal" that some practitioners deploy to get through its demands.
As an actor, he is natural and unforced, and his ardent passion as a lover is convincing. I believe he could mine a bit more out of the slow-burn unraveling of the fixated gambler, becoming a little more crazed by opera's (and Gherman's) end. But that will no doubt come as he gets more opportunities to regale the opera world with this important role assumption.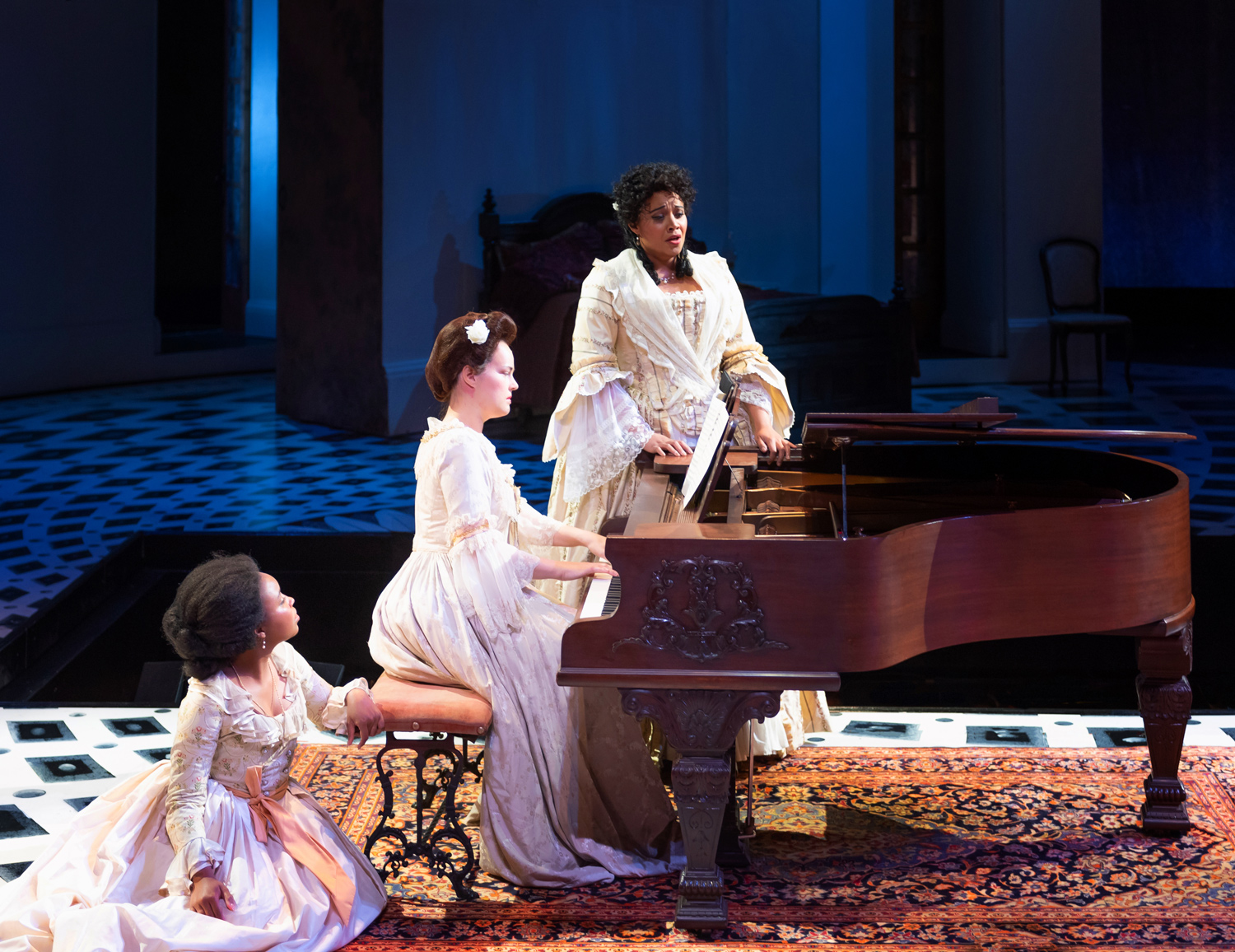 Today, opera companies invest infrequently in consistently engaging star singers beloved by their public. In the 1970's and 80's, the Met had such a relationship with Renata Scotto. Today, there is perhaps such a bond with Bartoli in Zurich or Harteros in Munich. DMMO has hitched its wagon to the sublime talents of soprano Sara Gartland and the annual outcome could not be happier.
Having been heard at Des Moines in past seasons as a compelling Jenufa, ravishing Rusalka, and highly affecting Marie in 2019's Wozzeck, Ms. Gartland proved once again to be a perfect fit for the role at hand, the torn, lovelorn, and fatally frustrated Lisa. Her radiant, full-bodied soprano was made for the passionate outbursts required by the tortured heroine, and she gave such consistent pleasure that one only wished Tchaikovsky had given her more to sing.
But it is the formidable Joyce Castle in the title role that very nearly runs off with the show. There is no moment of her stage time that is not invested with complete attention to dramatic purpose. When her Countess pairs winningly with Lisa in the opening ensemble, we enjoy a seasoned veteran's vocal instrument that is still youthfully limpid and lyrical. In her big scena, Ms. Castle provides a master class in character-infused singing. Every note, every gesture, every nuance communicates the Countess's troubled inner soul. Some performers "act" roles, Joyce Castle embodies them.
Alexander Birch Elliott was a tall, slender Prince Yeletsky. His is such a persuasively handsome, mellifluous presence, it is hard to see why Lisa prefers Gherman. Mr. Elliott's forceful, pointed baritone might have effortlessly filled a house several times the size of the intimate Blank Theatre. His rendition of Yeletsky's well-traveled aria was secure and pleasurable to hear, even if it might have benefitted from a little more heart merged into the rock-solid tone.
DMMO always casts brilliantly, from strength, and this evening proved no exception. Benjamin Taylor's warm, throbbing baritone served the dual assignments of Tomsky and Zlagator wonderfully well. His appealing stage presence was most engaging. Mezzo-soprano Taylor Raven showed off a plummy, rich instrument, perfectly suited to the doubling requirements of Pauline and Milovzor.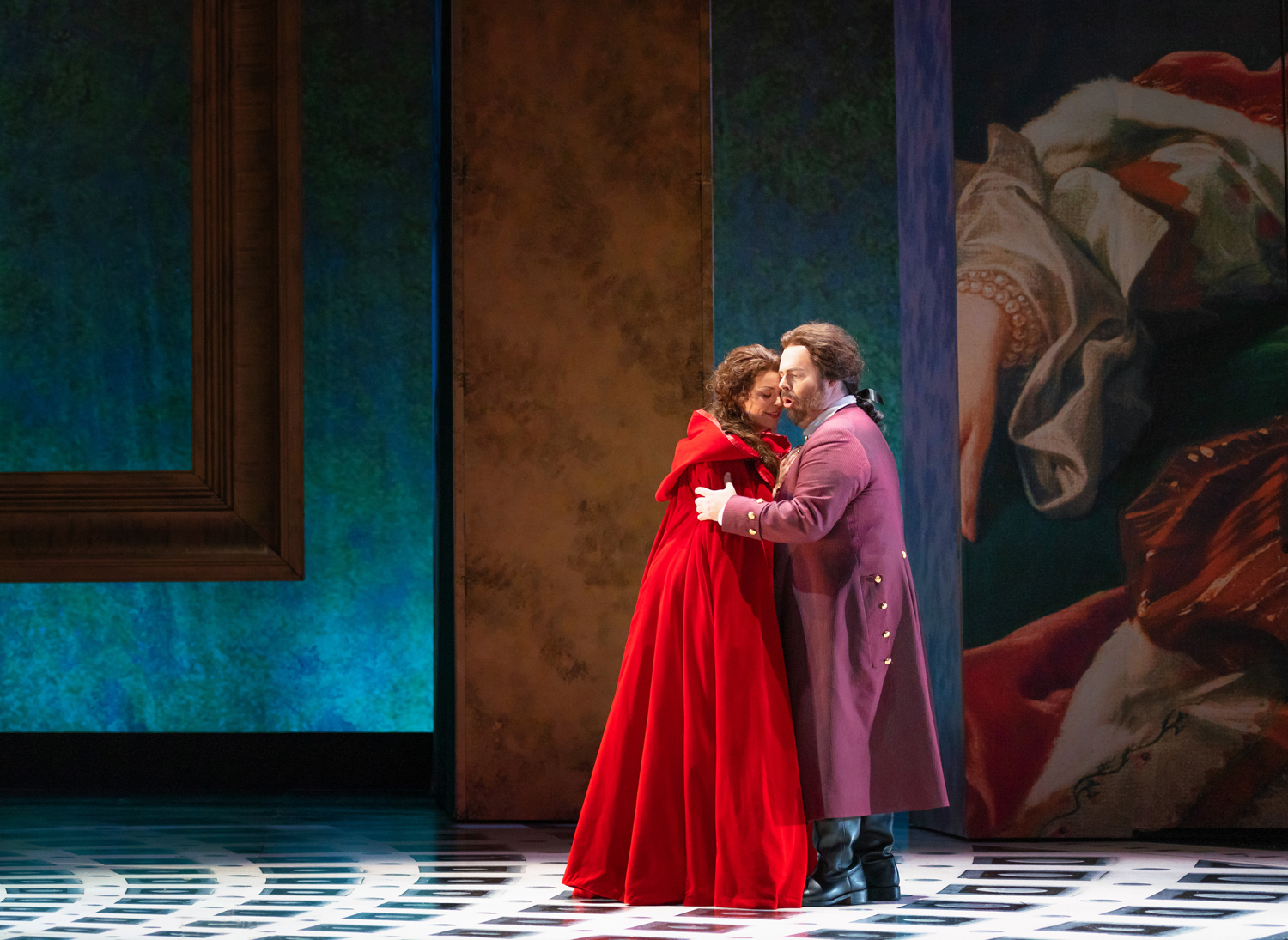 Peter Scott Drackley desported himself winningly as Tchekalinsky, his clear, incisive tenor pouring forth with clarity and security. Symone Harcum put her plush soprano to effective use as a sympathetic Masha. Andrew Turner's pleasant tenor made for a nice turn as Tchapalitsky. Andrew Gilstrap's imposing bass-baritone impressed mightily as Sourin. Cerra Bryd 's expressive mezzo made the most of the Governess cameo. And in pretty deluxe casting, nationally known tenor Jonas Hacker delighted with his spontaneously playful pronouncements as the Master of Ceremonies.
In the pit, David Neely elicited such a vibrant, sensitive, idiomatic reading from his players, it seemed the palpable joy of making live music again was oozing from every phrase. The evocative passage of surging, churning muted strings that led to Act II's second scene was alone worth the price of admission. Maestro Neely's masterful connection with his panoply of singers resulted in music-making of the first magnitude. Chorus Master Lisa Hasson achieved superlative results with her ensemble of Young Artists.
The design elements were among the most lavish I have experienced at DMMO, beginning with Jonathan Knipscher's luxuriant period costumes. The attention to detail and character definition was beyond praise. Andrew Boyce's imposing, rotating, slowly deconstructing set was also a stunning accomplishment, not least of which was the massive stage floor painted in an eye-popping black and white crisscrossing oval field.
Sarah Riffle has lit the whole proceeding with warm washes for the public scenes, and cool, brooding areas for the turbulent private encounters. The brilliant special for the Countess's vengeful 'dea ex machina' visual was memorable. Joanne Weaver's make-up and, especially, hair design was laudable in its prolific scope.
Matthew Ozawa has done a respectable job of making sense of the stop and go nature of the opera, which interrupts Gherman's inexorable descent into madness with too many extraneous, if enjoyable side bars. The solo/duet parlor songs with piano, the slightly gratuitous grand opera sweep, and especially the extensive ballet sequence, challenge performers to keep focus on the primary dramatic journey.
That said, these distractions were nonetheless roundly applauded by the audience, most especially the limpid and fluid moves by a talented sextet of dancers in the well-executed ballet, creatively choreographed by Todd Rhoades.
In the end, director Ozawa pointed up the conflicts well and made quite effective use of the space. I must say that had I not know the piece, or read the program notes, I am not sure I would have understood the visual of (spoiler alert) Lisa's demise. And had I been sitting on the house floor right or left, I might not have been happy with the (avoidable) placement of rows of choristers blocking my view of say, the pretty impressive arrival of Catherine the Great.
Still, on this exuberant night back in the theatre, performers and audience were rightly luxuriating in the pleasure of interacting with each other with a praiseworthy performance of an operatic rarity. We came wanting to cheer the results. And cheer we did.
James Sohre
Pyotr Ilyich Tchaikovsky: The Queen of Spades
Tchekalinsky: Peter Scott Drackley; Sourin: Andrew Gilstrap; Gherman: Jonathan Burton; Lisa: Sara Gartland; Countess: Joyce Castle; Count Tomsky/Zlagator: Benjamin Taylor; Prince Yeletsky: Alexander Birch Elliott; Pauline/Milovzor: Taylor Raven; Mascha: Symone Harcum; Governess: Cerra Byrd; Master of Ceremonies: Jonas Hacker; Tchaplitsky: Andrew Turner; Narumov: Ryan Wolfe; Prilepa: Cadie J. Bryan; Conductor: David Neely; Director: Matthew Ozawa; Set Design: Andrew Boyce; Costume Design: Jonathan Knipscher; Lighting Design: Sarah Riffle; Make-up and Hair Design: Joanne Weaver; Choreographer: Todd Rhoades; Chorus Master: Lisa Hasson
All photos © Jen Golay for Des Moines Metro Opera
Above:Jonathan Burton as Gherman (center), Peter Scott Drackley as Tchekalinsky (left), Andrew Gilstrap as Sourin (right)