The estimable American festival, Des Moines Metro Opera, ventured confidently into Stephen Sondheim territory with an enthralling new production of Sweeney Todd.
The first great asset in its favor is that the company entrusted the stage direction to the confident skills of Kristine McIntyre. This endlessly inventive director revels in character motivation, ever-shifting stage pictures, and a rich inventory of detail-oriented business. Ms. McIntyre is also well-acquainted with the idiosyncratic strengths of the Blank Theatre's thrust space, with its mid-stage sunken pit, and capitalizes on them.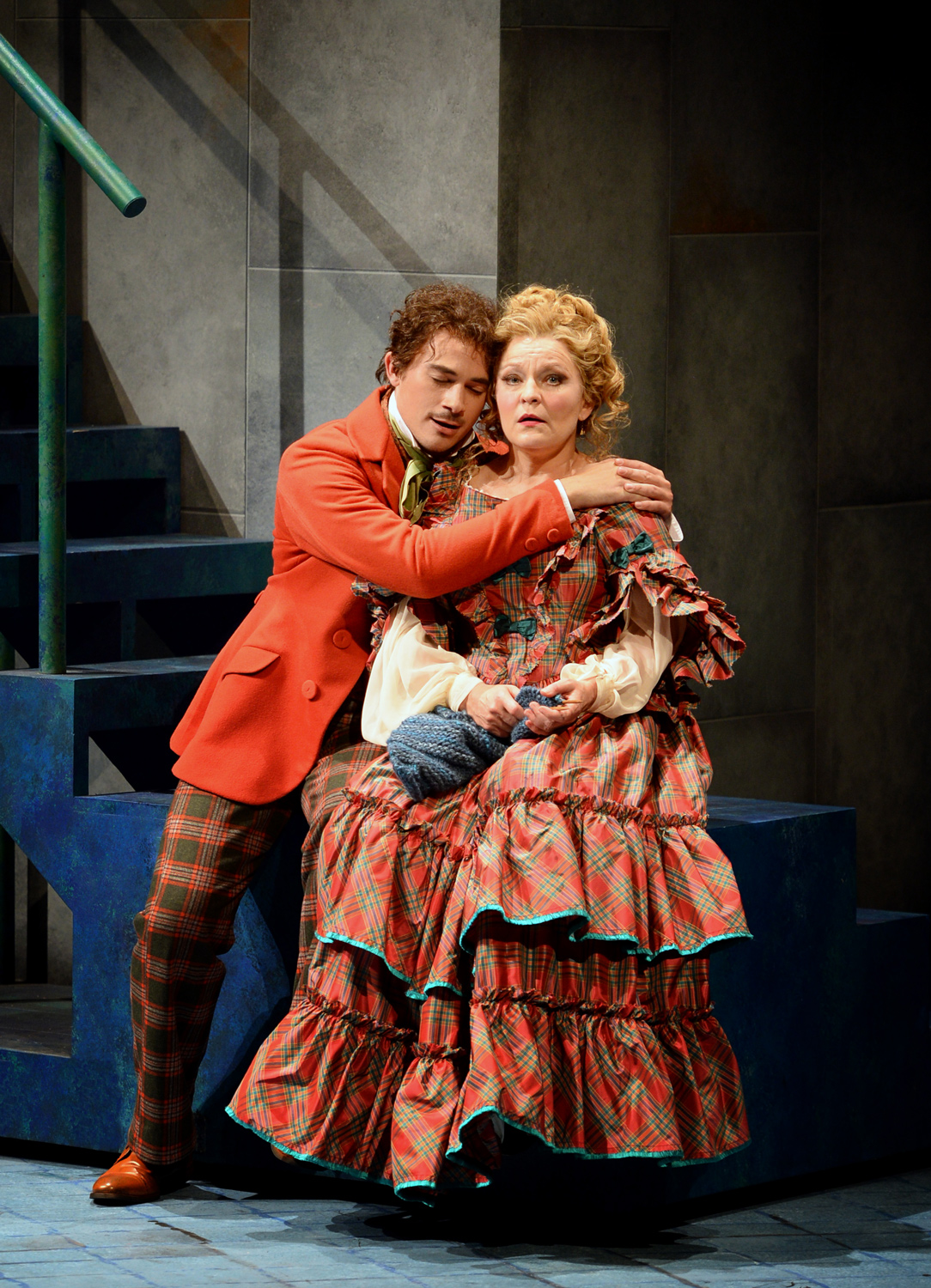 She moves her players through their inexorable paces with murderous glee, and a dark humor firmly fixed in Gothic reality. This was quite a driven rendition of this now-familiar tale, and the entire cast seemed electrifying in its delivery. While there were blissful moments of momentary musical comedy repose, the whole performance was underscored by a restlessness that kept us on edge even as it kept us entertained.
Kristine was greatly aided in her success by the set design from company regular R. Keith Brumley. The rotating wagon units were a veritable Rubik's cube of shifting locales and purposes. If you are at all familiar with this musical, it adds to the fun that certain signature dramatic moments do not always visually happen as you might expect. The action also spills into the aisles to fine effect.
The production team decided early on not to give in to the dark and dull color palette usual in Todd productions, and happily this version's rather colorful look espouses a surface gaiety that deliberately belies the dark underbelly of the plot. Nowhere is this more evident than in Jonathan Knipscher's wondrous array of costumes. From the most disheveled asylum inmate to the privileged attire for the elites, Mr. Knipscher has crafted characterful, thoughtful attire.
Kate Ashton devised a malleable lighting design that not only (literally) brightens up the important tuneful oases of cheerier moments with warm colors, but also deepens the troubled intentions of the title character. If revenge is a dish that is best served cold, Ms. Ashton's chilly tints and broken patterns ably complement Sweeney's determined bloodlust. With the whole so well illuminated, it was odd that there were a handful of instances in which solo singers were momentarily in darkness. It appeared to be a deliberate choice.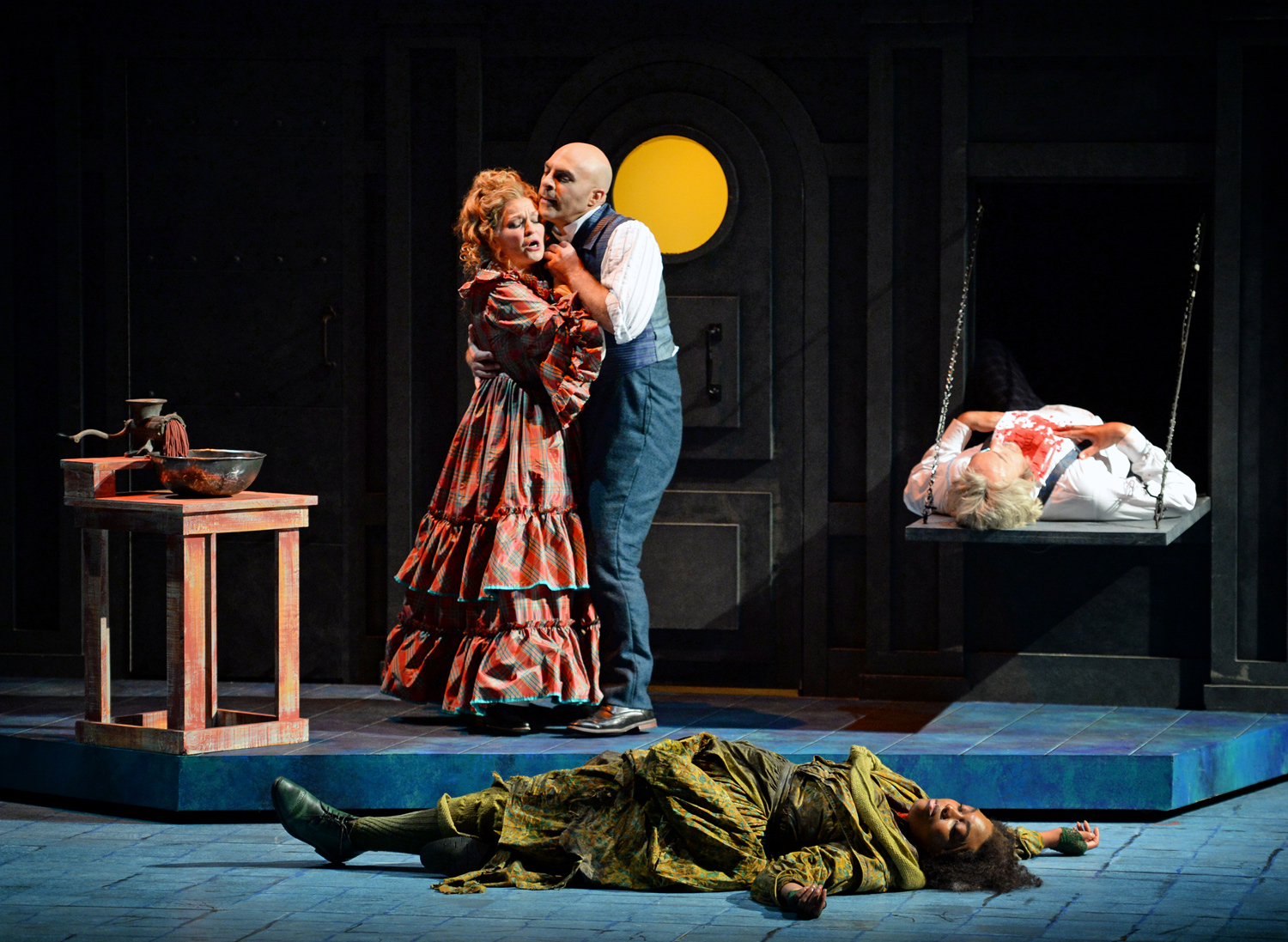 Joanne Weaver's extensive hair and make-up designs once again ably completed the "look" for a very large cast of characters populating 19th Century London's Fleet Street. Todd Rhoades deceptively simple choreography included choristers sidling and intertwining in linear formations and bustling about 'en masse' with well-calculated precision. With the ensemble being the real protagonists of the piece, Chorus Master Lisa Hasson's preparation was awesomely precise, the sinuous choral utterances slicing the air with musical menace.
Zachary Nelson was an incomparable Sweeney Todd. This is the very first production I have experienced that was not amplified, and Mr. Nelson's searing baritone was overwhelmingly 'present.' His laser-focused dramatic purpose totally dominated the day (and perhaps, the month). If he weren't already a star, this would have been a monumental star-making performance. As it is, his memorable traversal will rank in my memory as the most riveting Sweeney I have yet had the privilege to enjoy.
Lucy Schauffer was his match as Nellie Lovett, providing much comic relief, while also finding a beating heart in the loveless piemaker. Ms. Schauffer relies a good deal on a secure chest voice to communicate the character in song, but she also forays into a pure soprano with skill, if less volume. This was written for the more limited gifts of Angela Lansbury, who was also aided by a sound technician. Small matter, for Lucy knows every aspect of this part, and lands every moment with aplomb. She is also arguably the youngest and most attractive Mrs. Lovett on display, which explores an interesting dynamic of her relationship with Todd.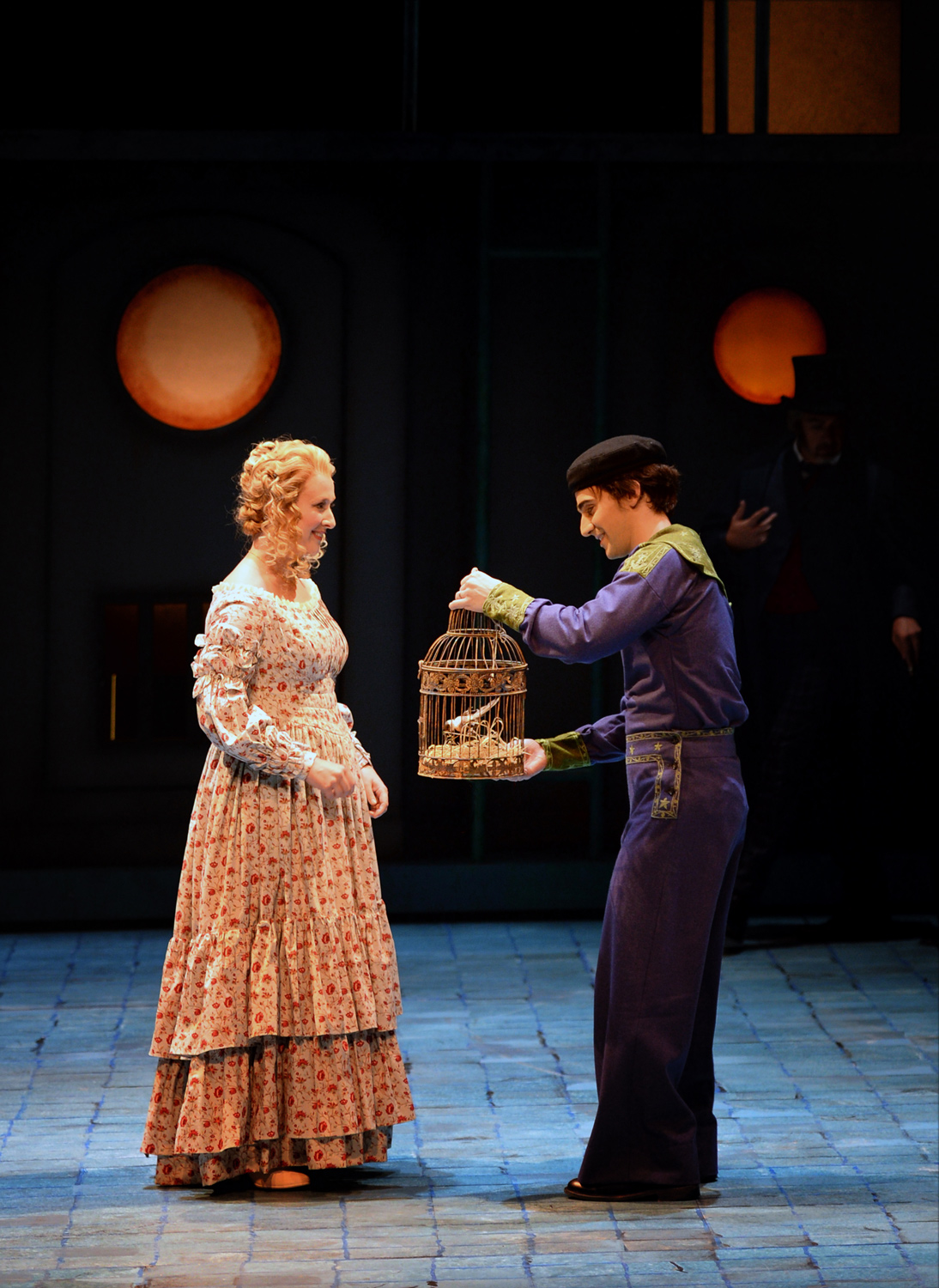 Tobias Ragg is often presented as a somewhat hapless puppy dog. Not so here, with Christian Sanders characterizing him as more a coltish street urchin, his steady, shining tenor ringing out in the house. His version of "Not While I'm Around" was a production highlight, infused with such an appealing boyish determination that it earned a prolonged ovation.
Ben Edquist was a strapping, hormone-driven Anthony Hope, possessed of a supple lyric baritone of great appeal. As Johanna, the object of his instant love, Grace Kahl showed off a lilting, bell-like soprano, that ably encompassed a glowing "Green Finch and Linnet Bird." Zoie Reams' rich mezzo gifted the Beggar Woman with the kind luminous vocalizing not often heard in this character role. She also delivered the character's vulgar outbursts with demented relish.
Sondheim wrote two cruelly high tenor roles, and both were well taken on this occasion. In the showier of the pair, Peter Scott Drackley was an amusing Perrelli, his high-flying tenor easily conquering the role's requirements, if a little bit stymied by making the requisite Italian accent clear enough. As the Beadle, Corey Bix somehow successfully sang in a register only dogs can hear, and when not in the stratosphere, his meaty tenor amused and delighted in the parlor scene before his demise.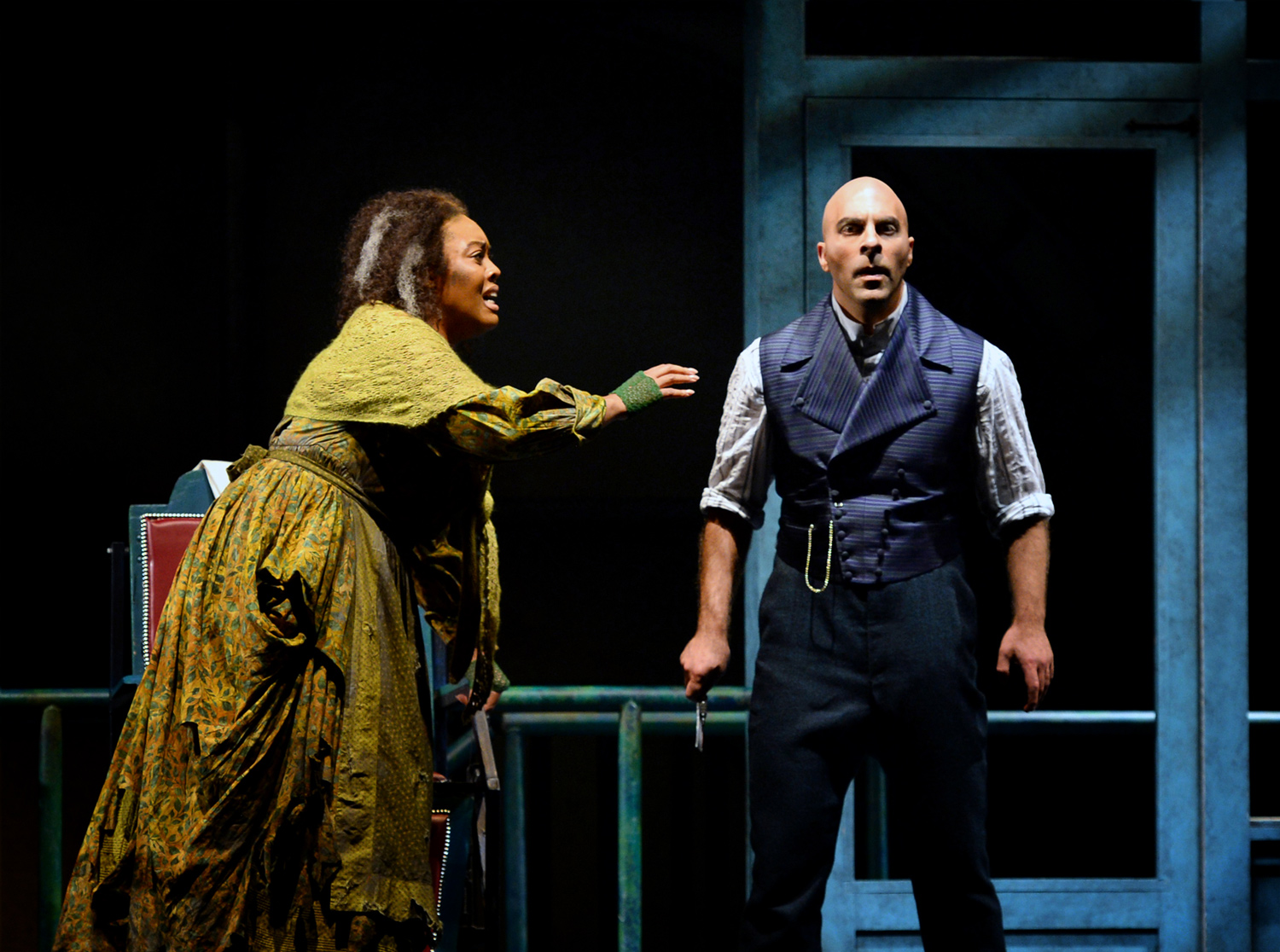 Veteran performer Wayne Tigges was effortlessly, quintessentially evil as a nuanced Judge Turpin, and his commanding bass-baritone contributed poise and class to a superb reading of "Pretty Women." The way his and Mr. Taylor's polished instruments intertwined and overlapped in this cat-and-mouse interlude was simply splendid. Andrew Gilstrap's accomplished bass-baritone served the cameo of Jonas Fogg with distinction.
Music Director and Principal Conductor David Neely presided in the pit, eliciting a marvelous reading of Jonathan Tunick's thrilling orchestration of Sondheim's most celebrated score. The band responded with as much investment and passion as for any "pure" operatic opus. One caution:
Unlike the musicals of the Golden Age, where orchestrations were carefully calibrated to accommodate unmiked singers, the musicals created since amplification arrived show no such caution. Such is the case for the "Kiss Me" quartet, where Johanna and Anthony are necessarily upstage, and the thick orchestration is overloud.
That said, this was a minor miracle of a Sweeney Todd: By turns intimate, grand, in your face, out of this world, over-the-top, restrained, musically impeccable, and, having seen the original Broadway production ('pace' Mr. Prince et al), DMMO's thrilling up-close-and-personal experience is even better.
James Sohre
Stephen Sondheim: Sweeney Todd
Tobias Ragg: Christian Sanders; Sweeney Todd: Zachary Nelson; Anthony Hope: Ben Edquist; Beggar Woman: Zoie Reams; Nellie Lovett: Lucy Schauffer; Beadle Bamford: Corey Bix; Johanna Barker: Grace Kahl; Judge Turpin: Wayne Tigges; Adolfo Perelli: Peter Scott Drackley; Jonas Fogg: Andrew Gilstrap; Conductor: David Neely; Director: Kristine McIntyre; Set Design: R. Keith Brumley; Costume Design: Jonathan Knipscher; Lighting Design: Kate Ashton; Make-Up and Hair Design: Joanne Weaver; Choreographer: Todd Rhoades; Chorus Master: Lisa Hasson
Above: Zachary Nelson as Sweeney Todd and Wayne Tigges as Judge Turpin
All photos © Duane Tinkey for Des Moines Metro Opera