Soprano Nina Stemme, tenor Stuart Skelton, bass Franz-Josef Selig and conductor Simon Rattle create a Tristan of transcendent music in a revelatory staging by Simon Stone.
The London Symphony Orchestra possessed Aix's Grand Théâtre de Provence in unprecedented volumes with three short stories unfolding one by one in a visual strip across the stage, Wagner's music drama probing ever more deeply into its three protagonist's psyches. Stage director Stone invented a separate, very present, vividly contemporary world for each act.
Act I was the penthouse apartment of a successful career woman, perhaps a mother, celebrating Twelfth Night with her friends, maybe family, all sporting the paper king crowns of the celebration, she their queen. Yet in this precise, comfortable world there is a disrupter, the tattooed punkster Brangäne. Guests departed, Isolde's well known story unfolds, neither dream nor fantasy, the vast expanse of windows becoming the Celtic Sea (lead photo).

Act II was a vast, windowed industrial administrative work space, with its glassed in supervisor's cube. Isolde, now a manager, bid farewell to a visiting male business associate. The windows become a darkening sky, he returns. Love music begins, soon youthful alter-Tristan/Isolde lovers enter the glass cubical, physically caressing. A young boy enters, watches their caresses. Yet another Tristan/Isolde enter the workspace with their young male offspring. It heats up, we keep waiting for the young lovers in the cubicle to couple. They don't. Yet another couple with male child appears, etc. The disrupter Brangäne intones from afar that everything is fine. It isn't. Marke confronts the betrayal of his surrogate son Tristan, the male child of the tryst, now Melot, stabs his father Tristan in oedipal rage.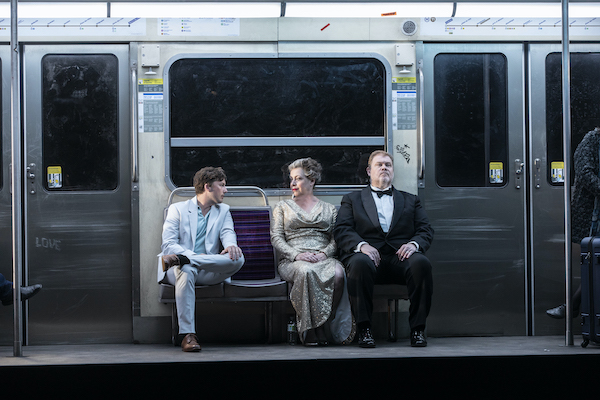 Act III is a moving Paris Metro car, the English horn solo is an on board street performer. Among the passengers is an older, formally dressed couple, Tristan and Isolde, their young male progeny close by. There is some sort of disagreement, the post-adolescent male stabs his father, the doors slide open, the son flees with his mother. The great Tristan monologues ensue, the windows reveal the passing stations, moving through tunnels into a verdant countryside, passing expanses of northern seas. We are at one with the Tristan vigil, it is never ending, it is always vividly present. Kurwenal, we perceive, is and was always the story teller.
Isolde is now back on the train with Marke and entourage. Marke kills Kurwenal. Isolde sings her Liebestod. The train stops at the Châtelet, everyone exits. Except Tristan. The doors close, the train moves on.
We're wasted.
Conductor Rattle has immersed himself in the hidden depths of Wagner's music drama, as has every player in his orchestra — the oboes and clarinets as profoundly as the maestro. The pit and the stage were one, as Wagner intended in his music dramas. Though here in Aix the orchestra was as much a physical protagonist as were the actors, hardly their hidden souls, rather their souls laid bare.
Nina Stemme as Isolde transformed seamlessly through her characters, commanding the evening vocally, finding the nuances of tone that would humanize the queen Isolde onto our larger, current world. This incomparable Wagnerian diva transformed Wagner's existential encomium, her "Liebestod," into our universal love-death, we knew and felt that finally we are quite alone in what we love.
Australian tenor Stuart Skelton as Tristan possesses a very beautiful voice that shown splendidly in the Act II love duet, and achieved rare tortured beauty, intimacy and urgency in his Act III agonies, the tenor becoming physically one with his character. It was a total performance. In the end, standing alone, silent, on the train we knew that he knew that the opera was about him, though understood by Isolde.
German bass Franz-Josef Selig as King Marke exposed his authority in strong voice and delivery in full recognition and finally feeling that he was the victim of complex psychic forces transcending his deepest human instinct — that of successive generation. In this Simon Stone edition the tragedy of the opera is as much about him, a father enacting and suffering oedipal forces, as it is about love.
American mezzo-soprano Jamie Barton as Brangäne was most effective in her Act II off-stage assurances, her voice achieving great strength, warmth and beauty. Austrian bass-baritone Josef Wagner as Kurwenal established his narrative authority from his first utterance in Act I. With incisive tone we learned much from him throughout the opera, and felt the energy of his physicality. We knew he had to die. British baritone Dominic Sedgwick as Melot effectively balanced the boyishness of the Tristan son with the cunning of the King Marke vassal/Tristan rival. Dutch tenor Lizard Vrielink as the Act III shepherd somehow captured a pastoral spirit on the subway train, and Belgian baritone Ivan Thirlon as the Steersman sustained the sumptuous vocal level of the production from his beautifully sung, impeccably pitched, a cappela song that begins the opera.
It was a Tristan and Isolde for the ages.
Michael Milenski
Production information:
Stage Director: Simon Stone; Set Design: Ralph Myers; Cosumes: Mel Page, Ralph Myers, Blanca anon Garcia; Lighting: James Farncombe; Video: Luke Halls; Choreography: Arco Renz. Grand Théâtre de Provence, July 8, 2021.
All photos courtesy of the Festival d'Aix-en-Provence 2021 © Jean-Louis Fernandez