It was inevitable. If stage director Barrie Kosky famously ravaged Wagner's only comedy at Bayreuth, then he must do the same to Verdi's only comedy. It happened just now in Aix. Mr. Kosky is not subtle.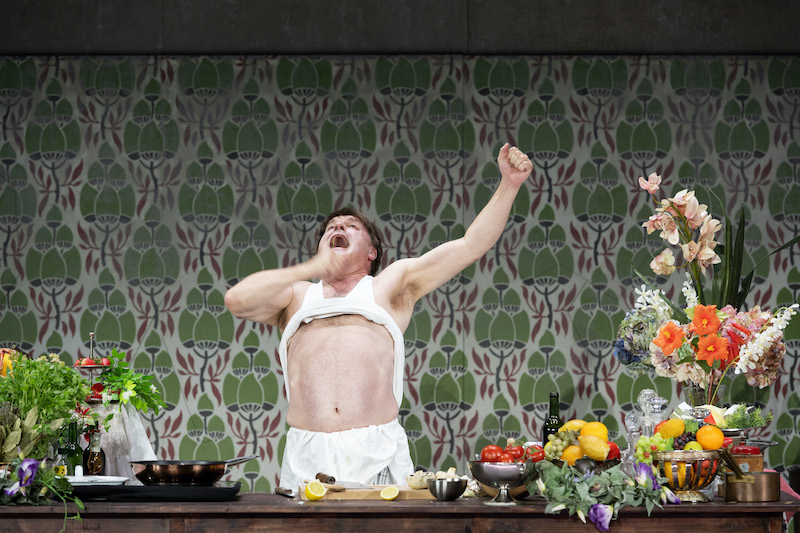 But the glories of the Aix production were not just that Falstaff himself could deftly leap up upon a dining table (and up onto Alice Ford's bed), they included an absolutely cool, symphonic orchestral display of Verdi's masterpiece by conductor Daniele Rustioni and the Opera de Lyon's orchestra. It was a heady evening.
A gourmet chef, complete with chef's apron, Falstaff concocted a sublime dish while organizing his correspondence with Alice and Meg, the apron however not quite covering his exposed bare butt cheeks, a vulgar touch. It was a fearsome, tour de force performance by British rock singer turned operatic baritone Christopher Purves, a man of quite ordinary size and quite extraordinary talent.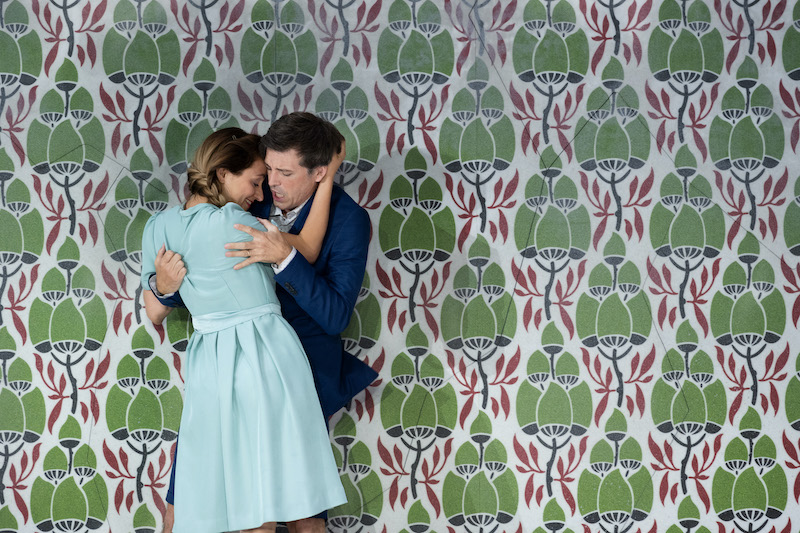 If Falstaff's Dionysian enthusiasms were clearly articulated in Mo. Rustioni's pit, the maestro indulged in the youthful flights of sexual delight in the encounters of the Ford's daughter Nanetta with her boy friend (in short pants) Fenton in a soaring purity. The young lovers were incomparably sung by Italian soprano Giulia Semenzato and Argentine tenor Juan Francisco Gatelli.
Further examples of the casting perfection we have come to expect of the Aix Festival were the Alice of Italian soprano Carmen Giannattasio and the Ford of French baritone Stéphane Degout, Mr. Degout etching a cartoonized outraged, cuckolded (in his mind) husband, Mme. Giannattasio eliciting ravishingly attractive tone always and particularly in her Windsor Park duet with Falstaff.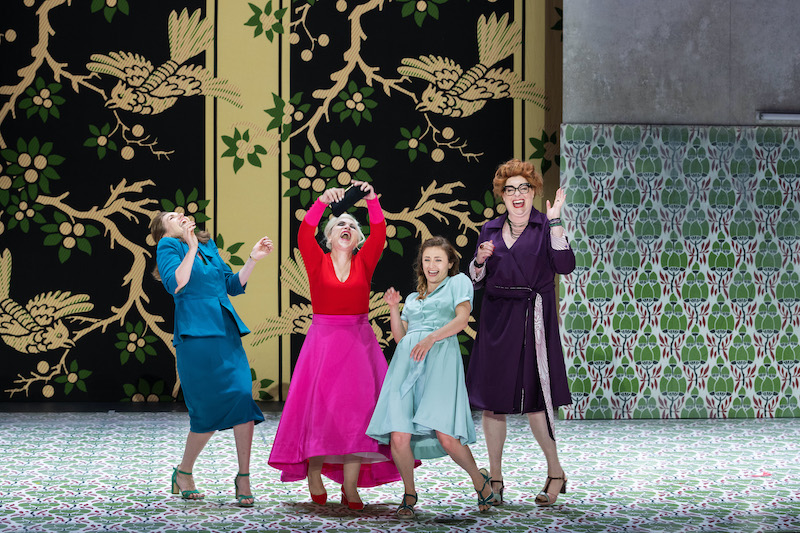 Falstaff's four nemesis women were summarily costumed and wigged in recent times, solid color, quite ordinary everyday attire until the witches' sabbath when everyone including the Opéra de Lyon chorus were in black, the famed oak tree only present by its acorns in abstracted wallpaper decor covering the lower portion of the nowhere-everywhere stage box of the first two acts, the same design repeated on the special suit Falstaff dons to seduce Mrs. Ford.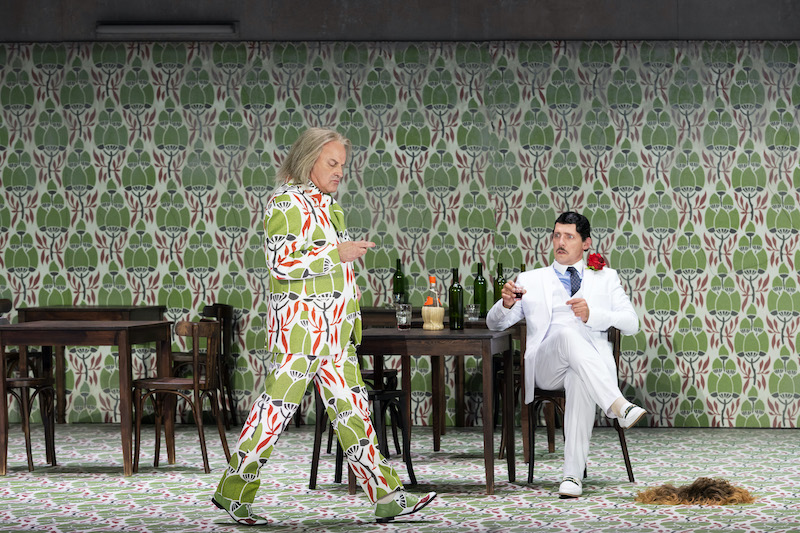 Between the scenes in the first half, bedroom voices breathed detailed voluptuous butter laden recipes, the metaphor bursting into a cascade of voluptuously decorated cakes finding their way onto the stage for the seduction. Mo. Rustioni countered all this with solid tempos that deferred to the developing metaphor rather than exposing the musical excitement of Verdi's abstract comic process, unsupportable in Mr. Kosky's staging.
After the intermission, unperturbed, Mr. Kosky brought Falstaff back to a table, upon it a toaster — and a bit of burnt toast with abundant crumbs. Baritone Purves, often shirtless, though in different, scraggly wigs, still always quick in facile movement and always in perfect voice, continued his unique, epicurean Falstaff.
Finally came the maestro's moment — and it was all his, the magnificent eight (maybe more) voices of Verdi's great fugue "Tutto nel mondo è burla!" Now, no Kosky metaphors visible, the black dressed singers, except for bare chested Falstaff, lined across the stage delivered the the sublime Verdi musical encomium to the complexities of life, and its fun. We were soundly reminded that Verdi's Falstaff is first and foremost a masterpiece of comedy in music, not withstanding stage director Kosky's dogged insistence that Falstaff, like all opera, indeed life itself, is all about food, drink and sex. As if we didn't know.
The lesser roles were of course appropriately cast. Surprising however was the rather colorless portrayal of Mistress Quickly by the revered Italian pants role diva Daniela Barcellona (though she was an audience favorite). The thankless role of Meg Page was fleshed out as much as possible by French soprano Antoinette Dennefeld. Two character singers, Gregory Bonfatti as Dr. Cajus and Antonio di Matteo as Pistola, proved again that buffo is purely Italian when not equalled by French baritone Rodolphe Briand as Bardolfo.
P.S. If you missed the show in Aix you can catch it this winter in Lyon, and later in Berlin and then in Moscow.
P.P.S. Back in the last century, when revisionist opera began, there was an adage: don't mess with Verdi. It may still hold true.
Michael Milenski
Production information:
Stage Director: Barrie Kosky; Scenery and Costumes: Katrin Lea Tag; Lighting: Franck Evin. Théâtre de l'Archeveché, Aix-en-Provence, July 6, 2021
Falstaff photos © Monika Rittershaus courtesy of the Aix Festival.