Rossini's libretti often require one to leave logic at the theatre entrance and embrace the absurd – stock buffa characters, stolen and switched identities, arranged marriages, double nuptials, an inevitable thunderstorm, and so on. But, the lunacies, and sometimes banalities, of the plots are invariably redeemed by exquisite music. It is in the scores that Rossini's comic genius lies; it is the music, finely sung, that makes the characters both funny and human, not extra-musical 'comic' commotion.
L'occasione fa il ladro (Opportunity makes the thief) is a perfect example.  This one-act burletta per musica was composed (reputedly in just eleven days) at the end of 1812, a year in which the 20-year-old Rossini had seen five of his works receive successful premieres: L'inganno felice (8th January, Venice); Ciro in Babilonia (14th March, Ferrara), La scala di seta (9th May, Venice), Demetrio e Polibio (18th May, Rome); La pietra del paragone (26th September, Milan).  L'occasione fa il ladro was first seen at the Teatro San Moisè in Venice on 24th November.  Its libretto, which Luigi Privaldi based upon Eugène Scribe's 1810 play Le Pretendu par Hasard, ou L'Occasion fait le non, mixes Così fan tutte with Weber-Mahler's Die drei Pintos and throws in a dash of The Importance of Being Earnest – swapped valises, mixed identities and long-lost siblings – for good measure.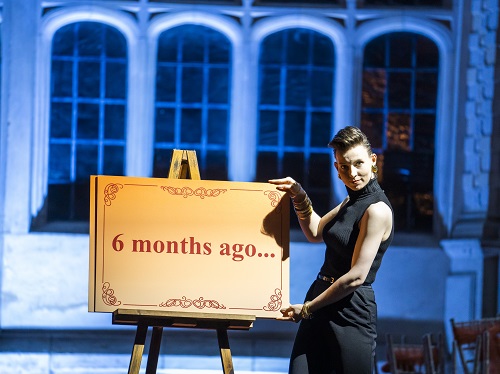 When a storm forces both Count Alberto – on his way to wed Berenice, his Neapolitan fiancée, to fulfil their fathers' mutual wishes – and the 'insolvent, egocentric, two-faced, wine-bibbing, womanizing man of the world', Don Parmenione, to seek shelter at a country inn, the Count's somnolent servant fails to spot that his master's valise has been accidentally exchanged. Parmenione, who is trying to find a friend's sister who has disappeared, opens Alberto's bag, egged on by his own servant, Martino. Discovering the Count's passport and the portrait of a beautiful young woman whom he assumes is Alberto's betrothed, he decides to undertake a spot of impersonation and bride-theft. Meanwhile, angered by the enforced nuptials that her deceased father has ordained, Berenice swaps places with her maid, Ernestina, to test the spirit of the stranger coming to claim her hand. Arriving in Naples, Parmenione encounters Ernestina, disguised as her mistress, and the pair promptly fall in love. Alberto arrives and finds himself enamoured of Berenice whom he believes is fiancée's maid.
Unravelling the romantic knots requires Rossinian musical wit and wonder. Telling the story requires straightforward, clear direction that doesn't distract from the rapid-fire exchanges, moments of time-suspending beauty, and racing crescendo-climaxes, by drawing attention to its own busy-ness and 'cleverness'. Sadly, this British Youth Opera production is marred by a fussy and distracting directorial side-show; fortunately, the superb young cast are more than capable of rising to Rossini's vocal challenges and outshine the directorial dabbling.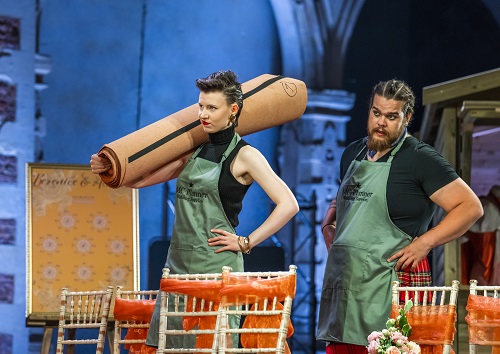 Designer Madeleine Boyd and lighting designer Jake Wiltshire keep things thankfully simple in effectively establishing the operas two 'sets' – the inn, here a hot-food stall where Alberto and Parmenione scoff ketchup-topped jacket potatoes to warm up during the downpour – and the elegantly decorated atrium of the house belonging to Don Eusebio, Berenice's uncle and guardian. Full-length mirrors allow the ladies to admire themselves in the matrimonial fineries; be-ribboned chairs are awaiting wedding guests; balloon-festooned columns add to the festive tone.
Victoria Newlyn begins the directorial elaborations before a note is played, when actor Helen Francis Corlett whizzes through some easel-mounted placards to foretell the arrival of the storm and prepare us for a bit of 'back-story', six months prior to the action. Thus, during the overture we witness the midnight arrival at Don Eusebio's house of the dishevelled, distraught Ernestina, stumbling over her stiletto heels as she seeks to flee a would-be seducer.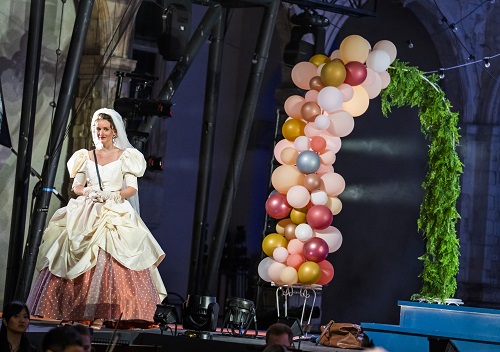 Mezzo-soprano Corlett and baritone Alaric Green are here confined to acting roles and, almost permanent presences on stage, required to adopt a range of guises including pop-up food seller, marriage priest and wedding party DJ, and serve as carpet-layers and a 'heavies' squad. They fulfil this remit with professionalism, but their incessant busyness frequently diverts from the 'true' action taking place in the arias themselves, particularly so when they venture onto the thrust stage and into the audience's sightlines. When the singers' stellar efforts and excellence are so eclipsed, it's more than a pity. At times, the hyperactivity is at odds with the focus of the music itself, as when Green's preparation of the atrium for the nuptial service involves the manic flapping of a mistletoe mop; or, fails to tune into the true tenor of the score, as when Corlett's turnstile twiddling prompts that familiar directorial trope, some happy-go-lucky disco-bobbing.
Oddly, Newlyn doesn't do much with the secco recitatives which might benefit from a little more characterisation, especially in the long expository exchanges of the first fifteen minutes or so which here feel a bit slow to get going. Trainee repetiteur Amy Chang's harpsichord is placed at the opposite end of the pit to the far left of the stage where Alberto and Parmenione are exchanging travel stories, and while the continuo is inoffensive and decorous, it needs more presence in order to make a strong contribution to the characterisation and drama.
Conductor Peter Robinson is a reliable guide in the pit, but there's a certain twinkle and brio missing from the orchestral accompaniment. Tempos are appropriate but rather inflexible, which doesn't give the singers much help. The young players of the Southbank Sinfonia are technically accomplished and the intonation is secure but, during the first-night performance at least, looked rather disengaged. There was some smashing playing from the clarinet and horns, but the fiddles lacked brightness and bounce. It was left to the cellos to add some warmth, joy and buoyancy to the musical proceedings.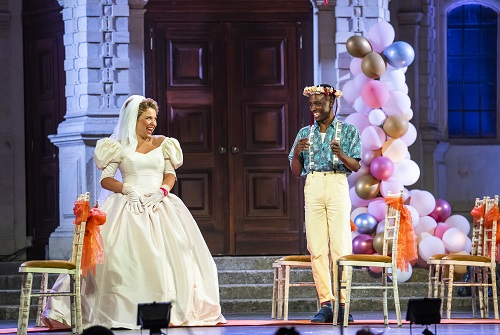 The cast, however, dazzle, most especially Laura Lolita Perešivana as the feisty Berenice. Perešivana's studies at the Guildhall School of Music and Drama may have been blighted by pandemic lockdowns, but the Latvian soprano hasn't let that stop her giving a series of impressive performances, both streamed and on the stage, including, in 2020, in Respighi's La bella dormente nel bosco (part of the GSMD's superb, innovative 'virtual reality quadruple-bill') and Donizetti's Rita. More recently, she made a strong impact in two of the works which formed Beginnings: New and Early Opera at the GSMD in June – Aran O'Grady's Eintänzer, in which Perešivana was persuasive as the debt-laden dowager Savoia, and Ábel Esbenshade's I'm Cleaning, I'm Cleaning, where as a Cleaning Lady at the Politburo she found herself trapped in a locked room with the dead body of a suicidal General.
Perešivana is a superb singer and actress. This Berenice was convincing whether unpretentious or sly, spirited or melancholy. She has a lovely rich legato, but can spin a silvery thread too, exhibiting excellent control and good taste. The agile fioritura was effortless, clear and sweet; but, Perešivana was at her most entrancing during her plaintive aria, a spellbinding moment of human feeling and truth. Innocent Masuku's lovely tenor blended beautifully with Perešivana in their romantic duet, and elsewhere Masuku climbed high with a beguiling warmth and ease.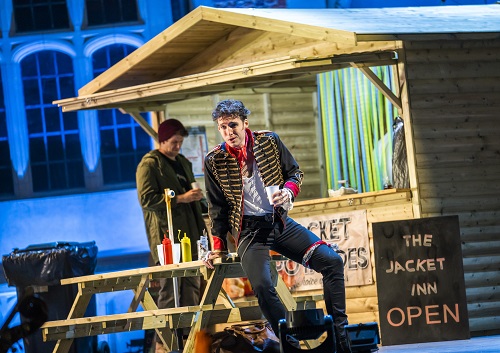 Baritone Jack Holton (Parmenione) and bass-baritone Liam James Karai (Martino) enjoyed their comic partnership. Holton might have been a more cynical rogue, but he looked stylish in his Adam Ant garb – more King of the Wild Frontier than Prince Charming – and his articulation was neat in the chatty exchanges and ensembles. Karai stomped about with a scowl, his beanie pulled down grumpily – he will make a tremendous Leperello – and though he had to wait a while for his aria, he used it to display strong vocal colour and characterisation. Mezzo-soprano Anna Cooper sang with strong personality and rhythmic crispness as Ernestina, while tenor William Searle was a somewhat youthful but genial Don Eusebio.
'Always the bridesmaid, never the bride' the old adage may go, but if getting onto the first rungs of the opera career ladder – which British Youth Opera has been making possible for so many young singers, technicians, directors and creatives for over three decades – has been even more challenging than usual during the past two pandemic-disrupted years, these fine young professionals have heaps of potential that will undoubtedly be splendidly fulfilled.
British Youth Opera's summer performances of Hansel & Gretel and L'occasione fa il ladro continue at Opera Holland Park until Sunday 15th August.
Claire Seymour
Berenice – Laura Lolita Perešivana, Ernestina – Anna Cooper, Conte Alberto – Innocent Masuku, Don Eusebio – William Searle, Don Parmenione – Jack Holton, Martino – Liam James Karai, Actors – Helen Frances Corlett, Alaric Green; Director – Victoria Newlyn, Conductor – Peter Robinson, Set & Costume design – Madeleine Boyd, Lighting design – Jake Wiltshire, Southbank Sinfonia.
Opera Holland Park, London; Thursday 12th August 2021.
ABOVE: Laura Lolita Perešivana (c) Tristram Kenton