Mind-blowing productions of Strauss' Elektra staged by Krzysztof Warlikowski and Luigi Nono's Intolleranza 1960 staged by Jan Lauwers. [Lead photo is a detail of the back wall of Elektra covered with flies.]
The Salzburg Festival has three theaters — the great big, important Grossesfestspielhaus, the smaller, arty Haus fur Mozart, and its Felsenreitschule (Rock Riding School) theatrical space where great big artistic excitement happens.
Like a Roman theater the Rock Riding School has a scaenae frons, a high back wall (estimated 25 meters) in which boxes have been carved into a sheer cliff from which spectators once sat to watch horses perform. Over the years a cavea has been built (slightly semi-circular stadium seating for 1450 spectators facing the cliff wall), the orchestra is the orchestra (the Vienna Philharmonic), and an immense podium (platform) has evolved (40 meters wide [130 ft.], estimated 18 meters deep).
Not to mention the massive presence of dernier cri lighting, projection, flying and under stage capabilities that are continuously expanded and updated.
Though Strauss conceived his Elektra as an opera, performed in the Rock Riding School it became pure Greek tragedy, the famed artistic ritual to instill fear and pity, and most of all to evoke awe at the massive power of fate. Exceptionally, Clytemnestra gave Elektra a heated spoken prologue from Aeschylus' Oresteia, she having murdered Agamemnon in his bath to avenge his sacrifice of their daughter Iphigenia, plus accomplishing a full-blown coup d'état making Aegisthus king.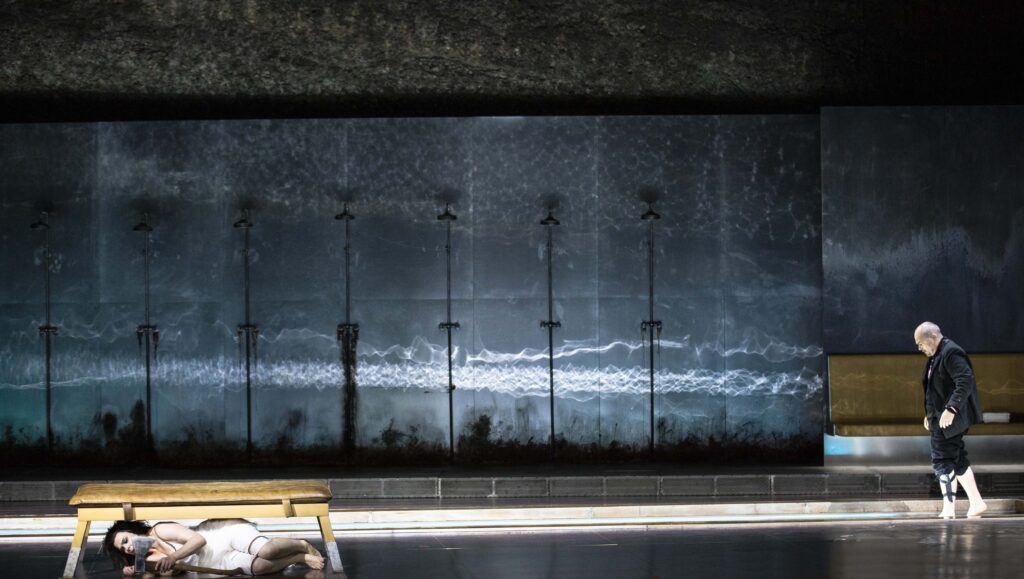 Director Warlikowski and his designer Malgorzata Szczęśniak (his wife) used every inch of the massive platform to color the tragedy — the far right, huge, clear plastic box, sometimes in red, sometimes violet, sometimes black that was the palace, magically moving center stage for its murders. Center left was a long light blue pool, a bath, that served both as the long history of Agamemnon and his family, and for his murder. Seven shower heads loomed along the wall behind the pool offering the prophecy of cleansing.
The entire space was finished and lighted to be slightly reflective thus intensifying the obsessions of von Hofmannsthal's doomed women, and men.
In the beginning Elektra sat hissing on a smooth, molded seating bench along the extreme left wall, the maids sat on a similar bench stage right while observing Orestes' resolve and Elektra's blessing for the matricide, then disappearing for a shattering, seemingly scored, unseen chorus heard from within the palace during the orchestral maelstrom of the aftermath.
The coup de théâtre was the sudden splash of blood red over the massive expanse of the now brilliant white, sheer cliff (the open faced boxes plugged to make the surface solid), and the appearance of huge, projected black flies to feast on the blood, transforming themselves into a vortex of insect horror. The palace became a reflective black, the flying arms of conductor Franz Welser-Möst apparent on its surface for all to see his urging of ever greater volume in the terrifying orchestration of emotional chaos.
The inspired awe was indeed of the intractable, inescapable power of fate, but moreso of the immense force of art.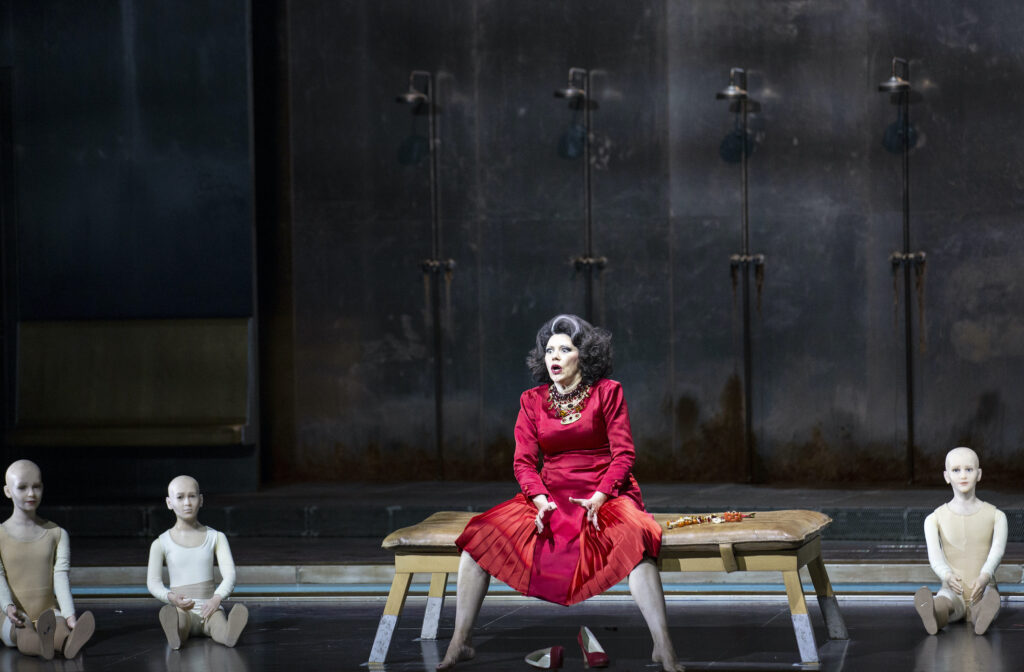 The huge platform of the Riding School has no wings, there is no arch. There is no fourth wall (the proscenium opening) through which we see into a further world. The doomed actors were in your same room, allowing you to hear and see them intimately. The hallmark of the Warlikowski production was in fact not the horror of murder, death and rot, it was the intimacy of your encounters with Elektra, Chrysothemis, Clytemnestra, Orestes and Aegisthus, conductor Welser-Möst illuminating with Strauss' solo instruments the detailed movements of their doomed minds, Clytemnestra alone, seated center stage, shedding her protective jewels one by one, baring her soul to the hatred of her daughter, Elektra seducing an uncomprehending Aegisthus, Chrysothemis' hunger for a life, Orestes dehumanized by his duty.
Austrine Stundyte, Elektra, is a vocally endowed actress of enormous intensity and stamina, Asmik Grigorian, Chrysothemis, Salzburg's Salome, is youth personified; Tanja Ariane Baumgartner, Clytemnestra, is a vocally endowed actress of great intensity; Christoper Maltman, Orestes, a forceful voice as an instrument of destruction; Michael Laurenz, Aegisthus, sleekly sexual. The voices of the palace maids and overseerer, Clytemnestra's train bearer and confidant were each of individual character and artistic finish adding much additional pleasure.
A television version of the production, well worth watching, is available on Medici.tv.
Additional Elektra production information:
Lights: Felice Ross; Video: Kamil Polak; Choreography: Claude Bardouil. Felsenreitschule, Salzburg, August 28, 2021.
Luigi Nono's Intolleranza 1960 is emphatically not an opera, a fascistic art form in Nono's mind. He labelled it a "stage action" though it is much in the wake of Schoenberg's unfinished 1932 "opera" Moses und Aron [sic], seen by Nono at its world premiere in 1953. Intolleranza 1960 however did receive its premiere in an opera house, Venice's La Fenice, in 1961.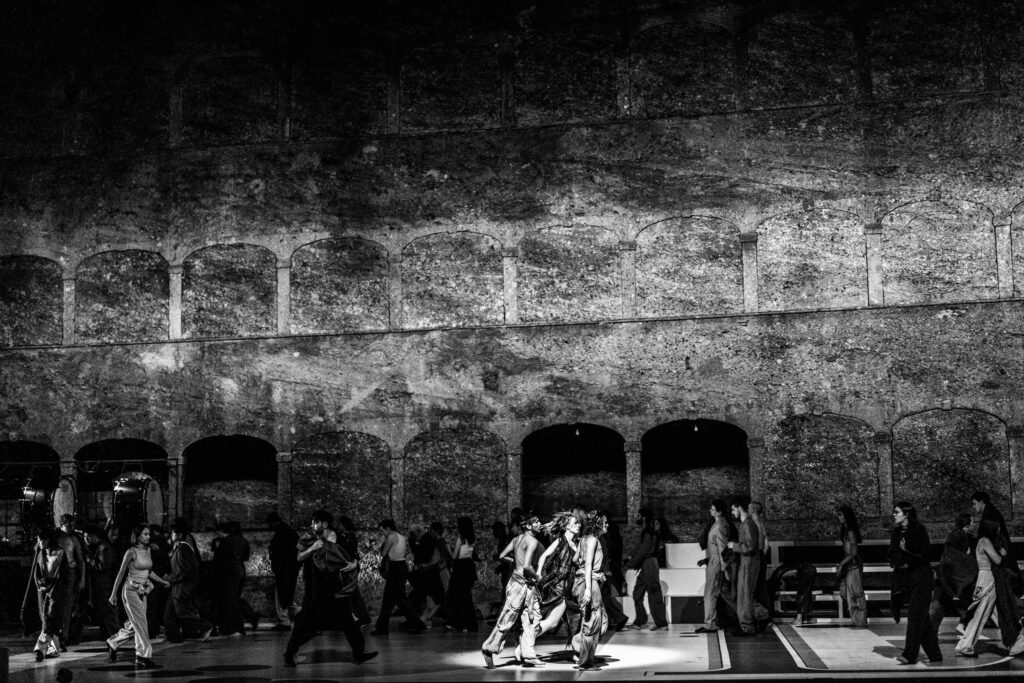 Like the members of the Neo-Marxist Frankfurt School (flourishing in the 1950's), Luigi Nono (1924-1990) came from the privileged classes, in his case Venetian aristocracy. Nono was however a vehement anti-fascist, becoming a member of the Italian Communist Party in 1952. Artistically as well as politically he was an avid revolutionary, ascending to be one of the three primary voices [with Boulez and Stockhausen] of the Darmstadt School (a title he himself gave to this American funded musical initiative of the 1950's).
Nono is remembered as an uncompromising avant-gardist of emotional and moral complexity, these attributes fundamental to his musicality.
Intolleranza 1960 is a work of unabashed, extreme musical, visual and political avant-gardism in which an emigrant seeks refuge from working class exploitation and political tyranny in an attempt to return to his homeland. Aside from the neo-Nazi clashes with anti-Fascists at the premiere the performance was notable for its compromised resources (no live chorus and the recorded choruses off kilter with the present orchestra. The eminent Italian poet Eugenio Montale reported that the decor by Nono's architect friend Emilio Vedova and the staging by an imported Slav, Vaclav Kaslik reeked of an industrialized (i.e. stamped out) avant-garde.
Montale noted as well the musical sincerity of the work, and its accomplishment as highly communicative musical expressionism, though the work was in great need of a more refined staging.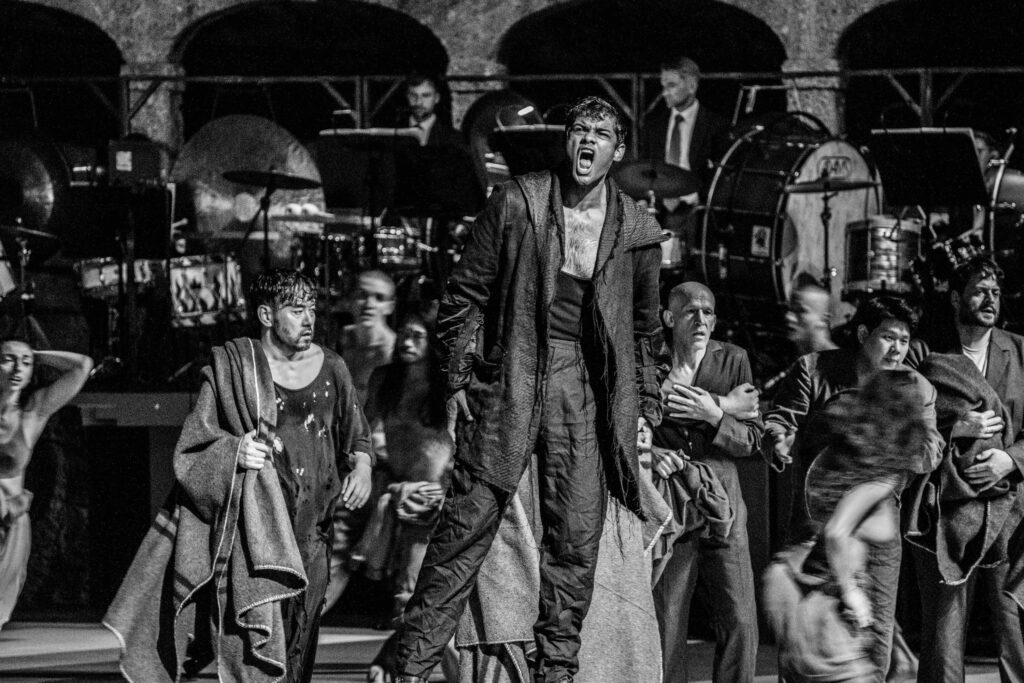 Thus Intolleranza 1960 has been waiting for a proper exposition, that in some ways, not all, it received just now in the Salzburg Festival's strikingly appropriate Rock Riding School space. With however full operatic resources — the live Vienna State Opera Concert Chorus, the Vienna Philharmonic, two dozen dancers from the Salzburg Experimental Academy of Dance (founded by a former Merce Cunningham dancer [Nono abhorred John Cage]), an army of extras plus seemingly infinite digital resources responding to Nono's primitive electronic needs.
That the Salzburg production can be said to be a work by Luigi Nono is open to question. The Salzburg Festival entrusted its production to Flemish political artist (any medium you can think of) Jan Lauwers who re-envisioned Nono's class struggle as a drama of oppressed people of color — the American blacks (yes, he inserted an "I can't breathe" into Nono's libretto) and the African refugees specifically — in search of a better life.
Fascism has come a long way since the 1950's, suppression once inherent to capitalism is now grounded in populism. Mr. Lauwers does indeed have an agenda that he imposes on Nono's Marxism, in fact he subtitles Nono's Intolleranza 1960 as Intolleranza 2021 by the addition of a character, the Blind Poet! Mr. Lauwers begs us to understand the dichotomy of art (in his mind), its need to have clarity in its inherent political/societal message and the inherent ambiguity in the poetic search for image.
The blind poet closes his eyes to see the truth, losing himself in the ambiguity of truth, the populace wants social media clarity, "intolerant" of the poet whom it sees as a buffoon. Jan Lauwers himself wrote the lengthy tract that his blind poet recites within Nono's opera, followed by the enormous crowd exploding in an extended scene of jeering, unaccompanied laughter.
Both scenes were indeed highly effective, dwarfing Nono's mere Marxism, Lauwers' tract ironic in its absolute didactic clarity, leaving evidently Nono's "stage action" as the poetry of the evening.
Though mere is not a word that describes Nono's gigantic construct — triple winds, six horns, four trumpets, four trombones, strings, a bevy of keyboard and percussion instruments plus magnetic tape (recorded chorus from faraway speakers). Its thirteen scenes are animated by five principal singers, Nono's emigrant (tenor), his clinging concubine (mezzo), an Algerian (baritone), a tortured prisoner (bass), and most significantly a companion (soprano) who condemns war and offers hope. An a cappella mixed choir opens the opera contemplating the meaning of life, it concludes the opera quoting Bertolt Brecht's message to future generations — class conflicts resolved, man may help men.
This hope was of course unrealized in Nono's opera, the Emigrant, beautifully realized by tenor Sean Panikkar (of Sri Lankan descent), and his Companion were swept away by a flood.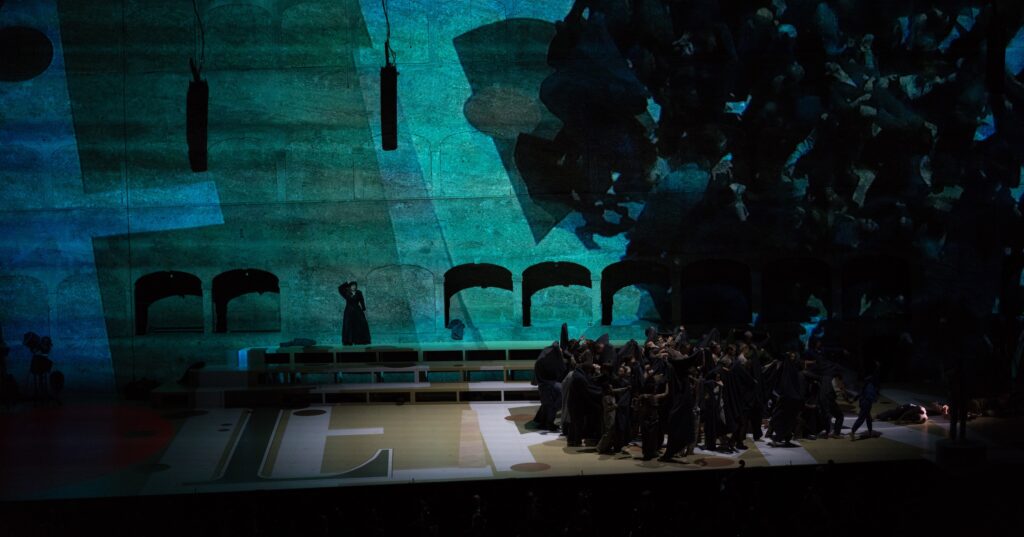 There was much to admire in Mr. Lauwers' staging of the Nono portion of the evening. Unlike the La Fenice production with its drops of architect Emilio Vedova's angry black lines Lauwers used the 24 dancers to execute acute movements on the stage floor, accomplishing the same thing. He allowed both the concubine of the Emigrant's mine life and the tortured prisoner to deliver their solo, beautifully constructed arias quite alone, down stage center, and most especially he created the splendid, extended scene of the hope-inspiring-companion as a dance with Nono's four actor soldiers, now ballerinos, gorgeously sung and spectacularly danced [!] by soprano Sarah Maria Sun.
Lauwers used every inch of the massive stage surface, effectively moving his massive crowds (in addition to the 24 dancers at least 60, maybe more, choristers plus supers), leaving the Felsenreitschule's huge back wall mostly blank, save the occasional revealing of Breugelesque crowds within the boxes (let's not speak of the tacky projection of the nursing baby at the end).
Nono's highly constructed sound world — sounds and rhythms that clash and jar, the friction of dissonance that cannot be resolved (in the words of conductor Ingo Metzmacher) — absorbed the texts (diverse modernist authors including Sartre and Brecht), obscuring any possible dramatic clarity. It was indeed a revolutionary stage action in music, beautifully realized by Mo. Metzmacher.
And it was huge. Like fate in Elektra, the eternal plight of emigrants (and today's migrants) was shatteringly felt, and like the Salzburg Elektra the sheer power of art was overwhelming.
Michael Milenski
Intollerenza 1960 Cast and Production Information:
Emigrant: Sean Panikkar; His Companion: Sarah Maria Sun; a Woman: Anna Maria Chiuri; An Algerian: Antonio Yang; Tortured Prisoner: Musa Ngqungwana; Blind Poet: Victor Afung Lauwers. Vienna Philharmonic; Concert Choir of the Vienna Staatsoper; Salzburg Experimental Academy of Dance. Conductor: Ingo Metzmacher; Stage Direction, Scenery and Video: Jan Lauwers; Choreography: Jan Lauwers, Paul Blackman; Costumes: Lot Lemm; Lights and Video: Ken Hioco. Felsenreitschule, Salzburg, August 26, 2021.
All photos courtesy of the Salzburg Festival.
For a history of the Felsenreitschule as a theater please see: