For its final production during Fall 2021, Lyric Opera of Chicago staged Daniel Catán's Florencia en el Amazonas with Ana María Martínez in the title role of the diva confronting her past while returning to her homeland. Ethan Vincent performed the pivotal role of Riolobo, an intermediary between reality and the spirit of the river. Raymond Aceto portrayed the captain of the ship El Dorado with Mario Rojas singing the role of his nephew, Arcadio. The journalist writing a biography of Florencia Grimaldi is sung by Gabriella Reyes. The couple Paula and Alvaro, who hope to revive their marriage by sailing to Manaaus to hear Florencia Grimaldi sing at the reopened theater, are sung by Deborah Nansteel and Levi Hernandez.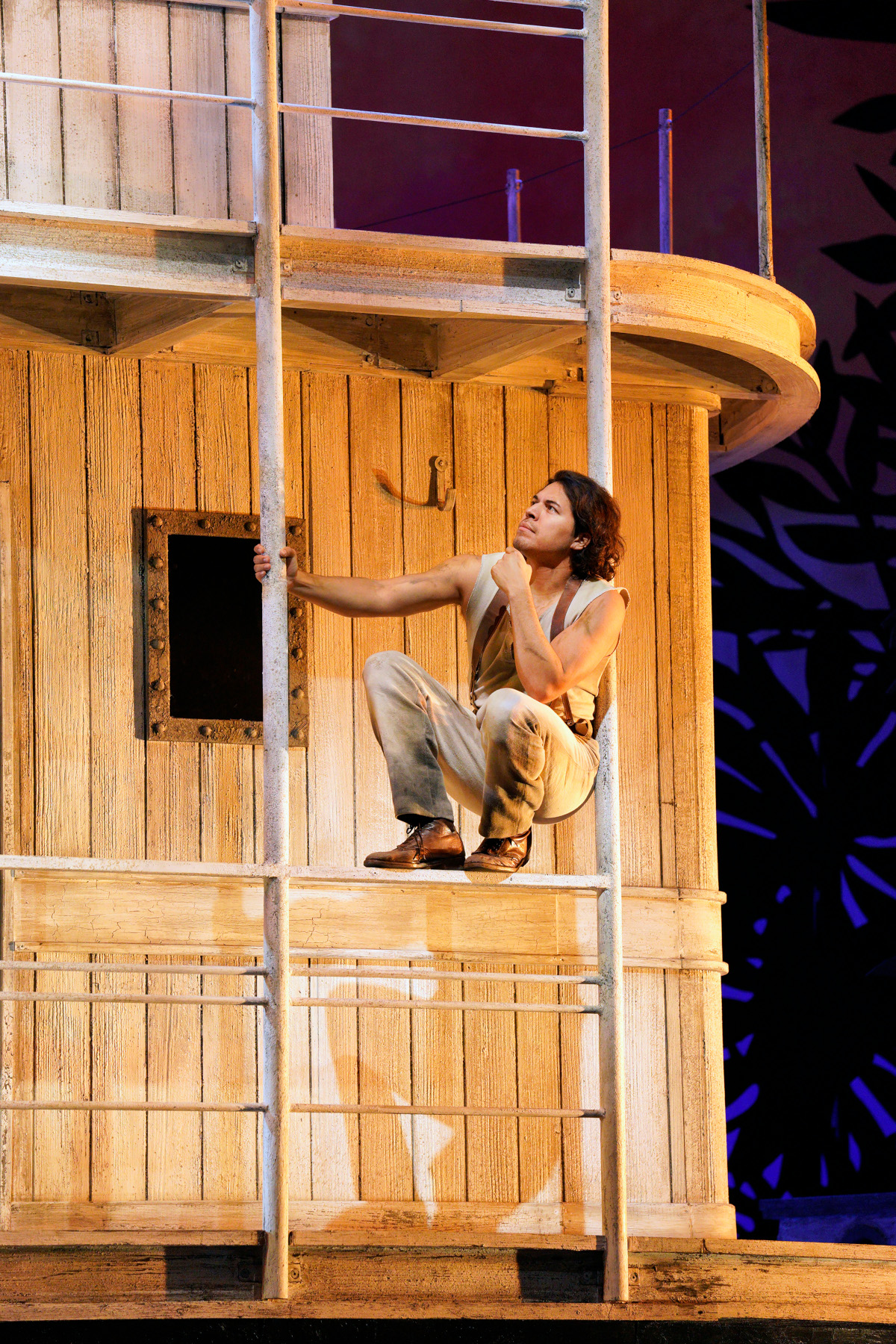 Before this production of Florencia begins, the audience is confronted with a scrim depicting a lush, tropical intersection of trees and vegetation so dense that the sky seems to be darkened. An image of butterflies appears at the summit of this forest. In essence, the character Florencia's physical and spiritual journey is prefigured in this depiction, just as the emotional development of several couples making this same journey will resolve into a higher plane by the close of the opera's second act.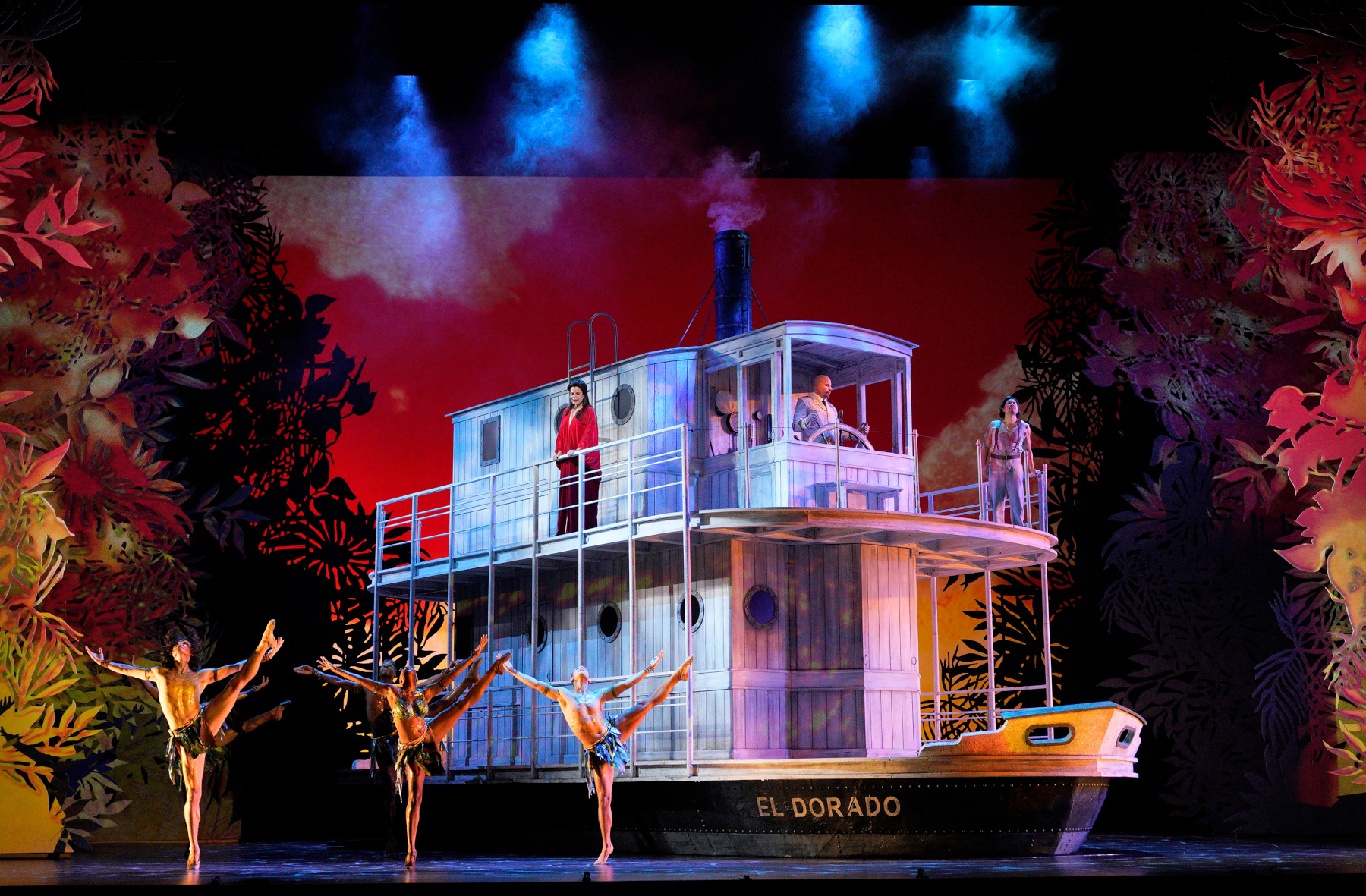 After the orchestral prelude, crowds of passengers are seen milling about excitedly in anticipation of their journey and its goal. Out of a sizeable vocal presence emerge the voices of the key passengers. Ms. Reyes sings with fervent anticipation the declamatory lines of Rosalba's eagerness to continue with the project devoted to Florencia's life and to hear her sing. The married couple appears lost in their trifles while first on board, as Ms. Nansteel and Mr. Hernandez produce vocal lines independent of a sense of unity. Mr. Aceto's captain speaks to the essence of a reliable officer, one cognizant of his responsibilities to ensure the safe journey of his passengers. Throughout the performance Aceto's vocal projection and remarkably flexible decorative lines in the bass register suggested his confronting nature with dutiful power and discipline. The character Florencia begins as an enigma: Ms. Martínez portrays skillfully the melancholy, introspective personality of the singer who, traveling here incognito, feels a dominating sense of incompleteness in her life. The character Riolobo, in this performance by Mr. Vincent is truly a bridge between stages of individuals' development, between various stages of nature, and between individuals as thy relate to each other. From the start of the opera, Vincent's physical agility propels his movements as he drapes himself along parts of El Dorado before the journey and during significant personal encounters while the ship is on its course. His vocal pronouncements are matched ardently to these repeated lithe movements.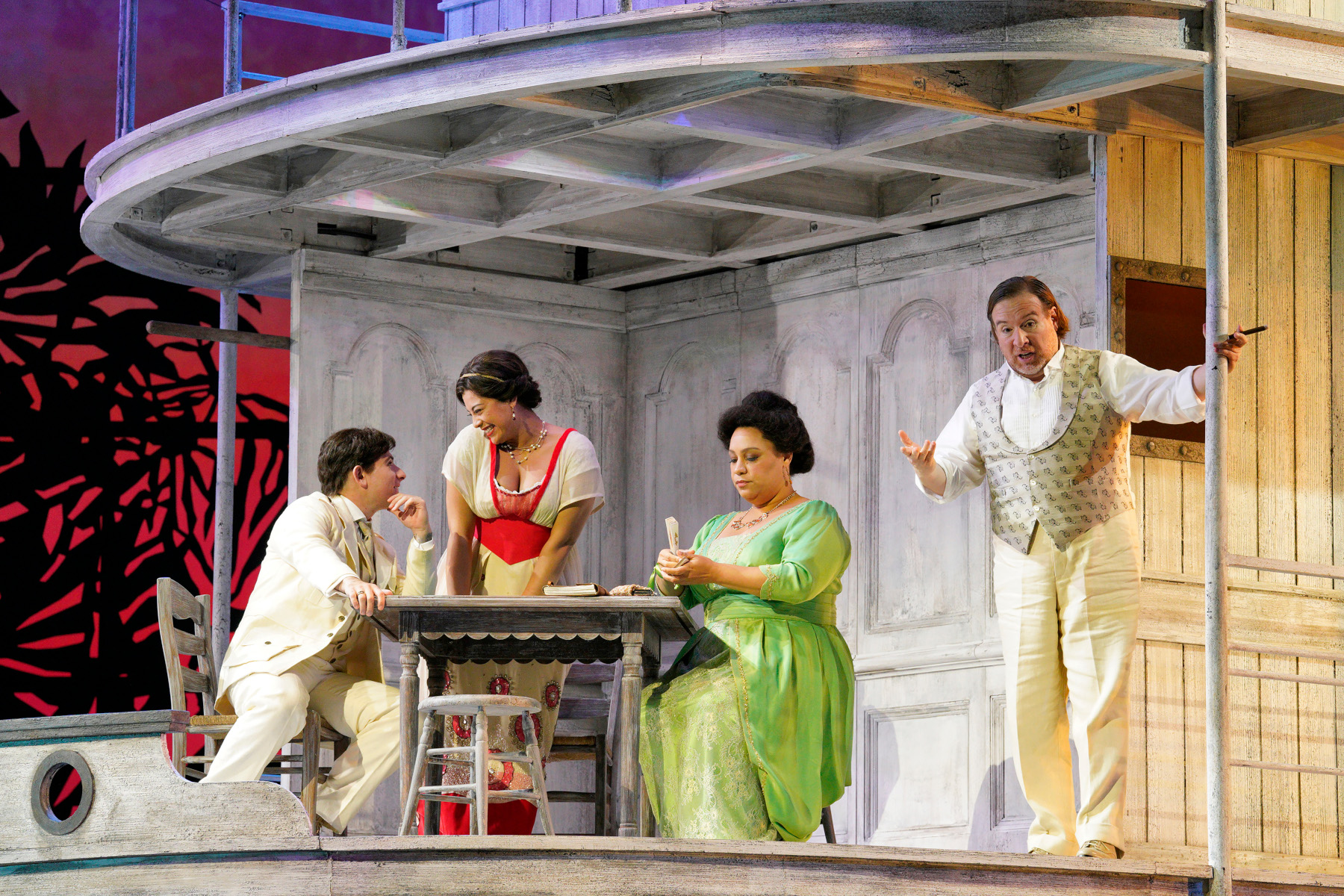 The development of Florencia's plot leads cleverly from the seeming randomness of Act I to the tight structural parallels of Act II. Several of the characters in the extensive first part are consumed with personal concerns, at times associated with objects. When Rosalba accidentally drops her notebook containing work on her project into the water, Reyes conveys with despondent lyricism the attachment to the notebook rather than the spirit of its content. Likewise, Paula and Alvaro plan to share a meal on deck yet their inability to compromise on choices leads to a comical tug-of-war with a wine bottle. Here Nansteel and Hernandez project their lines past each other rathe than in the spirit of communication. Only the loss of an object or person leads to a self-realization that selfish attachments must be transcended. By recovering her — now unusable — notebook Rosalba grows closer to Arcadio, a relationship enhanced with accelerating melodic interest by Reyes and Rojas. Similarly, Paula only realizes her own faults at communication after Alvaro falls from the ship and is presumed lost. Their eventual reunion in Act II through the intercession of Riolobo introduces a vocal line suggestive of unity rather than discord.
And what of the character Florencia? Martínez's brooding, introspective portrayal opens to admit a relationship with others in Act II. Framed by a solo part at either end of the act, Martínez sings with lush and committed vocal splendor as her character reaches a renewed level of self-understanding and communication with others. Within the act her duet with Rosalba completes a gesture of bringing others to a higher level as well. Florencia's transformation at the close can thus be fully appreciated.
Salvatore Calomino
Characters in order of vocal appearance:
Riolobo — Ethan Vincent; Rosalba — Gabriella Reyes; Paula — Deborah Nansteel; Alvaro — Levi Hernandez; Captain — Raymond Aceto; Florencia — Ana María Martínez; Arcadio — Mario Rojas.
Conductor — Jordan de Souza. Director — Francesca Zambello.
Click here for the program booklet .
Above: Ana María Martínez as Florencia. All photos by Cory Weaver courtesy of the Lyric Opera of Chicago.