The music of Harold Darke and Maurice Duruflé might seem curious bedfellows on this recent disc from Guildford Cathedral Choir, with girls' and men's voices, issued by Regent. Yet both these relatively contemporaneous composer organists were highly esteemed for their commitment to the Church (St Michael's Cornhill and St Etienne-du-Mont in Paris respectively) and both produced a distinct, if modest catalogue of works, some of which have become cornerstones of the repertoire. Admittedly, were it not for 'In the bleak midwinter', Darke might be a musical footnote by comparison with Duruflé whose Requiem has rightfully earned its place as a masterpiece of the genre alongside that of Fauré.
Thanks to some inspired thinking, Guildford Cathedral Choir has come up with a remembrance-themed disc that partners Duruflé's Requiem with two largely forgotten cantatas by Darke, here revealed in their orchestral colours for the first time. The disc's title track, 'As the leaves fall', was originally conceived for upper voices, solo soprano and small orchestra in 1917, but its revision in 1934 provided a version for full choir, and it is these alternative forces that have been recorded. Lasting some seventeen minutes and setting a text by the little-known soldier-poet Joseph Courtney (1891-1973), the work is a memorial to those fallen in the Great War. Its message of consolation and hope and an implicit belief in the resurrection is expressed with consummate skill in sepia tones redolent of Elgar and (to my ear) pre-echoes of Gerald Finzi.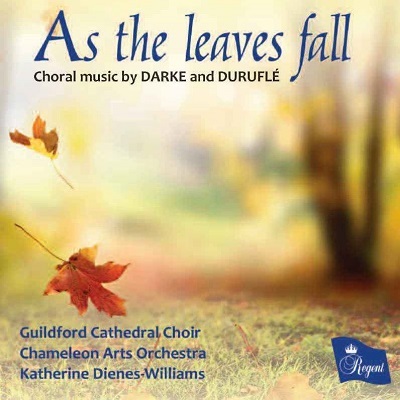 The work has been recorded before in a version with organ, but this orchestral premiere with the Chameleon Arts Orchestra and soprano soloist Hannah Dienes-Williams makes a persuasive case for additional performances. Indeed, judging from the quality of the music this recording may generate an interest in Darke's other works for choir and orchestra currently languishing in the Royal College of Music's archives. Under Katherine Dienes-Williams, choir and orchestra provide compelling reasons to explore this composer's works further. 'As the leaves fall' is by turns elegiac and exultant, coloured variously by a wistful clarinet, mournful horns and warmed by eloquent string writing that underpin intermittent passages for choir (sung with great commitment but sounding a little distant) and soaring lines for the fresh voiced Hannah Dienes-Williams. She's at her best when not straining against the orchestra in her upper register and, notwithstanding rather too-close miking, she brings much emotional involvement and intelligent communication of the text.
'The Kingdom of God' was conceived in 1921 for the recently established St Michael's Cornhill Festival set up by Darke two years earlier. Under half the length of 'As the leaves fall', but no less dramatic, this darkly scored work has been assembled from a facsimile manuscript in the RCM and here receives its premiere. Its composer fully realises the rich imagery of the numinous poem by Francis Thompson (1859-1907) with his evocation of God's all-encompassing Kingdom 'Pitched betwixt Heaven and Charing Cross'. If, in its brevity, this is a pocket version of 'As the leaves fall', the work is no less indicative of Darke's theatrical instincts and skill in word painting. Hannah Dienes-Williams's radiant soprano impresses again, and choir and orchestra make their own distinctive contributions to the work's accumulating drama.
There's no shortage of drama in this account of Duruflé's plainsong-inflected Requiem, performed here in its 1961 version for mezzo-soprano, choir, organ and small orchestra. Janet Shell is passionate in her pleas for eternal rest in the Pie Jesu and the choir's appeals for mercy (Kyrie) and deliverance (Libera me) are thrillingly climatic, so too the gathering excitement of the Sanctus. While much of this is the result of Katherine Dienes-Williams's well-judged tempi (closely modelled I suspect on Duruflé's own 1959 recording), I have reservations about the vocal balance where girls' voices repeatedly privilege those of the men. There's no denying the quality of their voices or musicality (superbly poised in the mysticism of In Paradisum), but at times the balance is just top-heavy. Elsewhere, there is much to enjoy from polished orchestral playing (where trumpets periodically scorch the air) and atmospheric organ support from Richard Moore.
Caveats aside, this disc is well worth investigating and should appeal to all those with an interest in an English composer whose choral repertoire still partially remains terra incognita. Texts and translations are provided alongside useful liner notes, yet curiously the names of the girls' voices are uncredited.
David Truslove
Guildford Cathedral Choir, Chameleon Arts Orchestra, Hannah Dienes-Williams (soprano), Janet Shell (mezzo-soprano), Katherine Dienes-Williams (Musical Director)
Darke – As the leaves fall Op.26, The Kingdom of God Op.31; Duruflé – Requiem Op.9
Regent REG CD 563 [66.02]