Good to see such a full hall for these two beloved singers with one of the finest collaborative pianists of them all. This programme was a celebration of the lives and loves of Robert Schumann and Johannes Brahms, at the centre of which stands the figure of Clara Schumann (couldn't she have had a voice, too, through some of her songs?). As Jessica Duchen points out in her excellent programme notes, this was a complex three-way dynamic that included parental opposition against Robert and Clara, Robert's tragic end and Brahms' subsequent close connection with Clara. Hearing this cornucopia of song: veering towards the tragic in the first part, more optimistic in the second, was an enriching experience indeed. Interactions between Damrau and Kaufmann were many and varied, always fitting to the prevailing story. For this was an evening of stories, Romantic stories shot through with love, happiness, and pain. The order of songs – chosen, apparently, by Deutsch – created the most satisfying musical experience imaginable via the medium of the Lied.
Beginning with one of Schumann's most famous songs, 'Widmung' (like the second, 'Jemand', from Myrthen) seemed an act of generosity; thereafter, the evening was a variegated exploration of the repertoire. Kaufmann it was who took this outpouring of love both painful and ecstatic. Interesting to hear the warmth of Helmut Deutsch's playing, too – could this be the same piano that Yuja Wang played on (and which sounded so bright and even brittle) with the Czech Philharmonic recently? The two pianists certainly have diametrically opposed ways with the instrument, whatever the case: throughout, Deutsch was a paragon of musical illumination, each thread carefully considered, how sweet his opening to 'Resignation', a song that is pure Schumann; how vocal his baritone line in Brahms' 'Meerfahrt'; how burnished and flowing his contribution to Brahms' Serenade Op.70 No.3. After the forcefulness of Kaufmann's delivery of 'Widmung', Damrau was beauty itself in the lovely 'Jemand' while finding space for significant passion. Her voice is pure yet substantive, and, certainly, in 'Resignation', capable of the most profound delivery.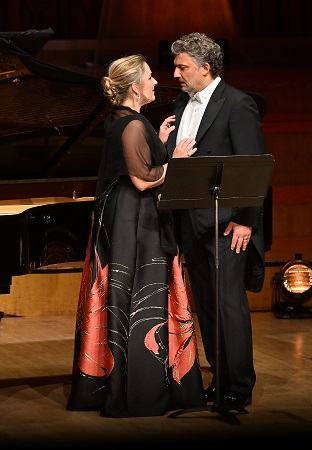 Kaufmann initially seemed in his element, particularly in the stormy 'Geständnis' (from Schumann's Spanisches Liederspiel) while the 'Liebeslied' from Op.51 emerged as a sophisticated gem: both Deutsch and Kaufmann highlighted the advanced nature of Schumann's harmonic writing (it seemed to veer towards the composer's wonderful and still woefully under-appreciated late period; it actually dates from 1840). Fascinating, and complemented by the golden thread of Damrau's cantabile in the tenth song, 'Stille Tränen', of one of Schumann's greatest song-cycles (and again, under-rated generally), the Kerner-Lieder. This was one of the glorious moments of the evening: radiant, heart-felt, truly profound.
As we moved to the first Brahms group, it became clear that something was irritating Kaufmann's throat – some audible coughing from him, and some air around his voice; there seemed to be some strain at the upper end of his range, also. And yet when the darkly shaded piano part to 'In Waldeinsamkeit' underpinned Kaufmann, we were still transported; the song ended with Kaufmann looking directly at Damrau, who responded with the magnificently bitter-sweet 'Die Nachtigall' from Op.85. The piano opening to this was perfection itself: quizzical, enigmatic. Damrau turned away from Kaufmann as he sang the next song, appropriately enough given that its title is 'Ach, wende diesen Blick' (Ah, turn away that gaze) from the Op.57 Lieder und Gesänge). The image of a serpent stinging the protagonist's heart was visceral and real, while Kaufmann took his turn to move away from her for 'Es träunte mir', a song the recipient of the most beautiful sense of stasis, with Deutsch invoking Brahms' late Klavierstücke in his delivery.
If the one thing absent from Damrau's contribution so far was an indication of the power of her voice, that was forthcoming in 'Anklänge', leading to the final group of Schumann songs for the first half: the desolate 'In der Nacht'.
The decision to take us to the most interior spaces before the interval was brilliantly conceived: the 'Tragödie' from Book IV of the Romanzen und Balladen is a set of three songs, its highlight the pianissimo (pppp?) central 'Es fiel ein Reif in der Frühlingsnacht', arguably the most powerful moment of the evening. The set ends with a true duet, simultaneously sweet and touching, itself complemented by the warm sonorities of the duet 'An der Abendstern', the fourth of the Op.103 Märchenlieder.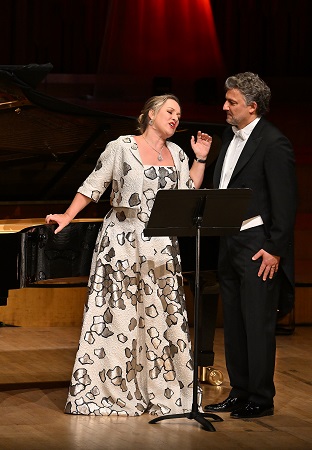 The second part of the concert began in highly contrastive fashion with the decidedly humorous 'Vergebliches Ständchen', Kaufmann sounding somewhat refreshed and light in tone now. Damrau was in beautifully light tone, too, for 'Therese' (it was also beautifully acted between the two – the love dynamic continues …). The way Deutch found and articulated horn calls in 'O komme, holde Sommernacht' found us transported to archetypical Romantic lands, prolonged by the glorious flow of Damrau and Deutsch's 'Geheimnis' and the cozy 'Wir wandelten', beautifully delivered by Kaufmann.
It was such a treat to hear the duets, rarities which, performed by two such musicians, become the finest of the finest. 'Er und Sie' is one such, Damrau's riposte to Kaufmann a thing of the utmost beauty. This is Schumann at his most radiant, and we believed every word of the text. Much darker was Kaufmann's 'Mein schöner Stern!' with its superb ascent to Heaven (Heb' auf vielmehr Zum Himmel mich), itself in maximal contrast to Damrau's freshness of voice in "Lied der Suleika" (Myrthen), a performance of breath-taking naturalness.
Kaufmann can project ardour like few others, and did so in Schumann's 'Ihre Stimme' (a song with another perfectly delivered postlude form Deutsch) and 'Lehn deine Wang'. Interesting, too, to hear almost Wagnerian harmonies foregrounded in Schumann's 'Liebster, deine Worte stehen', its rather complex melodic line negotiated to perfection by Damrau.
The final Brahms group began with a duet, the lovely 'Weg der Liebe', fresh and sprightly, animated from the piano by Deutsch (who negotiated the difficult piano part in 'An die Taben' superbly). The inexorable move to the close was now in full swing, with Damrau offering a radiant climax to 'Die Liebende schreibt'. If 'Sehnsucht' from Kaufmann was ever so slightly anonymous, Damrau's 'Meine Liebe ist grün' radiated optimism. If Kaufmann seemed a tad under form in 'Versunken', the final two songs offered the perfect ending: an absolutely hypnotic 'Von ewiger Liebe' (with both singers taking part) and a light-as-a-soufflé 'Die Boten der Liebe'.
One encore: Schumann's delightful duet 'Unterm fenster'. For all of the vocal excellence on display, it is difficult to forget that the evening contained one of the finest piano contributions to a Liederabend this writer has ever come across.
Texts and translations were available to those who were willing to print at home from the website, or there were (not entirely reliable) surtitles.
Colin Clarke
Diana Damrau (soprano); Jonas Kaufmann (tenor); Helmut Deutsch (piano)
Part I: Schumann –'Widmung', 'Jemand' (from Myrthen), Geständnis (Spanisches Liederspiel, Op.74), 'Resignation' Op.83/1, 'Liebeslied' Op.51, 'Stille Tränen' (from Kerner-Lieder Op.35); Brahms – 'Verzagen' Op.72/4, 'In Waldeseinsamkeit' Op.85/6, 'Nachtigall' Op.97/1, 'Ach, wende diesen Blick' Op.57/4, 'Es träumte mir' Op.57/3, Meerfahrt Op.96/4, Anklänge Op.7/3; Schumann – 'In der Nacht' (Spanisches Liederspeil), 'Tragödie' (Romanzen und Balladen Op.64), 'An den Abenstern' (Mädchenlieder Op.103)
Part II: Brahms – 'Vergebliches Ständchen' Op.84/4, 'Serenade' Op.70/3', 'Therese' Op.86/1, 'O komme, holde Sommernacht' Op.58/4, 'Geheimnis' Op.71/3, 'Wie Wandelten', Op.96/2; Schumann – 'Er und sie' Op.78/2, 'Mein schöner Stern!' (from Minnespiel Op.101), 'Lied der Suleika' (from Myrthen), 'Ihre Stimme' (from Lieder und Gesange Op.96), 'Liebster, deine Worte' (Minnespiel), 'Lehn' deine Wang and meine Wang' (Op.142), 'Verratene Liebe' Op.40; Brahms – 'Weg der Liebe' Op.20/1, 'An die Tauben' Op.63/4, 'Die Liebende schreibt' Op.47/5, 'Sehnsucht' (Lieder und Romanzen Op.14/8), 'Meine Liebe ist grün' Op.63/5, 'Versunken' Op.86/5, 'Von ewiger Liebe' Op.43/1, 'Die Boten der Liebe' Op.61/4; Encore: Schumann –'Unterm Fenster'
Barbican Hall, London; Tuesday 29th March 2022.
ABOVE: Helmut Deutsch, Diana Damrau, Jonas Kaufmann (c) Mark Allan/Barbican