Hyperion has brought together three composers with a special affinity for choral music, as already demonstrated in earlier recordings devoted solely to their music on Delphian, Naxos and Opus Arte labels. Each composer, too, has secured at least one commission from the Dean and Chapter of Westminster Abbey, and several works here were originally conceived to commemorate state occasions in the Abbey.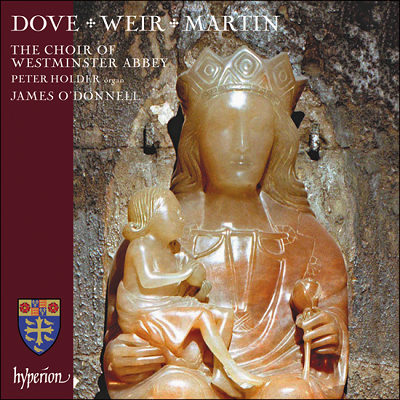 Matthew Martin (born 1976) may be the youngest of the composer trio, but he is well established within the church music scene, certainly since winning the Liturgical category in the 2013 British Composer Awards.  His Advent antiphon, O Oriens, appeared the previous year and was written to exploit the vast interior of St Paul's Cathedral: at its premiere, upper and lower voices were positioned separately in the north and south transepts.  Traditional plainsong and startling contemporary harmonies combine to form a majestic setting of this ancient text, and Martin's theatrical instincts are fully realised in this rendition under James O'Donnell.  More plainsong inspired Martin's In the midst of thy temple, a demanding but approachable setting incorporating a modified version of Henry Purcell's hymn tune 'Westminster Abbey'.  Dove's evening canticles, the 'Westminster Service', is also highly effective.  Written for the Abbey's treble voices, the 'Magnificat's' animated organ part and athletic vocal lines amply convey the nervous excitement of Mary's response to the Annunciation, while the atmospheric 'Nunc Dimittis' unveils long breathed lines over a hypnotically repetitive organ part. In both settings boys nicely communicate exuberance and composure.  Martin's expressive range can be heard to impressive effect in Sitivit anima mea (2002) for unaccompanied men's voices, and also in the clamorous Behold now, praise the Lord, this last dedicated to the memory of John Scott formerly organist of St Paul's Cathedral.
Less demonstrative are the three contributions by Judith Weir (all dating from 2014 when she became Master of the Queen's Music), whose unaccompanied choral music first appeared on disc sung by the Choir of Gonville & Caius College, Cambridge in 2011. I'm not quite so convinced about these pieces despite their obvious craftmanship. His mercy endureth for ever is marked by a series of shifting pedal points that paradoxically seem to create as well as inhibit momentum, its six minutes unable, to my ear, to move beyond first gear. A sinuous accompaniment plays an important role in the mostly chordal textures of The true light, its long shadow seemingly contradicting 'The darkness is past', yet reminding us that the anthem commemorates the centenary of the end of the First World War. Truly I tell you is built on a series of abbreviated choral paragraphs interspersed with scalic organ figuration, yet the sense of exaltation suggested in the Psalm texts feels understated – its sense of wonder partially explored.
Like Weir, Jonathan Dove's catalogue is threaded through with a rich harvest of works for the stage.  In his church repertoire there is no lack of theatrical impulse, his dramatic tendencies finding expressive outlet in his grandiose Vast ocean of light.  Phineas Fletcher's contemplation of light as a manifestation of the divine is clothed in textures that variously float and shimmer, and Dove's inspiration produces a magnificent response from the Westminster Choir – boys relishing their soaring lines.  The work suits the expansive style of the choir, heard again in the jubilant gestures of They will rise written in 2018 for the centenary of the formation of the Royal Air Force.  Both are uplifting pieces and superbly performed.  Dove's Missa brevis (2009) similarly draws on a rhythmic impulse, at least in its two central movements, somewhat feverish in the 'Gloria' and no less restless in the 'Sanctus' – both exciting in their collective energy.  Conjunct movement brings unity to the 'Kyrie' and 'Agnus Dei', although their supposed 'quietude', referred to by Jeremy Dibble in his liner notes, is not without climactic power.
Altogether, this recent disc showcases contemporary English church music at its most dynamic and Westminster Abbey Choir with organist Peter Holder at their most invigorating. For those unfamiliar with this repertoire, there's plenty to explore in these sumptuous performances.
David Truslove
The Choir of Westminster Abbey, Peter Holder (organ), James O'Donnell (conductor)
Dove – Vast ocean of light, Missa brevis, They will rise; Weir – The true light, His mercy endureth for ever, Truly I tell you; Martin – In the midst of thy temple, The Westminster Service, Sitivit animae mea, O Oriens, Behold now, praise the Lord.
Hyperion CDA68350 [70.16]