English song of the twentieth and twenty-first centuries was the focus of this lunchtime recital by two Samling Artists, mezzo-soprano Shakira Tsindos and baritone Dominic Sedgwick, on the opening day of the 2022 Leeds Lieder Festival. And, where better to start than with one of the 80 folk songs in English that Ralph Vaughan Williams arranged for voice and piano. 'The pretty ploughboy' is one of the Folk Songs from Sussex (1912) which were collected by Henry Hills, a farmer from Lodsworth. It tells of a lad who falls in love with a young girl whose parents, objecting to his courtship, bribe a gang to impress him into naval service, only for the plucky lass to track her beloved down and buy him his freedom. Dominic Sedgwick was an engaging storyteller, shaping the narrative with tenderness, while pianist Ian Tindale's inter-stanza commentaries added some affectionate bucolic charm.
'Youth and Love', the fourth song of Songs of Travel, had a quiet pensiveness initially, aided by the easeful rubato of Tindale's alternating duplets and triplets, but the mood became increasingly rapt. Sedgwick seemed to hold back a little, though, as the traveller pushes forward, ignoring the pleasures that "assail" him, committed to his "nobler fate". The form of Stevenson's verse suggests a more resolute momentum, a hurried progress which Vaughan Williams' shifting harmonies and monotone dismissal capture, as the traveller "but waves a hand as he passes on". Ursula Vaughan Williams' poem, 'Tired', addresses her sleeping husband as he lies in her arms. It was set by him as one of the Four Last Songs (1958) and its honesty and calm were beautifully communicated by Shakira Tsindos who maintained a firm line through the low-lying lullaby, imbuing the simple melody with strength and warmth. The singers came together for a pert rendition of 'Think of Me', a German folksong which was translated into English by A. Foxton Ferguson and arranged for vocal duet by Vaughan Williams.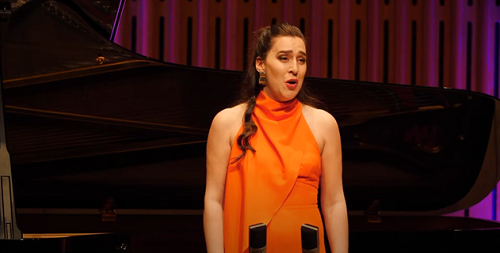 Tsindos made Frank Bridge's 'Love went a-riding' shine and Tindale's flowing gallop enhanced the exalted air, though I found the mezzo-soprano's vibrato a little wide at the soaring climax of the song, where the diction became rather blurred. The modulation from tranquillity to rapture in 'Adoration' was sensitively crafted, though, and Tindale was an expressive accompanist both here and in Bridge's 'Come to me in my dreams', the sincerity of which Sedgwick communicated with a gentle sweetness. Some Finzi followed. Tindale neatly propelled 'O Mistress Mine' (from Let us Garlands Bring) on its merry way, and Sedgwick negotiated the changeable vocal line deftly. In 'To Lizbie Browne' (from Earth and Air and Rain) the baritone infused the protagonist's reflections on love lost and missed opportunities with a beautiful warmth, balancing urgent upswellings of remembered feeling with present wistfulness – most affectingly so in the penultimate verse, where the elegant fading of the vocal image conveyed all the pain of unfulfilled passion: "Touched never your/ lip With lip of mine, Lost Lizbie Browne".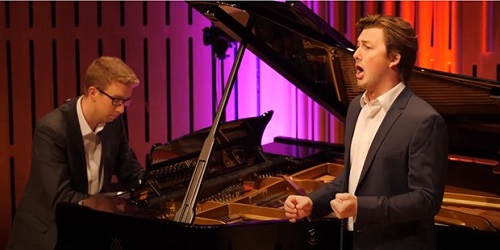 There was more unrequited love in Rebecca Clarke's setting of Yeats' 'Down by the Salley Garden', the quiet simplicity of which Tsindos communicated with poise. Roger Quilter's 'Fair House of Joy', the last of the Elizabethan Lyrics Op.12, offered a rich contrast, Tsindos conveying its declaration of passion with commitment and colour. The duet 'Love calls through the summer night' seems to have originated in Quilter's operetta Julia, which was staged at Covent Garden in 1936, and its romantic lyricism was beautifully expressed here, the climax radiant and ardent.
Jonathan Dove's duet song-cycle, Man, Woman, Child was premiered at the Samling Institute's 25th Anniversary Showcase at Wigmore Hall in November 2021, on which occasion I found it 'a score which communicates with immediacy' and hoped for 'an opportunity to hear Man, Woman, Child again soon'. Dove weaves texts by the Australian poet Judith Wright into a narrative which he has described thus: 'Gradually a story emerged of a man, coming home from war, who meets a woman in a wine bar: it ends with the voice of the child that emerges from this union.'
The unrelenting tread which drives through 'Pain', sometimes a dull thud, elsewhere a jagged pounding, seemed to evoke memories of the battlefield, prompting stern, angry outbursts from Sedgwick, though Tindale suggested, too, a springy jazziness which spilled into and flourished within 'Song in a Wine Bar', the flamboyance of which Tsindos relished. The piano's oscillations supported and responded to Sedgwick's finely wrought melody in the lyrical, yearning 'Song', while pillowy, low arpeggiations conjured nocturnal mysteries and passions in 'Night', forming circular patterns as the two voices came together with focused intensity. 'Woman's Song' was stirred by restlessness, propelling Tsindos's gleaming vocal line to expressive heights. Excitement rustled through 'Song' which made for a joyful and ecstatic close to the cycle.
Leeds Lieder 2022 Festival events are being broadcast on YouTube and social media, free to view.
Claire Seymour
Samling Institute Showcase: Man, Woman, Child
Shakira Tsindos (mezzo-soprano), Dominic Sedgwick (baritone), Ian Tindale (piano)
arr. Ralph Vaughan Williams – 'The Pretty Ploughboy'; Vaughan Williams – 'Youth and Love' (Songs of Travel), 'Tired' (Four Last Songs); arr. Vaughan Williams – 'Think of me'; Frank Bridge – 'Love went a–riding', 'Come to me in my dreams', 'Adoration'; Gerald Finzi – 'O Mistress Mine' (Let us Garlands Bring), 'To Lizbie Brown' (Earth and Air and Rain); Rebecca Clarke – 'Down by the Salley Gardens'; Roger Quilter – 'Fair House of Joy' (Elizabethan Lyrics Op.12), 'Love calls through the summer night' (Love at the Inn); Jonathan Dove – Man, Woman, Child
Howard Assembly Room, Leeds; Thursday 28th April 2022 (live stream).
ABOVE: Shakira Tsindos (mezzo-soprano), Dominic Sedgwick (baritone), Ian Tindale (piano)