The Irish-Canadian mezzo-soprano, Wallis Giunta, described her late-night programme with guitarist Sean Shibe and flautist Adam Walker as 'the sound track of revolution … an homage to protest music in North and South America, from female performing artists and both male and female songwriters/composers'. The title of the recital, The Revolution Smells of Jasmine, was taken from one of the songs in the program, 'Juana Azurduy' – "Lend me your rifle, for the revolution smells of jasmine" – which Giunta explained, 'evokes the narrative of revolution and social change as the engines of a virtuous, feminine war for salvation of society and culture'.
'Juana Arzurday' is one of eight songs which comprise Mujeres argentinas (Argentine Women), an album which the Argentine musician Ariel Ramírez, the historian Félix Luna, and the vocalist Mercedes Sosa collaborated on in 1969, each number being based upon a real or fictional Argentine female character and vernacular genre. 'Gringa chaqueña' opened the programme. The fictional protagonist personifies the European colonisation of South America, and the song employs a vernacular rhythm, the guarania, from the Chaco region and Paraguay. The timbral contrasts were notable: Shibe's dry metallic strumming over the saddle, the guitar's delicate chordal arpeggiation, the sensuous freedom of the voice with its nuanced bending of pitch, colour and dynamics, percussive rustlings – here was the musical embodiment of Robert Frost's sound of sense, aurally transporting us to a time, place and culture. Music, movement, voice and language were a seductive combination, Giunta's melody by turns assertive, tender, declamatory and wistful, Walker's flute softly sweetening the pensiveness.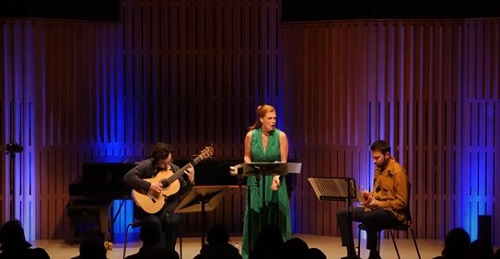 Shibe's guitar introduction to 'Dorotea, la cautiva' had a 'Once upon a time' quality. The song tells of Dorotea Bazán whose story, told in Una excursión a los Indios Ranqueles by Lucio V. Mansilla (1831–1913), explores issues of identity and immigration: when kidnapped by an indigenous group, Dorotea, a white woman, identified with her captors and became acculturated. Shibe's meandering arpeggio-tracery gently supported the low vocal line, and Giunta's dark register was richly evocative, the understated delivery and narrow range of the melody conveying a quiet yearning.
Born in Alto Perú (now Bolivia and formerly part of the Spanish Viceroyalty of Perú), Juana Azurduy (1780–1862) fought during the Hispano-American Independence Wars. The strong rhythmic energy seemed to evoke the power of her revolutionary voice – a voice revived by Giunta's brighter, higher melody, sharper consonants and by the song's percussive beat and declamatory vigour. The more gentle 'Alfonsina y el mar' was inspired by the poet and feminist Alfonsina Storni (1892–1938) who, at the age of 47, and suffering from terminal cancer, jumped into the sea from the pier at Mar del Iata and drowned. Giunta's lilting melody captured Storni's innocence, idealising her suicide as a calm 'cleansing', the sense of transfiguration enhanced by Walker's beautiful echoing of the vocal line which, when transferred an angelic octave higher was supported by Shibe's elaborate heavenly host.
I presume these were Shibe's own Ramírez arrangements; they were certainly compelling, as were the two numbers from Astor Piazzolla's Histoire du Tango for flute and guitar.  The tango represents a passion and transgression at odds with the hegemonic social order, but Piazzolla charts the dance's transformation from subversiveness to cultural assimilation.  We heard two of the four movements here.  'Café 1930' had a lovely introspective quality, shifting from wistful withdrawals to flamboyant flourishes, crisp arabesques alternating with sharp, breathy attacks – ever unpredictable, animation followed by dissolution, with an underlying strand of melancholy.  The rhythmic precision of 'Bordello 1900' was vivifying and effervescent: the salty slap of Shibe's hand against the side of his guitar lifted the flute with joy and drive, the latter spiky then full of grace, dancing with improvisatory fantasy, all plosive brrrs and silky glissandi.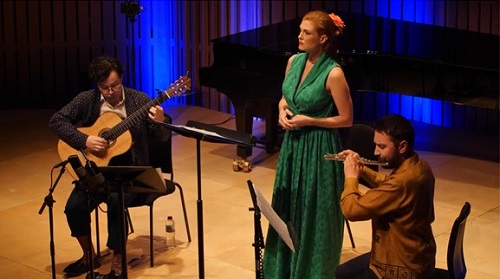 At points in the recital Giunta read from Diane di Prima's Revolutionary Letters, which were first distributed between 1968 and 1971 through the Liberation News Service, letter by letter, in two hundred newspapers across Canada and the US. In Letter #10 di Prima writes:
These are transitional years and the dues
will be heavy.
Change is quick but revolution will take a while.
America has not even begun as yet.
The continent is seed.
Despite the futurity, there's an underlying optimism intimated here which made this Letter the perfect preface to Joni Mitchell's 'Woodstock'.  This song is full of a wide-eyed wonder, which was conveyed by Giunta's purity of line, and the lightness with which her mezzo soared and floated.  She captured the utopian idealism of the song.  Mitchell never actually made it to Woodstock in 1969, as her managers, David Geffen and Elliot Roberts, seeing how events were unfolding, instructed her to stay in New York to fulfil an appearance on The Dick Cavett Show.  But, she remarked later that while she 'felt left out', and 'really felt like the Girl. The Girl couldn't go, but the Boys could … I don't know if I would have written the song 'Woodstock' if I had gone.  I was the fan that couldn't go, not the performing animal.  So it afforded me a different perspective.'  Giunta communicated this nostalgia and naïveté, hovering as the song does between the real and the wished for.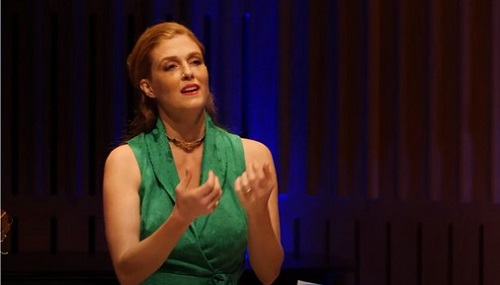 Violeta Parra (1917-67) was a Chilean composer, singer-songwriter, folklorist, ethnomusicologist and visual artist.  She was a cantora – a female singer of the people and she altered perceptions of female musicianship and national identity.  'Ayúdame Valentina' addresses the Soviet cosmonaut and first female in space, Valentina Tereshkova, as an emblem of the scientific progress which can counter religious orthodoxy.  The repetitions – harmonic, melodic, strophic – acquired a growing insistence and momentum, persuasively so, and we also heard Parra's 'La carta' in which the guitar's accented second beat (of three) twanged, then clanged, then thumped, energising the vocal recitation. 
It's a brave singer who sets themselves up against Billie Holiday, Nina Simone, Joan Baez and other such vocal luminaries, but in performing Abel Meeropol's 'Strange Fruit' and Baez's 'Birmingham Sunday' and 'Saigon Bride', Giunta more than held her own. The naturalness and flexibility of her singing was enhanced by Shibe's seeming spontaneity – there was a folk-like honesty and directness here that both challenged and transported the listener to another, more hopeful place.
Claire Seymour
The Revolution Smells of Jasmine: Wallis Giunta (mezzo-soprano), Sean Shibe (guitar), Adam Walker (flute)
Ástor Piazzolla – 'Café' 1930, 'Bordel 1900' (L'Histoire du Tango); Ariel Ramírez – 'Alfonsina y el Mar', 'Gringa Chaqueña', 'Dorotea la Cautiva', 'Juana Azurduy'; Joni Mitchell – 'Woodstock'; Violeta Parra – 'La Carta', 'Ayudame Valentina'; Joan Baez – 'Saigon Bride' (words by Joan Baez and Nina Dusheck), 'Birmingham Sunday' (words by Richard Farina, (1937–1996)); Abel Meeropol – 'Strange Fruit'
Howard Assembly Room, Leeds; Thursday 28th April 2022 (live stream).