The Cockpit Theatre in Marylebone is typical of the sort of intimate venue in which Hampstead Garden Opera customarily presents its productions, which showcase young singers and musicians in performances that frequently exceed their rightly lofty ambitions. It's not a straightforward venue for director, cast and instrumentalists to negotiate, though, requiring careful consideration of sightlines and space, and precise preparation to ensure a confident, precise performance.
One of the admirable aspects of this performance of HGO's double bill of operas by John Blow and Henry Purcell was the excellent chamber-ensemble communication of the cast and musicians, especially given that Music Director Seb Gillot was seated at a harpsichord at the 'rear' of the thrust-stage space, able to gesture discreetly to the instrumentalists but not in a position to offer the singers much assistance in real-time, and certainly not when they were positioned, as in Dido and Aeneas,in the gallery above him. One can only imagine, and praise, a rehearsal process which must have been thorough and professional, and which clearly left the performers feeling confident about their roles and how to execute them, as well as very comfortable working with their fellow company. And, due applause should go to bass violinist Jacob Garside and Jonatan Bougt: the latter's theatrical switches between theorbo and baroque guitar demonstrated musico-dramatic nous as well as persuasive technical magic.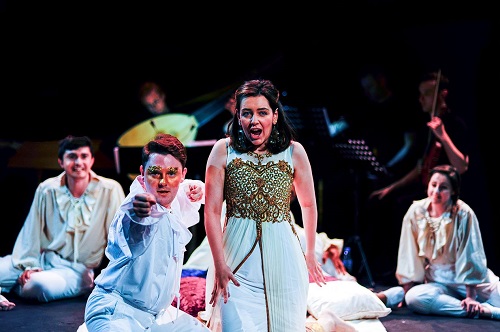 John Blow's Venus and Adonis and Henry Purcell's Dido and Aeneas are good works for young singers, requiring deft musical characterisation and highlighting technical acumen. They offer a platform for burgeoning singing-actors to shine. And shine they did at this Sunday matinee performance, though they weren't especially aided by director Jessica Dalton's 'concepts'.
In her programme note, Dalton remarks that 'both of the central relationships have lives outside of the pieces, in literature, mythology and culture, where they are upheld as romantic ideals and idylls', and that 'the two couples as depicted in our operas are very poor role models for functional, reciprocal and healthy intimate relationships'. She delves little into classical myth, or into the seventeenth-century contexts in which such myths were interpreted by Blow and Purcell, but does proffer some attempt to connect myth and modernity: 'Just as the joys and excitements of love and passion are eternally relevant, so are the pains and struggles. Twenty first [sic] century living can be isolating and lonely.'
So, Blow's Venus and Adonis here began in a modern office – apparently the head office of a contemporary dating app, so it's not clear why stock exchange data flickered digitally at the rear (unless a flotation was imminent) – because, Dalton tells us, 'approximately a third of UK marriages in 2022 have started online, but between signing up and marital bliss there is a great deal of heartache, unsolicited intimate messaging, humiliation and rejection to wade through'. I'm not quite sure what this has to do with this be-suited Cupid's encouragement in the Prologue that a group of 'shepherds and shepherdesses' should engage in amorous play. Dalton's 'concept' doesn't come near to Jacobean social sophistication or political allegory. But, the challenging role of Cupid was sung with panache by countertenor Ralph Thomas Williams – a much more forward figure than Blow's mother's boy, who could also lean into an office chair with the suavity of Gordon Gekko.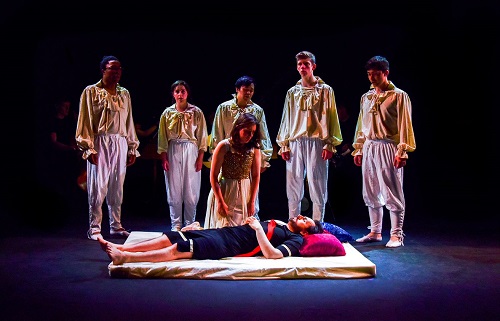 Modern manners were swiftly abandoned, however, for Ancient Rome (apparently). A Japanese futon replaced the executive desk centre-stage. Here, Venus (Elizabeth Green) and Adonis (Conall O'Neill) lolled in sexual languor and said their farewells when the former urged her lover to depart and hunt the boar. 
I can't say that the Act 2 spelling lesson made much of a humorous mark and the tragic death of Adonis didn't touch this heart.  There was little sense of the power of the conceit by which the near death-by-boar is framed by the prefigured and realised death of Adonis, languishing on Venus's breasts.  Nor of the irony of the Jacobean satire.  But half-masque/half-opera, Venus and Adonis creates much opportunity for dance, which choreographer Kate Goldie Cheetham enjoyed, very productively.  And, the singing was super.  In the titular roles, O'Neill's Adonis exhibited lots of vocal colour while Green's lovey rich mezzo and her fine sense of line winningly conveyed Venus's sensuousness.
Dido and Aeneas was similarly office-based – set in the civil service quarters at Boris's Westminster party-palace, perhaps? – but didn't venture any time-travel and was all the better for it.  Indeed, we were well and truly reality-time rooted: when the office desk was converted from hedge-fund to hedge-fringe and the bubbly flowed, we seemed to be in Partygate land.  Dalton hadn't quite worked out what to do with sailors 'ho-ho-ing' in a modern-day mercantile context (well, you can always shove them in the gallery), but the Sorceress – a fabulously lush-toned Mercè Bruguera Abelló – was the cleaning team manager, and Olivia Carrell and Abbie Ward her two sparkling, brightly blended 'witches'.  The minimum wage must have been pretty meagre, as their trashing of Dido's office with the executives' Deliveroo-detritus was vicious.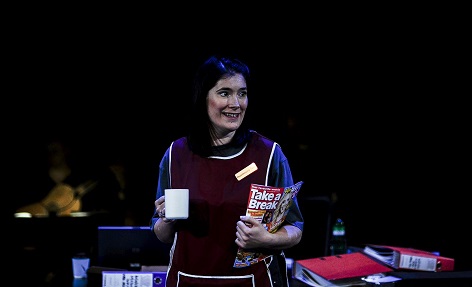 Julia Surette's Belinda was a bit wrong-footed by Dalton's direction initially, in that, during Dido's plaint that she is 'press'd with torment' this PA seemed more concerned with her 'mobile phone than her fragile mistress. But Surette is a fine singing actress and initial doubts were rapidly overcome. Her confidence and stage presence were very impressive. Sonny Fielding's Aeneas was a bit of a wimp, but then the Trojan hero is rather feeble … the role needs firm direction, but Dalton simply conceded that Aeneas has 'little to recommend him' and that Purcell's music reflects this: 'Aeneas has less than half of Dido's stage and vocal time, and Purcell saves the melodic climaxes for her rather than him'. Perhaps the original performance context, a girls' school run by Josiah Priest (though some believe that the opera may have been performed first at court), might have something to do with this?
If Fielding didn't get much directorial help, he sang sensitively. As his Dido, Katey Rylands was excellent, allying crystal-clear diction with really affecting phrasing and ornament. This is a voice that really pleases and coaxes the ear. I've heard far less moving, accomplished renditions of 'Remember me' from esteemed professional singers.
Dalton may profess to ponder the ambiguous presence of the Sorceress and her acolytes – 'are they real or figments of Dido's imagination and the uncomfortable dreams that make her sleep restless? Is the Spirit sent by the coven just the only way Dido can fathom that Aeneas would leave her, or is she something more tangible?' – but, what she means when she questions whether Dido is 'manifested by Aeneas's conscience' is anybody's guess. However, these young singers and musicians demonstrated a sensitive and mature engagement with the Baroque scores and texts they were asked to interpret. We may not have had the quirks of mythic tragedy or a satire on Charles II's immoral court, but it was clear that romantic mis-matches can prove fatal … poignantly so.
Claire Seymour
Blow: Venus and Adonis
Venus – Elizabeth Green, Adonis – Conall O'Neill, Cupid – Ralph Thomas Williams, Shepherdess/Soprano Chorus – Hannah Savignon, Shepherd/Alto Chorus – Garreth Romain, Shepherd Tenor/Chorus – Angelo Fallaria, Huntsman/Bass Chorus –Matthew Secombe, Shepherd/Bass Chorus – Fabian Tindale Geere
Purcell: Dido and Aeneas
Dido – Katey Rylands, Belinda/First Woman – Julia Surette, Aeneas – Sonny Fielding, Sorceress – Mercè Bruguera Abelló, Second Woman/Chorus – Isabel Haile, First Witch – Olivia Carrell, Second Witch – Abbie Ward, Spirit/Chorus – Hannah Savignon-Smythe, Sailor/Chorus – Matthew Secombe, Alto Chorus – Garreth Romain, Tenor Chorus – Angelo Fallaria, Bass Chorus – Fabian Tindale Geere
Director/Designer – Jessica Dalton, Choreographer – Kate Goldie Cheetham, Lighting Designer – Tom Turner, HGOAntiqua Orchestra, Music Director/Harpsichord – Seb Gillot
The Cockpit Theatre, London; Sunday 22nd May 2022.
ABOVE: Julia Surette (Belinda) and Katey Rylands (Dido) (c) Laurent Compagnon