It's rare these days to find a new vocal ensemble prepared to dip its toe in the water of Marian-themed repertoire that is virtually unknown. Such is the case with a new group called Apollo of the Arts which, according to its website, regards itself as 'a flexible and collaborative classical music ensemble that focuses on the performance of overlooked or little-known music, especially European baroque repertoire'. The group certainly fulfilled its brief in this concert, only their second public performance, and, contrary to any lingering possibility of box office suicide, there was a respectable audience in the Chapel of Winchester College. Any doubts about the wisdom of this enterprise were immediately dispelled by both the quality of the accounts and the excellence of the music.
Performances of Czech sacred music are no everyday occurrence, even less so from the Baroque era. Attempts to identify composers from the period might lead you to Franz Biber and after further head-scratching the name Jan Dismas Zelenka (1679-1745) might be recalled. But it's unlikely you will have encountered his Czech counterpart František Ignác Antonín Tůma (1704-74). Entirely new to me, it's a wonder Tůma's music has escaped notice, even though this Vienna-based composer has been modestly represented on disc for some thirty years. That said, his settings of the Requiem and Stabat Mater (of which there are five) have only recently been recorded on the specialist labels Raméeand Supraphon.
And, what a magnificent work this Stabat Mater is, composed while he was in the service of Empress Dowager Elisabeth Christine, its manuscript discovered in the library of Ottobeuren Abbey, Bavaria. Immediately recognisable are the Baroque fingerprints, alternating homophony and polyphony, lush suspensions and intermittent fugal writing. But there's something less readily discernible, not quite fitting the Baroque template which every so often takes you unawares. These are eyebrow-raising moments where an unexpected passage of florid singing leaps off the page, a dramatic phrase seemingly out of context, or a harmonic progression that couldn't belong to any of the Bach family or the Italians working in Rome. Nothing off the peg here, it's wonderfully idiosyncratic, Janus-like music that inhabits a conservative idiom and yet has a certain modernity.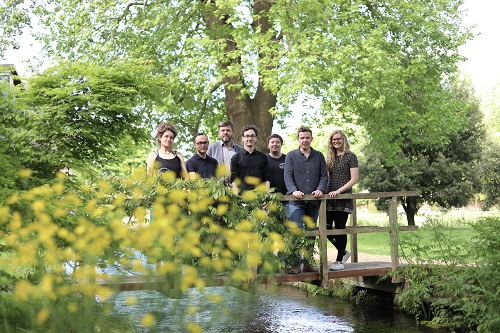 This might be music for connoisseurs, but both Tůma's Miserere Mei and Stabat Mater proved to be well worth hearing and with little that could be described as austere in settings usually associated with Lent. Each work's compact scoring of just four voices and continuo (organ, violine and theorbo) might have strained my attention from a less imaginative composer. Tůma's Miserere Mei, Deus may not have the emotional impact of the famous and, arguably, more penitential setting by Allegri a century earlier, but the Czech composer is unfailingly inventive and never seems to run out of ideas – a quality much demonstrated in Apollo of the Arts' involving and stylish accounts. Particularly evident from the four voices was the breadth of expression in the Stabat Mater, each singer fully realising moments of pathos, pleading or numbed grief and the closing vision of paradise was bathed in an atmospheric pianissimo. There was much to enjoy in the variety of scoring where homophony gave way to two or three voices supporting an independent vocal line – passages that allowed these professional singers to cherish more soloistic opportunities before resuming their role within chordal textures.
Proceedings began with two settings of the Marian antiphon Sub tuum praesidium by Zelenka, both musically bearing kinship with Palestrina and Frescobaldi yet adding to these influences his own daring harmonic language. Rendered with considerable polish, notwithstanding some occasional unclear diction, these performances marked out Zelenka's variety of expression, both devotional and dramatic. Again, one wonders why this engaging music has been so unjustly neglected.
These performances shone a light on two composers meriting greater exposure. With the group's capacity for communication and outstanding musicianship, Apollo of the Arts will surely reach new audiences for its commitment to these musical backwaters. They deserve every success.
David Truslove
Apollo of the Arts: Lucinda Cox (soprano), Tristram Cooke (countertenor). James Robinson (tenor), Edmund Saddington (bass), William Whitehead (organ), Rosie Moon (violine), Eligio Luis Quinteiro (theorbo).
Jan Dismas Zelenka – Sub tuum praesidium (Nos. 1, 2, 8 & 10), František Ignác Antonín Tůma – Stabat Mater & Miserere Mei, Deus.
Winchester College Chapel; Tuesday 17th May 2022.