Imeneo, Handel's penultimate opera, has a somewhat chaotic history. It was the only one of Handel's forty or so operas to be presented as an 'operetta' – perhaps to make it more palatable to a London audience with whom his work had fallen out of favour – at Lincoln's Inn Fields Theatre on 22 1740 November. It was also lone among his opera in being performed in concert version – as a 'serenata', titled Hymen – in Dublin on 24 March 1742, three weeks before Messiah was premiered in the city.
The sources are a bit of a mess. Handel started composing Imeneo in September 1738, and worked at speed: the autograph dates the three acts as 14, 17 and 20 September respectively. But, it was over two years before it made it to the stage, by which time it had undergone numerous changes in casting and content. Further changes were made for the Dublin performance, including the removal and shuffling of some arias, recasting necessitated by local conditions, the diminishment of the role of Clomiri to just a little recitative. Two duets were added, too, the first ending Act 1 ('Vado e vivo', adapted from Faramondo via Giove in Argo) and another ('Per le porte' from Sosarme) immediately before the closing chorus. The resulting documentary legacy is a mishmash of differing sources of which various editors have tried to make sense.
In 1740, Imeneo didn't go down well with the Lincoln's Inn Field's patrons. Charles Jennens deemed it 'the worst of all Handel's Compositions', though he allowed that 'half the Songs are good'. Indeed, Handel's musical invention hadn't deserted him, and the score is interesting for the way that, while it retains some 'old-fashioned' elements – arias with just continuo, or accompanied solely by strings in unison with the voice, for example – Handel introduces some elements of the galant style that was growing in popularity at the time. However, the text was a dud. Silvio Stampiglia's adaptation and compression of an opera seria libretto resulted in a plot which reduced the action to little more than one character's quandary whether to marry for love or duty – a dilemma drawn out over three acts. Moreover, audiences were denied their expected diet of spectacle as financial constraints meant the design budget ran to just a single set ('A Pleasant Garden') while the orchestra added only oboes and bassoons to the core of string and continuo.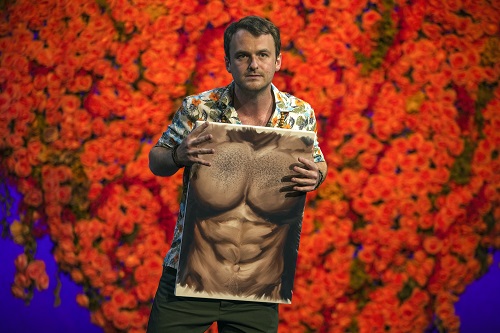 In 1972, when the Royal Academy of Music performed Imeneo as part of the Academy's 150th anniversary celebrations, it was the first London revival of the opera. The conductor was the RAM's Principal, Sir Anthony Lewis, who probably used his own edition of the opera – which Winton Dean describes as an 'idiosyncratic selection from several stages of the opera's composition' – and Dame Felicity Lott sang the role of Rosmene. It's fitting, then, for the Academy to return to Imeneo in this its bicentenary year, and director Paul Carr and conductor David Bates seem again to have employed Lewis's edition, though both recitative and set numbers suffer some excision in this production in the Susie Sainsbury Theatre.
Carr's approach could be described as, at best, cheekily irreverent, and worst, downright disrespectful.  In Handel's Operas: 1726–1741, Dean describes Imeneo as illustrating, 'what may be called the Mozartian side of Handel's creative personality, in which emotional depths are plumbed beneath a surface of light comedy'.  Carr doesn't seem intent on exploring such complexities.  He sets the action not in ancient Greece but in a present-day Taverna owned by Argenio, father of Rosmene and employer of Clomiri.  The two girls are not devotees of the goddess Ceres, but good-time girls, more likely to worship at the altar of Euphrosyne.  During a night on the town they are abducted by pirates – or, rather, by traffickers – but they are lucky, as the Athenian general – sorry, local lothario – Imeneo has disguised himself as a woman so he can tag along (he's hoping to lure Rosmene's heart away from her betrothed, Tirinto).  And, Carr tells us, 'as a woman, he was able to steal a knife, kill the entire pirate brigade and return Rosmene and Clomiri to Athens unharmed' (which makes one wonder why, 'as women', they couldn't overcome their captors themselves?).  The grateful Argenio offers Imeneo a reward, whereupon the lovestruck liberator asks for Rosmene's hand in marriage, a request which father and town council grant, thereby initiating the opera's action during which Rosmene struggles to reconcile love and duty.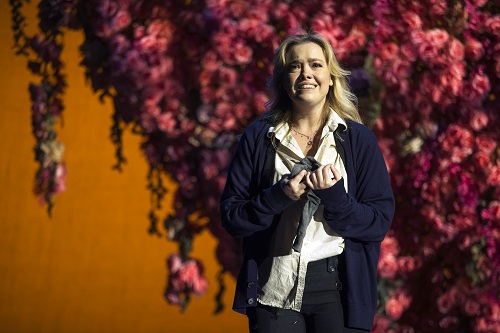 Designer Stewart J. Charlesworth places a huge heart-shaped rose bush centre-stage beneath an Aegean blue sky.  A suitcase (stickered 'Live to love') and a few taverna tables are the only other stage matter, and Carr relishes the opportunity to pepper the scant scenario and sparse stage with ceaseless romantic antics.  There's scarcely an aria in which the music is allowed to speak for itself.  During Tirinto's distress, Imeneo fusses with a suitcase, sets up a screen, strips to his underwear and swaps his old-lady garb for a Hawaiian shirt and espadrilles, while Clomiri sniffs his discarded tights in swooning ecstasy.  The latter later distracts from Argenio's patriarchal homily, erecting an easel, setting up her artwork-in-progress – a male torso with rippling six-pack – then lounging about, flicking through her Wag-mag. 
Even when they are alone on stage, singers are not spared the over-excitable busyness. During his arrogant boasts, Imeneo makes a paper dart from a menu and a floppy beanie from a napkin, downs shots of ouzo and relives his rescue-heroics with a walking-cane, all while dragging on a cigarette. He rounds off his bravado with a faux tennis serve into the audience. It's exhausting just watching. Often the stage action is completely at odds with the dramatic mien. Why does Clomiri roll, grinning inanely, in raptures of puppy-love, when she's singing about her sorrow? Why does Tirinto precede his eruption of anger by batting a tennis ball into the wings and punching the air with joy?
David Bates joins in the ebullience, a Tiggerish bundle of boyishness in the pit, urging the RAM Sinfonia to punch out a particularly punchy bass line. Again, there's a touch of irreverence here, though Bates ensures, with customary control, that panache prevails.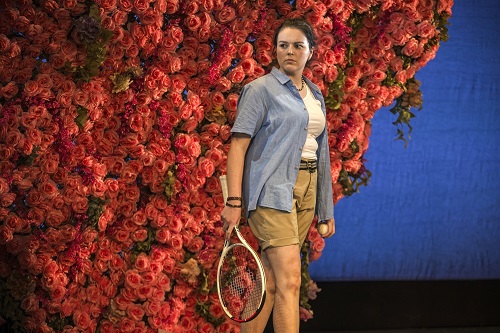 Fortunately, the singers take it all in their stride and sing with confidence and stylishness. Mezzo-soprano Bernadette Johns impressed in the RAM's spring triple bill, and here Tirinto's arias were notable for their unpressured projection and lovely tone. Johns' injected some much needed introspective sincerity in her slow arias, giving Tirinto a truly 'tragic' quality which Carr's production seemed determined to destroy. She was as affecting in the floating decorations of 'Se potessero', (a reworking of David's prayer 'O Lord, whose mercies numberless' from Saul) as she was furious in her rage aria, 'Sorge nell'alma mia', which foreshadows Messiah's 'Why do the nations'. Johns is a terrific prospect to watch out for.
As Rosmene and Clomiri, Cassandra Wright and Josi Ann Ellem had nicely distinguished timbres. Even with her aria 'V'e un infelice' restored – and its dance-like grace duly exploited – Clomiri is only a small musical role, but Ellem displayed both a strong lower register and a characterful acting technique – though perhaps she was egged on a little too enthusiastically by Carr. Wright shaped Rosmene's melodies with an aptly nonchalant gracefulness, then rose to the dramatic and vocal heights required for her mock mad scene.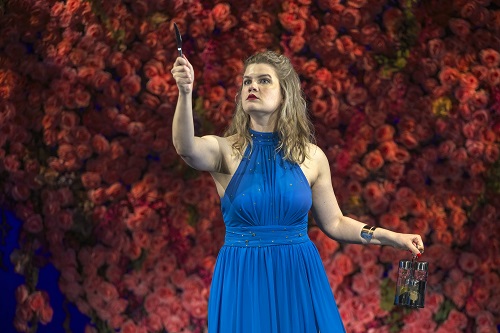 There were more Messiah pre-echoes in Argenio's 'Di cieca notte' – which bears a remarkable resemblance to the former's 'The people that walked in darkness' – and as Argenio, Hovhannes Karapetyan displayed a sonorous, firm bass.  He was not afraid of the depths and negotiated the fioritura in 'Su l'arena' cleanly.  In Handel's autograph the title role switches from tenor clef to bass, and it was performed in 1740 by William Savage (who was then a bass, but had formerly sung tenor roles); some have asserted that in Dublin it was sung by a tenor.  Here, baritone Will Pate essayed the role, singing with vigour and assurance.
The cast joined together to sing the short chorus which ends Act 2, its sombre minor-key ambience, which anticipates Handel's ending, rather eradicated by the playful 'signalling' of their temporary choric status by the menus which they held aloft.  But, in any case, Carr didn't give us Handel's ending: a minor-key final coro in which we learn that Rosmene, who puts duty before desire, lived happily with Imeneo until the end of his life.  And, at this point it's worth remembering that Stampiglia's libretto was originally designed to celebrate a royal wedding in Naples.  Set to music by Nicola Porpora, it presented an updated version of Hymen's rise from Athenian youth to god of marriage, a fitting reminder of the importance of dynastic marriages.  It is appropriate for Rosmene to choose Imeneo, although that doesn't lessen Tirinto's suffering. 
But, Carr omits the closing chorus and ends with the interpolated duet, 'Per le porte del tormento', which was sung beautifully by Wright and Johns.  Subsequently, Imeneo appears, wearing a traditional Greek peplos, to claim Clomiri in bisexual bliss, and to bless the marriage of Tirinto and Rosmene.  Thus, a pained farewell, the melancholy of which is deepened by Handel's final chorus, is morphed into a happy ending, thereby ignoring the fact that Handel has turned the lieto fine on its head.  So, flippancy trumped pathos, but the singing assuaged and delighted.
Claire Seymour
Handel: Imeneo
Imeneo – Will Pate, Tirinto – Bernadette Johns, Clomiri – Josi Ann Ellem, Rosmene – Cassandra Wright, Argenio – Hovhannes Karapetyan; Director – Paul Carr, Conductor – David Bates, Designer – Stewart J. Charlesworth, Lighting Designer – Harry Armitage, Royal Academy Sinfonia.
Susie Sainsbury Theatre, Royal Academy of Music, London; Wednesday 18th May 2022.
ABOVE: Imeneo at the Royal Academy of Music (c) Craig Fuller