'Bruges était sa morte. Et sa morte était Bruges.' In his novella Bruges-la-Morte (1892), the Belgian symbolist author George Rodenbach makes clear the affinity between the 'dead city', Bruges, and the dead wife of the protagonist, Hugues Viane. At the beginning of the 22-year-old Erich Korngold's Die tote Stadt (1920) – the libretto of which is an adaption of Rodenbach by the composer and his father, Julius, under the name of 'Paul Schott' – the protagonist, Paul, reprises this sentiment: 'Die tote Frau, die tote Stadt, flossen zu geheimnisvollem Gleichnis.' (The dead woman, the dead city, seemed to be fused into one mysterious being.)
Nate Gibson's designs for Carmen Jakobi's staging at Longborough Festival Opera make this fusion of place and persona powerfully present. (It's interesting that Rodenbach's novella was one of the first, perhaps the first, works of fiction to include photographs – dozens of black and white photographs of Bruges.) The grieving Paul has constructed a 'dead city' of the mind, a temple of memories ('die Kirche des Gewesenen'), shrouded in darkness: a monument to the denial of death. Gibson builds his split-level set from framed portraits of the dead Marie. There is a chaise longue perched above the entrance lobby; a bridge, perhaps, across the Bruges canals; and a reliquary of portraits, candles, and a plait of Marie's hair enshrined in a glass coffer.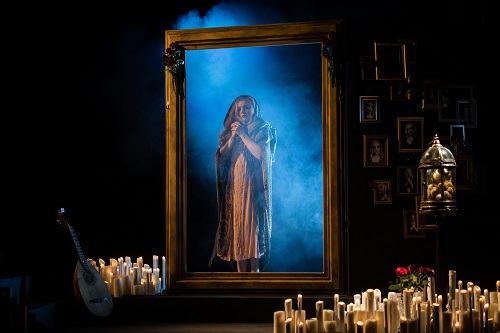 The plot deals with Paul's need to free himself from his fixation on Marie, through a relationship with Marietta, a dancer who resembles Marie in looks and voice, but whose embrace of the sensual – which can seem a desperate, hyperbolic act to define her 'self' amid the nocturnal city of theatrical confrères and harlots – is at odds with the purity of Marie as she exists in Paul's memory. 
In the opera, Catholic symbolism – present here in the form of nuns in Eyes Wide Shut masks; an off-stage religious procession (the pre-recorded Longborough Youth Chorus); and the bells, organ and off-stage voice of Marie in the Act 2 prelude – conjures the corruption of Bruges, a decay which Korngold, who had never visited the city, described as 'wearily dreaming of the past amidst the mystic peace of its churches and cloisters, its bells, its weather-worn Gothic facades, its stagnant waterways and abandoned canals'.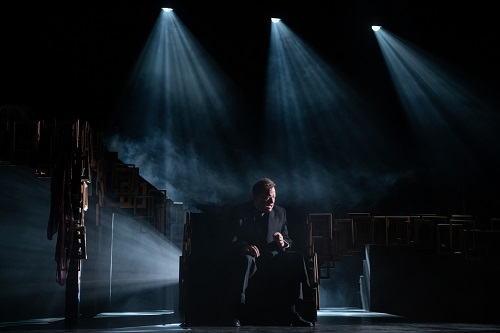 But, it is really the shadow of Vienna that hangs over this post-World War 1, mittel-europäisch opera.  Coming to terms with Marie's death is an allegory for the dilemmas facing post-Imperial Vienna and for the ghosts of WW1.  Just as one recognises resonances of Sigmund Freud in Paul's struggle between eros and thanos, and in the opera's grappling with contemporary notions of gender, so one hears in the highly charged exuberance of the score Korngold's embrace of the atonality of the Second Viennese school, alongside echoes of Strauss's Salome and Elektra, as well as the city's other musical persona, operetta – and there's a hefty dose of Puccini-esque sentimentality at the end of Act 3. 
Yes, it is a heady, almost overwhelming maelstrom of a musical mix.  And to this, Jakobi and Gibson add a profusion of visual and kinetic stimuli, which evoke German expressionist cinema, Isadora Duncan, Klimt, Schiele.  What's impressive about the motivic mélange is the way it communicates the collapsing of the nested realms of this mise-en-abyme narrative.  Reality and dream collide, superimpose and crumple into a world which fuses reality and dream.  The interpolated performance of Meyerbeer's Robert le diable by Marietta and her fellow artistes, culminating in Felix's 'Pierrot song', is – like Marietta's own 'lute song' – a moment of disjunctive nostalgia within the cinematic sweep of the present.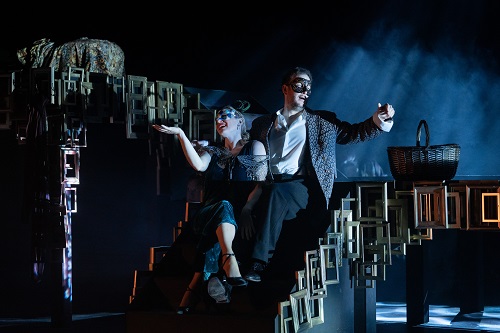 Jakobi and her team brilliantly blur the boundaries between the 'real' and the 'virtual' – smoky columns coil languorously upwards, spotlights convey psychological extremity.  Visually and aurally this production – originally planned as a semi-staging – captures the lurid, luscious extravagance which somehow manages to be both invigorating and emotionally draining.  On the opening night, Justin Brown conducted a performance which rode a perpetual acoustic-emotive high-wire but never overwhelmed the voices.  The orchestral fabric was a sonorous embodiment of the collapse of the real and the fantastic – a sort of psychological elixir which smoothed over the gaps between different worlds and the shifts between them.  Just as Ben Ormerod's lighting design sent shimmers and shivers through the darkness, like the glint of the moon on a diamond necklace, so Brown made the aural rubies glint in the blackness. And, the sonic hyperbole made the interpolated moments of stillness all the more telling. 
The vocal challenges exacted upon the two principals are almost impossibly taxing, but here they were met with astonishing confidence, bravura and utter persuasiveness.  As Paul, Peter Auty never flagged in this exhausting tenor role, and not only sounded as fresh at the close as he had in the opening bars, but also used the high tessitura to convey an absolutely convincing, and compelling, characterisation.  His voice rests on a solid baritonal shelf but can launch into flights of golden, albeit tortured, lyricism, and he soared through the highly charged vocal rhetoric, pushing gloriously towards the summit: his admission, 'Betörend Weib, bin dir verfallen' (Beguiling women, I've fallen for you), at the close of Act 2, was heart-breaking in its honesty.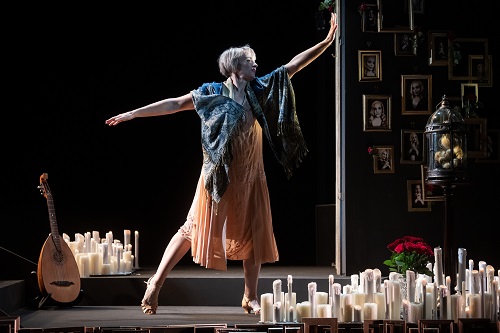 Rachel Nicholls stepped into the shoes of Maria/Marietta at short notice (replacing Noa Danon) but she inhabited the role with a febrile intensity and absolute sincerity that took one's breath away.  It wasn't just that she had all the notes; it was the dramatic involvement that made voice and body one, the former a sonic embodiment of the sensuality of the latter.  It was absolutely believable that she would render Paul totally 'außer sich' (beside himself); but, also, her impersonation of different roles revealed an underlying fragility and emptiness.  Marietta asserts that she is not Marie, but who is she, then?  The meta-theatrics exposed not only her masterly role-playing but also the chameleonic emptiness of her multiple personae. 
Benson Wilson was a credible friend to Paul, as Frank, but it was as the latter's alter ego, Pierrot in the theatrical troupe – à la Ariadne – that he really excelled, capturing the nostalgic timelessness of the song, 'Mem Sehnen, mein Wahnen' – which like Marietta's lute song brings the fervid drama to a temporary stasis – as the other members of the dance troupe gathered around him ('phantastisch um Fritz gruppiert, zumeist vorgebeugten Hauptes, starr die Augen auf ihn gerichtet, unbeweglich wie in Traum' – with heads inclined, their eyes fixated on him, motionless as if in a dream). Stephanie Windsor-Lewis brought a touch of realism and humanity to this strange, dead city, impressively focused and impactful in the small role of Paul's housekeeper, Brigitta.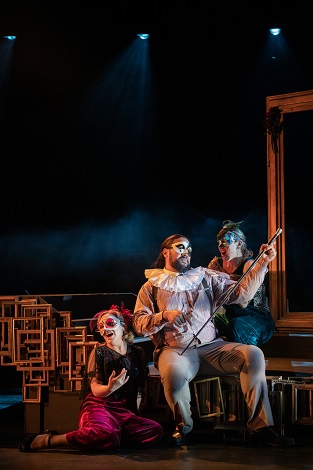 If there was one element of the opera into which Jakobi might have dug deeper, it is perhaps the doppelgänger-y of Marie and Marietta. When Paul strangles Marietta (in a dream) with Maria's golden braid there's a complex tangle of motifs and myths. If Maria is pure, why does she exert a stranglehold over Paul from beyond the grave. If Marietta is a lascivious Lilith who strangles men's hearts with her own blonde locks, why is she sacrificed to purge Paul's … what to call it, guilt? The strangulation of Marietta fuses the two women, saint and sinner, into a single figure, and makes Paul's words over Marietta's prone body deeply unsettling: 'Now she is just like the other … Marie!' Did he murder his wife?
But, if Jakobi did not probe too deeply into such psychological complexities, preferring a cathartic, incredibly moving, ending – which is what Korngold does seem to serve up – then that does not detract from Longborough's accomplishment in this production. Paul's quest to keep the memory of Marie living in his tote Stadt may be destructive and doomed, but it would be wonderful if this production could have a longer life in the 'real' operatic world.
Claire Seymour
Erich Korngold: Die tote Stadt
Paul – Peter Auty, Marietta/Dancer/Marie – Rachel Nicholls, Juliette/Dancer – Luci Bringinshaw, Brigitta/Lucienne/Dancer – Stephanie Windsor-Lewis, Frank/Fritz – Benson Wilson, Victorin/Gaston/Dancer – Alexander Sprague, Graf Albert – Lee David Brown; Director – Carmen Jakobi, Conductor – Justin Brown, Designer – Nate Gibson, Movement and Intimacy Director – Elaine Brown, Longborough Youth Chorus (pre-recorded), Longborough Festival Orchestra.
Longborough Festival Opera; Tuesday 21st June 2021.
ABOVE: Peter Auty (Paul) (c) Matthew Williams-Ellis