Shadows, suspicion and saintliness each find a tragic outlet in Grange Park Opera's Otello – Verdi's late masterpiece, prompted by his publisher and premiered in 1887 following a period of retirement and some sixteen years after Aida. Not that the intervening years were unproductive, with revisions for Don Carlos and Simon Boccanegra and the composition of his Requiem – itself often termed Verdi's greatest opera. While that accolade might go to La traviata (certainly, it's his most popular), Otello is no less emotionally draining, especially when the last act is performed as movingly as it was at West Horsley in this production by David Alden.
Alden's trademark shadows make an unsettling impact, whether cast on the walls of the unprepossessing building whose utilitarian function serve as Otello's military base in Cyprus, or even more sinisterly for the closing bedroom scene. Here, the startling length of the shadow thrown across the stage is in inverse proportion to the remaining duration of Desdemona's life. (Not for nothing also does Verdi's music jar harmonically at this point as cellos and bass evoke the disturbing presence of Otello.) Charlie Edwards's unchanging set is simplicity itself: a mostly bare stage (variously conjuring a bar, barrack room and bedroom) is framed by a map-covered wall, geometric windows (enhancing a sense of enclosure perhaps?) and a blue curtain, the whole atmospherically lit by Tim Mitchell's crow's nest of a central light. Its harsh, sullen tone is amplified by Gabrielle Dalton's grey costumes (uniforms suggestive of fascist militia), the whole effect unrelentingly dour. Alden creates the perfect environment where insecurity, rumour and suspicion can fester.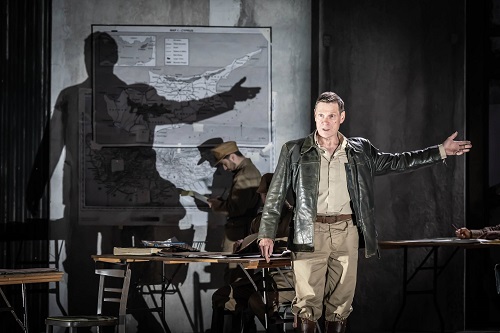 Suspicion is the currency of Iago whose silent appearance at the front of the curtain before each act gives further weight to the disquieting presence Simon Keenlyside brings to this role.  It's one which at times threatens to overshadow Gwyn Hughes Jones's forceful, if one-dimensional Otello.  But Jones projects his rapier-like tenor from his opening "Esultate!" with absolute authority.  It's a powerful, if somewhat unyielding voice, but here it feels just right for his rampages of jealousy ('Dio! mi potevi' particularly effective as he quells onlookers when punishing Desdemona), and only at the end deploying a more pliant, tender tone with hushed pianissimo to convey remorse.  Keenlyside's oak-aged baritone may have more tonal variety, but with a voice of such fire-side warmth, his nihilistic 'Credo' needs a little more edge and bite to summon his demonic worldview.  Yet his reflections are not without a sense of regret too. Does he really believe "Heaven's an old wives' tale" or is he deluding himself?  Elsewhere, there is no mistaking his sinister intentions, whether manipulating Otello, Elgan Llŷr Thomas's straight Cassio or the white-suited dandy that is Anthony Flaum's suave Roderigo.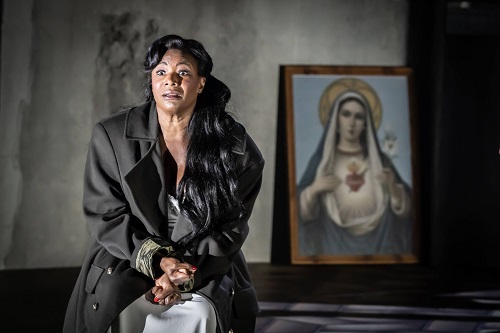 The white dress of Desdemona worn by black soprano Elizabeth Llewellyn clearly signposts her virtue. While turning the tables on the perceived otherness of Shakespeare's original conception, this blind casting arguably sidesteps Otello's position as an outsider, especially when he is otherwise undifferentiated from his staff.  Llewellyn is every inch the gracious, then terrified and finally forgiving wife – her innocence mirrored by the image of the Virgin Mary that periodically appears only to be desecrated by Cassio and Iago.  Llewellyn's soprano brings a broad lustre to Desdemona, perhaps too broad in her Act One duet with Jones, but by the Willow Song, where things have moved up several gears emotionally, the vibrato has eased and a range of colours and shadings emerge: cream at the top, bronze in the middle and copper below.  No matter that the timbres don't match, the effect is glorious and her 'Ave Maria' one of the most angelic I've heard – its bone-china purity a thing of wonder.
Excellent support comes from Olivia Ray's fretful Emilia (striking in the last scenes where Otello shoots rather than smothers Desdemona) and Matthew Brook's sturdy Lodovico.  Ensemble singing is impressive too and the smallish chorus are in fine fettle, especially vivid in the opening 'Fire' chorus.  The women are all too frequently left to stand within a semi-circle, while the men (brawling and strutting around in an alpha male manner) are also given stylised movements in Act Two's chorus with mandolins, courtesy of Lynne Hockney.  In the pit, Gianluca Marcianò steers the Gascoigne Orchestra with precision, drawing out the detail of Verdi's ever-changing palette with meticulous care.
David Truslove
Otello – Gwyn Hughes Jones, Iago – Simon Keenlyside, Elizabeth Llewellyn – Desdemona, Emilia –Olivia Ray, Cassio – Elgan Llŷr Thomas, Roderigo – Anthony Flaum, Lodovico – Matthew Brook, Montano – Alan Ewing, Dancers – Thomas Goodwin, Arianne Morgan, Ryan Munroe, Luke Murphy, Bailey Pepper, Actor – Steven Finlay; Director – David Alden, Conductor – Gianluca Marcianò, Designer – Charlie Edwards, Lighting – Tim Mitchell, Costumes – Gabrielle Dalton, Movement Director – Lynne Hockney, Fight Director – Billy Bilham, The Gascoigne Orchestra.
The Theatre in the Woods, West Horsley; Sunday 19th June 2022.
ABOVE: Desdemona (Elizabeth Llewellyn), Otello (Gwyn Hughes Jones) (c) Marc Brenner