Hats off to Grange Park Opera for unquestionably the best of the four 'country house' operas I have seen so far this season. First, and perhaps most important, with respect to the work itself: Janáček's The Excursions of Mr Brouček. I suppose it might be theoretically possible to reach a state in which Janáček's music was heard too often, though it might not. (Imagine saying such a thing of Bach or Mozart.) If it is, though, we are nowhere near that yet. Yet the Janáček operas we see staged are mostly, perhaps understandably, restricted to three: Jenůfa, Katya Kabanova, and The Cunning Little Vixen. We must go beyond The Makropulos Case and even From the House of the Dead to reach Mr Brouček. Doubtless some in the Grange Park Opera audience had seen it in the theatre before, but I had not, and was immensely grateful to have the opportunity to do so, let alone for it to be performed so well.
Mr Brouček will doubtless always be a problematical work, in a way that the aforementioned popular (relatively speaking) trio will not. Its two-part structure will probably always require effort to bring together—if, indeed, such is the dramaturgical aim. But art is certainly not always about perfection, or approaches to it. Sometimes, it is about quite the opposite. The first part's satire against pretentious avant-gardism, or perhaps better derrière-gardism, hits home more readily for a modern, or at least non-Czech, audience than the second, more preoccupied with Czech national mythology—although a little grounding helps us on our way. Nationalism, after all, remains sadly too universal. But the other part of the satire is against the antihero himself: the philistine who has little idea what he is doing in Prague, let alone on the Moon or in the fifteenth century. To that, we can and should all relate. No one likes a landlord, after all, especially one who boasts of having no mortgage, only a three-storey house. You can begin to see why the opera will never touch as Katya does. That is not its purpose.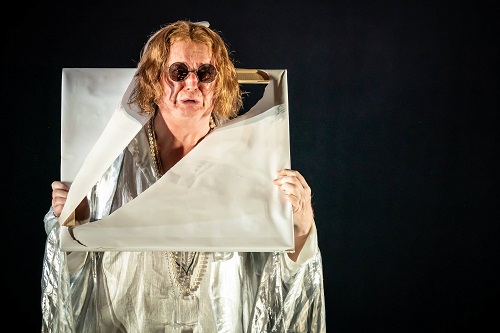 David Pountney's production pulls out all the stops for a frankly zany trip from Prague to the moon, clarified and extended by Marie-Jean Lecca's imaginative costuming. Leslie Travers's brilliant set for the former captures an almost childlike delight in city models, as well as the, or at least an, idea of Prague. The empty pretentiousness of the moon artists—Pountney has fun, using his own, free English version of the text, creating names such as Spotcek, Raincek, and Postdatedcek—engenders an intoxication of its own. It is fun to watch, which guards us against too ready identification with Brouček. 'We must each fight our inner Brouček,' Janáček insisted. A similar, yet different mix of magical constructivism informs the still more bewildering—for many—and darker trip to the Prague of the Hussite rebellion.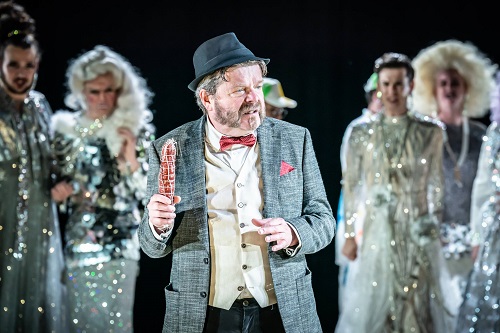 Whether one cares for the (literal) toilet (brush) humour of the interlude between the visits, will be a matter of taste. Monty Python is not my thing, but if it is yours, you will almost certainly love Pountney's more outrageous excurses. Sometimes, though, I wondered where the heart was, especially during the Moon-trip. Is there not something more positive to say about artistic creation too? The answer, I suppose, would be that it lies in the score (and, indeed, in the artistic endeavour of performance and reception itself. It arguably suggested itself onstage at the end, when the innkeeper Würfl collected his drunken patron, laughed at his tall tales, but also walked him away in camaraderie. Perhaps that was enough. Again, that will probably be as much a matter of taste or inclination as anything else.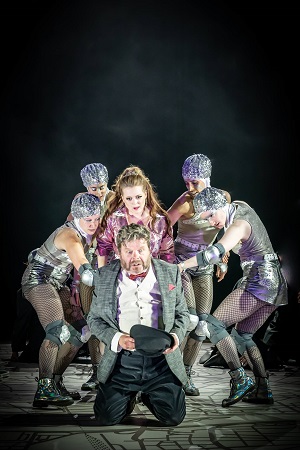 Peter Hoare's Brouček captured well the contradictions not only of the character, but of our response(s) to him. This was a typically intelligent performance, which held the stage, amused, and touched without sentimentality. Fflur Wyn's Málinka and other roles were lively, characterful, and rooted in, yet far from hidebound by, the text. Such is the magic of theatre, and such might be said of any number of the cast, including Mark Le Brocq's handful of roles, Andrew Shore's, and Clive Bayley's, as well as Anne Marie Owens's Kedruta. This was very much a company effort, which did Grange Park Opera proud, enthralling an audience that could all too readily have registered mere bemusement at the work's oddity.
George Jackson's traversal of the score elicited my unqualified admiration, as did the playing of the BBC Concert Orchestra. Incisive and expansive, earthy and soaring, above all attuned to those fabled speech rhythms and their unpredictable, magical combination into form and structure, this was as fine a Janáček performance as I have heard for some time, all the more so for its revelation of relatively unfamiliar territory. Time and time, presentiments of the Vixen's world shone through, anchoring these 'excursions' in a common humanity and inspiring us to go forth and create it. The score emerged possessed of the musical, scherzando brilliance of the more or less contemporary Gianni Schicchi, if perhaps less single-minded, at any rate without the latter work's dramaturgical precision, considered as a whole. We might say Janáček's musical dramaturgy is more adventurous, though much depends what one means. Whatever our thoughts on that, this was a musical banquet beautifully and, at the last, movingly served.
Mark Berry
Mr Brouček – Peter Hoare, Málinka/Etherea/Kunka – Fflur Wyn, Mazal/Bounzincek/Petrik/Svatopluk – Mark Le Brocq, Würfl/Paycek/Councillor – Andrew Shore, Sacristan/Dudcek/Domšík – Clive Bayley, Kedruta – Anne-Marie Owens, Spotcek/Vojta/Raincek/Mirosla – Adrian Thompson, Postdatedcek – Jonathan Kennedy, Child Prodigy – Pasquale Orchard, Spotcek – Robin Horgan, Farty – Benjie del Rosario, Taborite I – Toki Hamano, Arty/Taborite I – Marcus Swietlicki, Dancers – Lauren Bridle, Bridget Lappin, Arianne Morgan, Luke Murphy, Jay Yule; Director – David Pountney, Conductor – George Jackson, Designs – Leslie Travers, Costumes – Marie-Jean Lecca, Lighting – Tim Mitchell, Choreography – Lynne Hockney; BBC Concert Orchestra
The Theatre in the Woods, West Horsley; Saturday 18th June 2022.