The coupling of Elgar's Sea Pictures and Mahler's Sixth Symphony is not an obvious one. One tangible link is that Mahler conducted Sea Pictures in the final year of his life – 1911 – with the New York Philharmonic, although he is not known to have harboured any particular connection with Elgar. Mahler would, of course, write often for the voice, and many of those works return again and again to the symbolism of nature, but nothing comes quite so close to the mood and buoyancy of Sea Pictures. Mahler's world is darker, more tragic – and it in this context that the Sixth Symphony, the most devastating, nihilistic and bleak of all his symphonies, proved a crushing coupling for this concert.
If you are of a particular generation, Elgar's Sea Pictures are indelibly associated with one singer, Janet Baker; indeed, my companion for this concert had heard her in this very song cycle. A perpetual difficulty with this work is that Elgar's setting of the five songs – drawn from five different poets – is not of universal quality, and nor is the inspiration or detail which Elgar seems to lavish on it. Baker's great advantage was that she recognised the shortcomings of the texts and was able to bring a perception and depth of introspection to them; misgivings about the music are masked by singing that is both profound and rich. It is a template that not all singers have matched.
Kathryn Rudge – who has recorded these songs with Vasily Petrenko – was a distinctive soloist. Petrenko, never a conductor to hang around, took a fleet view of each of the songs but that didn't prevent Rudge proving to be exceptionally versatile. Petrenko can sometimes blur colours in music and, I think, with an orchestra that had a less distinctive string sound than the RPO that might have been a problem here; as it was, there was a powerful undertow to the lower strings that came through in 'Sea Slumber-Song' that melded almost ideally with the firm, but warm strength of Rudge's voice. The powerful glow and gripping range of her voice – low notes were really anchored with magnificent nobility, and the upper ones nailed with complete precision – came to the fore in a rock-solid performance of 'Sabbath Morning at Sea'. Rudge went deeper here, and was more attuned to detail simply because she had no need to worry about the security of her technique; everything was immaculate, and yet incredibly fresh and free.
There was, I think, a symbiotic understanding between mezzo and conductor in this performance, which it is perhaps unusual to come across in live concerts of this cycle. You noticed it in 'Where Corals Lie' where Rudge and Petrenko would work together to bring the text and orchestration into a joint harmony; solo woodwind would often follow inflections in Rudge's voice, and vice versa. That deep understanding between the two would work in favour of Elgar's music and Rudge's exceptional reading of the text to interpret the swelling motion of the waves, or the slight turmoil of storminess. This had been an exquisite performance, one that eschewed conventional breadth and Elgarian nobility for the unleashed power of the sea at its most terrifying and formidable. Perhaps this Sea Pictures would have more in common with Mahler's Sixth after all.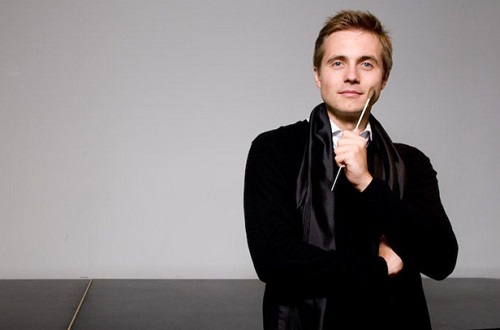 Herbert von Karajan once said that Mahler's Sixth was one of three works that left him completely emotionally and physically drained (the other two were Strauss's Elektra and Berg's Three Orchestral Pieces). I have seen very few conductors at the end of Mahler's Sixth look on the verge of exhaustion and Vasily Petrenko did not at the end of his performance. Does this mean their performances are in some sense lacking something? Well, I think the answer is yes and no. There are several live performances of Karajan conducting Mahler's Sixth and they amongst the most extraordinary of all Mahler documents on record. Petrenko's Mahler Sixth was not in the same league, but nor was it by any means a bad or unmemorable performance either.
Petrenko's Mahler is swift, although as with many fine conductors, tempi often give the illusion of being something else entirely. This performance was far from the bleakest I have heard, and nor did it leave me with the shattering sense of desolation and despair you can often experience after hearing a truly devastating performance of this symphony – as I have with Karajan, Bernstein and Svetlanov. Karajan would take the opening of the first movement like no one else – it was ballistic, setting the stage for a performance that would be wild and emotional and in perpetual revolution with itself; Petrenko took a much more conventional approach to it that would largely be the manifold route he took through the entire symphony. There were no risks, there was little in the way of danger here. With Karajan darkness in this symphony could be a bridge that collapsed as soon as you had crossed it; there was little in the way of being able to return from the darkness. Karajan's Mahler often felt closer to Dante than it did for many conductors. Clawing your way out from the depths of a Karajan Sixth is like being interred in the Rings of Hell; trapped in its mud, burning sand, or frozen in its lake of ice.
Petrenko's safeness began less in seismic weight but rather in just the power of the orchestra projecting its sound – something of a difference. The former feels like the music is flowing through your body; the latter that you are simply hearing it. But this is a movement that is fluid – its climaxes a grim inflaming of the despair and conflict which arches through this symphony with as much horror as the conductor wishes to throw attention onto it. Petrenko shone less of this than one might have expected given how profoundly gritty and existential some of his Shostakovich has been, although if the opening movement had lacked real power perhaps the Scherzo began to make up for it. One of Mahler's more violent and brutal scherzos, Petrenko did evoke a degree of terror here but as with most Mahlerian scherzos the music and its meaning can be both asymmetrical and skewed towards a duality of texture.
While most conductors of the Sixth manage to have at least some impression of the striking contrasts the music has, not all are able to tease out details within the orchestra. Here, I think, Petrenko did much better than most. Cowbells, so often difficult to project with some clarity, were clear; harps were relatively audible, especially during the Andante where they can sometimes get buried beneath the strings. Also notable was Petrenko's willingness to let us hear the cellos – as Mahler marks them in the score – before the final climax; it's often understated or overlooked in performances. Again, he took the music at a very fluid tempo.
I felt the opening of the Finale lacked sufficient mystery for me. Ideally it should have a spectral quality, somewhat missing here. In a few bars this should be a grotesque kaleidoscope: the celesta should sound like an off-balanced spinning gyroscope, the harps chilly as if ice is being broken off them. But Petrenko manged to see the wider picture in a long movement that can lose its way and managed to get the contrast right, even if he reverted to the safeness of the first movement in order to walk that balance between safety and drama. Hammer blows – two, as is common in most performances – were impressively shattering, and as is so often the case a visual effect. A little surprising perhaps – and a welcome one – was the ending of the symphony. Petrenko tied it up rather neatly, getting some exquisitely ethereal playing from the cellos, so the final minor chord felt like a shattering explosion.
This may not have been the most devastating of Mahler Sixth's, and it didn't pierce one's emotional core like a great performance of this symphony does. However, the Royal Philharmonic played it superbly, and if they were not quite within the cauldron of all of this symphony's astounding scoring, they were at least beneath the brim of it and often inspired by the scorching fire of it.
Marc Bridle
Kathryn Rudge (mezzo-soprano), Royal Philharmonic Orchestra, Vasily Petrenko (conductor)
Elgar – Sea Pictures; Mahler – Symphony No.6 in A minor
Royal Festival Hall, Southbank Centre, London; Sunday 29th May 2022.
ABOVE: Kathryn Rudge (courtesy of Groves Artists)