What is most striking about John Caird's new production of Monteverdi's Orfeo at Garsington Opera is the extent to which it reminds us that the humanist theories informing the aesthetic and ethical debates which preoccupied the aristocratic members of such philosophical brotherhoods as the Accademia degli Invaghiti, founded in Mantua in 1562 by Cesare Gonzaga, were concerned as much with rhythm and movement as they were with the expressive hierarchy of word, melody and harmony. Many scores of theatrical works – often composed for courtly, dynastic occasions – which were published in the early seventeenth century indicated which dance types were to be performed and by how many dancers, alongside instructions of how the music was meant to be sung. Thus, in the score of Orfeo which Ricciardo Amadino printed in Venice in 1609, 'Lasciate i monti', which celebrates the marriage of Orfeo and Euridice, was introduced thus: 'Questo balletto fu cantato al suono di … ' – 'This little dance was sung to the sound of …'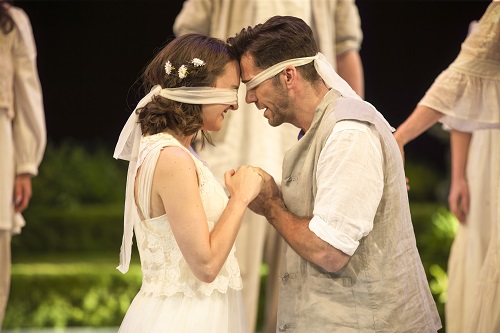 We know little of how Orfeo was first staged in the ducal hall of the Gonzaga's Mantuan palace on 24th February 1607, under the auspices of the Accademia degli Invaghiti. The aforementioned published score, dedicated to Prince Francesco, notes that the original performance took place on a narrow stage ('sopra angusta scena'), comparing the latter to the 'gran Teatro dell'universo' ('great theatre of the world') in which it would now find form.
But, if the sources are scanty, then we do know that dance was an important component of contemporary courtly entertainment. And, if the first 'operas' were a humanist-inspired experiment which aimed to imitate and reproduce what was imagined, or believed, to be the ethical and mimetic power of ancient tragedy and music, then such works exemplified three essential ambitions: the audibility of the text, and its domination over the music; the preservation of rhythmic qualities; and the vivid representation of 'sense' – what Monteverdi himself described as the 'natural way of imitation' ('via naturale all'immitatione'). Performers aimed, through their voices and their body movements, gestures and facial expressions, to bring the music to life. One thinks of the Three Ladies of Ferrara, whom Vincenzo Giustiniani described as accompanying 'the music and the sentiment with appropriate facial expressions, glances and gestures, with no awkward movements of the mouth or hands or body which might not express the feeling of the song'.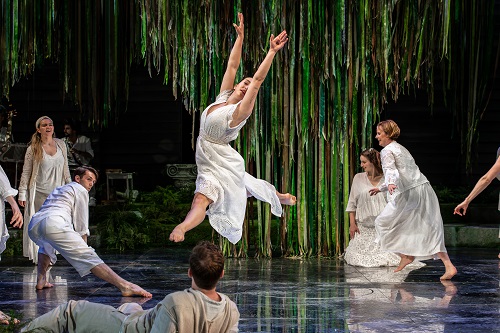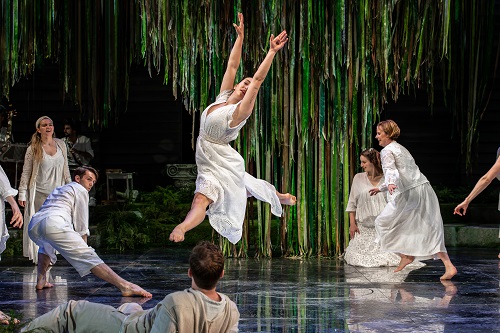 Ariella Smith's choreography for Caird's production brings this physical embodiment of 'sense' to the fore. Accent and stress, so crucial to musical 'meaning', find form in the fluid, gracefully muscular movements of the six dancers and the Chorus of ninfa and pastore, and principals too – it's often difficult to tell them apart – within the emerald Arcadian grove fashioned by designer Robert Jones: lush hanging willows, a silver-blue lake, sturdy but comfortable boulders for leisurely reclining, all beautifully lit by Paul Pyant. Above tilts a shining golden circle: a wedding ring? Or, the harmony of the spheres, and by implication of the courtly milieu? Later, this pendant circle will assume a more sombre role and connotation.
At times there are twenty or more performers swirling, surging, spiralling across the fairly limited stage space, but never does it seem crowded or confining. The twenty or so musicians of the English Concert instrumentalists – harpist Joy Smith, violinists Nadja Zwiener and Elizabeth MacCarthy, bass violinist Joseph Crouch, cornettists Conor Hastings and Adrian Woodward among others – directed by Laurence Cummings, are clearly having a ball. I don't think I've ever seen so many smiles indulged and shared during a musical performance. Cummings conjures tones daring and dark from the organ and guides his players with a light but assured touch.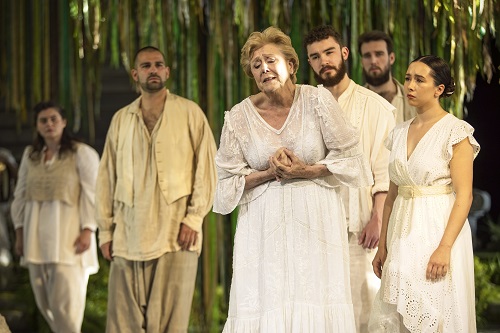 As is the singing. Claire Lees, as La Musica, brilliantly introduced and initiated the musico-dramatic narrative, shaping each verse with distinct colour, pace and nuance. Zoe Drummond shone as Euridice, and it was satisfying to see a production which emphasised her loss of life as much as Orfeo's loss of love. The Messenger here is presented as Euridice's older companion, who watches affectionately Euridice's romantic awakening and brief fulfilment. Diana Montague conveyed every ounce of the Messenger's torment when she returned in Act 2 to narrate the events of Euridice's death; so stricken was she, that she retreated to a cave to lament and grieve. In Act IV Lauren Joyanne Morris's Persephone pleaded with Plutone, pressing Orfeo's cause with beguiling charm: no wonder he agreed to return Orfeo's wife to life and the lovers to their former serenity. Frazer Scott resonated darkness as Charon, Ossian Huskinson was strong but yielding as Pluto. La Speranza's aria of hope, sung by Laura Fleur, was particularly beautiful.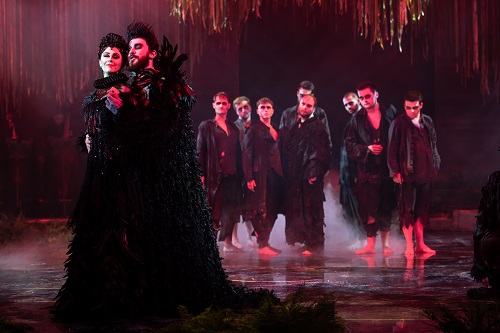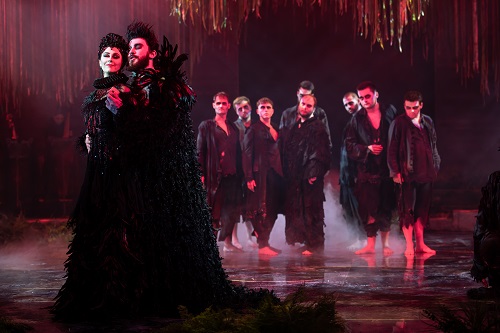 In the title role, Ed Lyon gave an astonishingly detailed, nuanced performance.  Vocal technique, musical intelligence and dramatic presence were splendidly fused here.  It seems wrong to quibble, but I did find Lyon's tenor a little 'heavy' for the role, though.  There was not a phrase that was ill-considered or lacking in dignity – and his dancing evinced a similar blend of poise and pliancy – but Orfeo's Act III virtuoso showpiece, 'Possente spirto e formidabil nume', didn't quite 'take off', despite all the splendid instrumental contributions.  That said, Lyon negotiated the declamation and dazzling divisions with equal discernment and skill, and made us believe in Orfeo's bliss, wretchedness, determination and sincerity.  That's more than enough.
The Garsington Chorus were as adept in their coro stabile role – closing the acts with summative musical statements – as they were as a coro mobile, participating in the action. And, Caird has come up with an ingenuous solution to the conundrum of 'the two endings'. There were two separate editions of the libretto published in 1607 by the ducal printer in Mantua, Francesco Osanna, and both contain an ending with differs from the 1609 score: the libretto ends with an extended chorus of Bacchantes, the score with the descent of Apollo from the heavens to rescue Orfeo from his grieving over his second loss of Euridice. No spoiler here, but Caird's 'third way' is charming.
No one could leave this production unconvinced of the power of music – human and divine, transformative and eternal.
Orfeo continues at Garsington Opera until 25th June.
Claire Seymour
Orfeo – Ed Lyon, The Messenger – Diana Montague, La Musica – Claire Lees, Speranza – Laura Fleur, Euridice – Zoe Drummond, Caronte – Frazer Scott, Pluto – Ossian Huskinson, Proserpina – Lauren Joyanne Morris, Nymph – Anna Cavaliero, Alto Shepherd – Georgia Mae Bishop, Shepherd 1 – Florian Panzieri, Shepherd 2 – David Horton, Shepherd 3 / Spirit 1 – Richard Pinkstone, Shepherd 4 / Spirit 3 – Dafydd Jones, Shepherd 5 / Spirit 2 – Philippe Durrant, Shepherd 6 / Spirit 4 – Michael Bell, Bass Shepherd / Bass Spirit – Joe Chalmers, Dancers (Amber Doyle, Maddy Brennan, Benjamin Derham, Annie Joy Edwards, Cameron Everitt, Emily Gunn); Director – John Caird, Conductor – Laurence Cummings, Choreographer – Arielle Smith, Designer – Robert Jones, Lighting Designer – Paul Pyant, The English Concert, Garsington Opera Chorus.
Garsington Opera at Wormsley, Stokenchurch; Friday 3rd June 2022.