As a component of its Fiftieth Anniversary Season, Des Moines Metro Opera added to its already prestigious reputation with a compelling world premiere of Kristin Kuster and Mark Campbell's A Thousand Acres.
DMMO tellingly chose Jane Smiley's Pulitzer Prize winning novel of the same name to be the source material for their commission. Ms. Smiley sets her re-telling of Shakespeare's King Lear in the fields of Northeast Iowa in the last part of the last century. An Iowan farming family is experiencing dysfunction junction in high gear, as misdeeds tumble headlong into mishaps, and missteps into misery.
The basic outline is fascinating in its parallel to the Shakespearean inspiration. Lear becomes the dissolute paterfamilias, Larry; Goneril morphs into Ginny; Regan, Rose; and Cordelia is served up as Caroline. Spouses, children, and troublesome neighbors are drawn inexorably into the tragic turn of events that begins when aging Larry makes the headstrong determination that he will divide his fertile farm (the acreage of the title) among his three daughters.
Ginny and Rose (and their husbands) readily agree. The budding lawyer Caroline is not so sure, and her hesitancy angers Larry, prompting him to cut her out of the arrangement. Thus begins the unraveling of the clan, characterized by descents into alcoholism, recollections of incest, extra-marital liaisons, withering of marriages, estrangement of siblings, and unnecessary deaths. Although this has enough grist for several dramas, above all, this is Ginny's journey and hers is one of ultimate, joyous escape.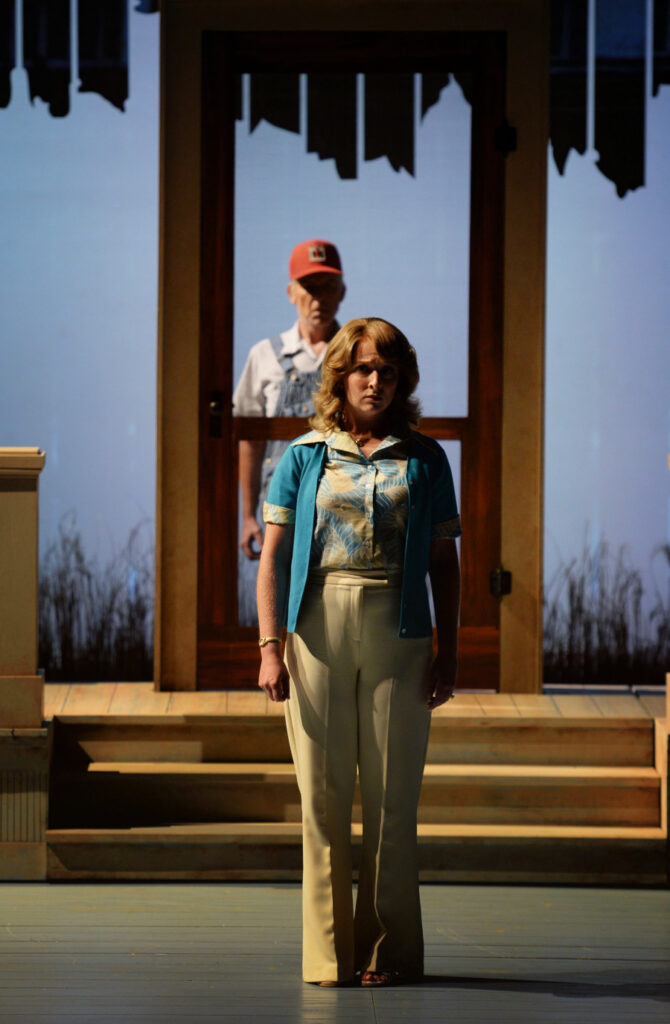 Ginny is embodied by mezzo-soprano Elise Quagliata, and this luminous performer not only anchors the production, but she also lifts it to the starry heavens. A DMMO favorite, I have enjoyed her work on several memorable occasions, but nothing prepared me for the depth of emotional investment or the scope of potent musical expression on display here. The opera opens with Ms. Quagliata in a searing a capella soliloquy that begins with a pin-your-ears back exhortation on the words "Never again."
The anger, the hurt, the strength, and the frailty she communicates through perfectly calibrated vocal effects in the opening minutes were chillingly portentous. She commands phrases of full-bodied firepower, lighthearted banter, and introspective utterances with equal vocal expertise. Her warm, appealing instrument has never sounded to better advantage. The role of Ginny is a "big sing," and this accomplished artist was up to its every demand. Her fiercely committed acting combined with her superbly colored musical phrases make hers among the finest role realizations in my opera-going experience.
Another singer that has thrilled DMMO audiences on many occasions, Sara Gartland has returned to deliver a stunning turn as sister Rose. Her gleaming lyric soprano has ample weight and a well-schooled technique to enable her to envelop the rangy demands of the writing in a secure blanket of creamy, evenly produced singing from top to bottom and back again. Laser-focused thrills in the upper reaches? Check. Sizzling statements in chest voice? Check. Ravishing coloration? Arching outpourings? Giddy prankishness? Check, check, check. The sisterly duets between Quagliata and Gartland were among the show's high points, of which there are many.
Roger Honeywell has graced the DMMO stage before, most recently with a shattering impersonation as Billy Budd's Captain Vere. Paradoxically, the role of Larry is conceived as a Heldentenor (heroic tenor), and he is anything but a hero. In good Wagnerian tradition, his vocal line is often high, loud, and steely. Mr. Honeywell is a highly accomplished actor, which stands him in better stead here than does his effortful singing. Larry being a wasted, incestuous drunk, entering into increased dementia, the effortful colorization of his outbursts serves the character exceedingly well, and his seductive pleading is more pleasingly modulated. However, I worry that this may just be this admired artist's vocal estate these days.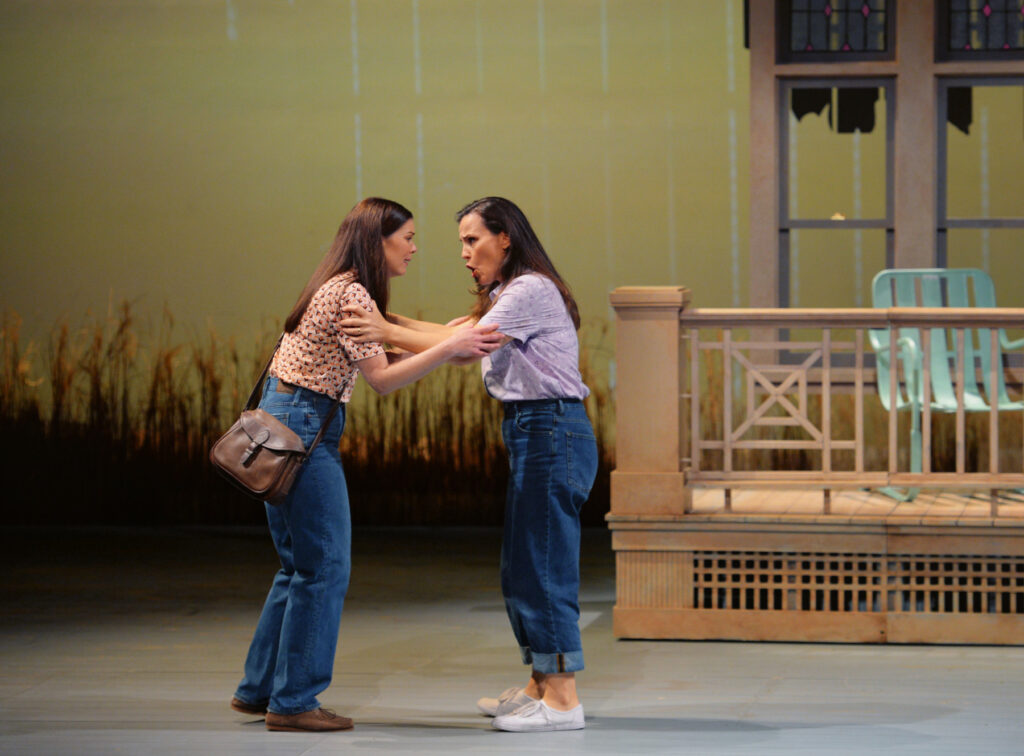 Keith Phares contributed a well-rounded, sympathetic portrayal of Ginny's husband Ty. I first encountered Mr. Phares in Saint Louis a number of years ago as Lindbergh in Loss of Eden, and found him to be possessed of exceptional good looks, personal charisma, and a honeyed, accomplished baritone. He has only improved with age. His physical presence and easy stage manner are still winning, and his voice has grown in size and acquired a rich patina. When he lets loose with forceful accusations, his bountiful sound pings off the back wall. Later, as he argues for (but loses) Ginny's affection with melting legato, we genuinely feel for him.
Taylor Stayton turned in his usual animated, well-rounded performance as Rose's troubled husband Pete. This was not a usual assignment for Mr. Stayton who more often essays the high-flying, bubbly antics of Rossini, Donizetti, or his much-loved traversal last summer in DMMO's Platée. He rose to the challenge with alacrity, intensity, and commitment. His meaty lyric tenor was a good fit for the disintegrating, petulant sot, and the increasingly jagged and agitated writing held no terror for him and his solid technique.
John Moore was every inch the reformed prodigal son, Jess. His ingratiating, virile baritone and hunky hippie persona were seductive musically and theatrically. His polished, smooth vocalizing introduced Jess as a person to be trusted, a friendly confidant, but his words and deeds prove to be sweet "nothings" on the road to a seduction or two. He has returned home to his father, an eccentric neighbor and rival farmer Harold Clark, played by Kristopher Irmiter whose incisive bass-baritone was first blandly conversational and later, darkly conspiratorial. As the duplicitous lawyer Marv Carson, Wei Wu treated us to his bottomless, sonorous bass-baritone.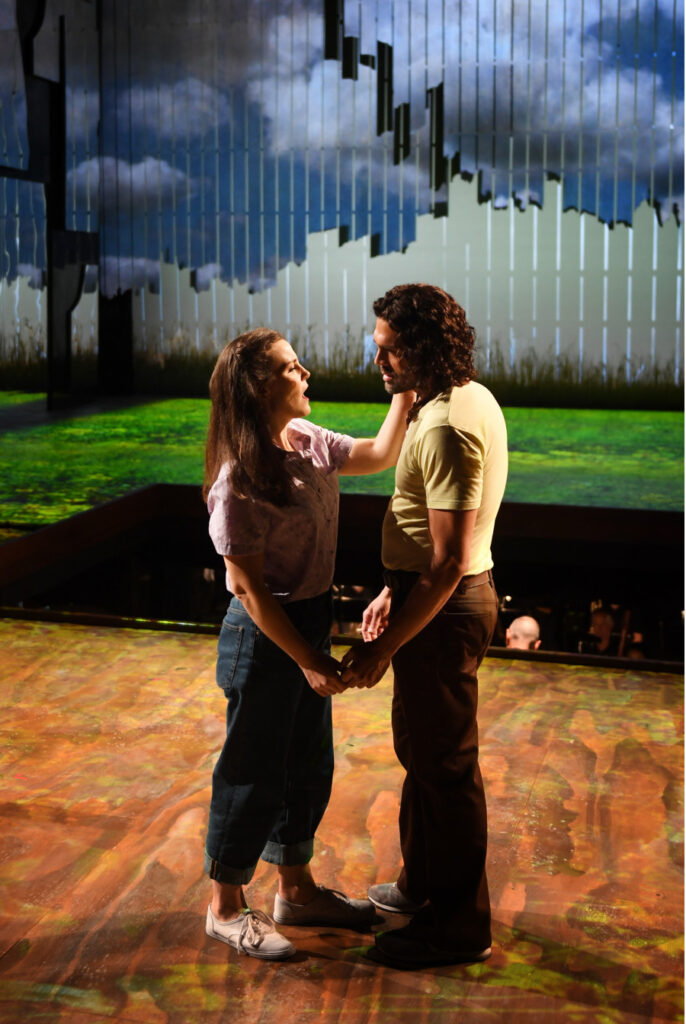 Mark Campbell's libretto was characterized by his usual lean, comprehensible storytelling, with just enough emotional subtext to let the composer flesh it out. The characters were cleanly defined and the arc of the plot was well-crafted and easy to follow. I did feel that perhaps there was a penultimate scene missing, since in the waning pages we learned about a couple of major life-altering occurrences with some catch-up summation, during which Caroline continued to be defined in the broadest of strokes. I will also note that this libretto probably has set the record for the number of F-bombs in any opera.
Kristin Kuster has fashioned a fascinating score, so full of vibrant instrumental effects that it is not possible to take it all in on one hearing, nor to adequately describe it here. Since the land itself and the (poisoned) water beneath it are a major presence in the story, so they are in the score. Mr. Campbell and Ms. Kuster have alternated book scenes and interludes, and it is in the latter that we most fully experience her sound vocabulary. To evoke the "Acres" she deploys mostly strings and woodwinds, which she layers in a variety of configurations.
One device that is noticed very early on is the generous use of ostinato that suggests the unchanging earth and that occasionally bursts into brass, or vocal "stings;" another is the use of undulating chords suggesting the water that rises and falls, but that sometimes sour into angular clusters evoking the story's poisoned well. My first impression of the vocal writing is that might be a bit too edgy a bit too often. That said, the singers delivered it successfully, but perhaps rounding off a few corners would not be amiss. My other thought is that while the male characters had different aural profiles, the women became a bit interchangeable.
The musical direction could not have been in better hands. David Neely not only imbued the whole evening with seeming spontaneity and inevitability but corralled all his forces into an awesome unity of purpose. Maestro Neely communicated an infectious sense of discovery that made the sounds leap from the page, and I eagerly awaited every new effect and turn of phrase. The accomplished musicians that form the DMMO orchestra rewarded him (and us) with sterling results.
Director Kristine McIntyre once again exceeded her own high bar. Her overall success at drawing such uniformly detailed, internalized and deeply personal performances from her cast speaks volumes to the depth of her talent. Ms. McIntyre also has a keen eye for stage pictures and the practical use of this particular space, Simpson College's Pote Theatre. She knows the idiosyncrasies of the theatre well and makes efficient and varied use of its trap door, thrust, and adjoining proscenium stage.
She is greatly assisted in that by the straightforward, minimal, fluid scenic and projection design by Luke Cantarella. A weathered, earthen colored, jagged-edged barn wall backdrop is in place upstage, with elements of it rising and falling to create slightly different locales, and to subtly alter the configuration of the "screen," on which Mr. Cantarella's many-faceted projections and videos are shown. Behind it a faint cornfield extends from wing to wing.
In front of this evocative visual commentary, simple wagons glide on and off to create a 70's kitchen here, a front porch there; or fly in to complete a "look" with windows or well-dressed walls; or arise from the depths on the apron to create bedrooms and, for a key confrontation scene, deliver the all-important table with Monopoly board. Ginny occasionally tends a small garden revealed by simply opening two hinged covers embedded in the floor, a foundation which itself underscores the property's declining assets as it morphs from loamy earth upstage to deteriorating, crusty, and crumbling surfaces as it spills onto the thrust.
Valérie T. Bart has done her research and assembled a perfect collection of costumes that almost immediately define the characters. Ginny's rosy pink waitress costume in her last appearance perfectly communicated her newfound optimism. Rounding out the design team's total success was Kate Ashton's thoughtful, expressive lighting, that reveled in the changing times of day in the outdoor scenes, and gently heightened the more claustrophobic indoor encounters.
Des Moines Metro Opera made it to its triumphant landmark celebration for one reason alone: the unparalleled, consistent excellence of its artistic product, opera after opera, year after year, festival after festival. The outstanding achievement that is A Thousand Acres is but another sparkling addition to a jewel-studded crown. May there be many more.
James Sohre
---
A Thousand Acres
Music by Kristin Kuster
Libretto by Mark Campbell
Based on the Pulitzer Prize-winning Novel by Jane Smiley
Cast and production staff:
Ginny: Elise Quagliata; Rose: Sara Gartland; Caroline: Grace Kahl; Larry: Roger Honeywell; Ty: Keith Phares; Pete: Taylor Stayton; Jess: John Moore; Marv Carson: Wei Wu; Harold: Kristopher Irmiter; Conductor: David Neely; Director: Kristine McIntyre; Scenic and Projection Design: Luke Cantarella; Costume Design: Valérie T. Bart; Lighting Design: Kate Ashton

Above photo: John Moore as Jess, Sara Gartland as Rose, Elise Quagliata as Ginny, Keith Phares as Ty, Taylor Stayton as Pete

All photos by Duane Tinkey