There have been some fine recordings in recent years from the Choir of Keble College, Oxford, and this is the first disc directed by Paul Brough who succeeded Matthew Martin in 2020. Brough has now relinquished his all-too brief appointment, so this debut disc might also be seen as his swansong, something to be celebrated and regretted. Nonetheless, it's a legacy from a highly gifted musician and distinguished conductor.
There's a refreshing honesty in his introductory liner note where he outlines the raison d'être for the recording, asserting his wish to 'bring you the joy of the Paschal celebration'. Brough stresses he directs a 'liturgical' choir, not a 'project' choir, taking pains to emphasise that the disc is not intended to provide a 'lesson in history, liturgy theology or musicology', and adding that the singing of plainchant is rendered in the choir's 'collegiate style'. In other words, this snapshot of musical performance is how you might expect to hear the Choir during a service in term time.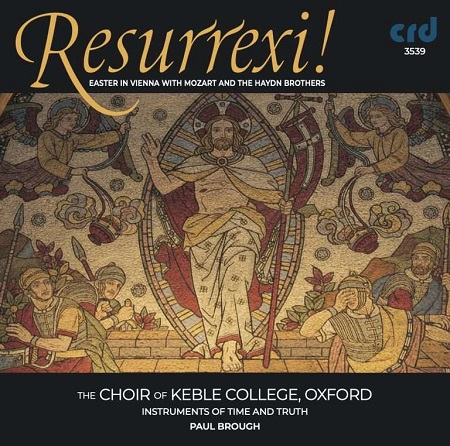 Resurrexi! takes its title from the first word of the introit for the solemn mass for Easter Day, the disc amounting to a 'menu' for an Easter morning service in Vienna during the last quarter of the 18th century. Mozart's Spaurmesse K258 is one of nine masses written in Salzburg, and here forms the centre-piece of the disc's 56 minutes, its duration shaped by the notion that Mozart's Salzburg employer, Archbishop Colloredo, insisted the Missa Solemnis, even on high days, should be over in forty-five minutes. Festive music by the two Haydn brothers, Michael and Joseph, adds further musical weight although their music when combined is shorter in length than the disc's various plainchant passages.
The recording opens with Mozart's Regina coeli K276, a bright, exuberant setting of this Marian text dating from 1779 that would have been performed traditionally between Easter Sunday and the Saturday before Pentecost. The Choir of Keble College and the Oxford-based Instruments of Time and Truth splendidly show off the work's jubilant manner. Fresh, rhythmically alert voices with clear diction and sharply marked dynamics are well matched by crisp, incisive playing that never intrudes or undermines, Brough expertly balancing the ensemble while also drawing out felicitous detail. Each of the soloists, Emily Dickens, Rebekah Jones, Philippe Durrant and Graham Kirk, are uniformly impressive, collectively and individually.
The Spaurmesse is a joy to listen to, the pleas of the 'Kyrie' delivered with aplomb and the affirmative 'Gloria' dispatched with confidence, its 'fugal' 'cum Sancto Spiritu' given a nimble address. No less lissom is the text-laden 'Credo', the soloists' brief contributions always pleasing to the ear and the overall balance finely judged. At under a minute the 'Sanctus' seems homespun (the fault of Mozart not Brough), but amply fulfils the requisite need for brevity. The 'Benedictus' follows a more conversational approach between soloists and choir and, if profundity is absent, it is as approachable as the ensuing 'Agnus Dei' – nothing to arrest the ear but all eminently agreeable, as is the case too with the composer's Epistle Sonata K274.
One might say the same for Michael Haydn's buoyantly tuneful Victimae paschali laudes, written by a composer much respected by Mozart and considered, in terms of choral music, the equal of his older brother. Scored for four-part choir and supported by pairs of oboes and horns, violins and continuo, its celebration of the risen Christ (notwithstanding the text's references to his crucifixion) is performed with suitable brio. Brough's forces respond with similar gusto to Joseph Haydn's Te Deum in C, not the more familiar work conceived for the Empress Marie Therese in 1800 but an earlier setting believed to belong to the 1860s when the composer had recently begun service within the Esterházy family. Under Brough's assured direction, Haydn's neglected work glows with youthful ardour.
Plainsong also much occupies this Paschal dedication, and its anonymous texts (all associated with Eastertide) are most beautifully sung, with special mention of Graham Kirk's velvet baritone. In short, this recording is thoroughly appealing and owes much to the vitality of Brough's energetic direction which will be sorely missed.
David Truslove
The Choir of Keble College, Oxford: Emily Dickens (soprano), Rebekah Jones (mezzo-soprano), Philippe Durrant (tenor), Graham Kirk (baritone and cantor), Benjamin Mills (chamber organ), Paul Brough (director); Instruments of Time and Truth.
Mozart – Regina coeli K276, Spaurmesse K278, Epistle Sonata K274; J. Haydn – Te Deum Hob XX111c.1 in C; M. Haydn – Victimae paschali laudes MH361; Anonymous – Gaude et laetare Virgo Maria, Resurrexi, Vidi aquam, Haec dies, Pascha nostrum, Victimae paschali laudes, Terra tremuit, Ite, missa est.
CRD 3539 [56.05]