Alice Coote's recent disc, Schubert 21 Songs, joins an already well-filled and distinguished discography. She and her long-term collaborator Julius Drake curate a wide-ranging selection bookended by two versions each of 'An den Mond' (D259 and D296) and 'Wandrers Nachtlied' (D224 and D768). Between these songs, the collection is mostly drawn from Schubert's early period and includes 'Erlkönig' (1815), 'Ganymede' (1817), and from his last two years the much-loved 'An Silvia' (1826) and 'Ständchen' (1828). Attractive as the collection is, and notwithstanding the restless momentum of 'Der Musensohn' and 'Rastlose Liebe', many of the songs are reflective in mood and consequently slow in tempo. Taken as a whole, the disc offers much that is gemütlichkeit, with little to startle the ear. One will be aware of Coote's distinctive vocal presence, but it's one in which there isn't quite enough attention to words or expressive detail. When she is occupied with travails of the heart (viewed through pastoral evocation), a sense of heartbreak is only partially realised.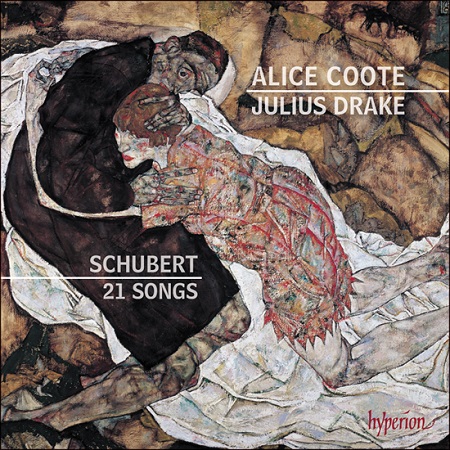 That said, the compilation suits her bronzed mezzo, none more appealingly so than the first of the two settings of 'An den Mond' where the18-year-old Schubert fashions a sublime alchemy between music and Goethe's text. Its blithe melodic meanderings, with a miraculous quality of seeming both new and familiar, is gratifyingly rendered, Coote and the poet both charmingly conveying the tranquillity of the Moon's gaze as it ponders life's vicissitudes. The simplicity and gravitas of 'Litanei auf das Fest Aller Seelen' is given a compelling reading. Coote addresses this prayer for the departed with a poised legato and the return of the phrase 'Alle die von hinnen schieden' is exquisitely moulded, its rallentando finely judged. Her depth of feeling is no less affecting in the loneliness of 'Abendstern', Coote finding a special 'interior', or at least 'distant' voice for the unattainable in Johann Mayrhofer's two-verse poem. Characteristic here is Schubert's capacity to convey unbearable sadness when arriving at a major key.
A breathless element enhances the bleakness of 'Der Tod und das Mädchen', certainly over the course of its opening lines. When Death invites the Maiden to sleep in his arms, Coote generates a blanched tone, though not devoid of warmth, and at the end lands impressively on a low d below the stave. There's plenty of atmosphere in the gothic melodrama that is 'Der Zwerg', Coote matching the song's harmonic unrest with her own accumulating emotional turbulence, its character differentiation well served by timbral variety, none more so when the eponymous dwarf kisses the Queen. Her performance doesn't have the hysteria of some singers (that from Jessye Norman springs to mind), yet her approach is not without storytelling. This aspect is vividly present in the multi-voiced 'Erlkönig' where Coote's coloration distinctly outlines each of Goethe's characters: variously expressed in the narrator's grave statements, fatherly reassurances, the boy's increasing desperation and the Erlking's devious beckoning – the latter articulated in a suitably wheedling tone. One should not forget Julius Drake's flawless evocation of the galloping horse.
Elsewhere, 'Seligkeit' feels a little burdened (its joy not wholly unbridled), 'Der Musensohn' is delightfully airborne and in 'Ständchen' her tone veers from glowing to garish. Tempo can vary considerably with performances of 'An Silvia' and here Coote finds a flowing pace midway between urgent and measured. Her tone feels somewhat raw and resolute at times, high notes squeezed and, as the paean to Sylvia, not presented with a sense of wonder that makes this Shakespeare-derived setting so fresh sounding. As suggested earlier, the more contemplative songs tend to yield more persuasive accounts, as in the gentle perambulations of 'Im Frühling', where pliant and tender singing is heard to advantage.
Throughout this disc, Drake is an ever-reliable partner, drawing pearls from the keyboard with playing of polished restraint and invigorating sparkle. Of the songwriter's extraordinary achievements in the medium, Brahms eloquently observed 'There is not a song of Schubert from which one cannot learn something'. Much the same could be said of these performances stylishly put together from these two seasoned performers. A pity Hyperion deemed it necessary to create 50 tracks from 21 songs.
David Truslove
Schubert 21 Songs: Alice Coote (mezzo-soprano), Julius Drake (piano)
An den Mond D259, Wandrers Nachtlied I 'Der du von dem Himmel bist' D224, Im Frühling D882, Der Zwerg D771, Ständchen 'Leise flehen' D957, Seligkeit D433, Abendstern D806, Der Tod und das Mädchen D531, Litanei auf das Fest Aller Seelen D343, Rastlose Liebe D138, Ganymed D544, An Silvia D891, Der Musensohn D764, Lachen und Weinen D777, Erlkönig D328, Nacht und Träume D827, Auf dem Wasser zu singen D774, Im Abendrot D799, Frühlingsglaube D686, Wandrers Nachtlied II 'Über allen Gipfeln' D768, An den Mond D296.
Hyperion CDA 68169 [71.36]
ABOVE: Alice Coote (c) Jiyang Chen