It was a South American mafia, Peruvian tenor Juan Diego Flórez as the deceitful Count Ory, Venezuelan Diego Matheuz as conductor and Argentinian Hugo de Ana as metteur en scène. FYI Juan Diego Flórez, now 49 years-old was recently named Artistic Director of the 43 year-old Rossini Opera Festival.
A twenty-three year old Juan Diego made his professional debut in 1996 at the Rossini Opera Festival, and he has returned nearly every year since, having sung 13 different Rossini roles in Pesaro, some of them twice — he was already Count Ory back in 2003!
Conductor Diego Matheuz was once the concert master of Venezuela's Simón Bolivar Symphony Orchestra, and since has been its principal conductor, though his career has largely unfolded on European stages. Stage director Ugo de Ana's career has taken place almost exclusively on Italian stages, and only once before at the Rossini Opera Festival, a Semiramide in 1992.
All these credentials could not save this Le Comte Ory, victim of Mr. De Ana's bizarre staging for which he was not only the stage director but also designer of the sets and costumes.
The opening scene of Le Comte Ory (the 36 year-old Rossini's penultimate opera) is Count Ory's hermitage which seems to be an egg, and the Formoutiers chateau, maybe a frog, is nearby where its housekeeper is making an omelet. Peasants are dressed as colorfully as they could possibly be, the women in huge hats of fruits, flowers and foliage. Mr. de Ana's images derive from Hieronymus Bosch's triptych The Garden of Earthly Delights.
There is a ballet of ten dancers who take on various tasks throughout the opera, in this opening scene pushing three, real supermarket carts into Mr. de Ana's pastel, Rococo abstracted world. And at the end of Act I they rushed on stage as green dinosaurs.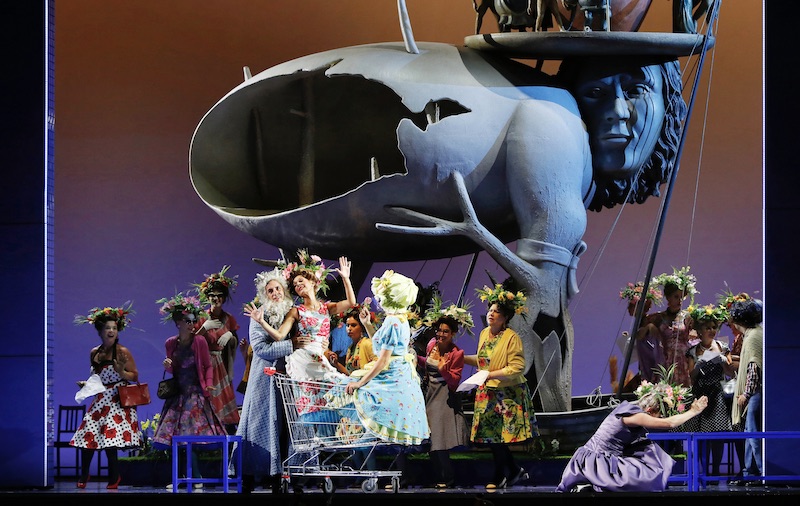 Never for a moment was there not a flapping of some sort happening on the stage.
The wives of the crusaders, off in Palestine, are sequestered in the chateau to avoid temptation, like — according to Mr. de Ana — birds in a glass case, adding this Audubon image to frogs, fruit and eggs. There was lots and lots of scenery, and lots and lots of costumes, and lots and lots of stage action.
Mr. de Ana's food fixation maybe found its motivation when the male chorus arrives at the chateau disguised as female pilgrims (silly, exaggerated nun-like costumes), wherein they are welcomed and given sustenance in a huge chorus scene. "Je sors de l'oratoire, et j'entre au refectoire" says Count Ory's friend, Raubaud, as example of the silly, Offenbachesque non-stop rhyming of the libretto, the work of the famed French dramatist Eugène Scribe (120 librettos for 48 different composers).
Le Comte Ory distinguishes itself from a simple farce — the clever count creates a couple of silly shenanigans to court the lonely Countess of Formoutiers, but in the end he is tricked into holding hands with his rival, Isomer — by the complexity of its music. It is the full scale, mature Rossini of fancy arias, highly articulated scenes and spectacular finales — a septet with chorus ends Act I!
The most successful number of this production was the Act II trio in which the Count is tricked by Isolier and the Countess, only the three of them on the stage, though strewn on a brown bird atop a dead duck. With less scenery and somewhat restrained movement (they slipped and slid over each other) the music and the singing came to the fore. It was Rossini and the three principal voices alone at last to create the thrilling music that brings us back to Pesaro year after year.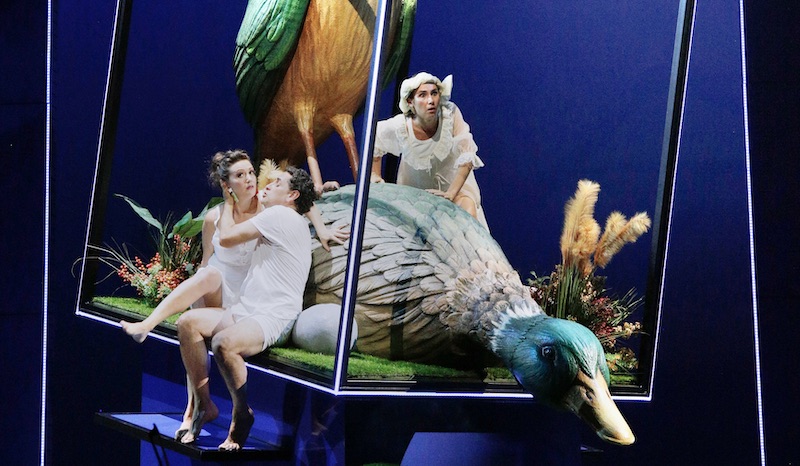 Yes, Juan Diego's high notes were solid, spectacular and plentiful. He gamely executed the inane character imposed on him by Mr. de Ana. It is disturbing to watch a great singer cope with such a difficult production circumstance. Conductor Diego Matheuz provided the primo tenore, and all the singers exactly what they needed to navigate the rigors of Rossini singing, finding the fun and joy of Rossini's musically deadly serious score.
The discovery of the evening was Russian mezzo soprano Maria Kataeva in the trouser role Isolier (the count's page and rival). She brought beautifully voiced, full-throated singing to her role, as well as excellent fioratura and a presence of great charm. French soprano Julie Fuchs sang the Countess of Formoutiers, her first act aria "En proie à la tristesse" earned her a uniquely Pesaro ovation — many long minutes of hand clapping and foot stomping (the only such ovation of the evening). The aria is spectacular, its fioratura breathtaking, that Mlle. Fuchs deserved this huge ovation is questionable.
As always in Pesaro the smaller roles are well cast. Polish tenor Andrzej Filonczyk sang the count's friend Raimbaud, Argentine baritone Nahuel di Pierro sang the count's tutor and veteran Italian mezzo Monica Bacelli sang the chateau housekeeper Ragonde. Alice, a pretty peasant was sung by Anna-Doris Capitelli, a recent participant the Rossini Opera Festival's Accademia Rossiniana.
The Accademia Rossiniana "Alberto Zedda" (its founder) has been a part of the Rossini Opera Festival since 1989. Open to professional singers (women under the age of 30, men 32) it probes vocal and dramatic requirements for modern interpretations of Rossini roles. Each year the participants perform Rossini's Il viaggio a Reims (1825), a cantata celebrating the coronation of France's king Charles X (reign 1824-1830). Rossini composed Le Comte Ory three years later to incorporate much of this music into a full scale opera.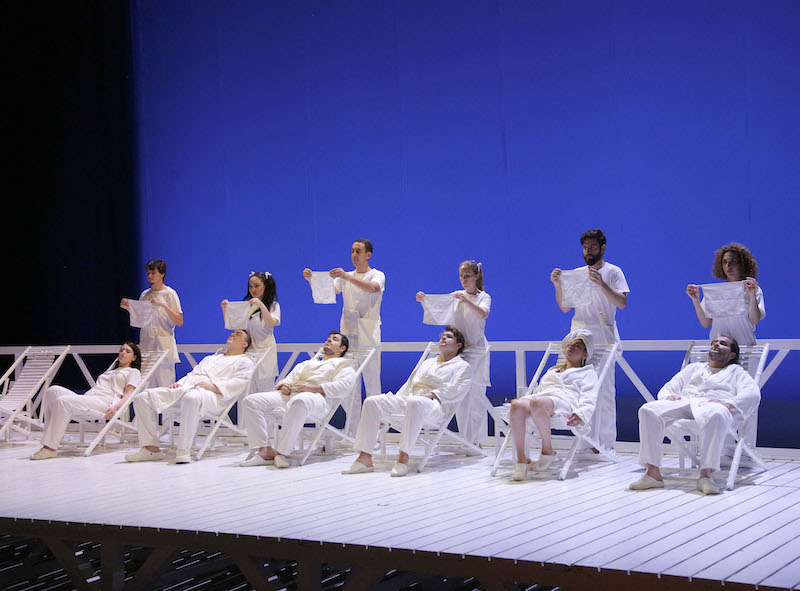 In 2001 Spanish director Emilio Sagi created a production of Il viaggio a Reims for the Accademia which has been remounted every year since. Seven or eight beach chairs are lined across the stage for the first part, there is a pole on either side from which a string of lights will be strung for the string of national dances that conclude the one act theater piece. There are a few glasses and towels as props. There is judicious addition of directorial wit, never so much as to detract from the vocal accomplishment and dramatic charm of the young singers.
Emilio Sagi's Il viaggio a Reims is the polar opposite of Hugo de Ana's Le Comte Ory.
Michael Milenski
Le Comte Ory, Coro del Teatro Ventidio Basso, Orchestra Sinfonica Nazionale dell RAI. Vitrifrigo Arena, Pesaro, Italy, August 16, 2022.
Il viaggio a Reims, Philharmonica Giachino Rossini, Daniel Carter, conductor. Teatro Rossini, Pesaro, Italy, August 15, 2022.