Of Shakespeare's characters, only Sir John Falstaff has inspired so many operas. Alongside accounts of his amorous adventures by Salieri, Nicolai, Balfe, Verdi and Holst, Ralph Vaughan Williams' four-act comedy, Sir John in Love, presents an affectionate portrait of the Bard's Fat Knight – one which does not shine the spotlight solely on the eponymous old rogue but makes him just one member of a wide social canvas encompassing the gentry, bourgeoisie and servants of Windsor and admitting Celtic and Gallic interlopers too.
In compiling his libretto, Vaughan Williams truncated The Merry Wives of Windsor,interpolating lyrics from other Shakespeare plays and Elizabethan poets including Ben Jonson, Thomas Campion and Christopher Marlowe, but retained the play's twenty named roles, filling out minor characters such as Sir Hugh Evans, Simple and Slender. He even added two more, finding beloveds for the disreputable pilferers Nym and Bardolph in the final marital reconciliation scene. The resulting work places an emphasis on lively ensembles for the broad cast of colourful characters rather than show-stopping arias. While its large cast might discourage professional productions, Sir John in Love is the perfect vehicle for a company with a host of talented singers at its disposal (the opera was written between 1924-28 and premiered on 21st March 1929 by students at the Royal College of Music) and thus ideal fare for British Youth Opera's summer production, staged as last year at Holland Park.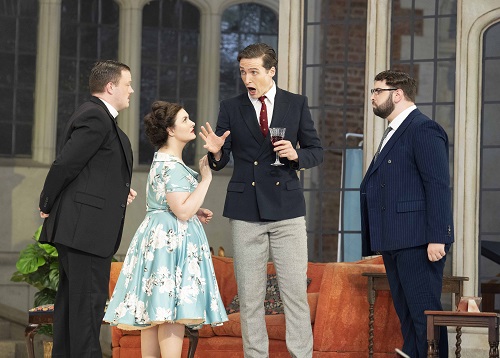 Director Harry Fehr eschews 'Merrie England', setting the action in 1950s Windsor and capturing the petty foibles and feuds, jealousies and suspicions of the town's more presumptuous inhabitants – that is, the men – as well as the initiative for intrigue displayed by their Windsor wives. Nate Gibson's economical sets do fine work in sketching the various locales – the irascible Dr Caius' surgery, the Pages' drawing room, the saloon bar at the Garter Inn. Stagecraft is slick as the cast glide on and off the set, and in and out of various scenarios, and unobtrusively re-arrange props to effect transformations which are further smoothed by Chuma Emembolu's lighting. As the scenes change, so 'action' continues inconspicuously beyond the central set, conjuring the mien of the wider community.
Fehr paces the busy first Act effectively.  And, set-pieces such as the buck-basket scene and the boxing-glove 'duel' between Anne Page's would-be suitors, Dr Caius and Parson Evans, are choreographed with a sharp ear for the score.  That contest is rather a damp squib on the page, as the decidedly un-chivalric duo are almost instantly disarmed and discouraged from pursuing their bitter rivalry by violent means by the good men of Windsor, but Vaughan Williams sets the episode as a dynamic, vibrant eight-voice ensemble and Fehr drolly and imaginatively exploits the musico-dramatic potentials offered.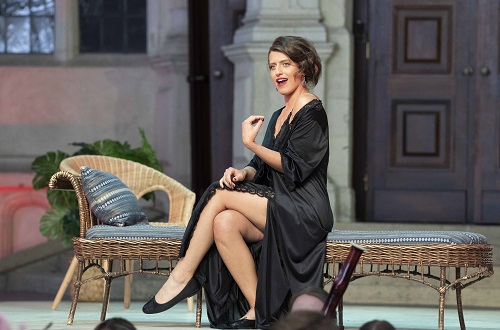 Moreover, Fehr makes terrific use of the front runway – the best I've seen this season at OHP – evoking movement and milieu, as when the Windsor townsfolk spill through Ford's house in a hunt for Sir John the cuckold-maker or set of for the Windsor Forest shenanigans, but also creating moments of intimacy, as when Anne and Fenton declare their passion, or Sir John sings his own witty but tender love-song in Act II, 'O that joy so soon should waste'. And, the latter is a pitiful figure indeed, stranded alone during the Windsor Forest ritual – a masque of hooded cloaks and flickering candles.
One of the charms of the score is the way Vaughan Williams not only, and characteristically, quotes folksongs and draws upon a folk idiom – 'Greensleeves', which is mentioned twice in the play, is sung by Mistress Ford before Sir John's wooing and then forms an instrumental interlude which later became the well-known Fantasia – but how he also creates opportunities for songs to arise within the drama – love songs, satirical songs, ceremonial songs, drinking songs, French chansons, metrical psalms. There's even a madrigal-singing class during which Pistol and Nym undertake some nifty pickpocketing. The result is a union of folk and art and, as Fehr's direction communicated, the portrayal of a community for whom music is a natural part of life.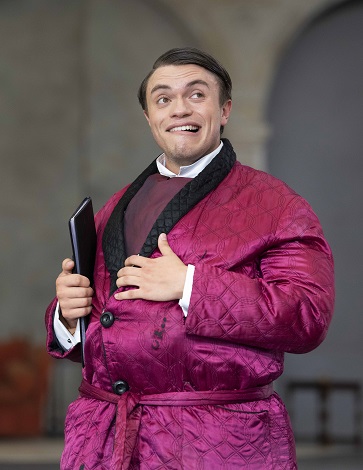 It's a tough one for a young singer to pull off, but in the title role baritone Johannes Moore captures both the old Knight's absurdity and gallantry – and admits a chink of vulnerability. There's no doubting this Falstaff's self-importance and he overcomes humiliation by relishing the master-of-ceremonies role that Vaughan Williams gives him at the close, magnanimously bestowing blessings on all and leading the final chorus, 'Whether men do laugh or weep … our life is but a play' (from a poem by Philip Rosseter), with aplomb. Jacob Bettinelli's dark bass-baritone glows in Ford's histrionic cuckoldry soliloquy but softens lyrically when asking his wife to pardon him, and Bettinelli's demonstrates musical intelligence and a strong stage presence.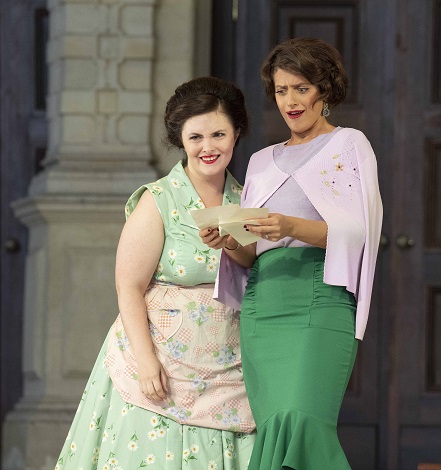 Windsor's womenfolk are spirited and enterprising. As Mistresses Page and Ford, Eva Gheorghiu and Lexie Moon have fun reading Falstaff's love letters, as the identical, alternating words slip into a sly unison. When they are joined in a vivacious trio by Nancy Holt's Mistress Quickley the mischief knows no bounds. Every time Holt enters, the comic thermometer goes up a notch. Gheorghiu's narrative of Herne the Hunter in Act IV sparkles with glee. And, it's hard to believe that Lexie Moon, who made her principal role debut at the Royal College of Music in Flight in July, has only just finished her undergraduate studies. Her rich mezzo-soprano has bags of expressive and dramatic potential – her 'Greensleeves', as she awaits the lecherous Knight's arrival is wonderfully sensuous – and her confidence and character on stage are impressive. She's definitely one to look out for.
The lovely colour of Grace Marie Wyatt's soprano gives warmth and substance to Anne Page – no wonder tenor Steve van der Linden's gracious Fenton is smitten. Wyatt's song, 'Weep eyes, break heart', conveys the depth of her love and her hopelessness in the face of a father's intransigent wish to marry her off to the richest bidder. Van der Linden sings with lovely clarity and freshness, and finds just the right amount of ardour in 'Have you seen the bright lily grow'.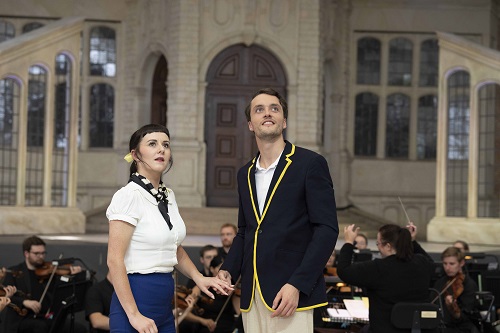 The entire cast and chorus prove themselves fine singers and actors. Justin Jacobs shows that even the cantankerous Dr Caius can find some tenderness in his heart, in his old French song 'Vrai dieu d'amours, comfortez moi'. One can feel nothing but pity for James Micklethwaite's Slender, who spends the entire opera trying to get further than the first line of his courtship sonnet, 'O Sweet Anne Page'. The rogues Pistol (Armand Rabot), Bardolph (Phillip Costovski), Nym (Toki Hamano) are both ghastly and lovable, as all comic rogues should be, and Patrick Owston is a characterful host of the Garter Inn.
The cast's diction is uniformly excellent – for once, the surtitles are scarcely necessary – and the humour uncontrived. They are supported with a lovely lightness of touch by the Southbank Sinfonia under Marit Strindlund. Strindlund appreciates that in the interpolated songs the voices much be paramount (and Vaughan Williams' accompaniments are often quite sparing), almost in the tradition of the ballad opera, but elsewhere she encourages the instrumentalists to make their details count – there was some lovely oboe playing in Anne's Act 1 aria. And, the Windsor Forest scene certainly lived up to Vaughan Williams' wish, expressed in a letter of 1929, that the music should be 'a bit rough and grotesque'.
Of all the musical forms in which Vaughan Williams composed, his operas have received the least recognition and performances still seem rare and to be cherished. The first professional staging of Sir John in Love was given by Sadler's Wells Opera in April 1946, where it was staged again in July 1958, shortly before Vaughan Williams' death. It took until March 2006 for English National Opera to revive the opera. Vaughan Williams prefaced the score of Sir John in Love with the hope that 'it may be possible to consider that Verdi's masterpiece does not exhaust all the possibilities of Shakespeare's genius'. British Youth Opera, with charm and sincerity, certainly fulfil that hope. This is a smashing ensemble production, full of romance and lyricism, charm and affection, and one which, without a doubt, confirms Vaughan Williams as a man of the theatre.
Claire Seymour
Cast: Matthew Bawden (Simple), Jacob Bettinelli (Ford), Phillip Costovski (Bardolph), Eva Gheorghiu (Mistress Page), Toki Hamano (Nym), Nancy Holt (Mistress Quickley), Jack Holton (Page), Justin Jacobs (Dr Caius), Emyr Jones (Sir Hugh Evans), Edward Kim (Rugby), James Micklethwaite (Slender), Lexie Moon (Mistress Ford), Johannes Moore (Sir John Falstaff), Patrick Owston (Host of the Garter Inn), Armand Rabot (Pistol), Joshua Saunders (Shallow), Steven Van der Linden (Fenton), Grace Wyatt (Anne Page)
Chorus: Aina Magnell, Maryam Wocial, Kristina Alice Ammattil, Abbie Ward, Rebecca Milford, Katie McDonald, Natalie Millet, Eleanor Oldfield, Thomas Lidgley, Sonny Fielding, Henrik Enger Holm, James Holt, Archie Playden, Dominic Morgan, Edward Birchinall, Jonathan Hill, Adam Jarman;
Production: Director – Harry Fehr, Conductor – Marit Strindlund, Designer – Nate Gibson, Lighting designer – Chuma Emembolu, Southbank Sinfonia.
Opera Holland Park, London; Wednesday 24th August 2022.
ABOVE: Johannes Moore (Sir John Falstaff) (c) Alastair Muir