There can be no better venue in London for a performance of Mahler's 'Resurrection' Symphony than the Royal Albert Hall. Those fortunate enough to acquire tickets for this sell-out concert presumably thought much the same. And what better coalition of forces to unveil this life-affirming extravaganza: the CBSO Chorus, the London Symphony Chorus, the London Symphony Orchestra, Louise Alder, Dame Sarah Connolly, all under the defining baton of Sir Simon Rattle whose own recordings of the work (and numerous concert performances including one organised by him when still a teenager), gave a fair indication that we were in for a stupendous evening. And so it proved.
Proceedings began with a spoken tribute to Sir Harrison Birtwistle whose brief fanfare-like piece conceived for woodwind, brass and percussion and entitled Donum Simoni MMXVIII formed a distinctively quirky curtain-raiser. Written originally for Rattle to open the LSO's 2018-19 season, this clangourous concoction variously parped, gurgled and resounded across its three-minute span culminating in a gently irreverent tuba solo. Rattle had described Birtwistle as 'warm, gruff and funny at the same time' – qualities that somehow summed up this composer's entertaining 'tapas' of a piece.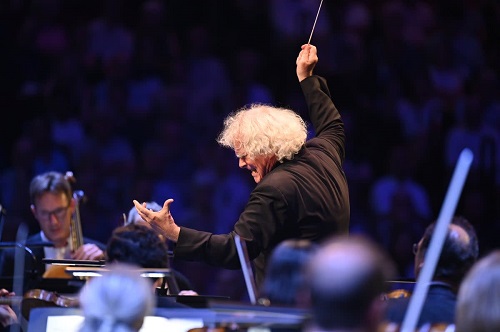 There was plenty of warmth and chamber-like delicacy in Mahler's 2nd Symphony, yet it was a performance invested, more crucially, in a sweeping grandeur marked at times by an elemental strength powered by Rattle to produce floor-shaking crescendos. An intense experience if ever there was, that swept you off your feet, whether in a thrillingly quiet first choral entry at 'Aufersteh'n' or the braying woodwind of the pictorial third movement. The well-paced 'funeral march' (leaning more towards Allegro than maestoso) erupted with razor-sharp precision, crackling with energy, strings fiercely purposeful with cellos and double basses thundering out their semiquavers like untamed beasts. The movement was not short on serenity or spaciousness (strings and horns warmly consoling) or mystery (bass clarinet, cor anglais and a mellifluous flute catching the ear). However, what gripped this listener more was the sense of unbridled power built into the movement's central development where trumpets and timpani pummelled the air, if perhaps holding back just a little too much.
A short break for retuning (not the five minutes Mahler stipulated) and on to an unsentimental but wonderfully manicured Ländler, Rattle showcasing the quality of his string players with plush tone, melodic exchanges shaped with affection.  Two well-judged Trios – the first impish, the second resolute – stood out between a glowing cello section with neat portamento and a passage of stylish pizzicato strings underpinning harp, flute and piccolo that oozed Viennese charm.  Its 'ray of sunlight', to quote Mahler, was delightfully caught.  Merriment and irony was to the fore in the third movement's 'underwater' passages, where variegated wind and string sonorities (plus a touch of Klezmer from the clarinets?) are supposed to portray St Anthony of Padua preaching to the fishes after his congregation have abandoned his church. Straight on, as Mahler instructed, for 'Urlicht', with a burnished Sarah Connolly providing calm for troubled souls, tender in expression and perfectly matched by the fireside warmth of three trumpets, not forgetting beatific input from the LSO leader Andrej Powe.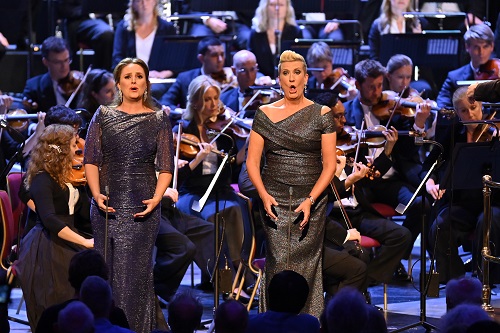 And so to the Finale, its cumulative impact enhanced by offstage contributions from within the venue's galleries from which an unearthly and flawless solo horn emerged, later yielding to the roar of massed percussion and subsequent jubilation for the resurrection of the departed. If, up to this point, the emotional temperature was steadily rising, it soared with the arrival of nearly 300 hushed voices singing in perfect accord (and without scores) the first words of Klopstock's hymn. Joined by Louise Alder's poised and radiant soprano, the chorus rose to the occasion with exemplary finesse, and their heaven-storming closing pages, given uplifting support by tubular bells and the Royal Albert Hall's organ, built inexorably to the close of an overwhelming experience, Mahler's transcendental vision of the afterlife magnificently served. Little wonder Rattle and his joint forces provoked a well-deserved standing ovation. Who could not be moved by such an inspirational evening? Five stars doesn't begin to cover it.
David Truslove
Prom 49: Birtwistle – Donum Simoni MMXVIII; Mahler – Symphony No.2 in C minor, 'Resurrection'
Louise Alder (soprano) Dame Sarah Connolly (mezzo-soprano), CBSO Chorus, London Symphony Chorus, London Symphony Orchestra, Sir Simon Rattle (conductor)
Royal Albert Hall, London; Wednesday 24th August 2022.
ABOVE: Louise Alder, Dame Sarah Connolly, Sir Simon Rattle and the LSO (c) Chris Christodoulou