Georg Frideric Handel and Richard Strauss may make unlikely bedfellows, but for this inaugural performance at the Barn at Old Walland, in Wadhurst, Sussex, Bampton Classical Opera wittily presented Handel's pastoral love triangle, Clori, Tirsi e Fileno, as a winsome 'capriccio a tre'.
Handel's cantata dates from 1707, as his first period of service with the Marquis Francesco Maria Ruspoli in Rome was coming to an end, and he was preparing to present his first Italian opera, Rodrigo, in Florence. The dramatic cantatas that he composed at this time, were probably performed in private settings and intended to circumvent the ban on opera imposed by Pope Clement XI. They are essentially 'mini-operas' though, full of lively theatrical opportunities and emotional drama. Handel must have been pleased with his score since he later plundered it, transferring music to Rodrigo, Acis and Galatea, Agrippina and Rinaldo, and making use of the overture in the pasticcio Oreste and as the opening movement in a harpsichord suite. It was thought that only fragments of the score were extant, until the complete score was rediscovered in 1960.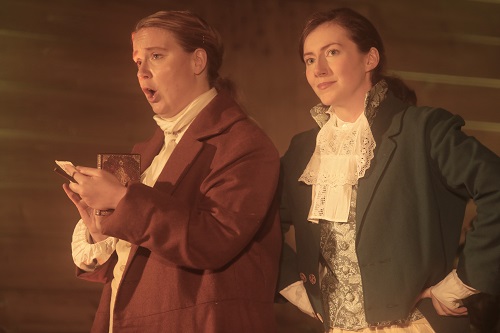 Clori, Tirsi e Fileno's action is slight but charming. The shepherdess Clori plays her two suitors, Tirsi and Fileno, off against one another, relishing their affections, promising love to both, while refusing to choose between them. In the end, the rival shepherds decide to make their peace, spurning their fickle lover and her faithlessness. In a new English translation by Gilly French, the Arcadian swains become a composer (Tirsi) and poet (Fileno), and the object of their devotion is a singer to whom they offer musical and lyrical love-tokens to try to win her heart.
The Barn at Old Walland – a traditional threshing barn which has recently been restored as a performance space, but which retains its agricultural character – is just the right scale for Handel's intimate cantata a tre. Setting the action in Handel's eighteenth century, director Jeremy Gray deftly established a milieu with just a few props – a double music-stand, handy for love duets, and some greenery, perfect for concealment and eavesdropping – and stylish costumes. The cantata comprises a rich variety of arias and duets, and Handel's invention within the da capo form was matched by Gray's imaginative interpretation of the musical structures, persuasively moving the emotional trajectory forwards in the da capo repeats and thereby creating engaging characters and situations. Lively entrances and exits made full use of the Barn too.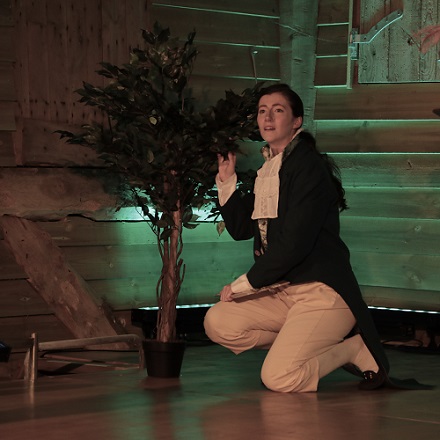 Music director Julian Perkins, leading the eight-strong period-instrument Bampton Classical Players from the harpsichord, kept the tempi brisk but not hasty, expressive lighting enhanced the varied emotional affekts, and the result was a lively piece of theatre which conjured a striking sense of the 22-year-old Handel's youthful vigour.
Soprano Caroline Taylor and mezzo-soprano Emma Stannard effectively distinguished the vivacious Tirsi and introspective Fileno, respectively. Taylor has a crystal-clear tone, considerable power and a wide, even range. She was authoritative in the role from the start, flicking Tirsi's pink quill flamboyantly over his manuscript paper in his first aria as he expressed her frustration that his loyal love has so far proved in vain. The ensuing lyrical expressions of hope and optimism contrasted pleasingly, and Taylor had no problem focusing and projecting the lower register of the aria. Fileno's arias, often in the minor-key, are more forlorn, and Stannard captured the poet's pensive mood, singing with smooth warmth and expressive colour – though subsequently she found the fun in Fileno's persistent wooing, playfully brandishing ice-cream cones and bouquets to win the changeable Clori's heart.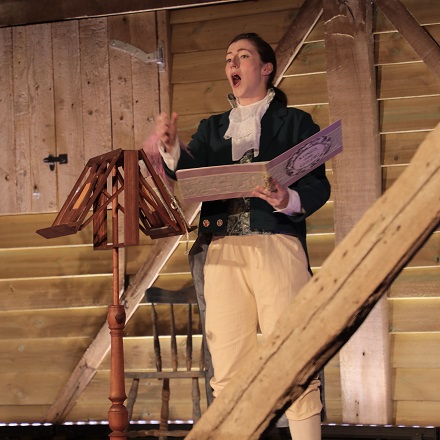 Susanna Fairbairn's Clori was an absolute minx, her capriciousness conveyed by her nimble soprano, luxuriant tone and sparkling florid passagework. She fairly revelled in the glow of her suitors' creative wooing, and even ventured from the stage to tease the audience, stealing a cheeky kiss from a stagehand, too! Clori's response to Tirsi's Act 2 rage aria – explosively sung by Taylor – when he's witnessed the singer seeming to favour Fileno, results in series of impassioned recitatives, arias and duets, all sung with real fire and fury. They were staged here by Gray with tongue decidedly in-cheek, as Clori tried to prevent the defiant departure of the composer, even going so far as to unpack his case and run off with his bedtime bear, cruelly holding it just out of his reach.
When she fails to detain him, Clori sings a fierce aria in which she fairly spits out her fury. This Clori accompanied her vocal fireworks by ripping her lover's musical offerings to shreds with a vehemence bordering on violence, a stylishly played violin obbligato adding some elegance to her hyperbolic, almost hysterical, theatricality. One would expect no less from a diva! Elsewhere, obbligato theorbo and cello solos also made their mark, recorders and oboes added lovely colour, and Bampton Classical Players both drove the action forward with energy and supplemented the comic capers with a sensitive patina.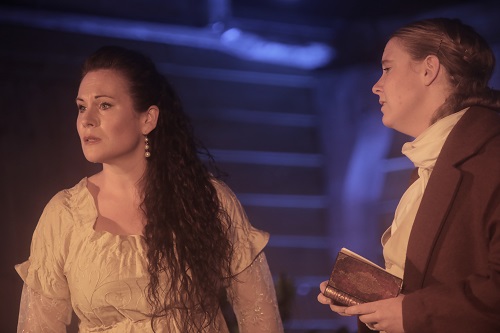 When Clori, Tirsi e Fileno was performed at a ducal wedding in Naples in 1708, Handel revised the ending – the original misogynistic conclusion presumably not being suitable for a celebration of nuptial bliss – adding a final trio which reflects on whether it is possible to live without love. The optimism of this trio was made more ambiguous by Gray, though, as the two artists snuck off together – presumably to develop the creative partnership that, in recognising their mutual pain, they had realised could be the salve for their suffering hearts. The cantata's subtitle is 'Cor fedele in vano speri' – a faithful heart hopes in vain. Perhaps, here, it was the faithless heart that would find its aspirations unfulfilled.
The acoustic in the Barn was excellent, with the singers carrying effortlessly over the pit, the sound bright and fresh, and the raised seating and side aisle both offering very good sightlines. Old Walland, set in the Wealden Area of Outstanding Natural Beauty, affords lovely views of the Rother Valley. Relaxing and picnicking in the garden before the performance, the opera-goers enjoyed warm sunshine and blue skies. All in all, a perfect late-summer evening.
Bampton Classical Opera perform Clori, Tirsi and Fileno at Weald Manor, Bampton on 11 September and at Breinton, Woking on 24 September.
The Barn at Old Walland can be contacted at BOW@wadhurst.net. 
Claire Seymour
Handel: Clori, Tirsi e Fileno
Clori – Susanna Fairbairn, Tirsi – Caroline Taylor, Fileno – Emma Stannard; Director – Jeremy Gray, Music Director – Julian Perkins, Bampton Classical Players
The Barn at Old Walland, Wadhurst, Sussex; Saturday 3rd September 2022.
ABOVE: Emma Stannard (Fileno) and Susanna Fairbairn (Clori) (c) @CrowdLeader